Right now, my daughter is supposed to be at her tech rehearsal for the big Ahwatukee Children's Theater production of "High School Musical 2" that opens this weekend.  But she's not.  Instead she is here at home, on Tylenol because she is battling a 102 fever.  Yep, she is sick again.
When the school called me at 1:45pm to tell me that she was in the nurse's office with fever, I thought to myself, oh no, not again.  She sported a pretty scary virus last May that landed us in the Orange County Children's Hospital since we were traveling and she took ill again the week before Christmas.  That time it was Strep Throat, but the Strep test came back negative three times in a row.  So she just got sicker and sicker until we went back to the doctor to finally receive a positive Strep test.  I never thought that I would cheer for a positive illness test!  But I did, we got the meds and she finally got better.
Last week was Spring Break, so we stayed home, didn't travel and we didn't do too much.  I knew that once school started again, her busy schedule was coming back on full steam.  We celebrated that she received straight As again, had a couple of sleepovers, a zoo visit and a few other fun activities, but nothing too taxing.  So I was puzzled to get the sick call from school today.
And she is sick.  She is pale, feverish and just feels awful as you can see in this picture that I took of her once we got home from the doctor's office a little while ago.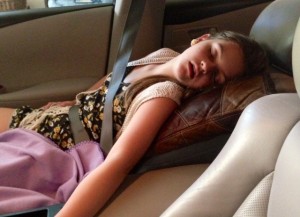 The smart thing I did was to call the pediatrician immediately to get her in today.  By 3:30 pm my girl was having her exam.  The darn Strep test came back negative again, but this time the doctor sent it to the lab ASAP to be sure and it was decided to go ahead and let her start on the antibiotic since the Strep hid itself so well a few months ago.
I had to ask the doctor what I am doing wrong as the Mama to have my girl get ill yet once again.  Her answer made me feel better and surprised me, so much so, that I decided to blog about this right away because this is something parents of tweens should know!  She told me that once kids hit puberty, some begin to get ill frequently all over again (like the preschool years) because the body is changing so rapidly that the immune system is automatically lowered.  Hmm…I didn't know that and it makes sense.
So with this knowledge, I'm adding a good daily probiotic to her daily vitamin routine and I'm going to continue to limit her sugar intake since empty sugary junk food lowers the immune system even more.  I have to wonder if consuming the beautiful cake that she made for friends of mine recovering from an accident yesterday brought her down faster.  It was so lovely and tasty and the family invited us to have cake with them, so we did.  Had I known that her body was fighting something, I would have told her no sugar. Being a parent is hard and I find myself second-guessing myself at times like this.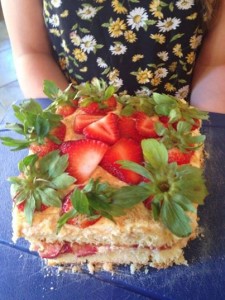 Did you all know this about puberty?  That is lowers the immune system?  Do you have advice on how to beef up your pubescent child's immune system?  This is good information to know as we enter the puberty phase with our kids.
Now if you will excuse me, I've got some herbal tea to make to take care of my little ill tween so I can get her back into her busy world quickly…but healthy, strong and not contagious first.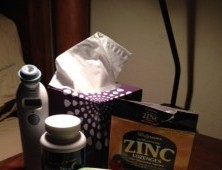 These are the days and I'm feeling frustrated for my sweet girl.  Puberty is tough enough without this unwelcome tidbit, but I'm glad to know about this so I can do what I can to keep her healthy.