If you read my blog post yesterday, then you know that my son played a big game last night to determine if his hockey team will travel to Nationals to represent Arizona.  You may also remember that I was especially excited about this game (in addition to it being game 3 in a hard fought 3-game series) because Nationals is being played far away from my home here in AZ, but close to my Mom's home in Maryland.  So if we won, then I would get to call my Mom to tell her that we are coming to visit next month.  Well….here is what happened last night….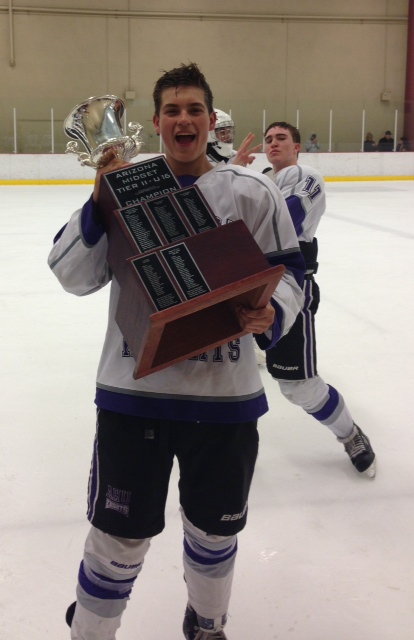 Yep, we won!!
And the victory is sweet, but even sweeter than I could have imagined for several reasons.  First of all perseverance, on our son's part, because our boy has wanted to play for this particular coach for the last several years.  So he kept his positive attitude in tact, embraced the teams that he played on and worked hard.  So when he did get the opportunity last fall to join this team, he jumped at the chance and is thoroughly enjoying this wonderful goal that he has achieved!
But there is even a bigger reason why last night gave me pause.  And with my son's blessing to share that story…that is because just last month our son was at our local children's hospital having a very unexpected biopsy for a mass that is on his arm, under the skin.  And the day after the biopsy, he developed pneumonia.  It was a rough couple of weeks to endure as we tended to his health and waited on a variety of medical test results.
After an abnormal exam, inconclusive ultrasound, and suspicious MRI results, we were sent to see an oncologist who told us that a biopsy was needed.  So we proceeded through the steps and learned after several weeks, that thankfully (SO thankful) the tumor is benign.  I can't tell you how that experience humbled me.
With that gigantic relief and joy, also came compassion for the parents and kids that I had seen in the oncologist office and at the children's hospital that would be given different news.  I promptly came home and made a donation to St. Jude's Children's Hospital.  I think about those families a lot.
I am reminded that life's lows and highs give me pause to be thankful, to be compassionate and to take one day, one challenge and one victory at a time.
Last night, as the hockey Moms and I raised our glasses to celebrate the team win, I was feeling just that.