Since this is my blog's 3rd anniversary week and I am in a celebratory mood, I celebrated a little too much with my dinner plate last night!  My overindulging crime was committed at the yummy Caffe Boa restaurant while I waited for my daughter to finish up her rehearsal.
Since her rehearsal went for 2 1/2 hours, a mouth-watering fine Italian restaurant was a dangerous place for me to wait for her.  After convincing a few gal pals to join me, I began my "cheat & eat night" by enjoying some pita bread with the cafe's homemade Greek yogurt & garlic dip (that wasn't a bad start).  I then savored a flight of three mini red wines to taste with 1/2 of the light house salad.  Still doing OK, but then we split the restaurant's special of the night, Chicken Saltimbocca that came with a scrumptious side of penne pasta with marina.  That should have been it…but alas, I still had 45 minutes to wait, so I crowned my big anniversary splurge celebratory meal by sharing butter cake (oh yes, it is like "butta") and a cup of cappuccino!
Did I mention that I had heartburn until 2am last night?!  Ugh!  It was all so delicious though.  But my 40-something body let me know late last night that combining bread, wine, pasta, dessert and caffeine all in one blissful sitting was not a smart move for my digestion.
So today I'm back on healthy salmon, quinoa, veggies and light foods.  And when I saw this quote earlier this week on Facebook, I just knew that this is perfect for me today!  Some days you have to own this and not worry about it….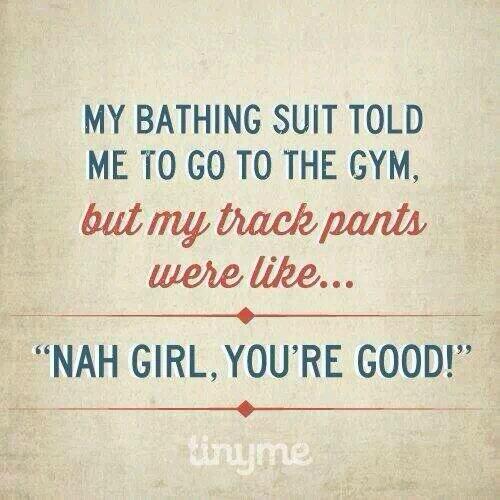 Love this!  However, I promised myself (and my trainer to keep me accountable) that I will return to the gym on Monday. Until then enjoy your track pants, relax and recharge…just don't eat near as much as I did last night if you hit an Italian restaurant tonight.  Cheers!
Send your words of wisdom to [email protected] if you have one that is perfect to share on my blog.