Now that the crazy busy school year is back in full swing, I have found myself day dreaming more than once about our magical Maui trip that we took in June.  It was our first time to Hawaii and it was as wonderful as everyone had told us it would be.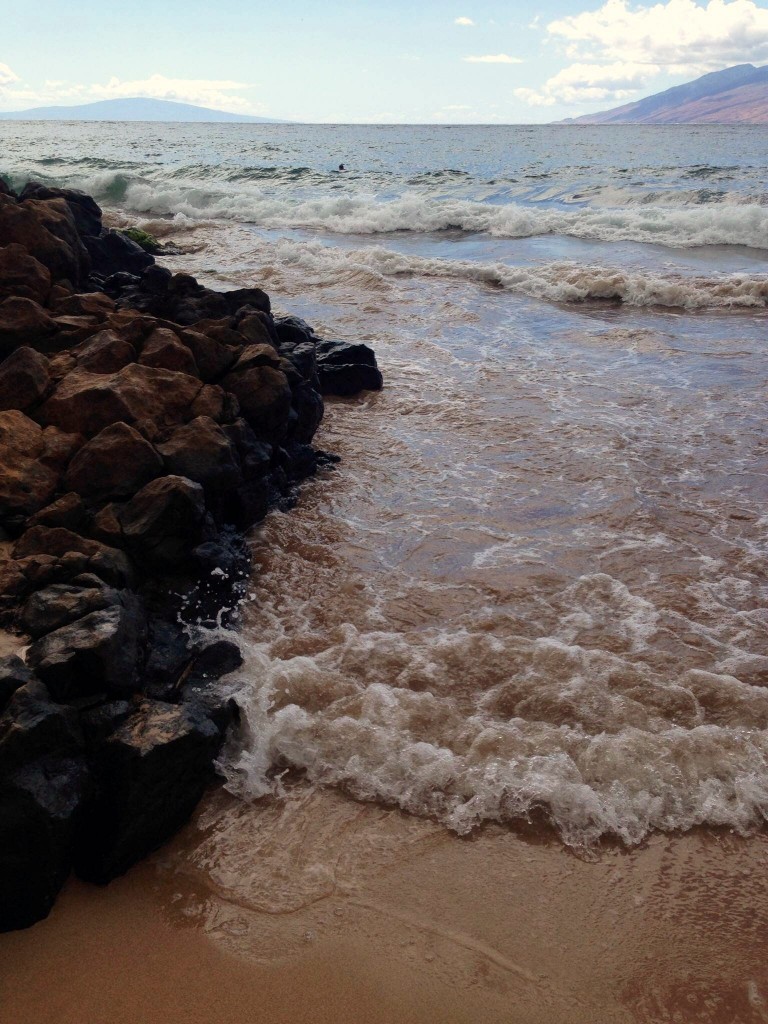 A lot of people have asked me what island activities were our favorite Maui moments, so here is a look at our awesome getaway along with some recommendations on what to do if you travel to Maui.  I have also included links for easy access and planning if you decide to book one of these fun adventures ahead of time, which I recommend.  Be sure to keep reading because our favorite Maui family fun pick is the #1 item listed and this countdown goes from 10 to 1.  If you go to Maui, you have to know about this cool activity that had us tasting, exercising, swimming and more all in one fun filled afternoon!
And two items to note.  One of the smartest things we did was to tuck in early every night so we could rise at sunrise every morning.  Not only did we take in the stunning sun rising over the ocean, but the winds come in the afternoon so you want the calm waters for morning outdoor water activities.  Here is our top ten list of things to do and see in Maui…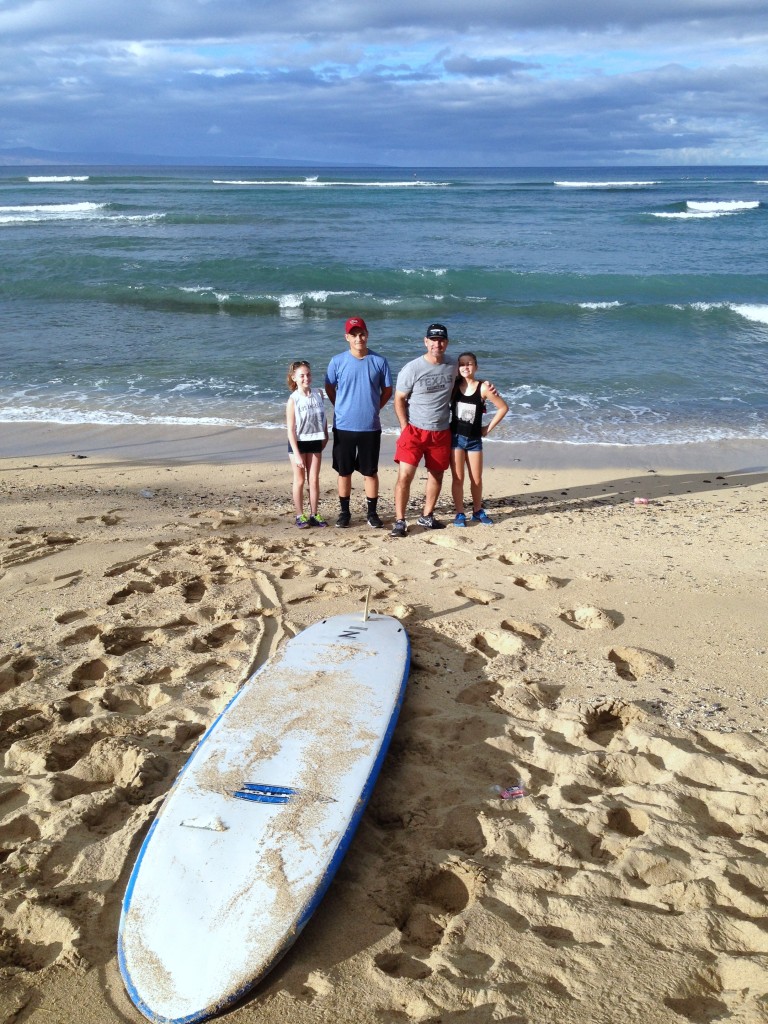 10.  See a sunset and a sunrise.  Truly make time for Maui's beautiful sunset.  You may find yourself packing your days with the abundant amount of island activities that are offered and I do recommend that, but do make time to just sit, relax and take in the sunset or a peaceful early morning sunrise.  The picture below was taken from our hotel which is on Wailea Beach.  We stayed at the Grand Wailea and the property was a little outdated in some spots, but extremely nice and very family and teenage friendly.  I will blog about my review of that property soon.  While staying on Wailea Beach, we never saw any planes in the sky, only the ocean and the island of Lanai that is located directly across the sea.  It was lovely.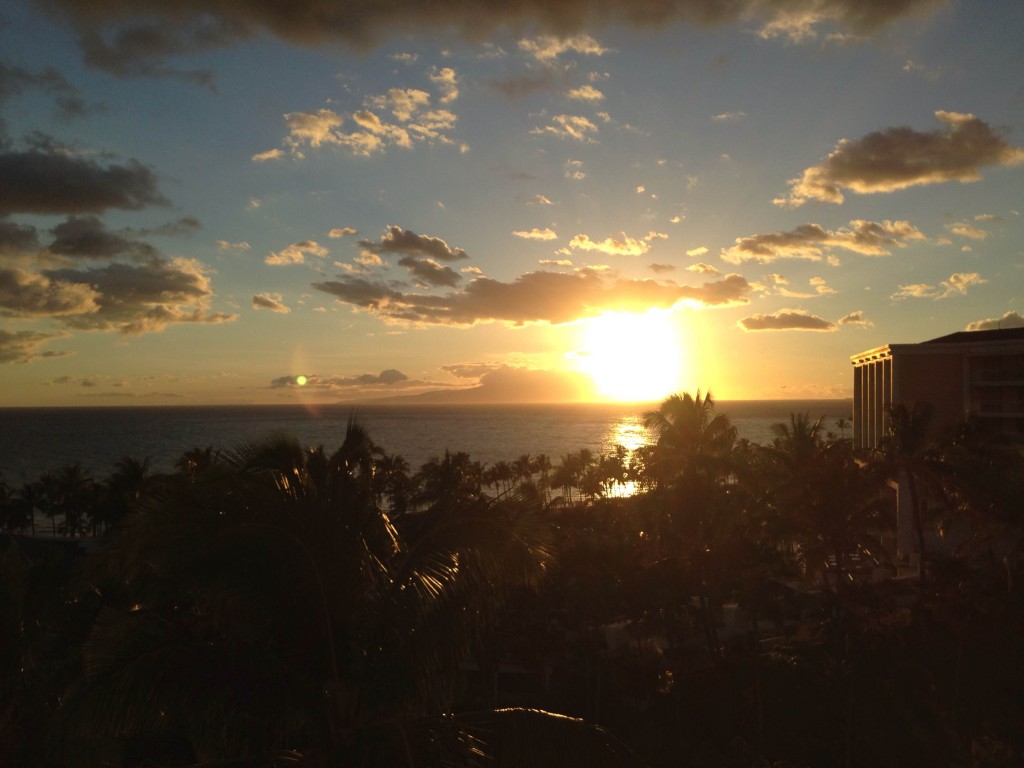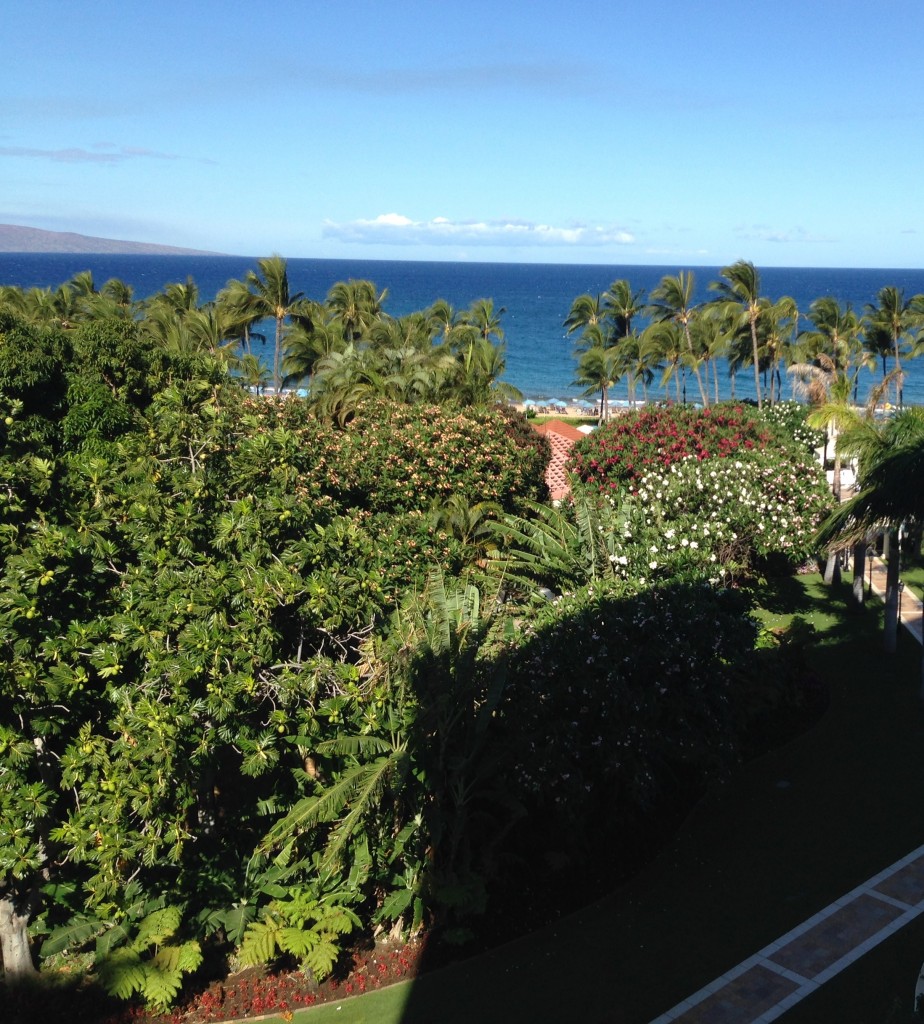 9.  Reserve a morning for relaxing beach time.  You will want to be sure to do this on Maui's beautiful beaches.  We recommend the  Wailea beach for families because it is so pretty and offers smooth sand and gentle waves, making it ideal for kids.  The Grand Wailea Resort and The Four Seasons front the beach and although this isn't a private beach, the intimate and small space feels like it is and was very relaxing.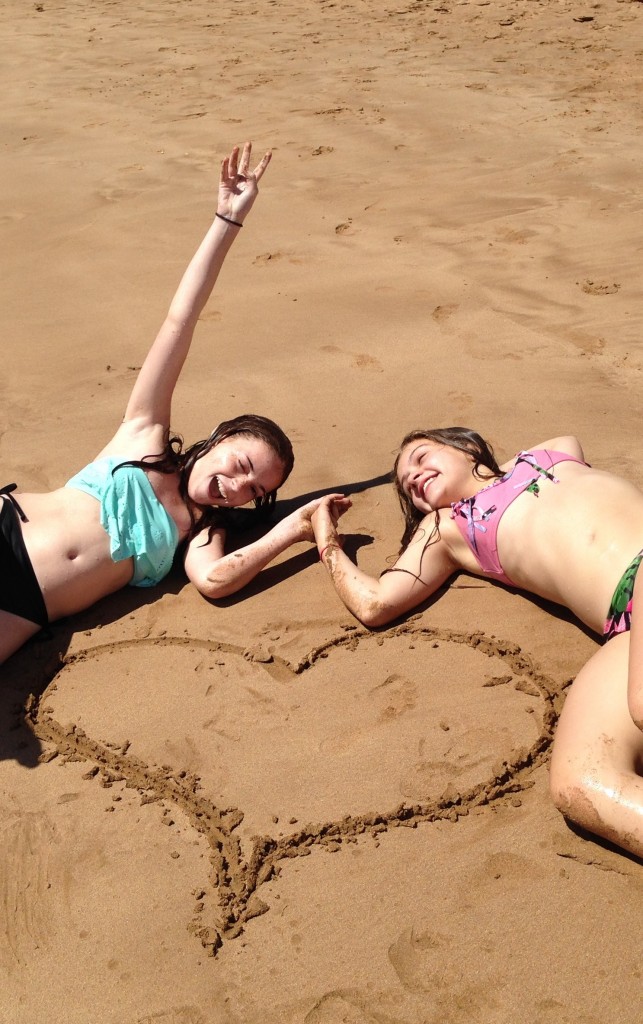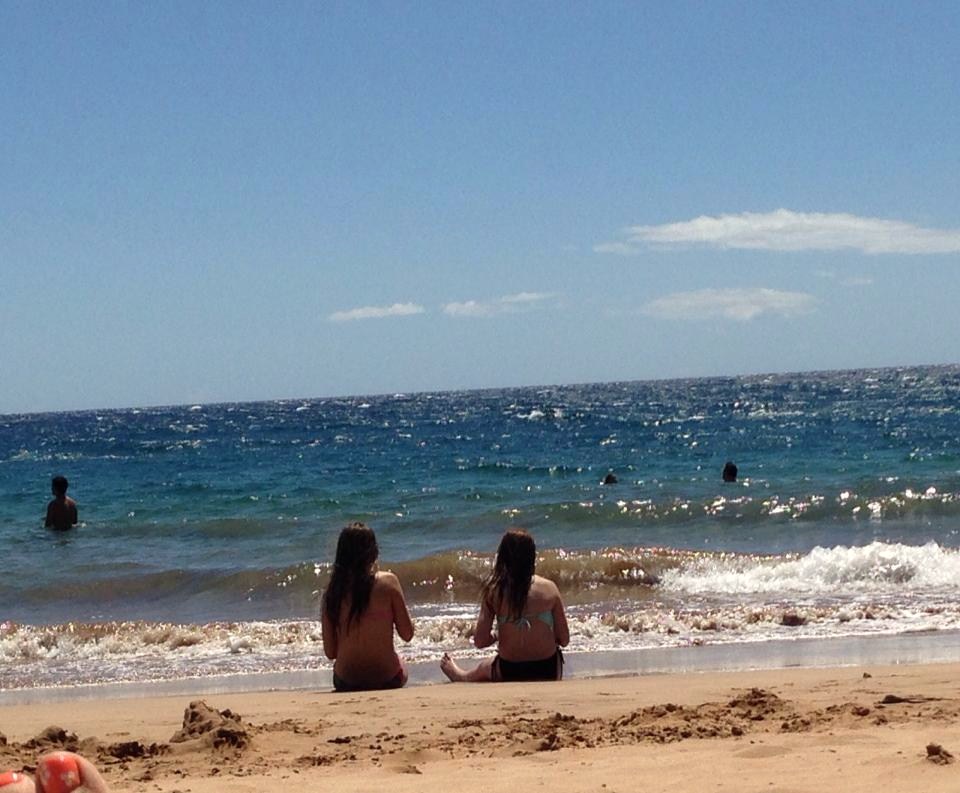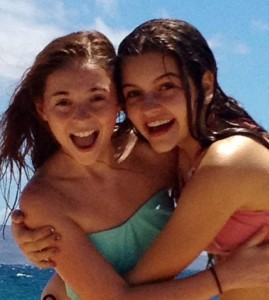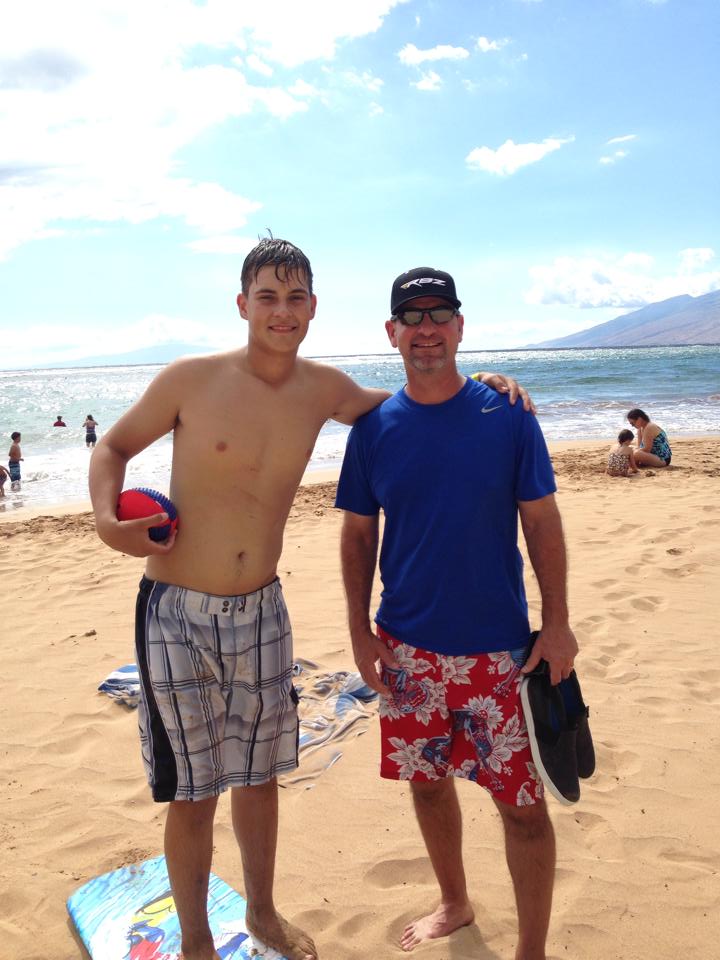 8.  Do an early morning yoga class on the beach.  It was as wonderful as it sounds and this was a great activity that I enjoyed with the tween girls….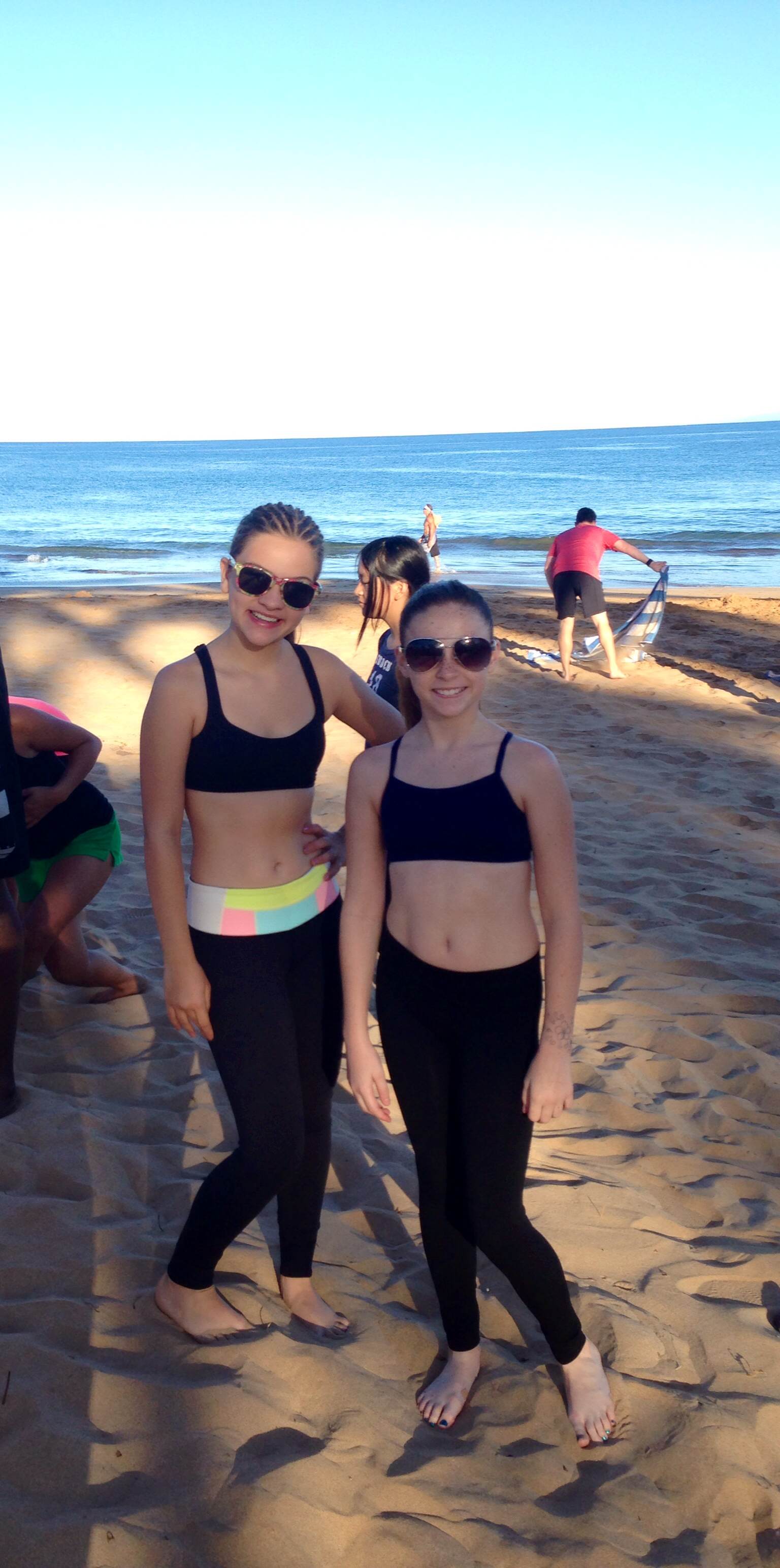 7. Golf the stunning golf courses that Maui has to offer.  My teen son especially enjoyed his golf outings with his Dad…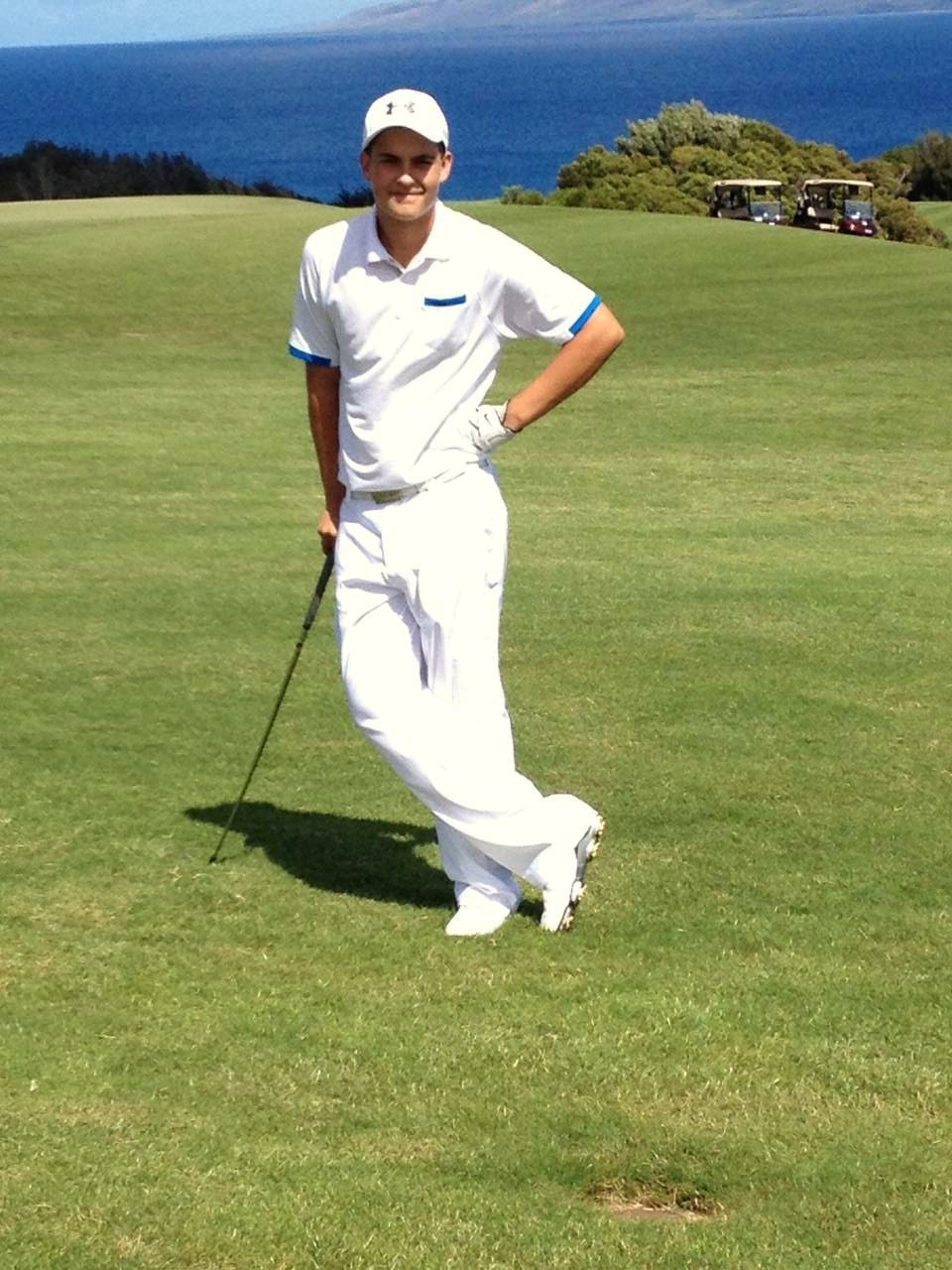 6.  Take surf lessons for the fun of it and for the great exercise you will benefit from as you learn how to surf.  The girls absolutely loved their surfing lessons at Maui Wave Riders.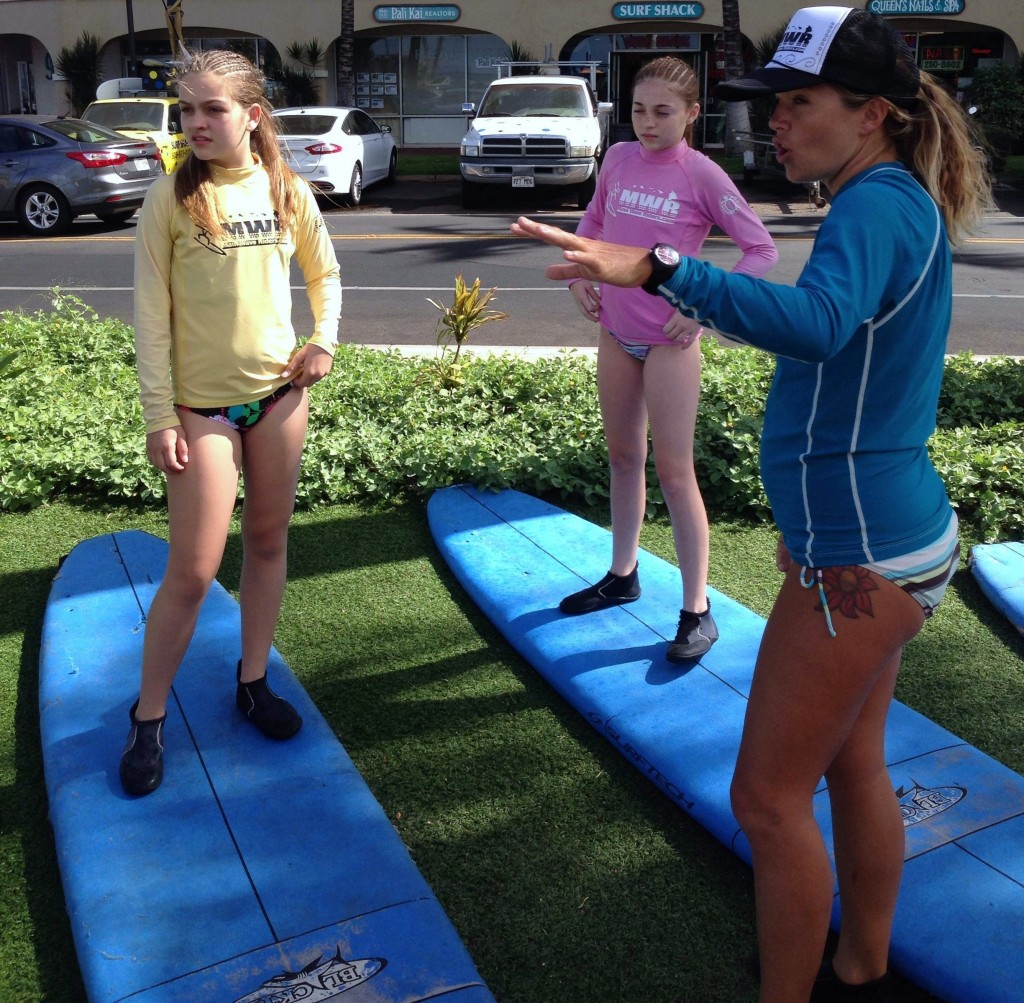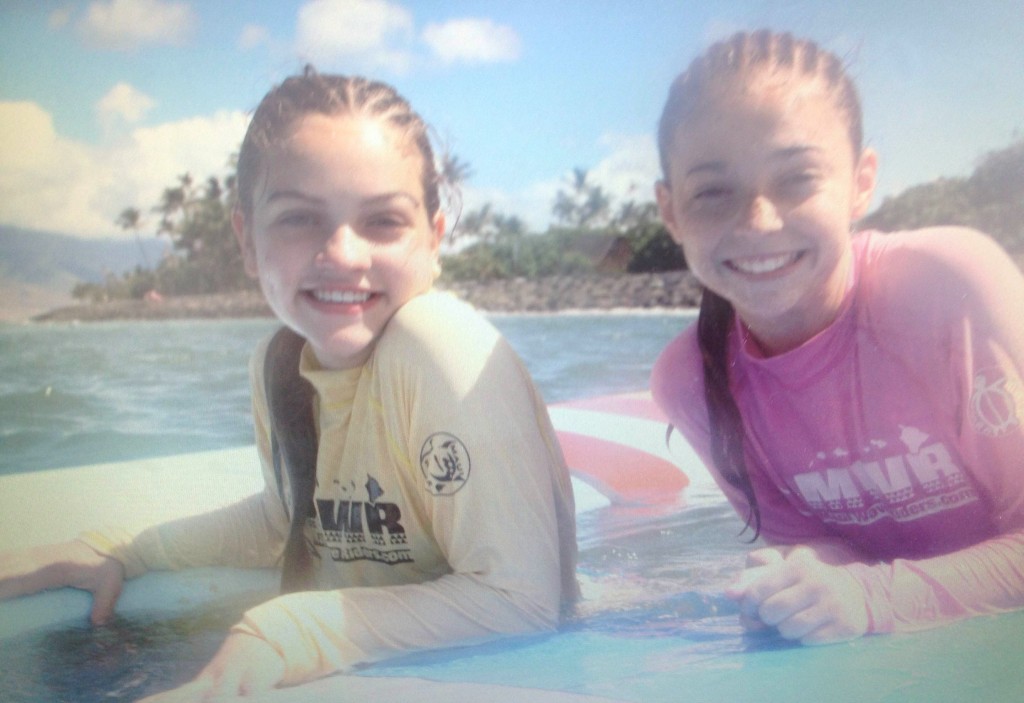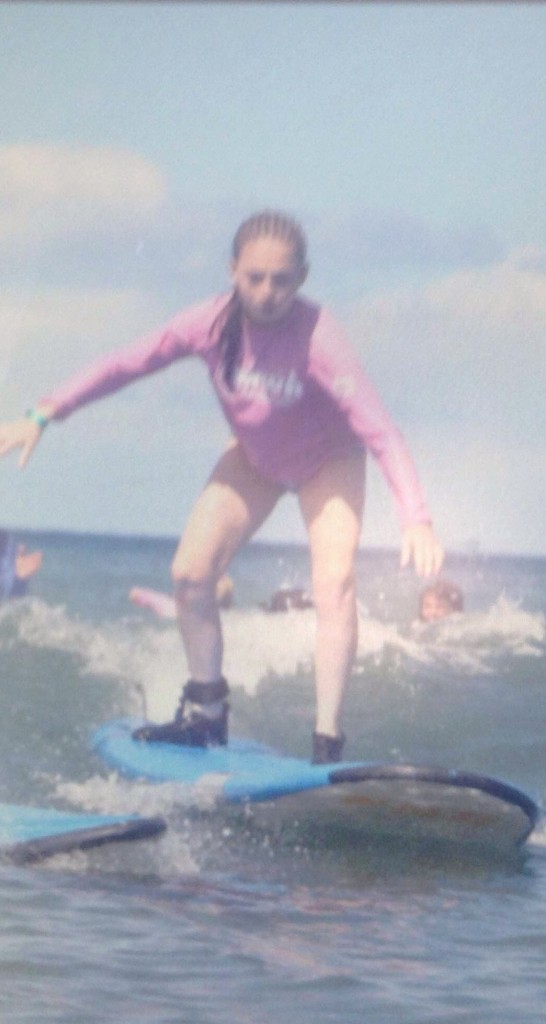 5.  Go Ziplining!  This was such a blast and if you want a zipline that is family friendly, then go with Maui Zipline, which has the coolest and friendliest guides who keep it fun, while making sure that all are safe.  For the thrill seekers, check out Flyin Hawaiian Zipline.  We selected Maui Zipline instead and it was a blast.  Check out our cool zipping pictures…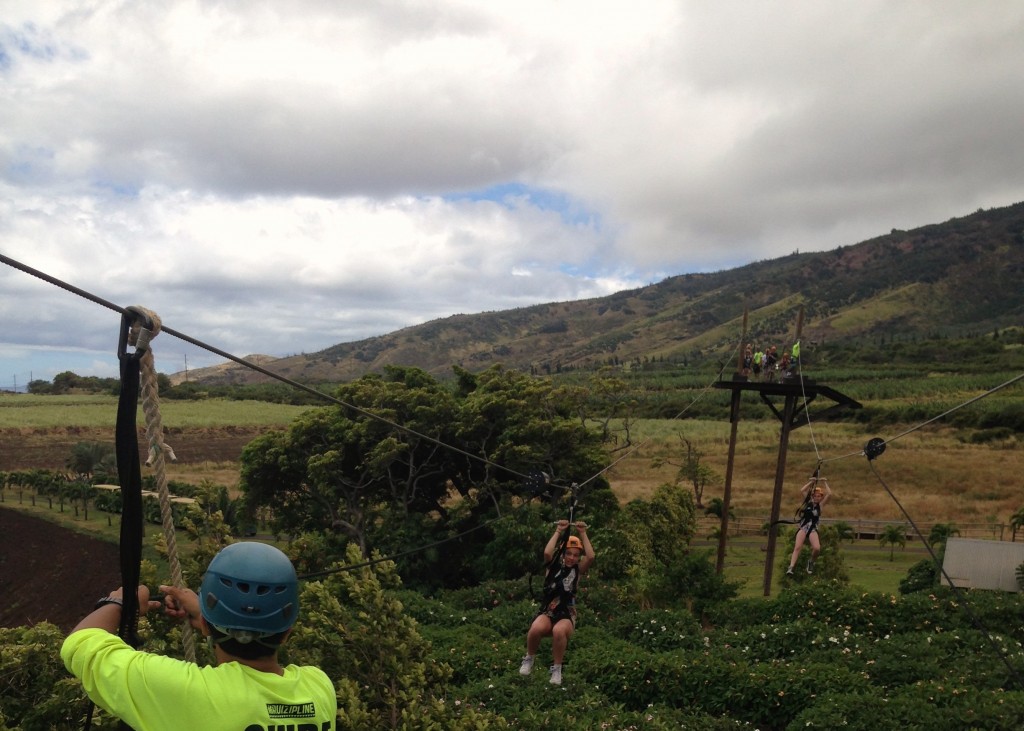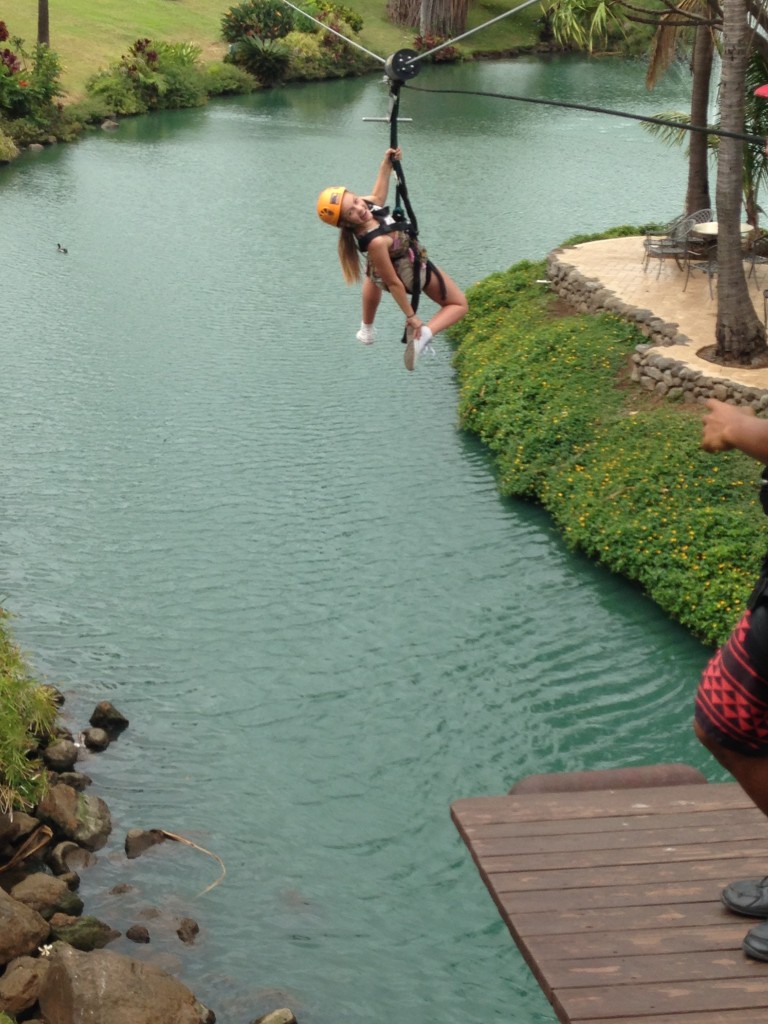 4.  Go Kayaking….but a word of caution with the kayaking.  When you book your kayaking tour, ask about wearing shoes because when our kayaks were coming in, several of us tipped over and several cut their feet on the rocky bottom of the shore.  Plus one poor guy (we don't know him but he was in our tour group) was stung by a sea urchin as our boats came in.   The waves can make coming in a bit rough so I would definitely ask about wearing some type of water shoe. Other than that, it was awesome.  Take a look…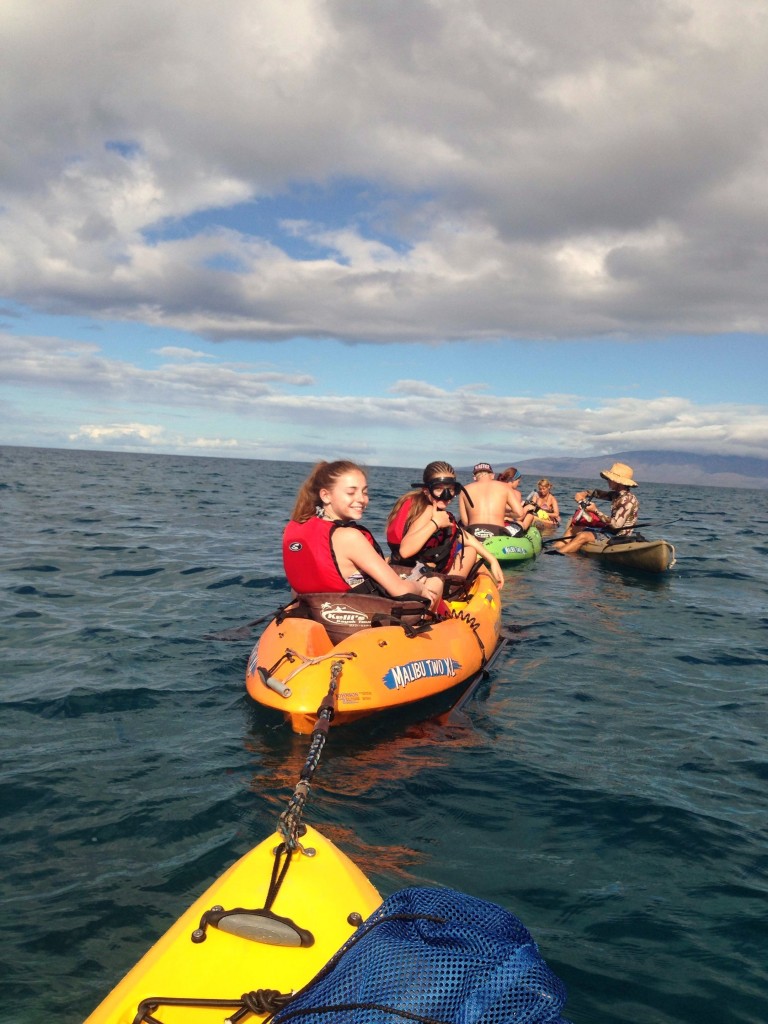 I found kayaking to be fun and peaceful.  I highly recommend it!
For the kayaking enthusiasts (I wish I was on one right now), check out this check out this guide on how to choose trolling motors for kayak – https://www.globosurfer.com/best-trolling-motors-for-kayak/".
3.  Go Snorkeling!  Our family had a blast seeing amazing sea life below and we couldn't get over just how clear our visibility was under the sea.  Our guide took us to an area where sea turtles are often spotted and although the turtles didn't appear for us that day, we thoroughly enjoyed seeing the many species of beautiful fish that made an appearance. Make sure you bring an underwater camera.  We sure wish we would have had one with us to give you a view of our spectacular sightings below the sea!  An all inclusive kayaking/snorkeling/hiking one day package can be booked through Hike Maui and I highly recommend doing it this way.  The cost is $170 per person and the land and sea adventure lasts for 7 fun filled hours.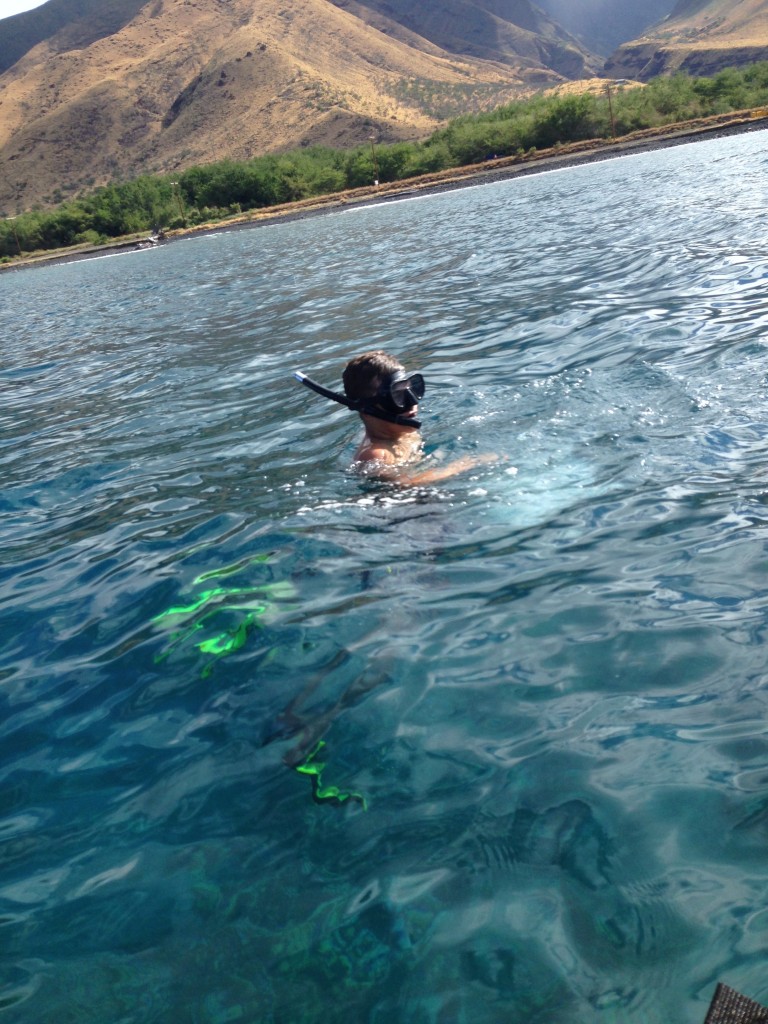 Then it was back in the boats and check out the beautiful view we all enjoyed as we paddled our way back….
2.  Go to a Luau!  This is just something you have to do at least once.  If I ever return to Hawaii (and I hope that I get to) I don't think I would go a second time to a Luau because it is expensive, but it is something very Hawaiian and fun to experience.  We booked our Luau through our hotel and I think that is a good way to do it.  I also enjoyed getting all dolled up for the big event….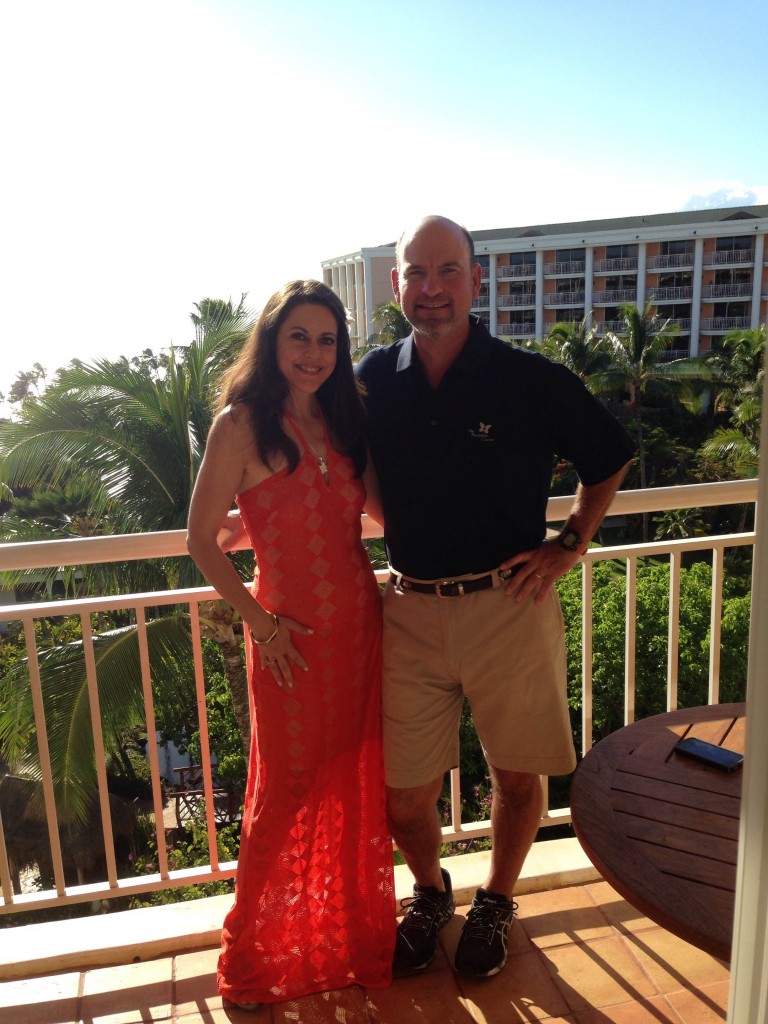 ….and the kids enjoyed the festivities as well, so a fun and a yummy time was had by all as we watched the amazing performers do their thing, too.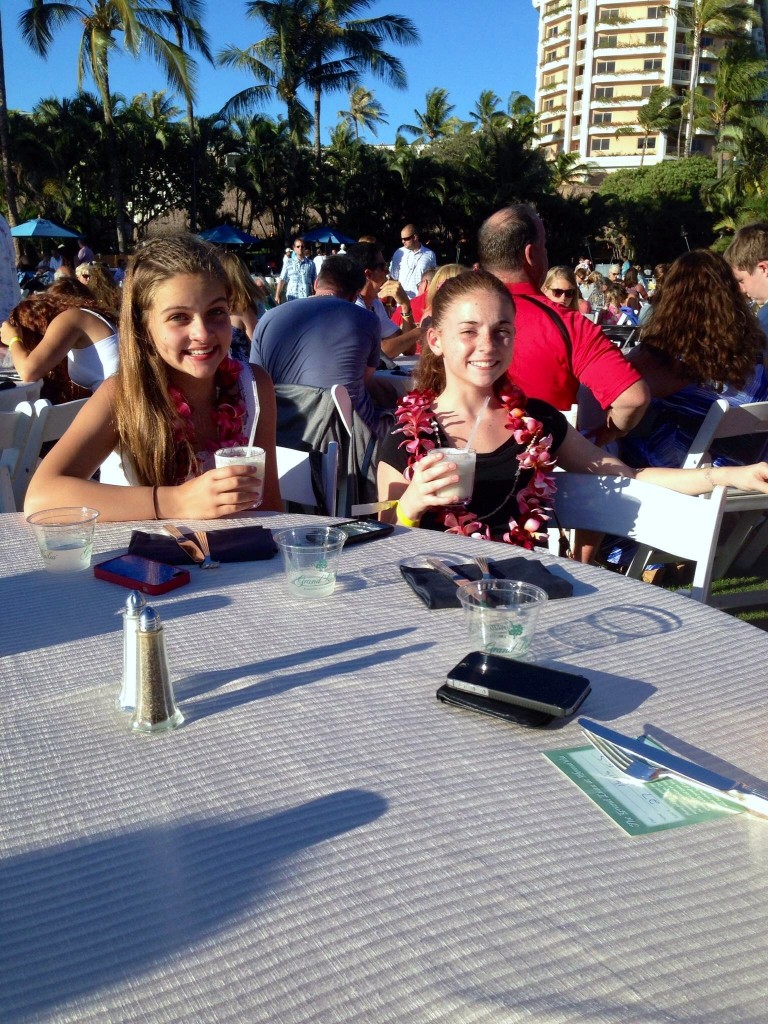 1.  And our #1 top pick that we all agreed on was the amazing Twin Falls hike that we enjoyed through a beautiful jungle located in Maui that has zero snakes and mainly friendly wildlife.  This was the coolest experience ever!  You can book this through Hike Maui and I highly recommend this very easy and scenic hike that takes you deep into a stunning rainforest.  We got to taste fresh foods right off the trees as we walked.  The kids jumped off cliffs into beautiful Hawaiian waters and danced under the waterfalls.  Just check out these super cool pictures….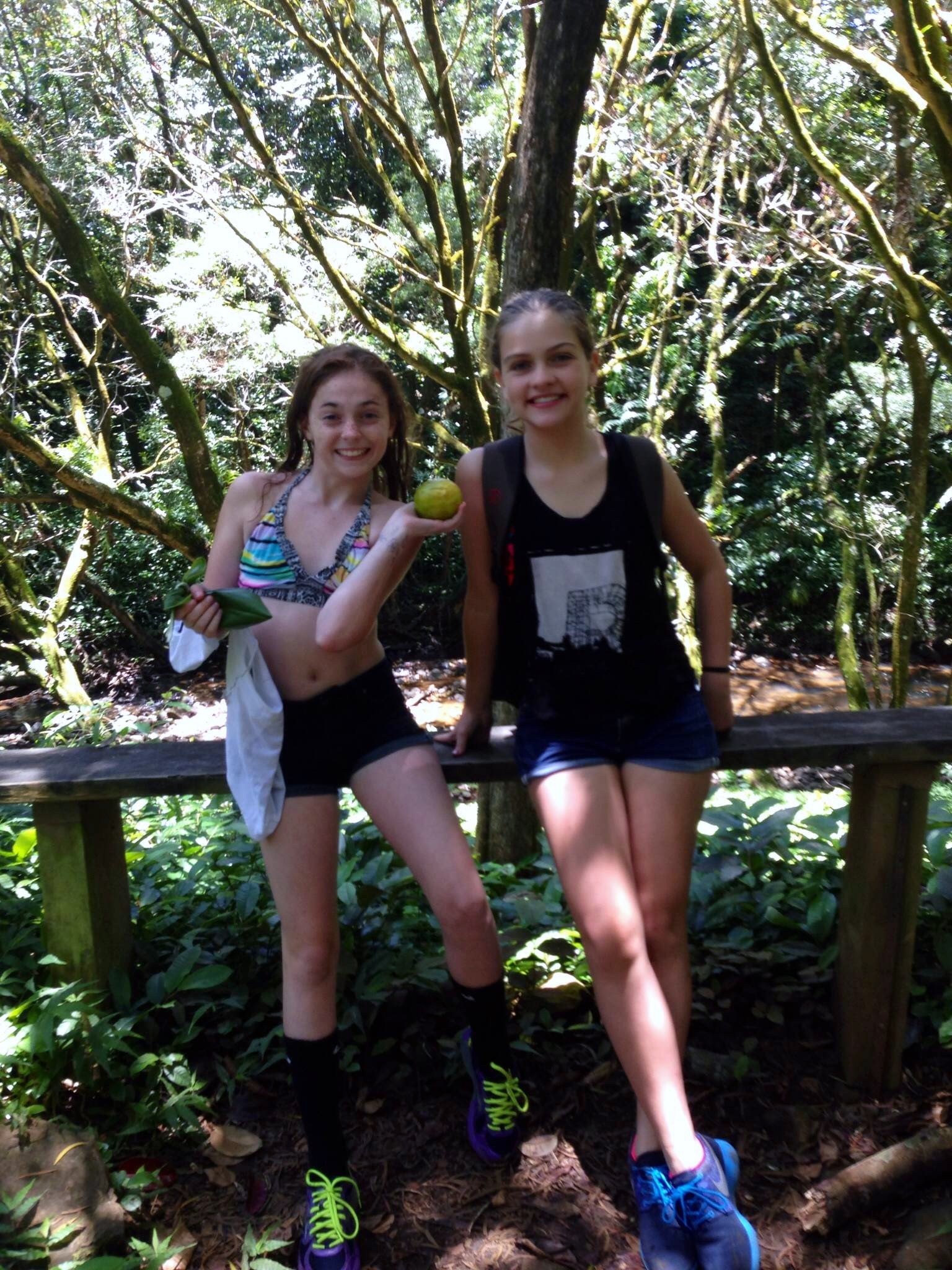 Check this out! Meg is washing her hair with the natural Awapuhi plant that was pulled right off the trees on our hike. Our hiking guide told us that Paul Mitchell harvests this plant to make their high quality shampoo. Here are the girls holding the Awapuhi plant that Paul Mitchell uses….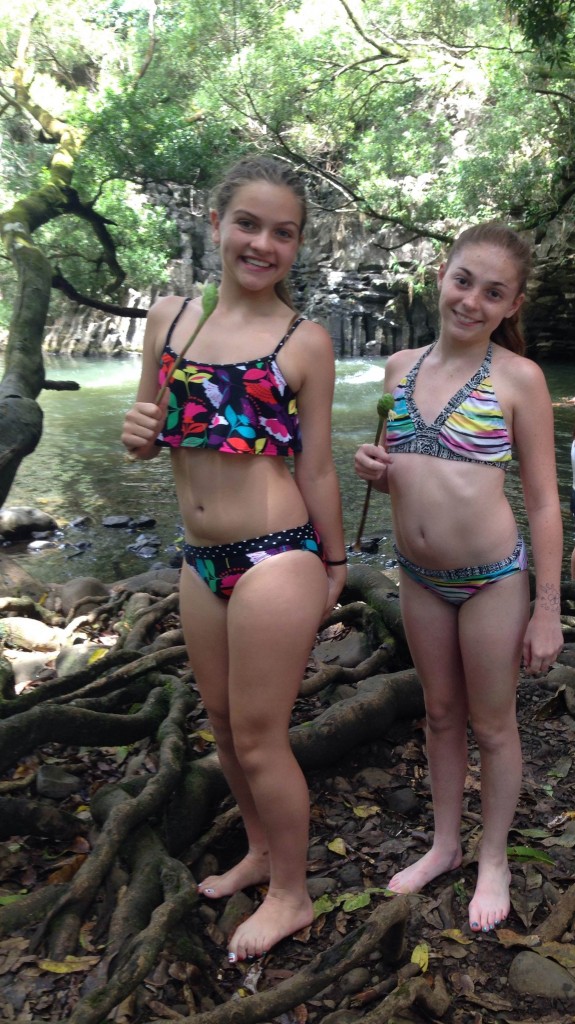 So cool that they got to wash her hair with the real stuff right under a stunning Maui waterfall….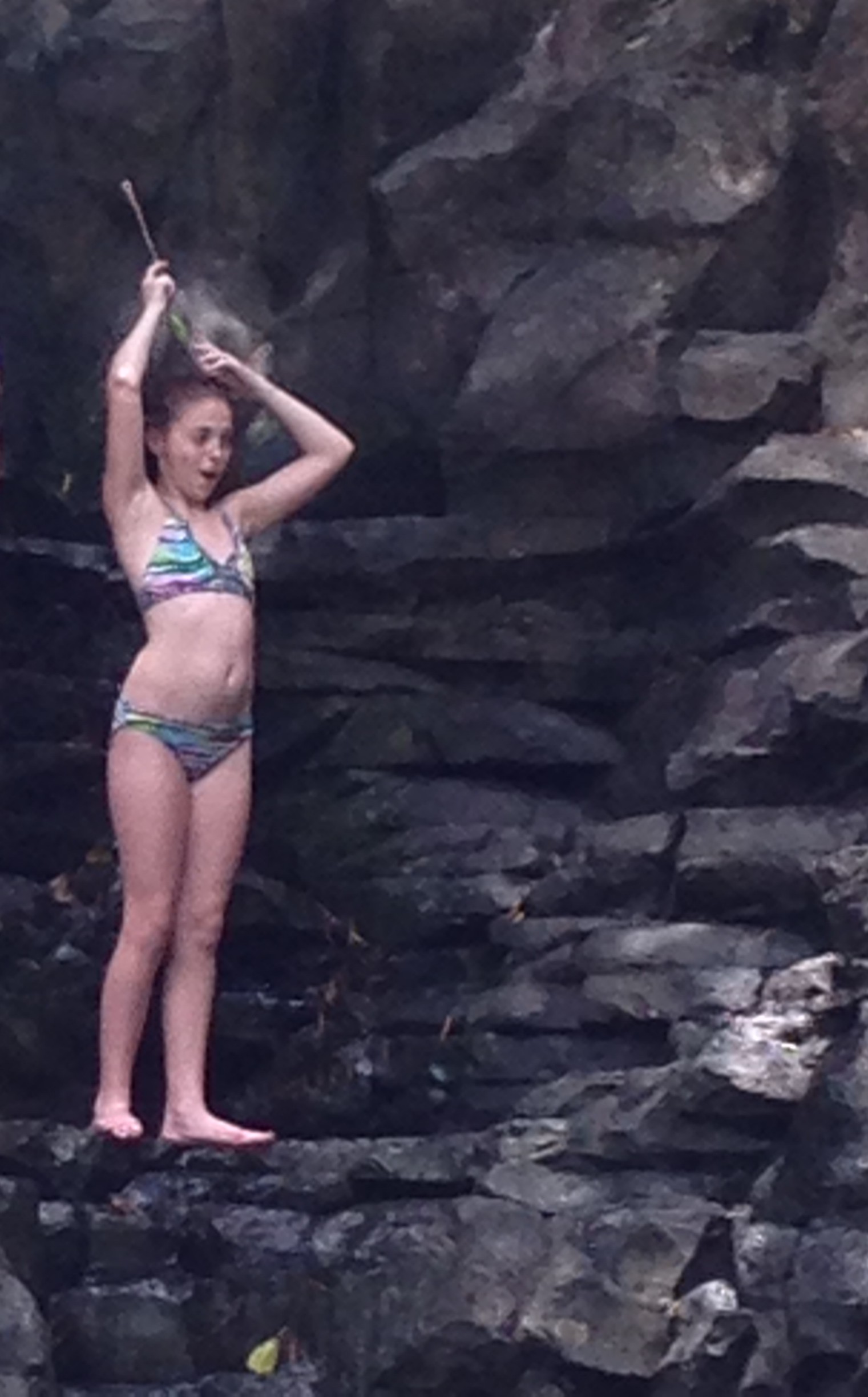 And the kids got to jump off the cliffs, too.  Hubs and I snapped pictures while the teens did the jumping…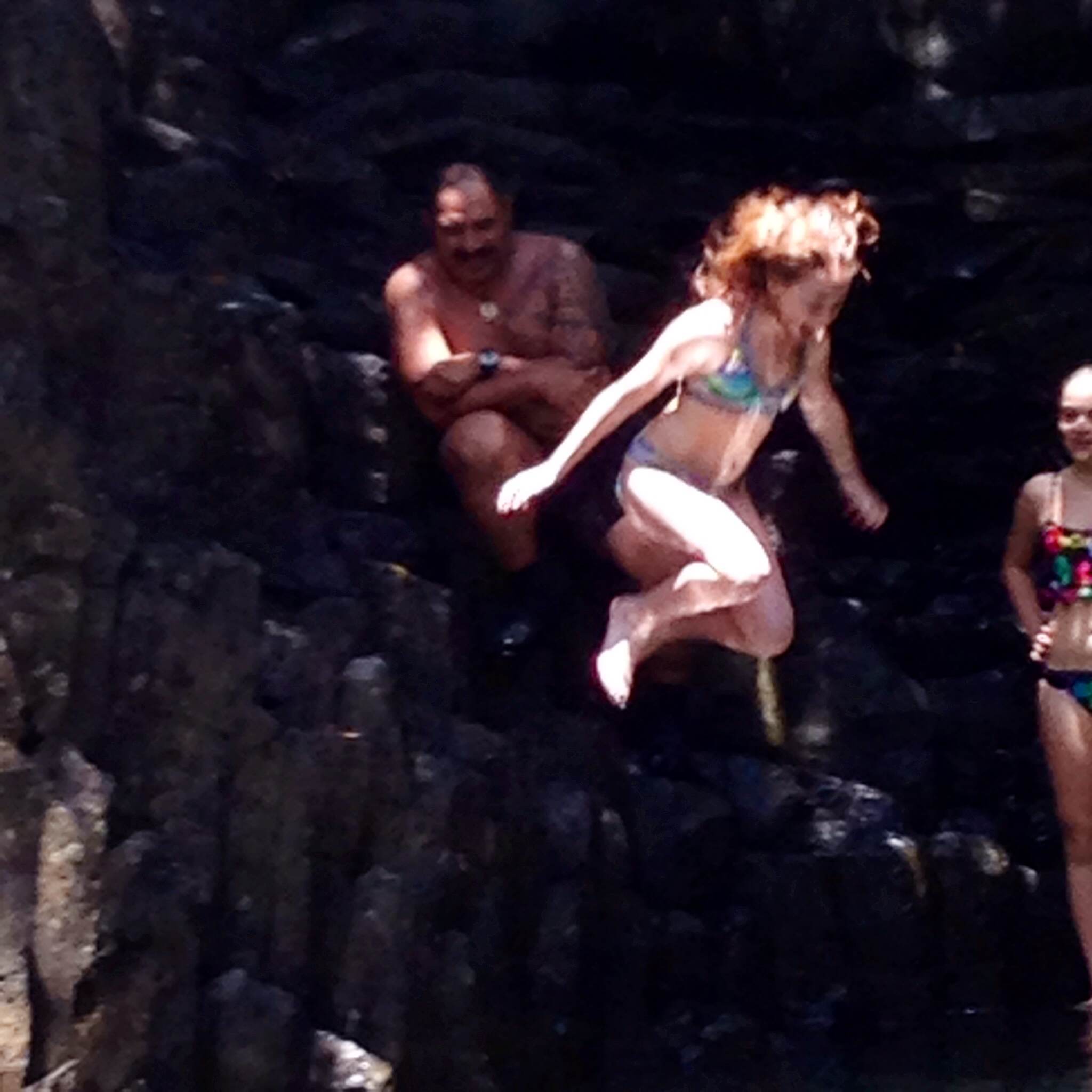 and more rock climbing….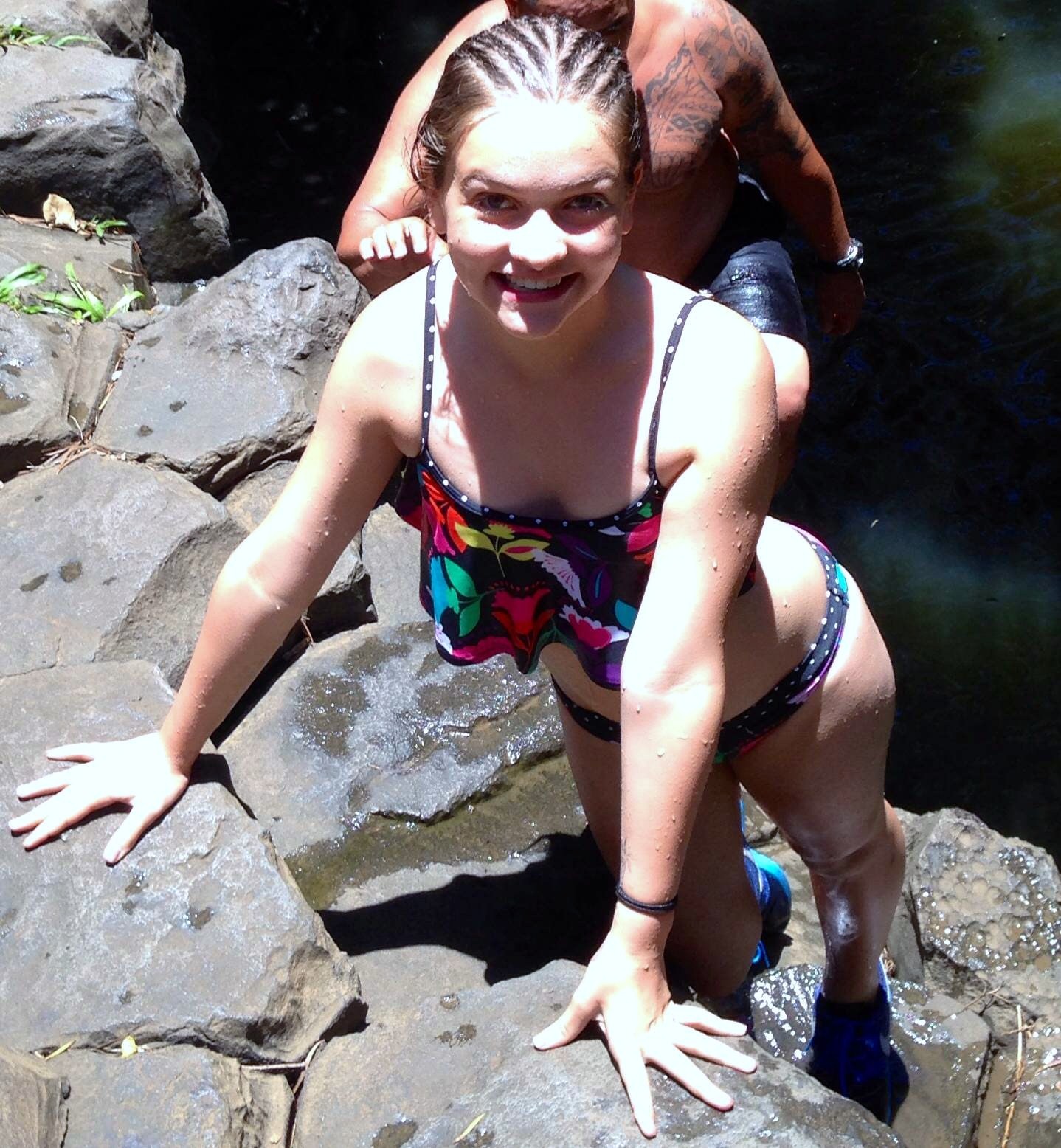 and relaxing, too….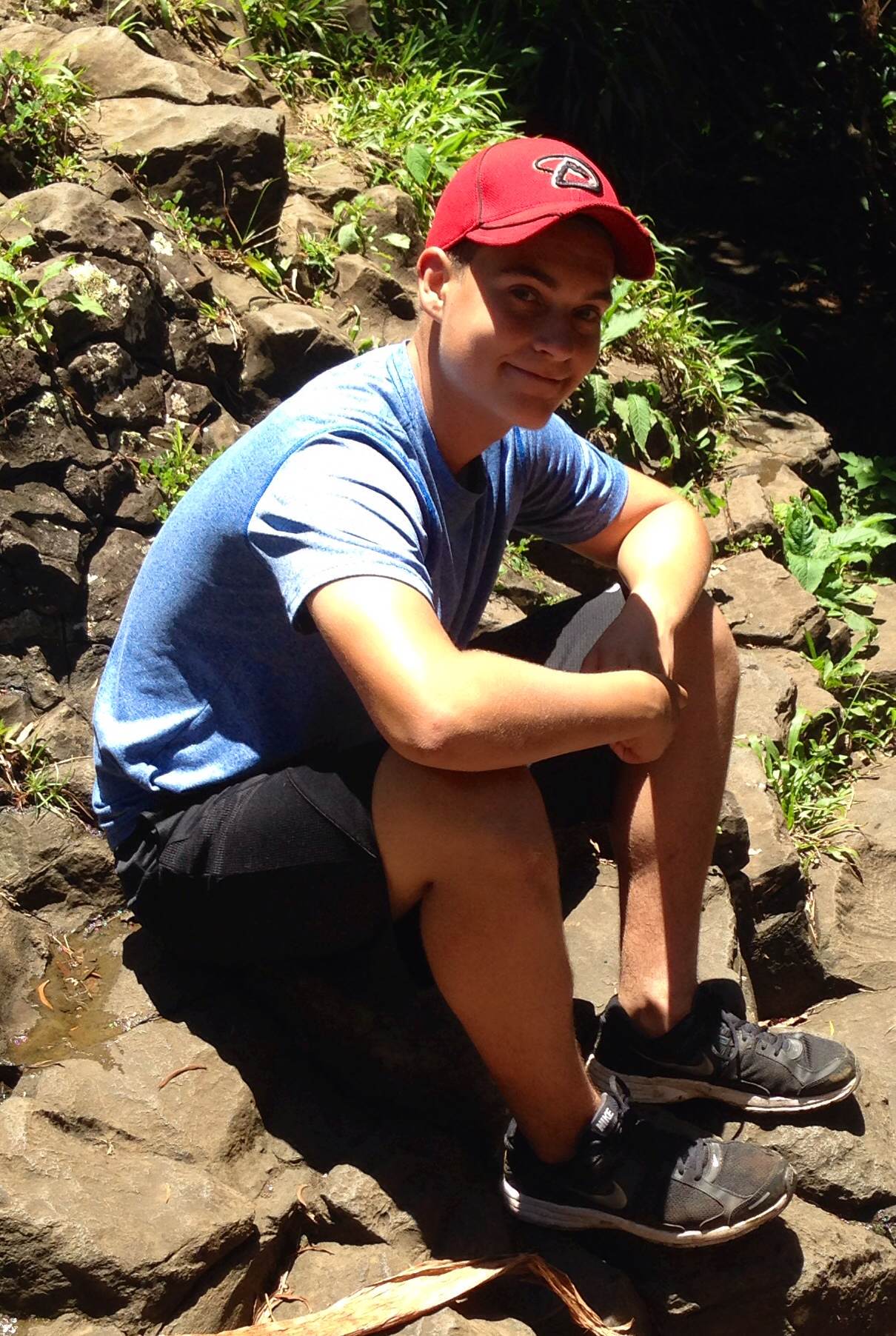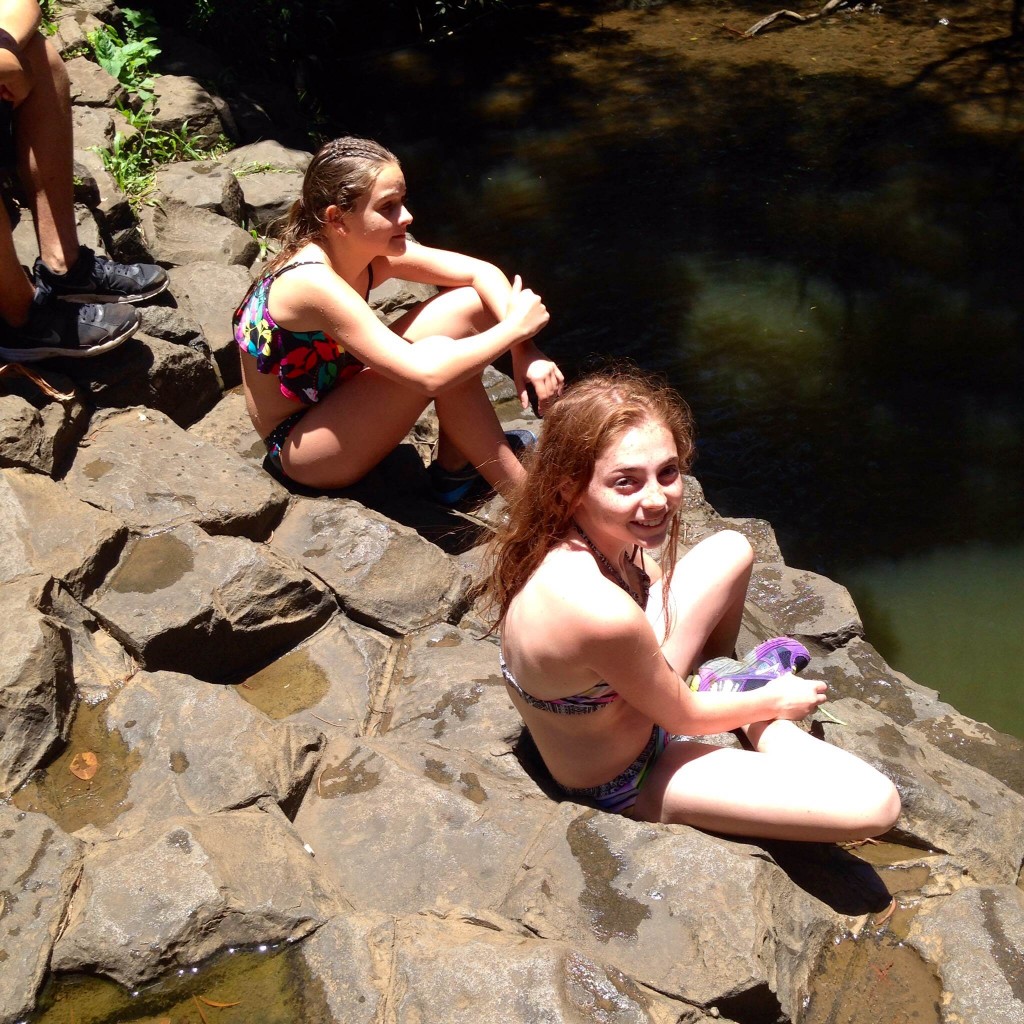 and holding beautiful animals….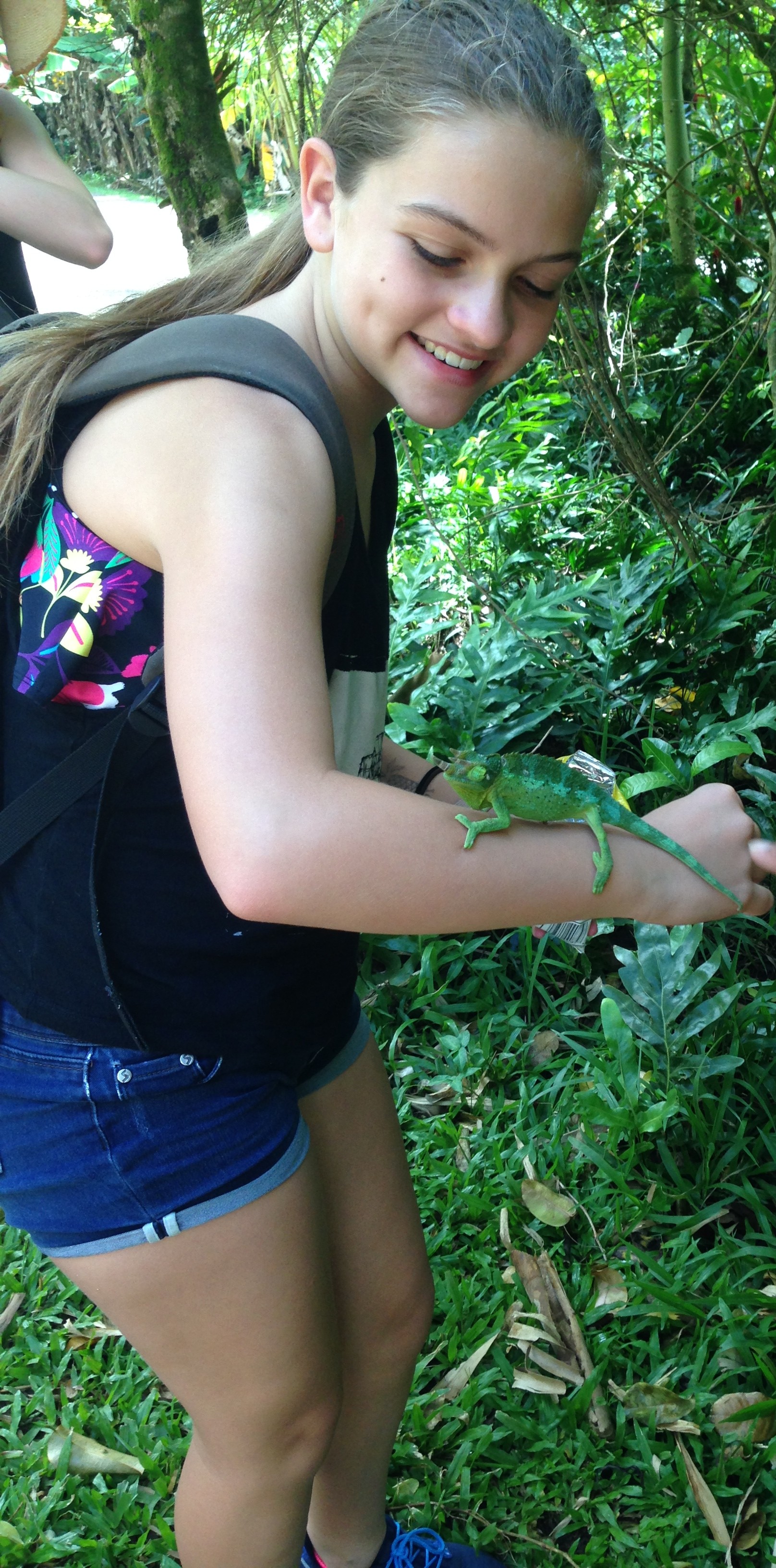 Do you see why the hike was our favorite Maui pick?  It included all the elements of fun, exercise, tasting Hawaiian foods, swimming and beautiful scenery.  Our hiking guide, Kahi was amazing!  He is a Hawaiian native who knows his stuff when it comes to the Maui island environment and history and he is a sweet family man with four children and nine grandchildren of his own.  So he was the perfect hiking guide for our family that included some adventurous souls and some of us who opted more for a relaxing hike sans jumping off the rocks!  I just love these shots of us in the jungle and check out the cool bamboo trees, too….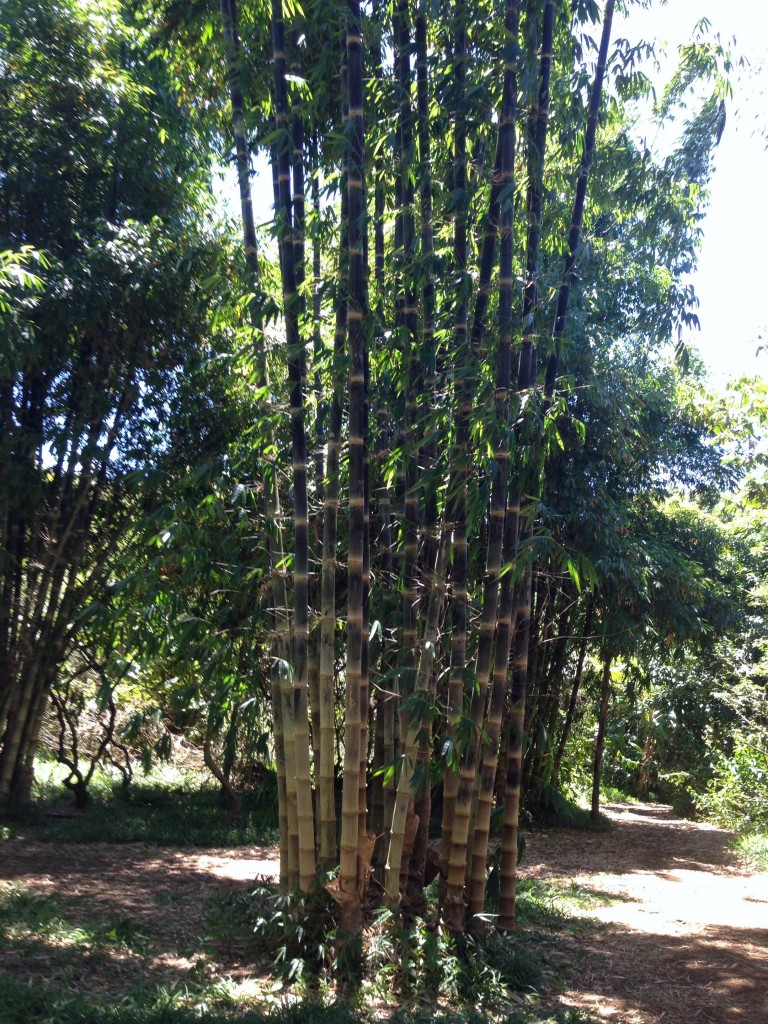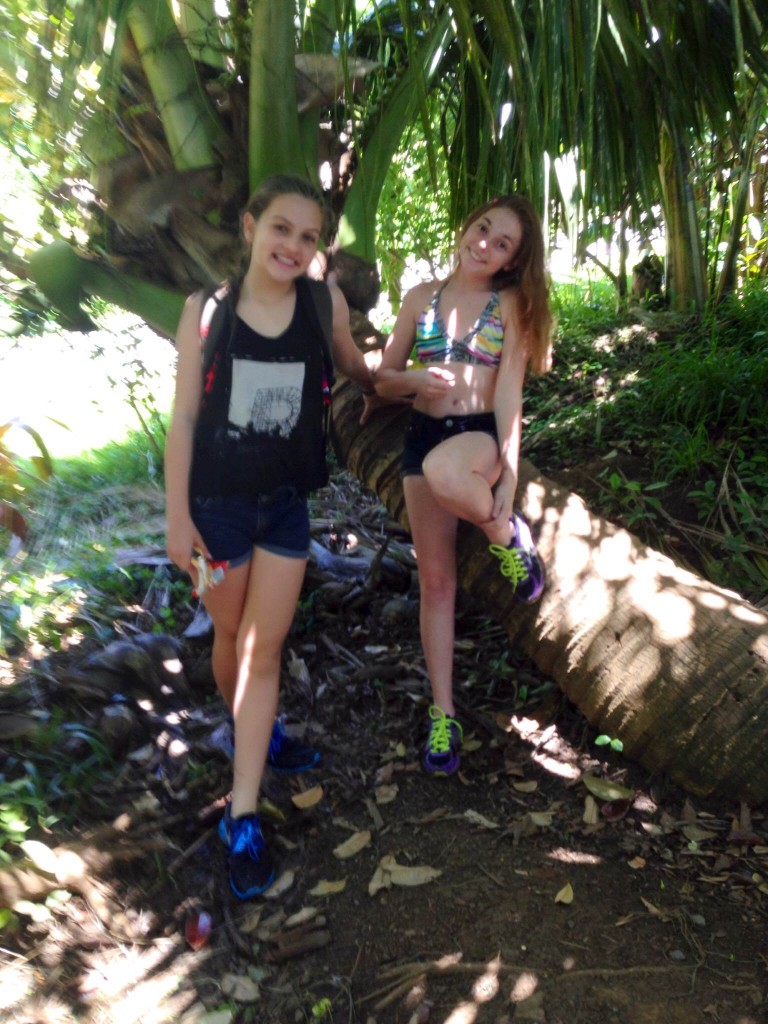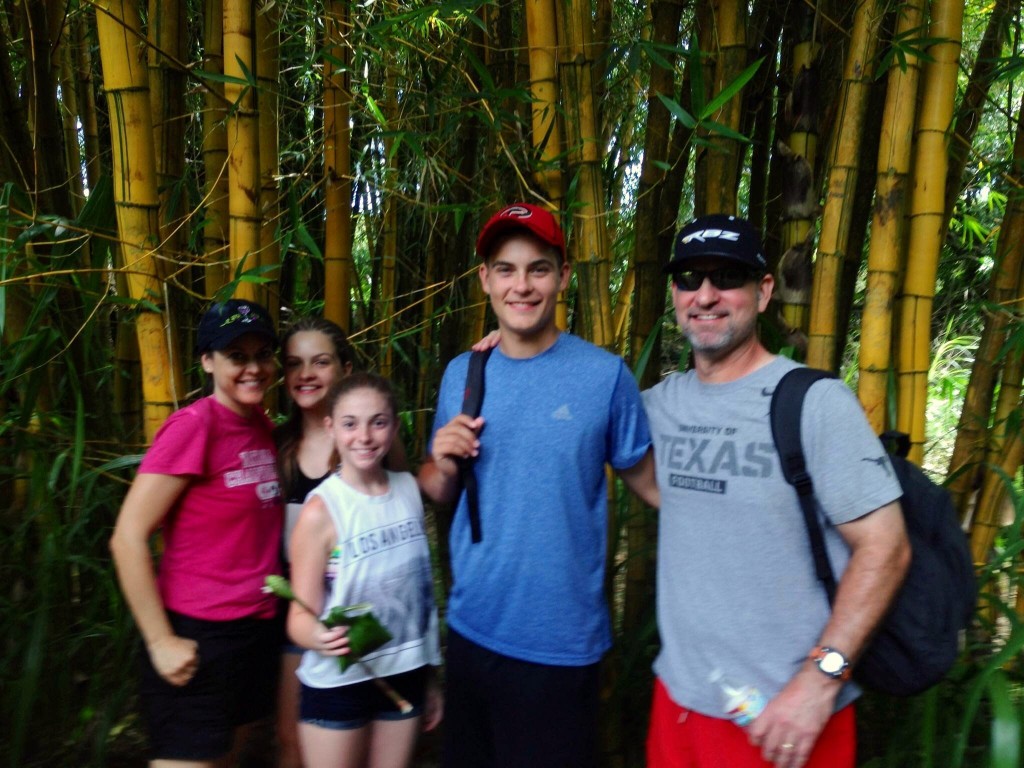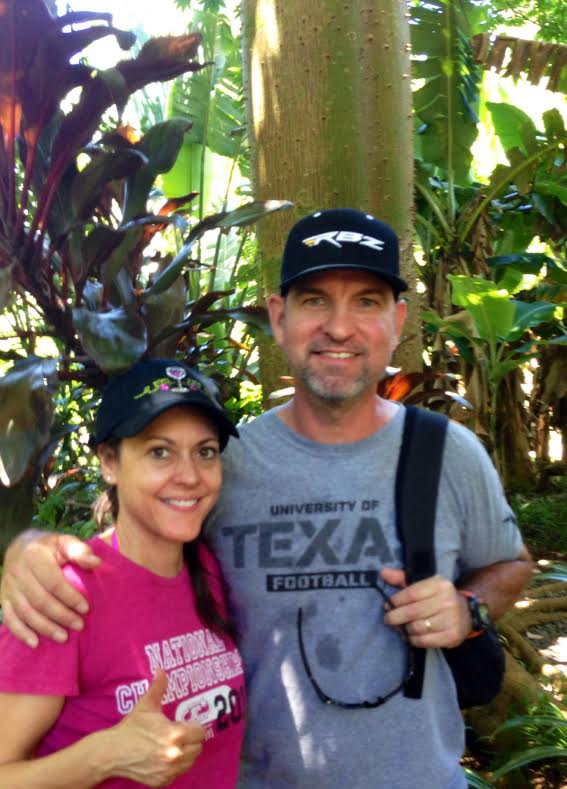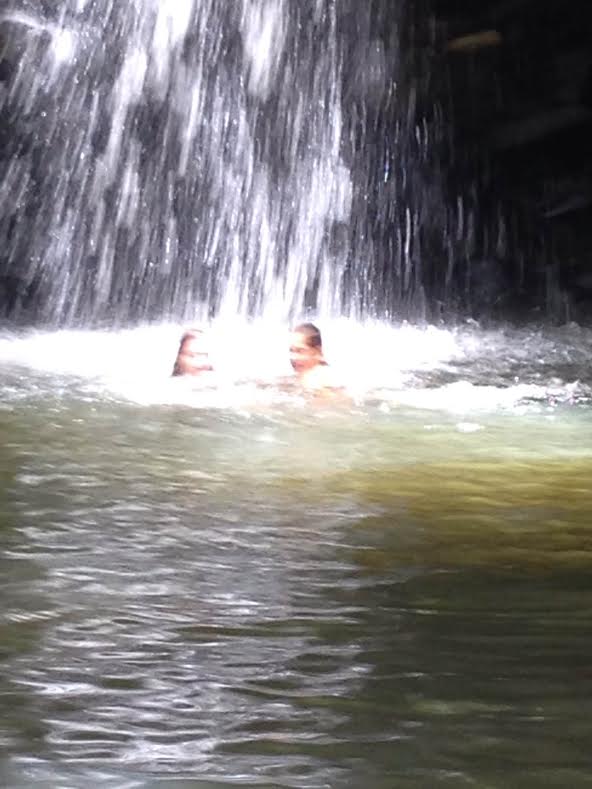 I guess I will close now.  It was so hard to pick pictures out of the over 100 shots that we took!  Here are a few more of my faves to close this article.  Have you been to Maui?  What are your favorite Maui spots?  Tell us in the comments section. We didn't get to eat at Mama's Fish House or take the road to Hana, but we came to close to doing all that had been recommended to our family.  I truly loved every second of our Hawaii adventure and I will keep our treasured Maui moments in my heart for the rest of my days.  Aloha!