My Dad's dear dog, beautiful Violet passed away yesterday and my heart aches for his loss. Losing a pet is such a difficult loss.  And Violet was very loved….very very very loved and she was very very very loving right back. She was a pampered pooch for sure.  Just look at this awesome pet perch that my Dad hand built for his beloved best friend and for her companion, the other sweet doggie in the house named Dottie.  You can see that Violet very much approved of the custom made porch that enabled her to see her human Dad over the fence when he arrived home from work each day…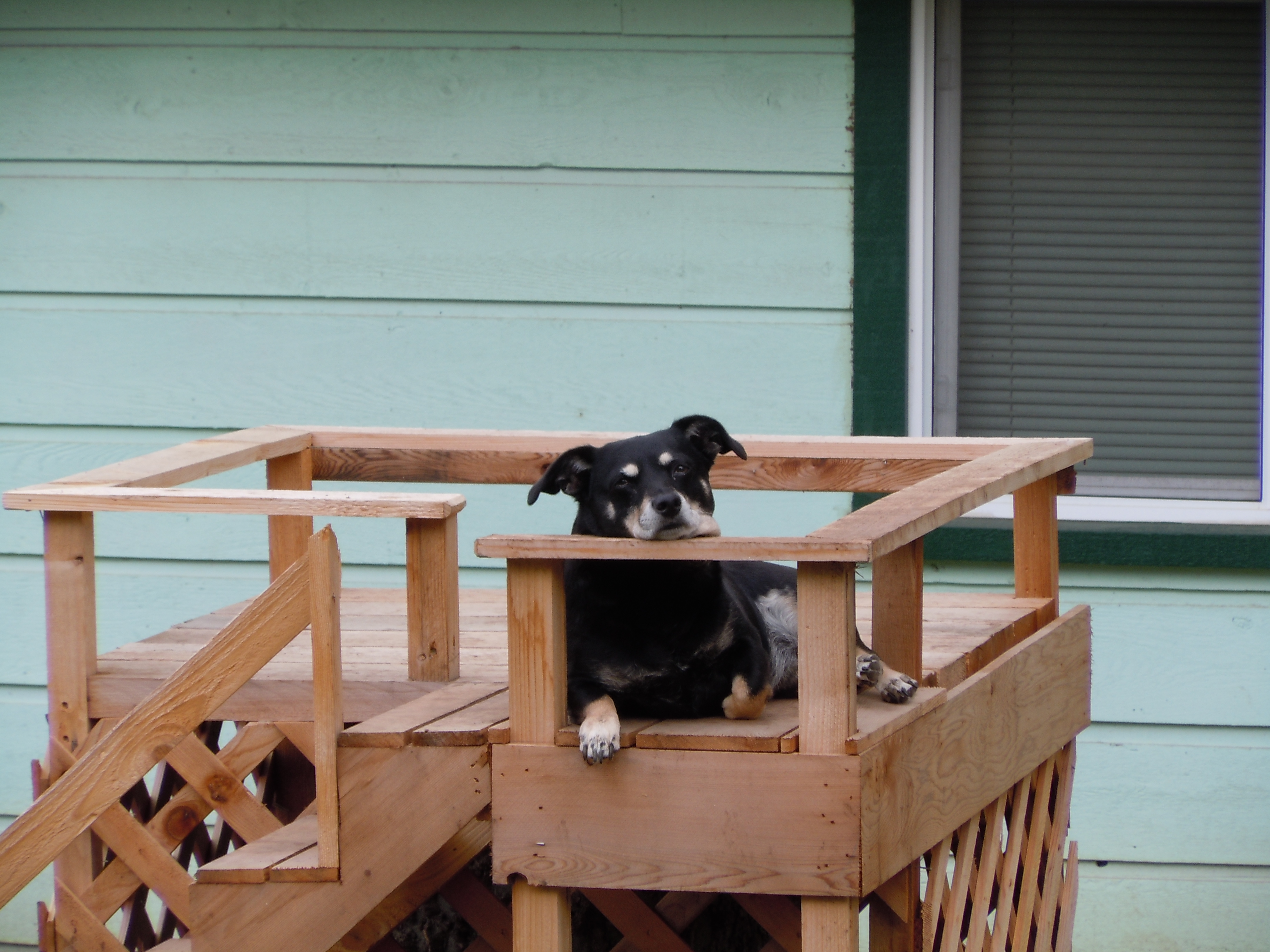 My dear Dad is one of the most compassionate men that I have ever met and his love for animals has been a great influence on both myself and my own children.  Visiting my father in Austin in the summers was especially fun for my kids because the dogs were always so loving and playful.  The love they bestowed on the visiting family members was a direct reflection of the love and tenderness that they received from my Pop.  My Father has saved a lot of animals in his day and he has been bitten more than once when he pulled over to rescue injured animals, too.
Today as he mourns the loss of his beautiful Violet, I must also celebrate the life he gave her as her wagging tail, excited jump and big doggie smile always perfectly portrayed.  All could plainly see  just what a happy dog life she lead under his care.  As he was a hero in her life, he remained her protector and comforter as she left this life to cross the rainbow bridge.  The pain and anguish that I know my Father feels is due to the fact that she carried a piece of his heart over that rainbow with her.  Although the heartache that we experience has to eventually come with having a beloved pet, I do wish that kind of joy to every human that is fortunate enough to have a dog like Violet….and to every pet that is lucky enough to have a Dad like my Daddy.
Sending my love to my Dad today and honoring the life of the lovely Violet.  She truly lives on in our hearts.