Manic:  My mind when I think about our son and all of the big milestones that the teen years have brought, both with risk (hence my manic mind) and joy.  Starting high school, learning to drive, getting a driver's license, preparing to take the SAT, school dances and more.
Managed:  Just when I think that the next milestone won't happen until next year when he graduates from high school (is that really happening next year?!) he springs another one on us when he asks to drive his car on a road trip…with friends…to San Diego for Spring Break.  Yikes!  Did we let him go?
Believe it or not, yep we did and read on to see what went into our decision to say yes because it wasn't an easy decision to make and to commit to with our boy.
First of all he is 17 1/2 years old now and when the big 18 rolls around next fall, he will be asking to take road trips, I'm sure.  This particular road trip did include an awesome parent chaperon who would follow our son on the road to Spring Break fun and stay with the group, along with another chaperon, in the beach rental property.  So we decided that this would be good practice since he is sure to take future trips without us (sooner than later) and without a parent chaperon as well.
Another reason we agreed is that he paid his own way with paychecks from his part-time job that he currently balances with school and his Varsity sports teams.   He paid his share of the beach house rental, food and gas.  We did surprise him, as he left, with a little spending money from Mom and Dad, which also gave us peace of mind that he would have extra emergency cash on his person.
We also decided to allow this new found freedom after having a good conversation with the parent chaperon. He assured us that our son's car would not be driven around San Diego and would only be used for the trip up and back.  He also met with the kids and gave them a set of rules that included a curfew and more. Meals would be breakfast and dinner together with lunch on their own and I liked that he had them coming together for dinner.  Good plan.
We required him to take his car in to the shop for a bumper to bumper road trip check, as I call it.  He did it himself, but I did call the mechanic to stress the importance of this check-up for the automobile that would take our beloved son and several of his friends to another state.  Precious cargo indeed.
Lastly, we let him go because he has been keeping up his grades (and he is taking some hard AP courses) and hasn't done anything lately to not have earned our trust.
So off he went that first Saturday of Spring Break.
I talked with him about driving carefully, no texting, following the parent chaperon's rules, avoiding being so exhausted by the end of the California stay since he also would be driving back.  I even told him to remember not to go out too far in the ocean and to wear sunscreen because even though he may be 6'1 now, shaving and driving, he is still my boy.  And it is my motherly instinct to prepare him as much as I can now that his big years of independence have arrived.
After he pulled off at 6:30am, hubs and I looked at each other with a combination of excitement for him and fear for ourselves knowing that we just allowed our kid to leave our safe home to drive 350 miles away from us….without us. Although it was early morning, we spontaneously decided to relax in the new spa we had just added to our backyard instead of trying to go back to sleep or getting on with the day. The hot tub (and a few spirited beverages as the day wore on, I must add) did the trick and truly helped us to relax as we waited for updates from the road during the breaks for gas and food.
I am happy to report that all went quite smoothly.  Our teenager had the time of his life and thanked us repeatedly for saying yes.  In fact we heard from him more than we had expected, which was a nice surprise. This picture below was shared with us by the very nice parent chaperon and we appreciated that.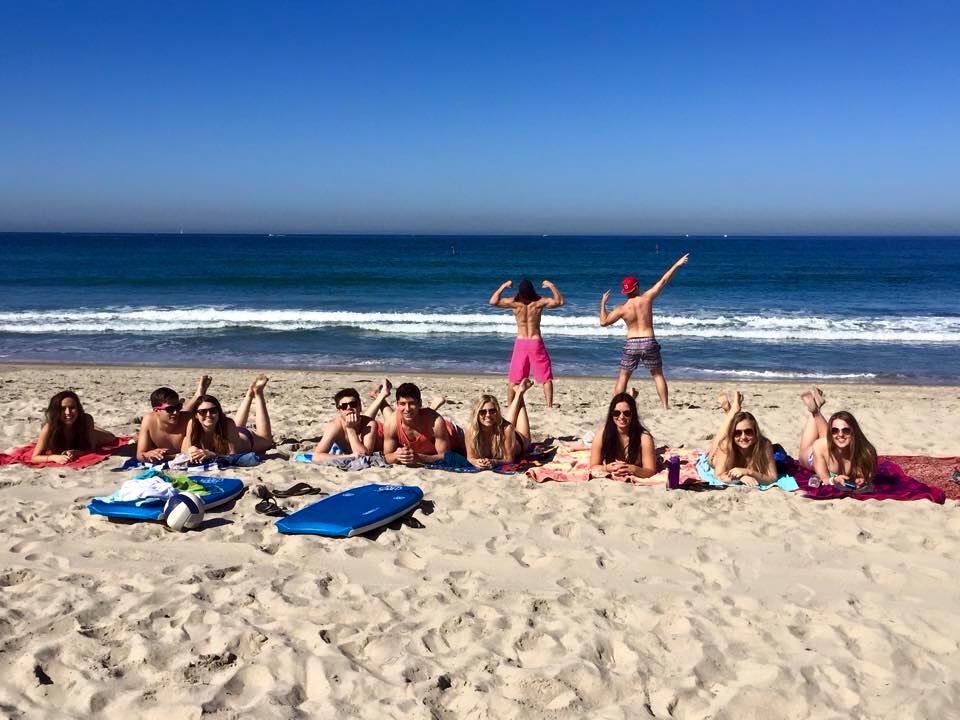 And the nicest surprise of all was when he excitedly called us long distance to suggest that our family consider renting a beach house similar to the one his group was staying in for their 3-day getaway.  It made me smile that he still wants to plan a trip with his ol' parents.
Putting our trust in him at this stage really got his attention in the right way and he really did appreciate it.  He told us this several times.
Yes, his wings are flapping.  He is at the edge of the nest now and I truly can't believe that this Mama bird has one that is so close to flying away.  Bittersweet for sure.  I hope that we did a good job with the roots. We certainly tried hard and gave it our best and so far….so good…but also knocking on wood right now!  As his teen years wind down, we are also just beginning this journey again since our girl is 13…happy and exciting teen years for sure are keeping this household busy and exciting!