I had a terrific response to my article yesterday about the Fitbit and thank you for leaving comments, too.  I love getting feedback when I write my blog articles!  You are not going to believe this, but this beautiful gold bracelet that I'm sporting in the picture below is my bracelet that holds my Fitbit when I want to dress up but still track my steps.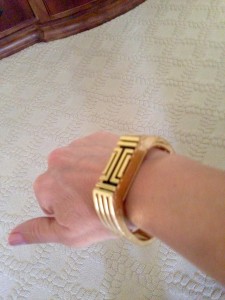 This is the Tory Burch Metal Hinged Bracelet in gold.  And here is a better picture of it from the Fitbit website….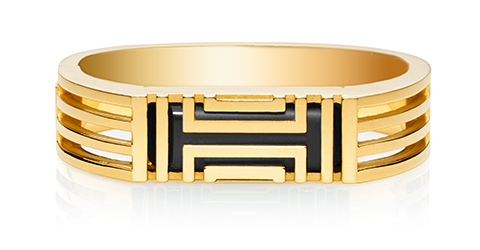 It is so pretty and I can see my Fitbit lights through the jewelry piece.  If you missed my review on the actual Fitbit that ran yesterday and was very popular with my readers, you can read that here.  Of course there is bad news about this attractive Fitbit accessory and that is the price.  It will set you back $195 to have one for yourself, which is why I haven't purchased any of the other beautiful styles and colors.  This style is also sold in silver and rose gold.  If you are still interested in adding this to your Fitbit collection, you can purchase it here on the Fitbit website.
The Tory Burch collection also just recently added the Fret Double Wrap Bracelet that comes in several colors that include black and shiny brass, bark and aged gold and the one that I want that is French grey and Tory Silver that looks like this….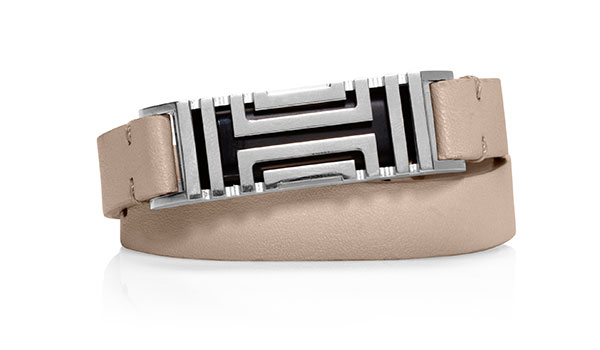 This one is a little less money since is costs $175, but it is still pricey.  That one can be purchased here.
I am hoping that more affordable and pretty Fitbit bands become available.  For now, I'm saving up my pennnies for the double wrap.  And that also encourages me to keep up my daily 10,000 steps, healthy eating and exercise!
I am Fitbit addicted, I must admit!
No product or compensation was received for this review….I wish it had been!