It seems lately that I've wished too many friends comforting words following the loss of a loved one, a cherished family member or a true friend.  I was starting to take notice that many seemed to be departing this year of 2015 and from all sorts of ailments and folks of all ages.  Then we got a phone call with news of a loss of one of our own.  Our dear Uncle Tony.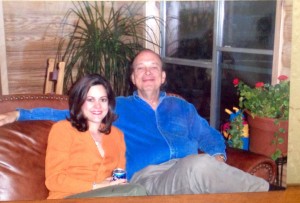 Although we knew that he had been ill, his passing was still unexpected to my husband and to me.  I knew immediately that I would rearrange my life to be on a flight to Fort Worth, Texas by the end of the week.  I did just that and I was reminded that life is unpredictable.  I was also reminded to follow my heart on this one and to cancel, rearrange, reschedule, pay the airfare, hire the home/cat sitter and more to ensure that my family was at Uncle Tony's services.
Now that I'm back home with time to myself to reflect on Tony's life, I remember his actions, his words and the example he set as a passionate man, both with his family and in his career and in the countless examples of how he helped others.
Tony's passing also reminds me of several other life lessons that he taught me by example that I think are good reminders for all of us.  These life lessons are….
*Be welcoming and warm as he was to me back in 1985 when my then brand new boyfriend brought his Uncle Tony to the mall where I worked full-time to help put myself through college.  I will never forget his big embrace, bright eyes and smile that meant he found joy in his treasured nephew's interest in me and treated me with an instant family welcome that was geuninue.  That Harris warm welcome is one reason that I said yes years later when that boyfriend proposed to me.
*Root for the next generation as Tony did for the younger set.  I saw him do it countless times for others in many forms through the years.  My own experience was the letter of recommendation that he wrote for me as I applied for a scholarship to get into the University of Texas at Austin after working full time and attending Austin Community College.  I won the scholoarship and graduated five years later with a degree in Journalism.  Tony and his beautiful wife, Mariem drove three hours to attend my graduation.  I remember that and I remember the letter and I will honor Tony by paying it forward and rooting for the next generation.
*Make a dream come true if you get the chance and Tony did just that for myself and for my family when that marriage proposal came from his nephew and we pondered on how to have the wedding of our dreams on a realistic budget.  Never did I imagine that I would get to celebrate our I dos atop a beautiful high rise in downtown Austin, but Tony made it happen when he asked his good friend if he could allow us to book it using his membership.  Wonderful happy wedding photos keep that dream wedding fresh in my memory and in my heart.
Those images also serve as a reminder to work on my marriage when the inevitable tough days come and go. We recently celebrated 23 years of marriage.  Thank you again for that treasured dream come true, Tony.
*Write a letter to someone you love and handwrite it, too.  I was so touched to find a letter that Uncle Tony wrote to my husband and to me back in 2005.  I found it just three days after he passed away.  It was three pages long and was handwritten and his words praised us as individuals, as a couple, as parents and as folks who had found a balance between the demands of family and of career.  It was great fun and also produced tears of thanks to read those heartfelt words again that he had taken his time to craft and to send to us.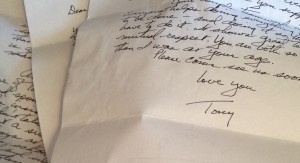 The letter remains as does his memory in our hearts.  I am so pleased that I had taken care to save that letter and how magical to find it 10 years later!
*Tell your loved ones your wishes.  If Tony had not mentioned that having a Maraichi band would be a neat thing to include at his services, we would have missed out on one of the coolest things that I have ever experienced at a funeral.  I am so glad that he told his sons about his ideas….and that they listened and remembered.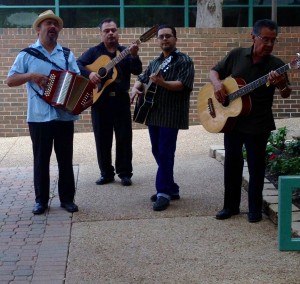 Tony had a good relationship with his boys, who have now grown into good men, like their Dad.
*Plan Family Time and Tony was quite good at this when it came to bringing not just his own sons to town, but the entire extended family.  Uncle Tony took the time to mail out hand written invitations that went all over the country inviting us all to attend the annual family reunion, that he and his wife also planned and hosted.  I am so thankful for those times now.
So as I honor and mourn the life of Tony Harris, I move forward and I pay it forward to also honor the example he left with us.
We love and miss you Uncle Tony.