Manic:  Maintaining a workout, with my schedule and with my aging body that grows older each day!
Managed:  Found an incredible trainer who trains, while taking age into account, making the workout challenging, interesting…and safe for my age.  So awesome!
And just because he takes age into account doesn't mean that he goes easy on me!  Here is what age appropriate training means with professional personal trainer, Carlos Monge, longtime owner of Body By Design in Ahwatukee.  Carlos is 55 and doesn't look it because he truly walks the talk, does the same fitness exercises that he has his clients do, eats nutritious food and is a caring family man who lets his faith guide him.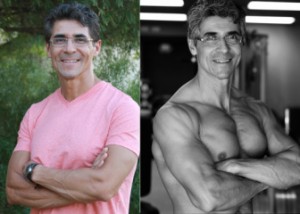 He lights up like a Christmas tree when he talks about his wife and two sons.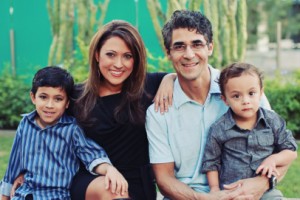 His career began in El Paso, Texas where he not only helped people reach their fitness goals, but he also competed as a 'natural' (drug-free) body builder.  He has also coached and trained clients in body building and fitness competitions.  Carlos has been certified through the Baylor Sports Medicine Institute in Post Rehabilitative Training and Pre/Post Natal Personal Training.  Carlos has had clients as young at 14 and as young-at-heart, as 76.  Other clients include professional athletes, working professionals, stay-at-home moms and retirees.
And me.
I am a very happy client.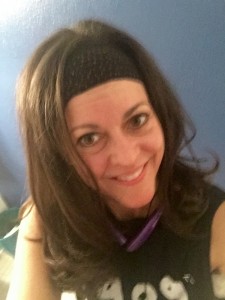 I always leave his gym sweating…and smiling, big time!  So much so, that I told my family that this gym membership was the only thing that I truly wanted for my birthday gift this year.  I really can't wait to get there and hit this mat and these machines (among other innovative fitness tools with Carlos' direction) several times a week….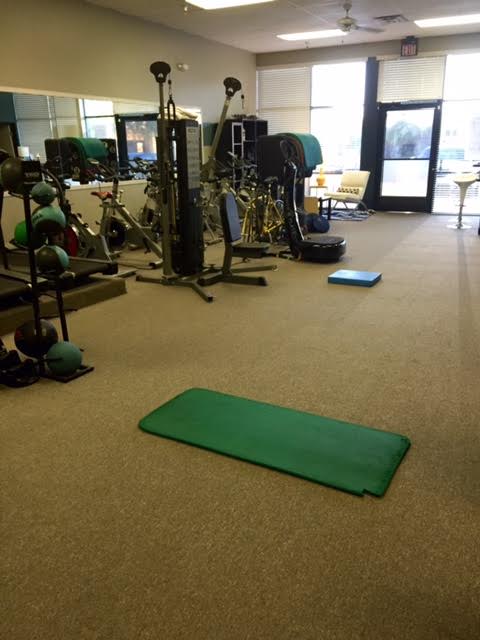 You might ask what age appropriate training is.  What does that mean?  Let me tell you…
What He Does:
 Warm up – it is imperative that we arrive a few minutes early to warm up on the treadmill.  3 to 5 minutes of brisk walking and then we hit the floor.
Stretch – We properly stretch.  Not just the touch your toes once, bend and stretch. But really stretch.  From head to toe with relaxing music in the background to get us centered and ready for a good workout. And Carlos stretches, too.  I can't believe how limber he is!  But he told us that physical fitness and flexibility is something that we have to practice consistently in our lifetime. And since he walks the talk, he can do all that limber stuff because he has kept at it.  His entire life. Years ago, when I was a cheerleader, I could do the splits.  I did not keep at it.  I can no longer do the splits, but I can feel myself getting more flexible after each session with Carlos.
Knows His Clients, Really Knows His Clients – He doesn't just remember names, but he remembers your age, your limits, that sore shoulder that I only told him about once…and yet he incorporates rehab exercises into my individual workout plan.  While, mind you, while also remembering every detail about the four other clients that are there at that day's fitness class. Amazing!
Assesses and builds up to a good challenge – Since I am 48 and have broken my ankle three times in my life, Carlos tells me that there is no need for me to run on the treadmill and put unnecessary tension on my joints.  My mother loves this about him.  I may be pushing 50, but I am still her baby.  So Carlos instead adjusts the incline and the speed and boy do I still work up quite a sweat.  I don't miss the running.  Don't miss it.  At all.  For my runner gal pals, I admire you and say you go girl.  For me, I am so thankful to Carlos because I have never felt better and leave worked out.  Every time.
Mixes it up.  Every time I go to his workout, there is a new exercise.  And not only an exercise that he hasn't done in our class before, but something cool and fun (and hard!) that I have never even heard of or seen before.  He also repeats some of the exercises but in a different way so that I am never bored. Never. Ever. The hour truly flies by. I don't even look at the clock.  I'm too busy sweating, doing my breathing and even smiling and laughing.
He makes us laugh – Laughter is truly the best medicine, especially when you don't want to do that last circuit, but feel oh so good when it is done.
He uses his gift – When you find your gift and your passion, you not only do well, but you have such a positive effect on others.  I have met and talked to a lot of his clients now.  I have only been there for a little over a month.  I am struck time and time again by just how many of his clients tell me that they have been working out with Carlos for years….2 years, 6 years, 8 years and more.  It is hard enough to stick with a fitness plan and unusual to have the same trainer for so long.
He listens to our goals.  He understands that many ladies don't want to bulk up, but instead want to look fit, toned and trimmed.  He also listens when we discuss how we want to eat better, improve our sleep and just be overall a healthier person which makes a better woman, wife and mom in my case.  Just ask my family!  I am a happier and less stressed person with his workouts on my calendar. Here is a peek at one of my workouts…

What I haven't shown are the ropes.  Carlos teases me that my ropes sound like bread hitting the floor so I have become stronger with each day making sure that he hears the impact as my sweat increases and my body fat decreases!  I haven't shown the funny maraca like contraption that I shake side to side.  Sounds easy, but gets hard with each rep in the circuit.

We need to take pictures of me on the Vibe machine, something that my prior gym had that I loved.   The vibrating machine helps to equally distribute the tension in the muscles so I am less sore the next day.  Also missing in these pictures is the big wooden stick that Carlos had me place on my shoulder and turn side to side or the balancing thing I stood on while lifting weights.  I just love how the workouts are different, which not only makes it fun, but causes muscle confusion, which is crucial to keep the body responding to regular workouts so that change continues to occur.  And I can feel it and I can see it, most recently in these two pictures, with my kids, that were both taken on my 48th birthday.  First with my son right after a workout with Carlos….and then later all dressed up for my birthday dinner with my girl….In both pictures I can see a change in my face, my coloring and my expression.  What I see is less stress and more patience to be the best Mom that I can be, especially since my oldest will fly the coop soon.  Very soon.  I am thrilled that my arms are looking better, that I feel much less bloated on most days, that I am getting stronger and that I have kept the 10 lbs off that I have lost over the last ten years truly off.  All I have to do is this….