Manic:  Me…a few weeks back with lots of gym workouts (that was good) and moving too fast every day, literally (not good) as I worked to balance the demands of parenting two teenagers, a freelance career, home and more.  The logo that my original webmaster designed for me hits the nail on the head!  The daily to do list is long and relentless and seems to get even busier when kids become teenagers! 

When I carelessly ran into a piece of gym equipment that sent me tumbling over, I paused for a second to assess the damage and to quickly reduce my own embarrassment by jumping right up to let everyone know that I was just fine.
But I didn't get it.  Yet.
My body was trying to tell me something.  Hey manic mom, my body was saying…time to slow down! What has occurred in these last two weeks since then reaffirms the message.
Managed:  I finally get it.  I finally listened to my body.  The foot injury forced me to stop and to scale back my schedule.  And to finally get my own physical, after badgering my husband to have his done. But I was too busy to schedule my own physical.  What a hypocrite I was being.
But with a boot on my foot and some forced down time at home…a funny thing happened and I received some health news that goes beyond my injured foot.
And my story is good advice for the ladies reading this article.  Because through all of this, I discovered that I have a disorder, a common and treatable one (I am thankful) but one that I probably would have ignored if my clumsy inattentive self hadn't slammed into that equipment forcing me to slow down.
First my foot story:
So silly me was walking and talking on my way to the next circuit training piece, the ropes. I actually like the ropes.  That is one exercise that I find fun to do.  When it is fun you don't really notice the workout part of the circuit. So I was walking fast to get to the ropes.  I was also chatting it up with the other ladies in my gym class that day so my mouth was going and my head was turned to the side, not looking in front of me to see where my feet were taking me.  So when I slammed the top of my foot on the gym equipment, I tripped right over it and flipped over on my side.  How embarrassing!  But the ankle that I have broken three times in 25 years (yes you read that right) seemed fine.
So to my relief, I popped right up telling all that I was A OK.  But then my awesome trainer noticed my limp and immediately made me prop my foot up with one of his ice packs.  After 15 minutes, it was decided that I would drive home and prop up with ice every 15 minutes on/15 minutes off.
So I did that but when the swelling and pain increased, I finally decided to listen to my body (the first time in a while) and see the podiatrist.
No break, but a very painful bruised bone right on the very sensitive top of the foot.  The doctor explained that my injury was the equivalent to a baseball bat giving the top of my foot one big smack. Ouch.  No wonder it smarts!
So in the days that proceeded, I went from crutches to a boot and forced myself to ask for help and to scale back on all the daily things that I do to keep a busy household afloat.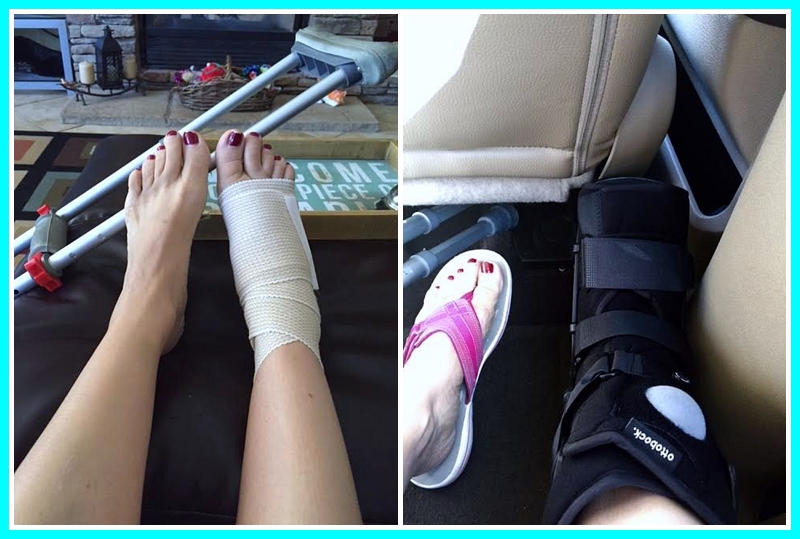 This is not easy for most moms to do!  Right Moms?  It is oh so tempting to just do the jobs ourselves to get it done fast and to get it done right.  After all, no one will do it like we can, right Moms?!  I definitely subscribe to that and it hasn't done me any favors.
So it was not easy to be laid up on the couch asking for help.  Not easy at all.  But my family came through and did a lot of my daily jobs giving me time to get my foot back on track.
But I still wasn't listening to my body.  Not yet.  I was so focused on just how fast I could get back on my own two feet that I continued to ignore my other issues.  And once in a boot, I stupidly overdid it.  My Fitbit proved that when it registered 16,000 steps my first day back up.
Too much, Rachel.  Not listening to my body again!
Five days after my foot injury, I put on my boot and went to my high school's 30th reunion.  Since I was on the planning committee, I was to arrive early.  But first, I made a special stop just for me.  I went to my good friend, makeup artist extraordinaire, Karen Hall who is not only a top notch professional and celebrity makeup artist for over 30 years, but is also a good friend.  As she worked her magic on me, we talked about my foot and how frustrated that I was about attending my reunion in a big boot.
She asked me if I understood what my foot injury meant.  She went on to say, "Rachel your body is telling you to slow down.  To breathe."
I quickly agreed and then she asked me if I was listening.  Really listening.  I told her yes but I really wasn't….yet.
At the reunion:
I kept quite busy at the reunion seeing old friends and working the check-in table, etc.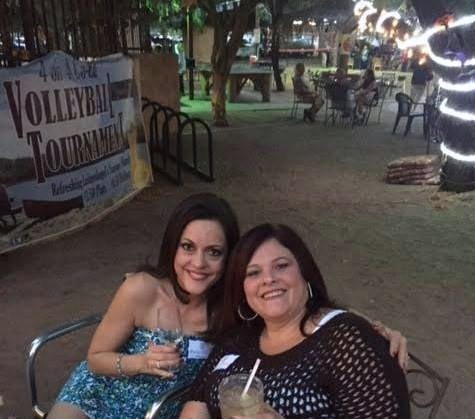 My committee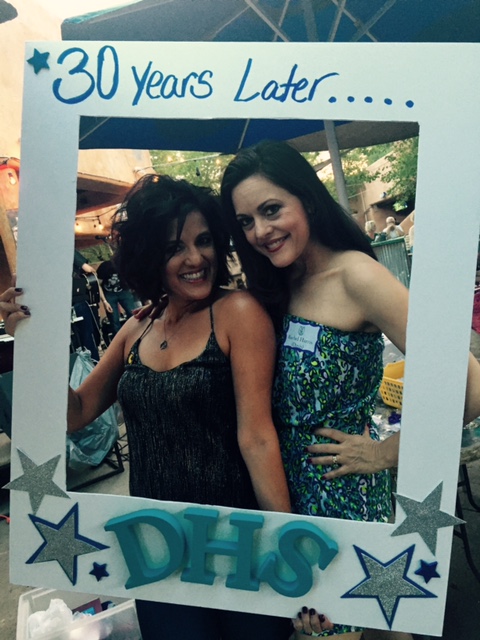 voted me to be the one that spoke on stage so up I went with my bulky boot.  As the evening wore on I became very tired and found it difficult to catch up and converse because my voice was failing me and was giving out.
So darn it….not fun….but I listened to my body.  I called it a night and left earlier than I had planned to and earlier than I wanted to depart, especially since I hadn't seen many of these peeps in 10 years and some in 30 years!
But it was time to listen to my body.  I was starting to really listen, at last.
Medical tests week:
Now that I was finally paying attention to my body (and spied a reunion picture of myself days later on the site that I didn't like at all) I decided that it was time to have my ol' body checked out.
I have had some issues that I ignored and pushed aside because I had no time for silly nuances like being overtired. Losing my voice.  I even ignored the fact that on most days I felt bloated and believed that increased gym workouts and an improved diet would be a quick fix for that.  It wasn't until I saw a reunion picture that had me sporting a belly that looked like a baby was setting up camp in there that I felt like it was time to have things checked out. (I am not going to show you that picture!)
No chance of a baby…thank goodness.  Been there, done that and with an almost 18-year-old and 14-year-old, that would be tricky news.  But something wasn't right and my body's voice was getting louder and louder in my mind.  Time to listen.
I have also been having some lady issues that I brushed aside as perimenopause symptoms and nothing more.
But I decided to take advantage of being forced to slow down and to finally book those medical appointments that I had been putting off.
So after several calls made to two of my doctors (my OBGYN/GYNO and my primary care physician), tests were scheduled.  I am still waiting on my pelvic ultrasound results.  However, my primary care physician surprised me with a quick call just 24 hours after the blood work was taken.
The diagnosis?  Hypothyroidism.  Oh, I thought.  Now this makes sense!
Despite my revved up gym workouts, I had recently put on about 6 pounds.  I kept attributing that to perimenopause and to muscle weighting more than fat since I was doing a lot of strength training.
And I was tired.  So tired.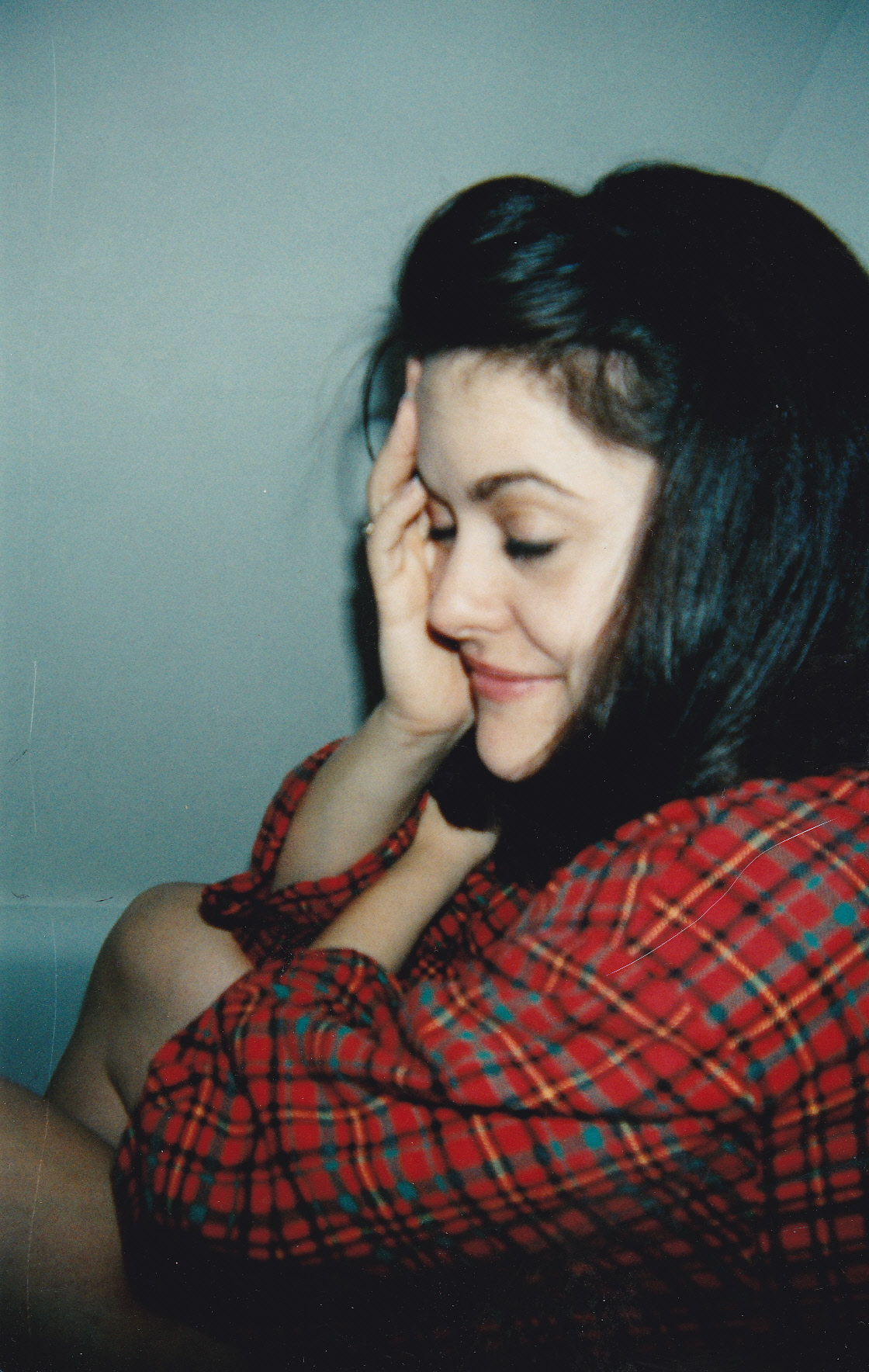 So tired that my voice would give out and every TV segment I did showed tired eyes.  I attributed that to allergies.
My skin was itchy.  I figured that was a touch of eczema flaring up as it does occasionally for me.
I have always had very thick hair, but lately it had thinned out, not too much, but enough that I noticed it and even had one stylist ask me why I had hair breakage.  I attributed that to a too hot curling iron.
I finally gave in and started wearing readers when I work on the computer.  I figured that was my age, but vision problems are another common effect of having a low thyroid disorder.
Basically most of the above can also be perimenopause so it was easy to just blame everything on that plus I didn't have to slow down and listen to my tired body.
It was too much energy to put myself first and to finally listen.  Too much to do.  My family's appointments had taken center stage and I kept myself on the back burner.
Until now.  So thankful that my clumsy foot forced me to put the right foot forward and have myself examined!
So I will see my doctor next week to learn more about my condition, which is very common and also affects my own mother and grandmother.
The Ladies Lesson!
The lesson here, busy gals out there reading this, is to stop, breathe and really listen to your body!!
In my case, I have learned that an abnormal thryorid affects the majority of the body.  And I found this fact in WebMd….
"When left untreated, hypothyroidism can raise cholesterol levels and make you more likely to have a stroke or heart attack."
Ugh.  No thanks.  I am much too busy for that!  (Gotta have a sense of humor when dealing with our health and our pesky bodies!)
So this is a common and very treatable disorder, but had I not finally listened to my body, I would have continued to walk around tired (probably part of the reason that I tripped over gym equipment) and ignored the other bothersome symptoms until they may have become something more serious.
And because I finally took Karen's advice and really and truly listened to my body, I was the one that asked my doctor for blood work.  I was actually more curious about my Vitamin D level and iron, never even considering a thyroid disorder.
So lades, be your own best friend.  Stop.  Slow down.  Ask for help.  Listen to your body. Parent yourself, too. We only get one busy body and we can't forget to nurture and to take care of ourselves.
My body is talking to me now.  I am listening.  And I am anxious to start my new meds to see what happens. I am hoping for increased energy, decreased bloating (yey) and the drive to return to my normal high energy self.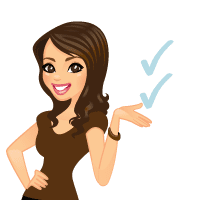 But this time, I will remember to pace myself (my trainer calls me the Energizer Bunny….just wait until my meds kick in!).  And I will listen.  To my body.  And I will breathe.
Join me girls.  Look after yourself.  Breathe.  You are worth it 🙂