Manic:  Having a small backyard that, for the last 10 years, would flood every time it rained  Lucky for us, it doesn't rain much here in Phoenix, but a year ago September, when we had record rain, we had to sandbag our home and the water came right up to the sandbags!
Managed:  Finally, after waiting 10 years and saving up our pennies, we put in the backyard of our dreams and I am happy to report that it has been worth every cent.  I took this cool panorama shot of our new yard with my iPhone camera….

Here is one before and after perspective and look just how much bigger our yard appears with the new features….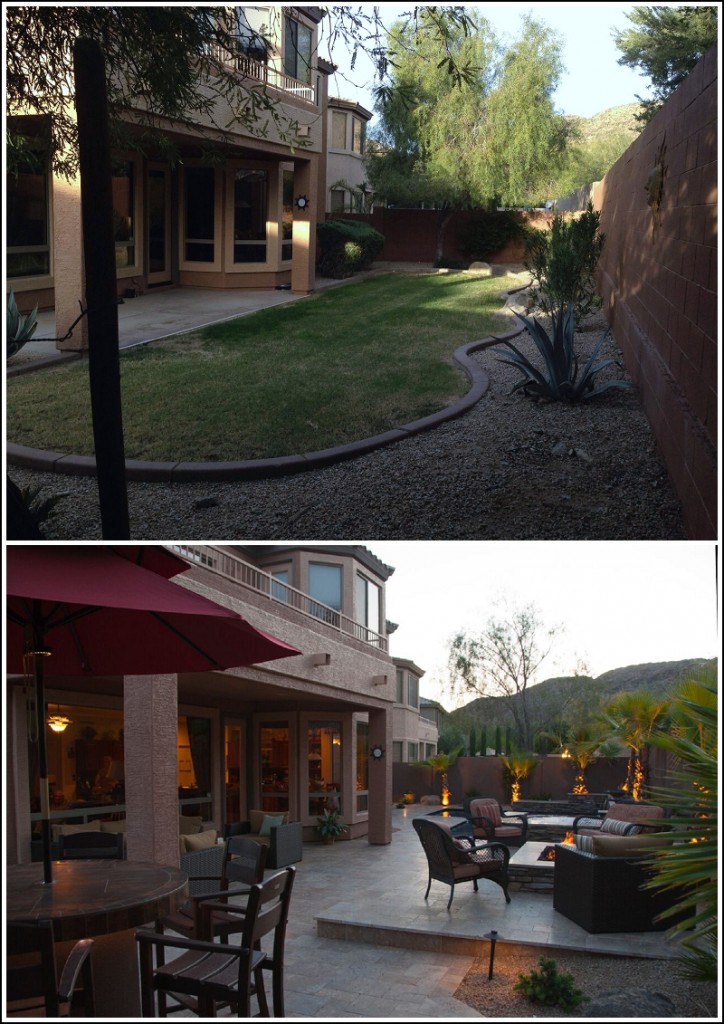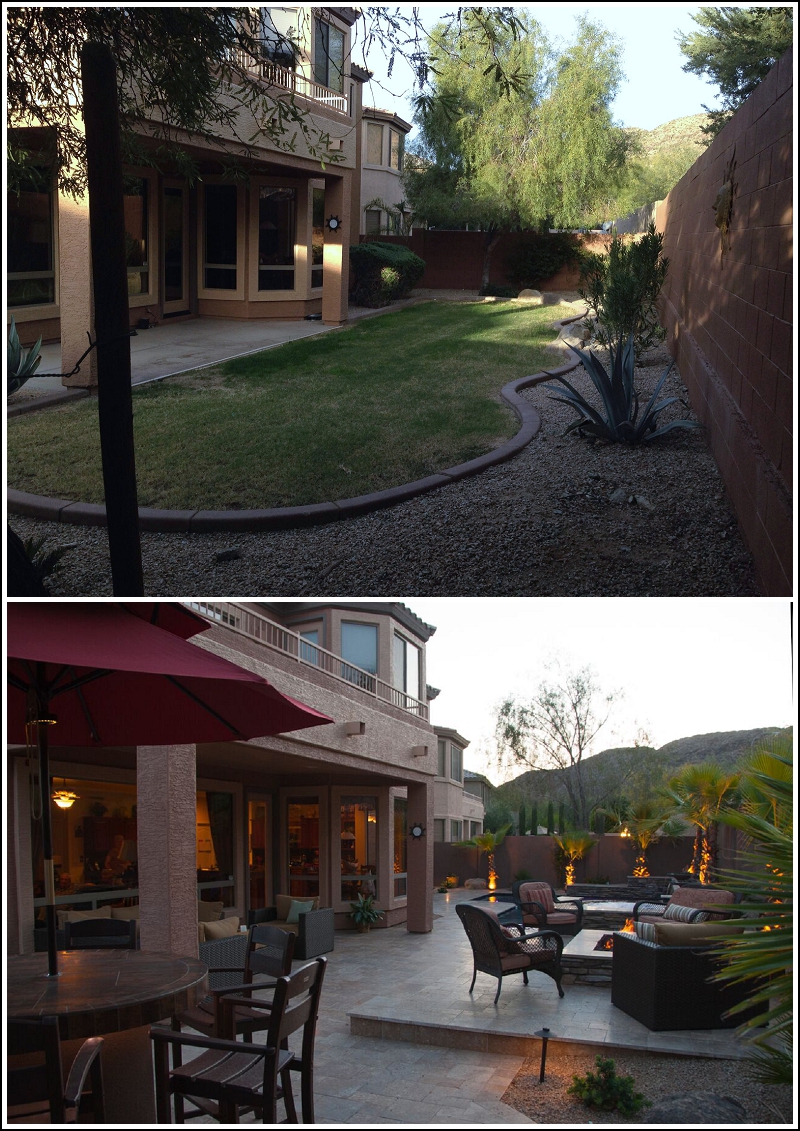 Here is another before shot from another angle….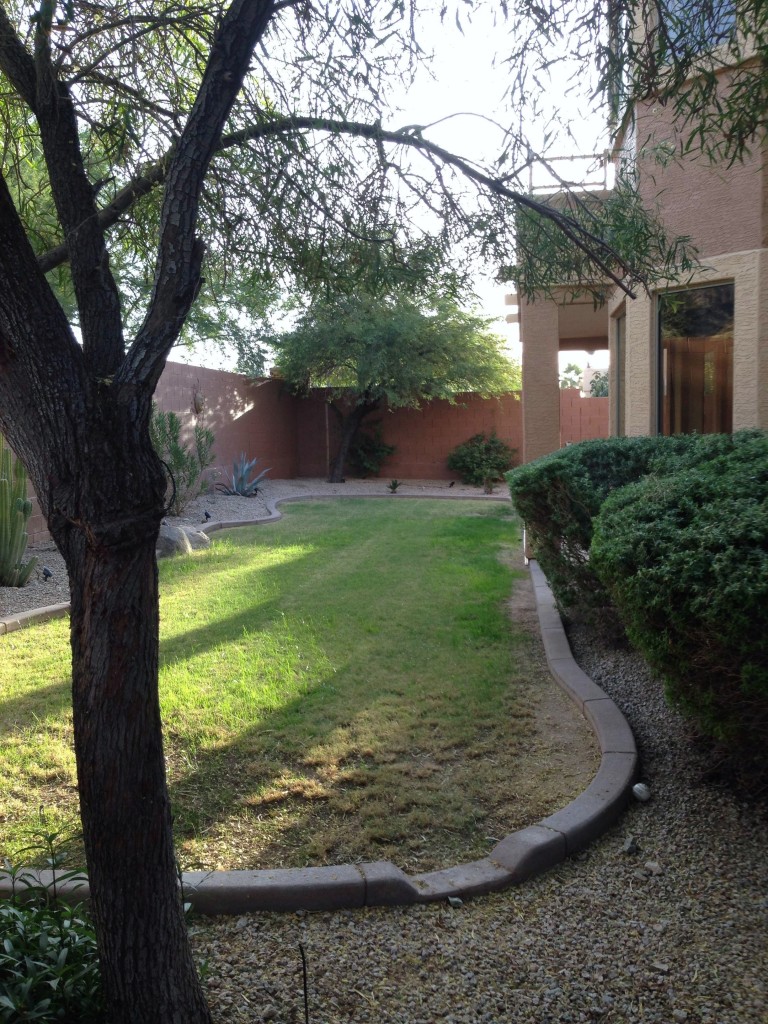 And another after shot…..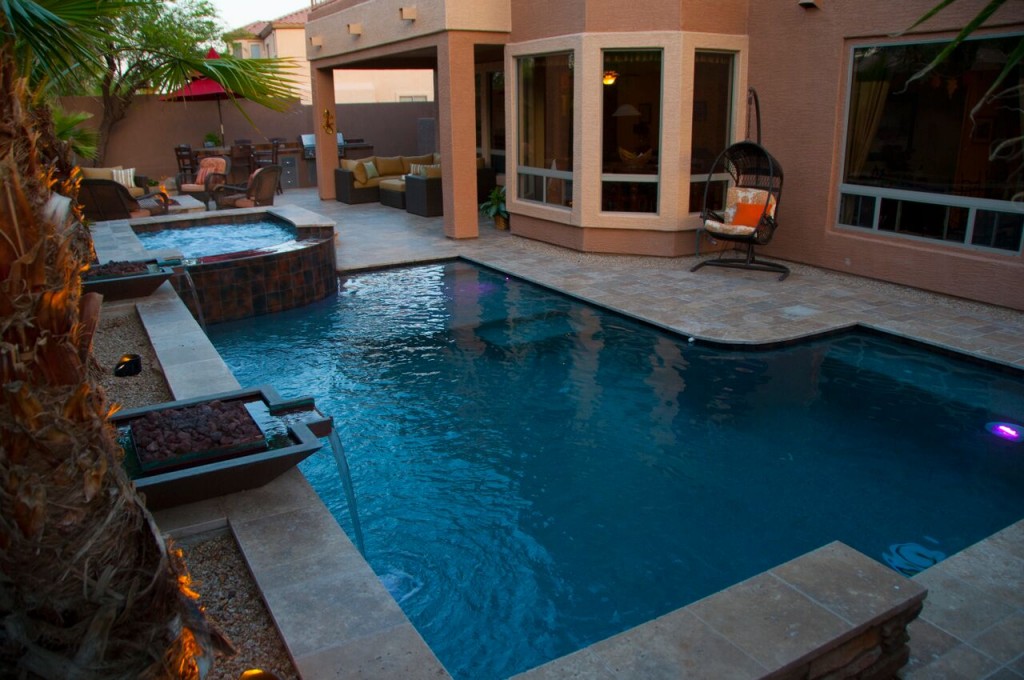 And one of my favorite after shots….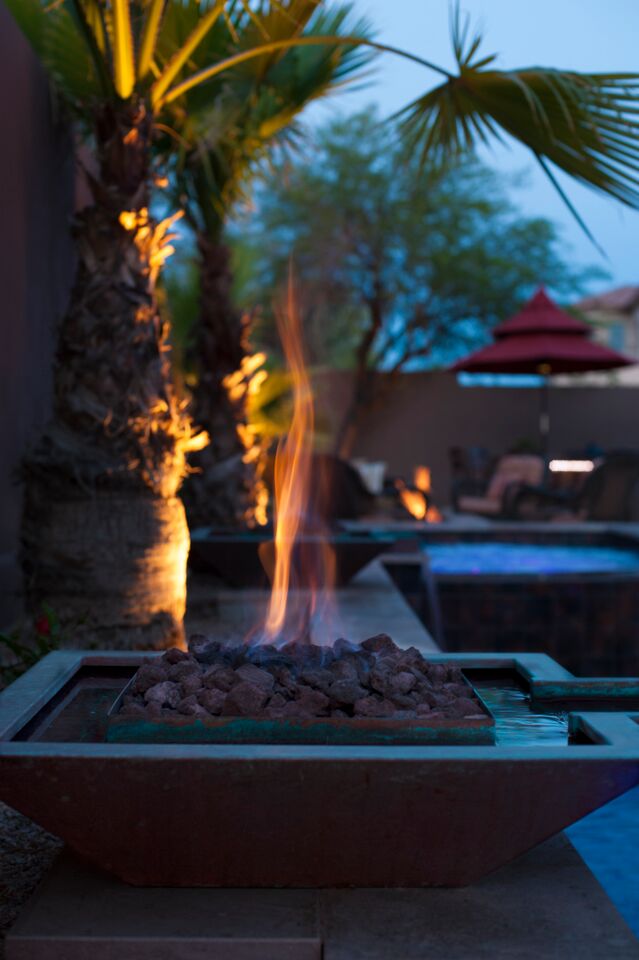 Isn't it just amazing how much bigger our yard looks now?!  I have more cool pics to show you!  A lot of you have asked us about our big backyard makeover so I decided to wait one full year after starting the process of a complete backyard redo to report back to you.  One year later, it has been mostly smooth sailing and when we have had issues, the company we hired (who do it all including the landscaping, pool installation, fire pit construction and more) have responded quickly and thoroughly.
We hired Alexon Design Group to do the work and they were terrific from start to finish.  They even sent out a professional photographer to shoot the after pictures…so cool!  Michelle Jackson, with Michelle Jackson Photography did an amazing job, although the landscaping pictures are her hobby.  Her professional specialty is family and portriat photography.  It was so fun to have her here clicking away! So the before pictures are mine and most of the stunning after shots are Michelle's.  Let me take you through the process and timeline in pictures….
After interviewing multiple companies and getting bids, we decided to go with Alexon since they do it all, every step and they came highly recommended to us.
Here is the image that Alexon designed for us to give us a preview of what the yard would look like since we chose to put in a pool, hot tub, fire pit, bar, grill, landscaping and more. Getting the 3D image is fun and the real thing really blew the projected picture out of the water (no pun intended) so keep that in mind when you are looking at a projected image.  This was fun and was our big starting point…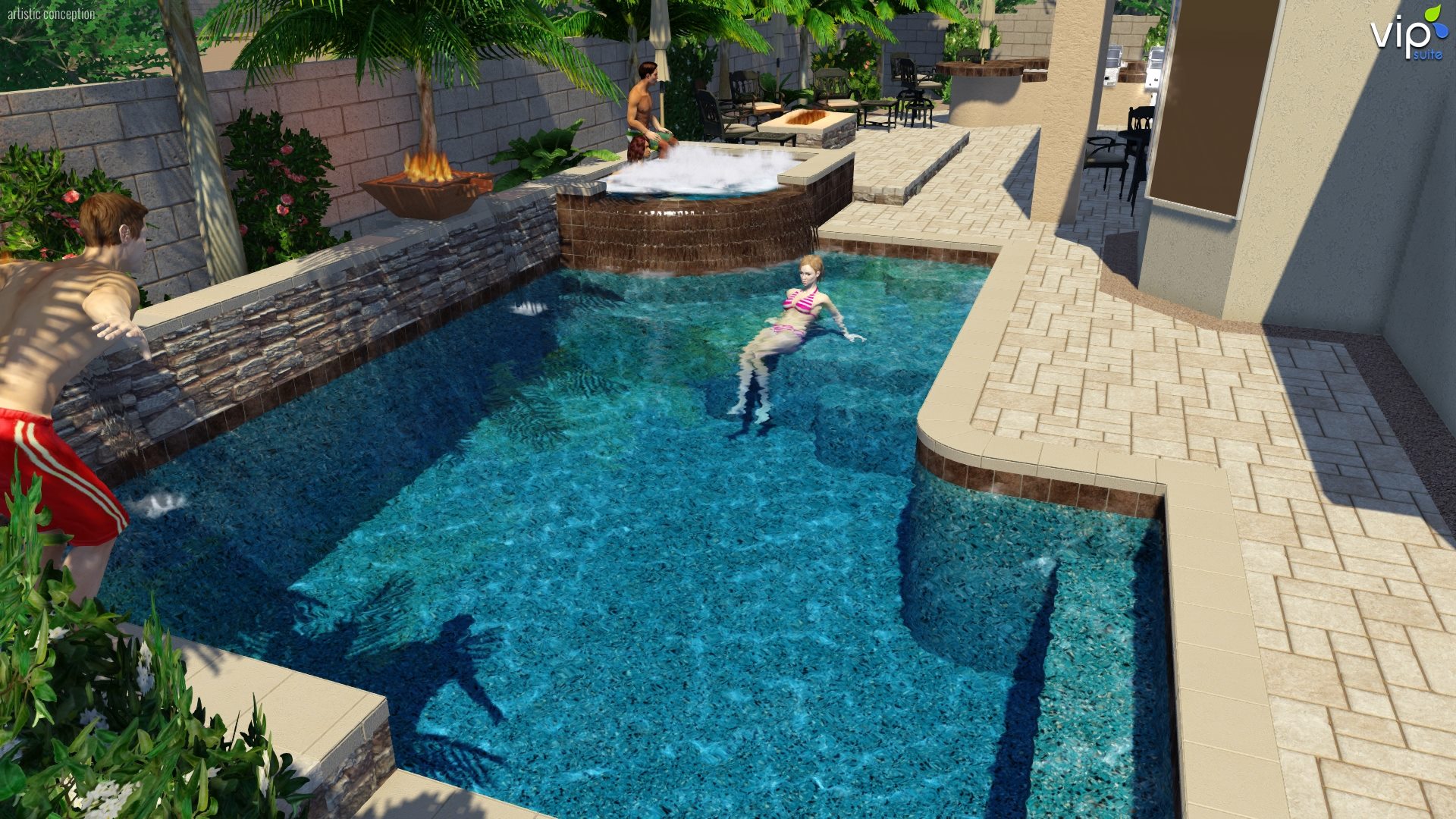 So we signed the contracts, decided to pay a portion of it in cash and financed the rest.  Alexon works with a company that made the financing part quite easy, so that didn't take very long to firm up.
And then it was day 1!  And so it began!  Seeing this out our back window was something to see, let me tell you….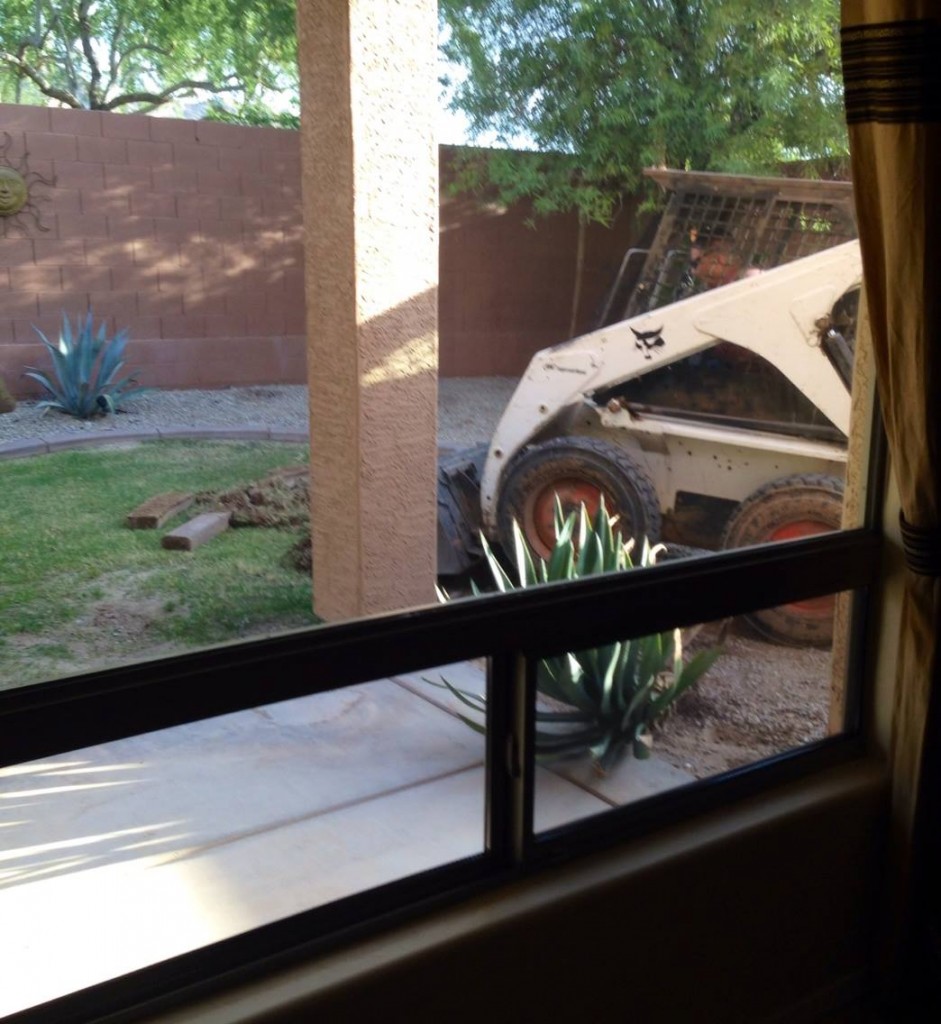 On that day, my hubs looked out the window and said, "well there is no turning back now" as we watched the old yard get hauled away.  Since it had been sloped wrong since we moved into our home (this was the model home) the flooding caused us to have an ant problem in the backyard, so we felt no sadness watching the old troubled backyard area come down.
After 10 years, we were ready to do this, but it did feel a little scary to embark on such a big commitment and investment.  And just like that, in one day, the yard was cleared out.  We did keep the big mesquite tree and one of the cactus plants.  Unfortunately, the tall cactus didn't make it, but we tried to save it.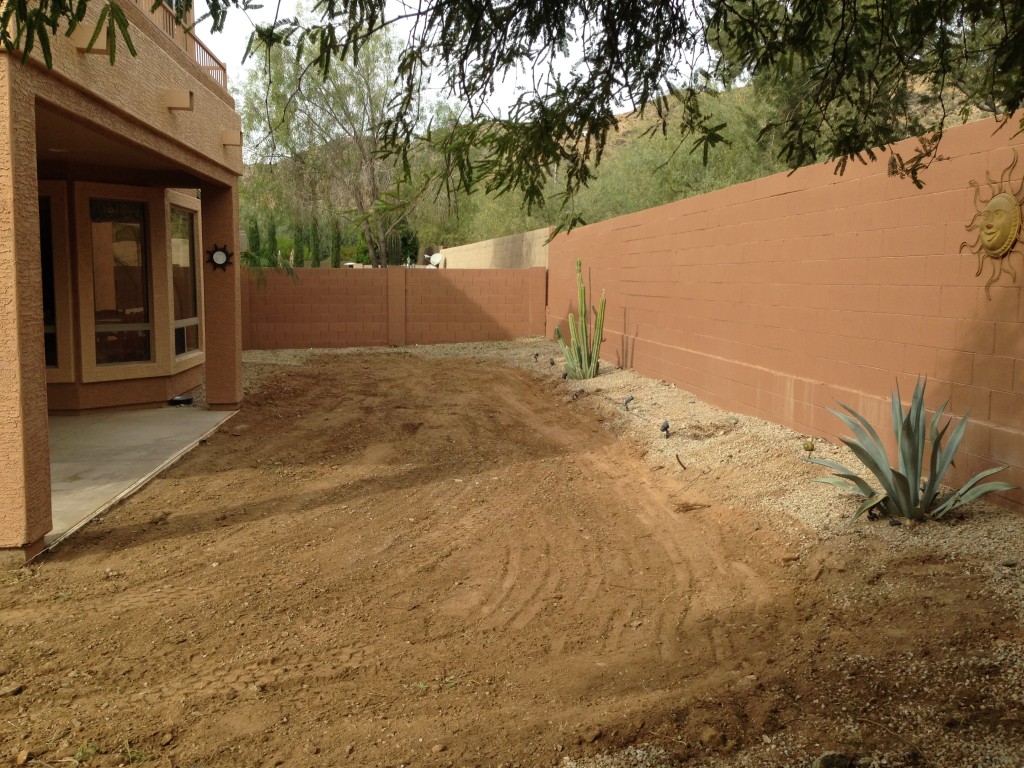 Once the permits were finalized, the hole for the pool was dug.  And our new yard to be was now truly underway.  It was an exciting time for sure.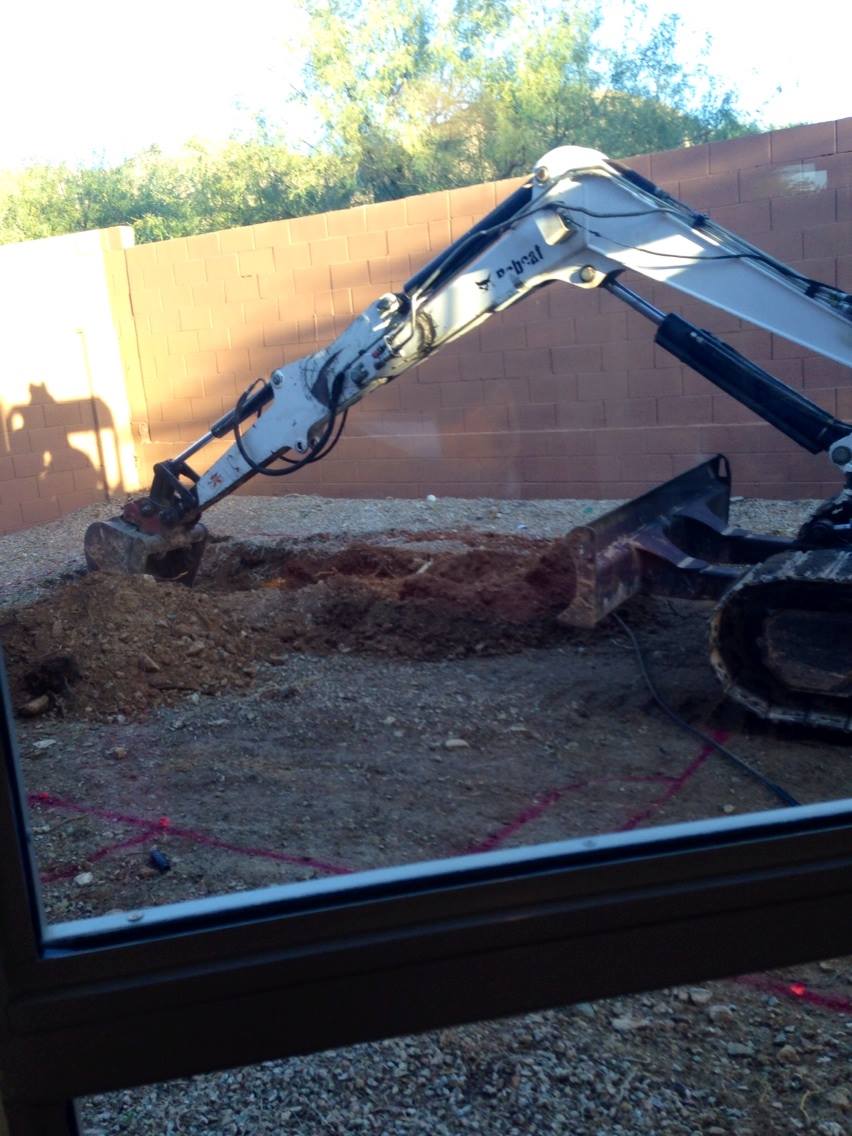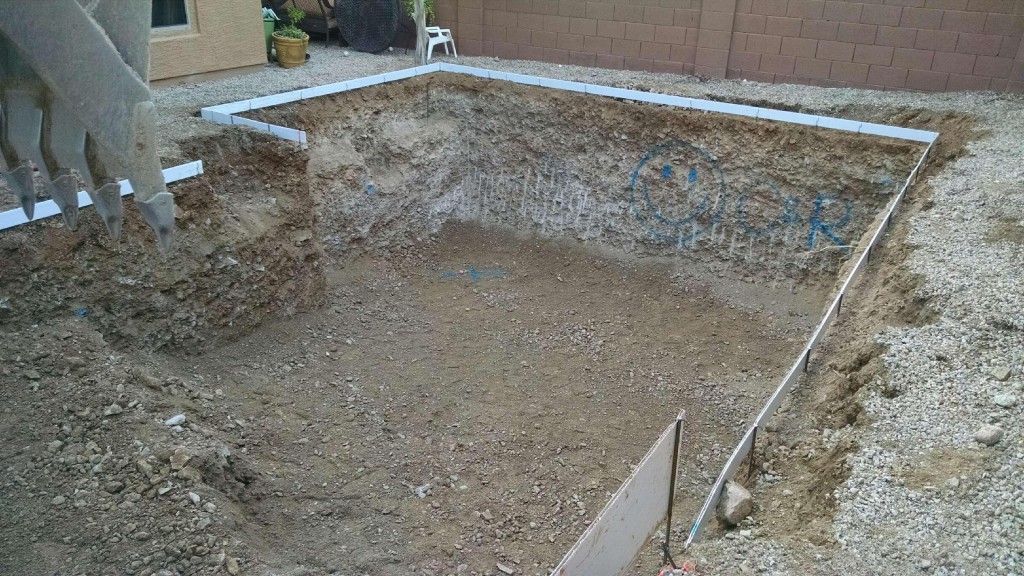 We liked the happy face that the Alexon crew left for us to see when we arrived home on this day.  Nice touch!
As we expected, the price increased a bit due to our yard being what's called a hard dig.  We were warned that would probably be the case with our rugged desert soil so we were prepared for it and decided to pay the increase and move forward.
The next series of pictures show how it all came together in stages. Although some elements may be out of order since my exact memory of the order of each step fails me now, but this is close enough.
Alexon started the job in December and finished up just in time for our kids' fall break, which was in early March, which is pretty good considering the holidays delay and the large scope of the project.  When we returned home from our Christmas holiday, we were excited to see this progress and the shape of the soon to be spa was pretty fun to view as well….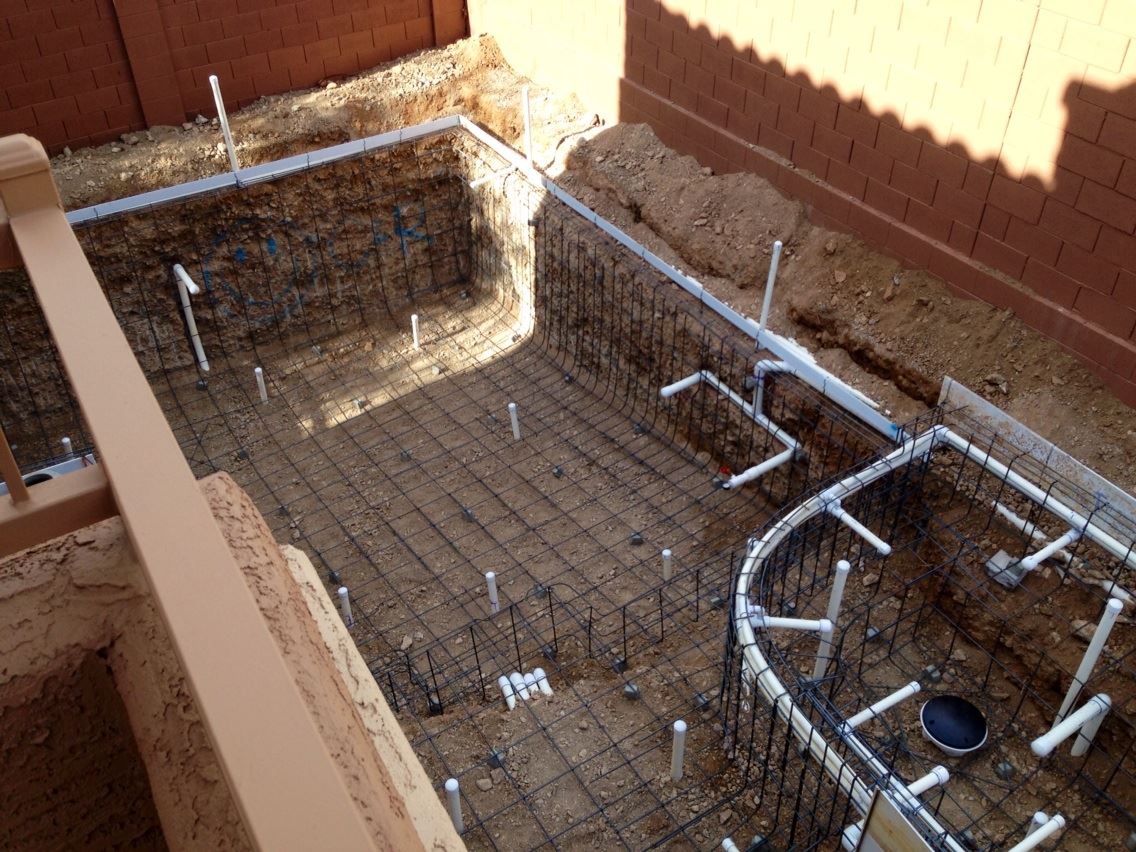 Pretty cool that that photo became this….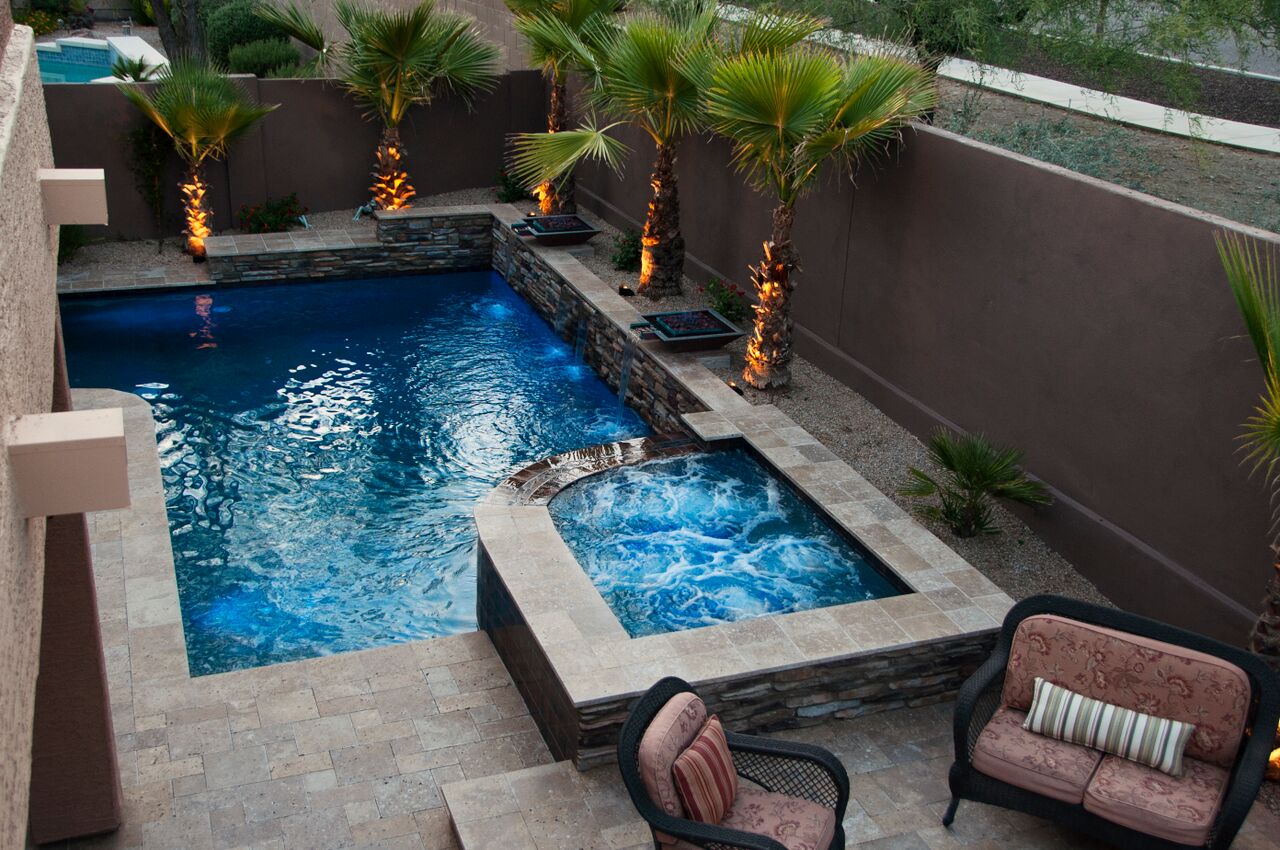 But I jumped ahead.
Back to the construction faze….shotcrete day….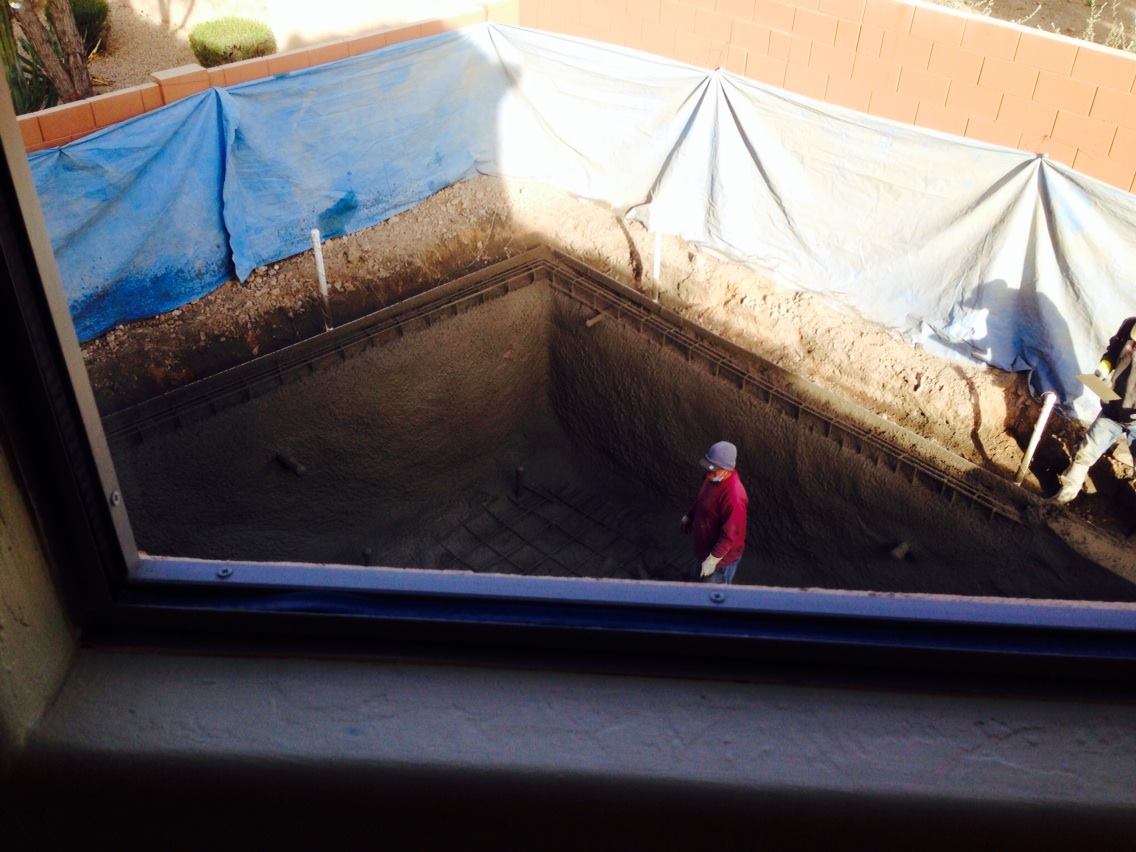 Next step and things were moving along pretty quick now….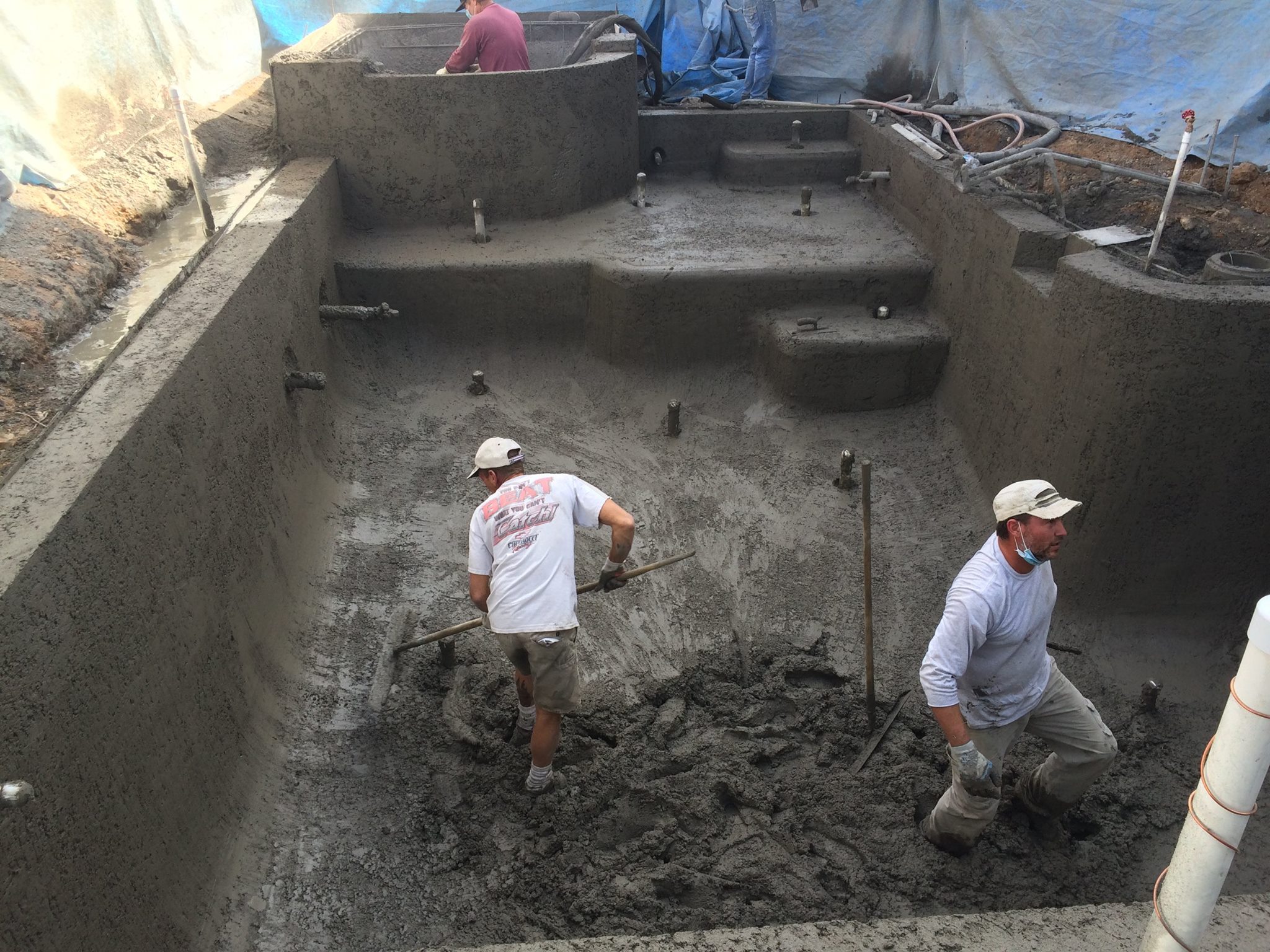 And work on the firepit began, too.  We told TJ, owner of Alexon that we wanted levels so he suggested putting the firepit on a level with lights.  In this very first firepit construction picture, it is hard to imagine the level and the finished firepit, but take a look at the series of pics and how beautiful it turned out…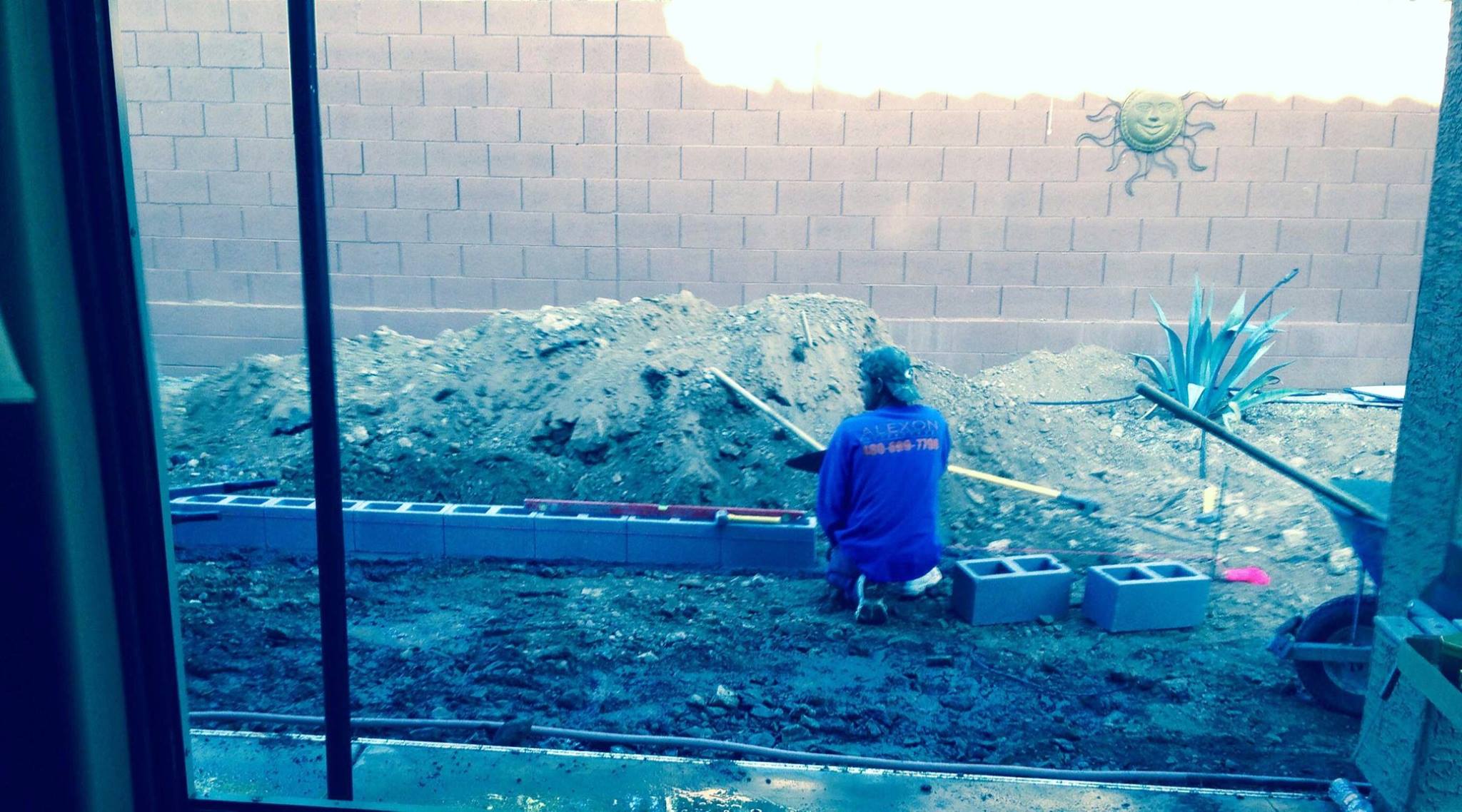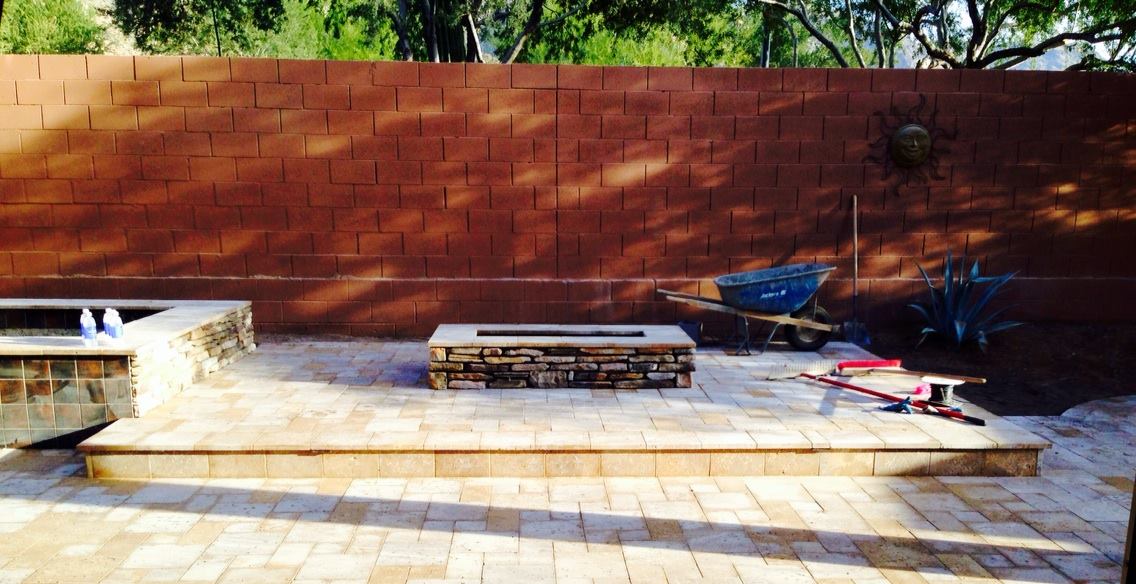 And here it is all done with the lighted level.  TJ and Alexon nailed it!!!  Check it out…..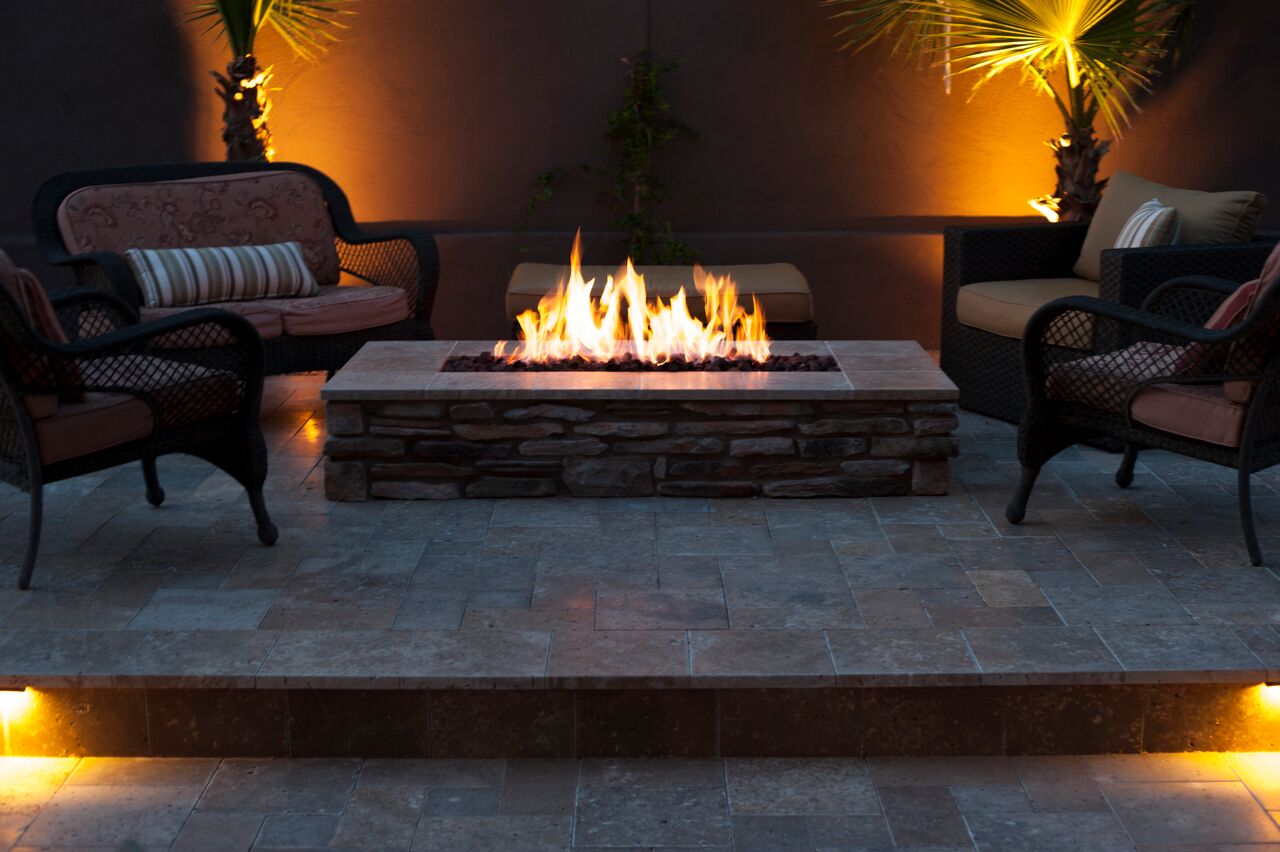 But let's get back to the pool now since I jumped ahead again….I remember coming home to see the stonework going in on the side of the pool and feeling very excited….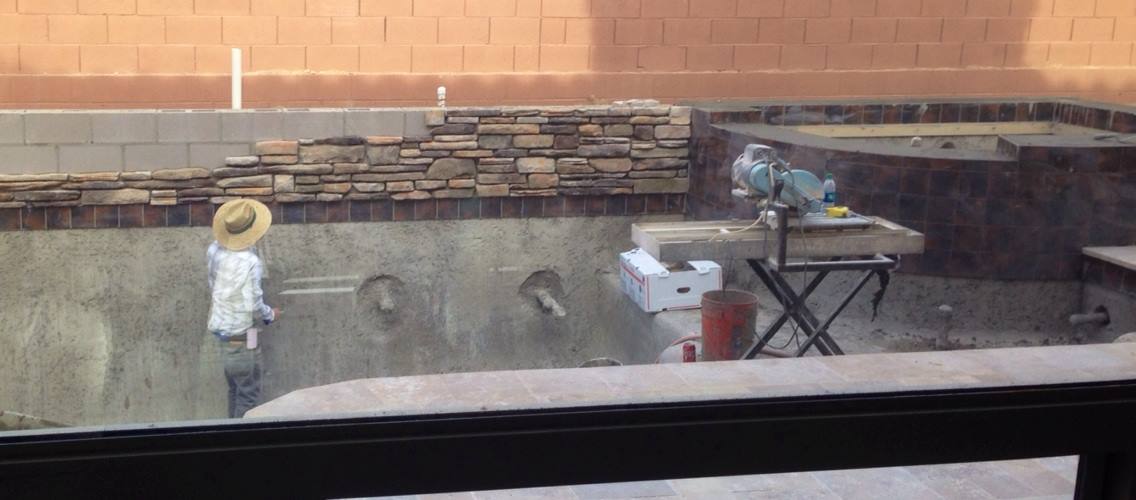 And the tile and mosaic tile around the spa really had our family cheering and getting more excited by the day….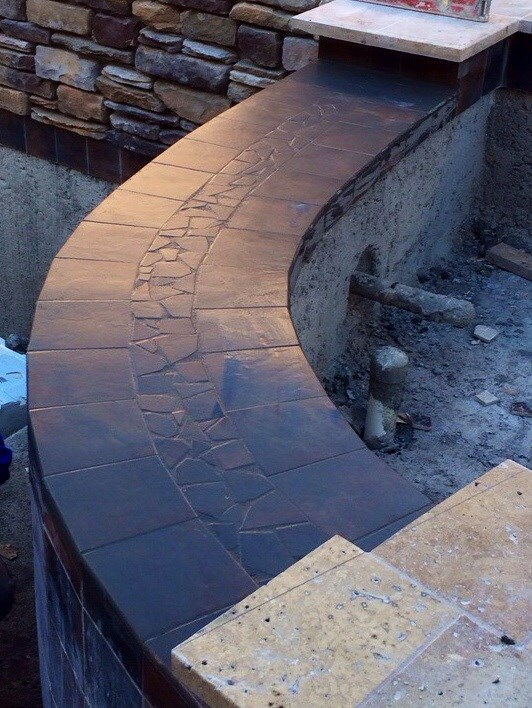 And the new plants arrived, too.  We went with a tropical resort style feel with lots of palms.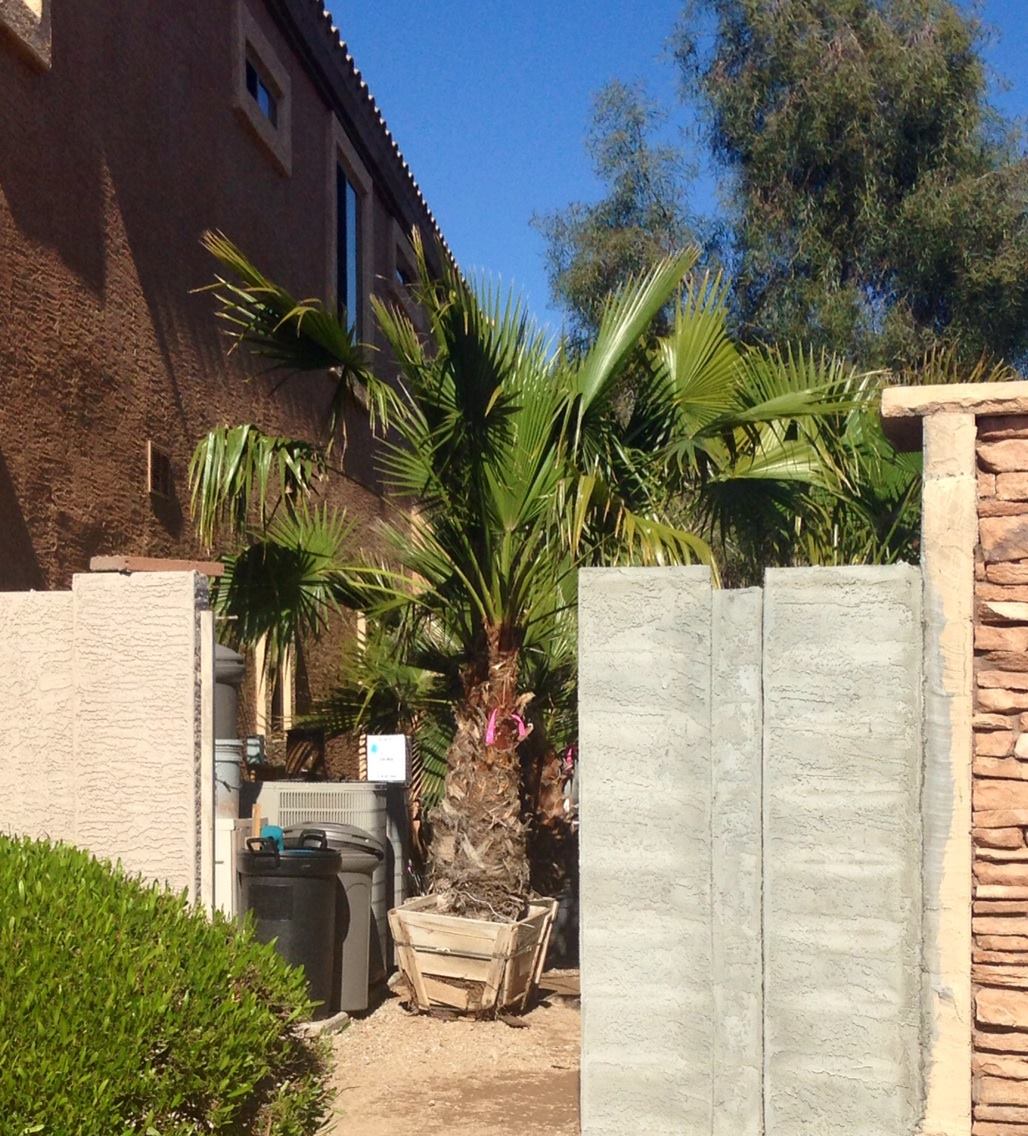 And although friends warned us that the palms would bring us lots of scorpions (because they like to live in the bark) that hasn't been the case (thank goodness).  I'm sure having four cats helps!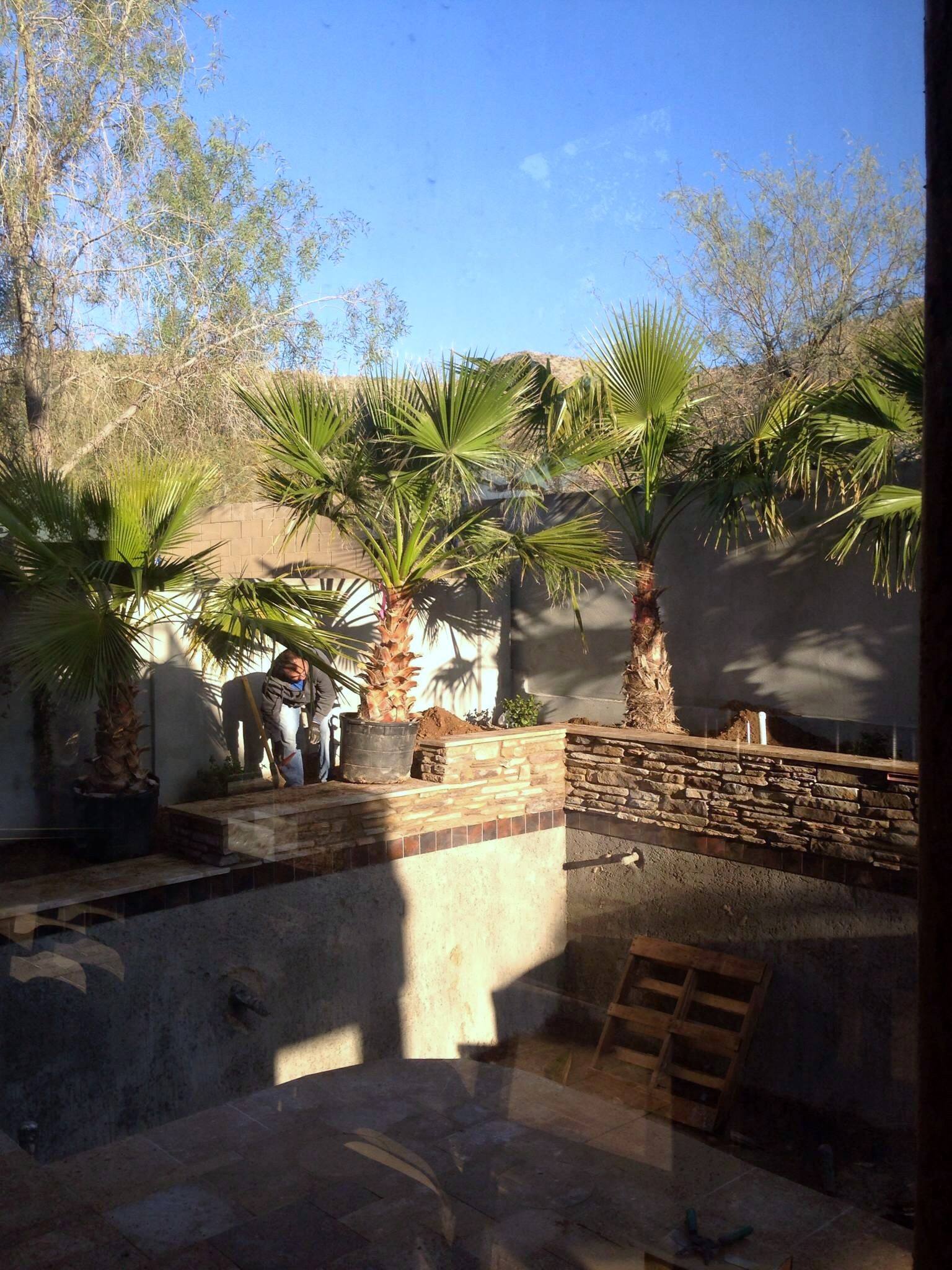 But I am happy to report that the palms are beautiful and we haven't had an issue.  We do keep the backyard exterminated with visits from Green Mango Pest Control once a quarter and they don't treat inside.  So far so good.  And the pool moved along with the exciting milestones that built up to the day it was filled!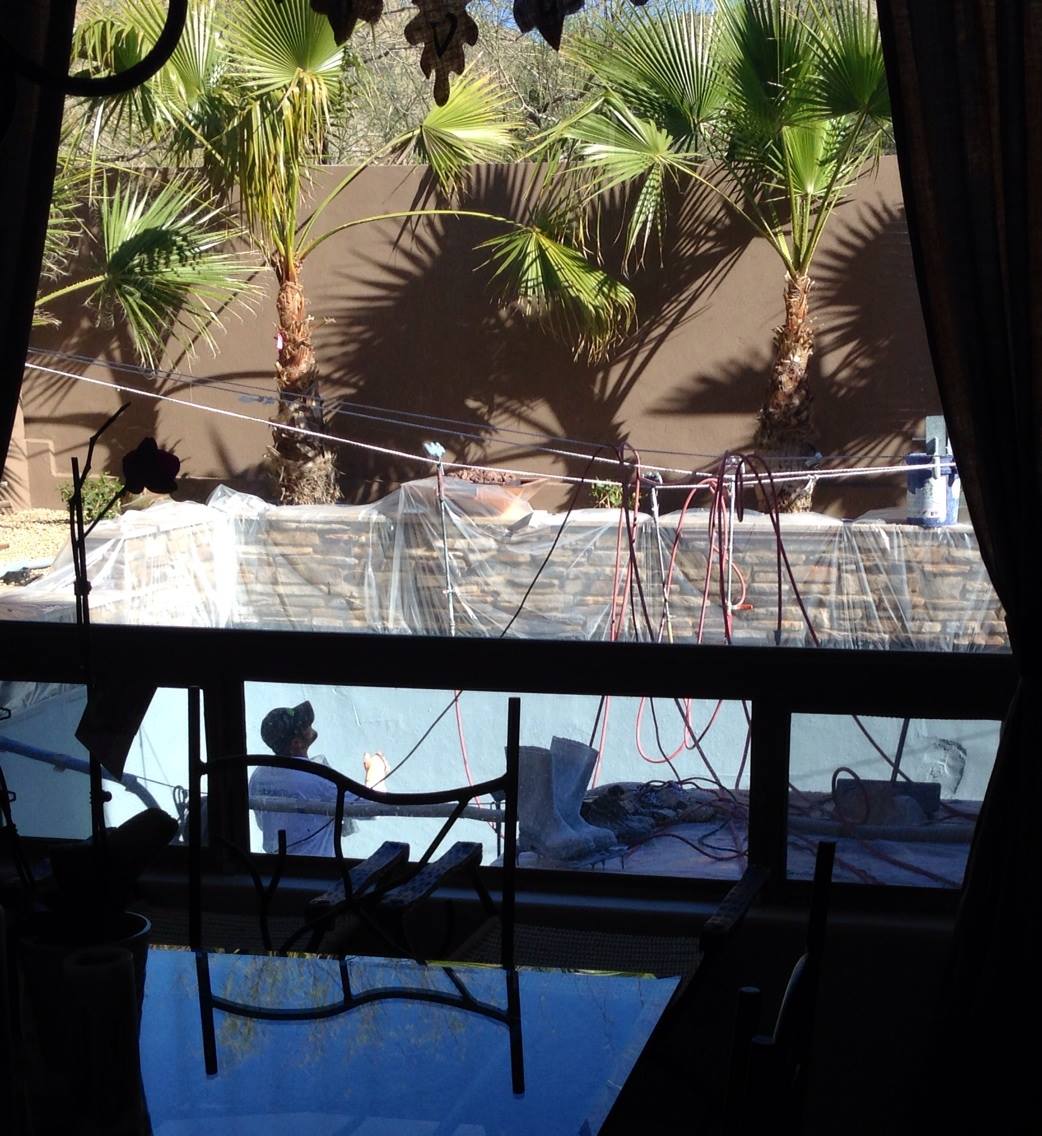 The day before they started filling the pool my girl was excited, as you can see here….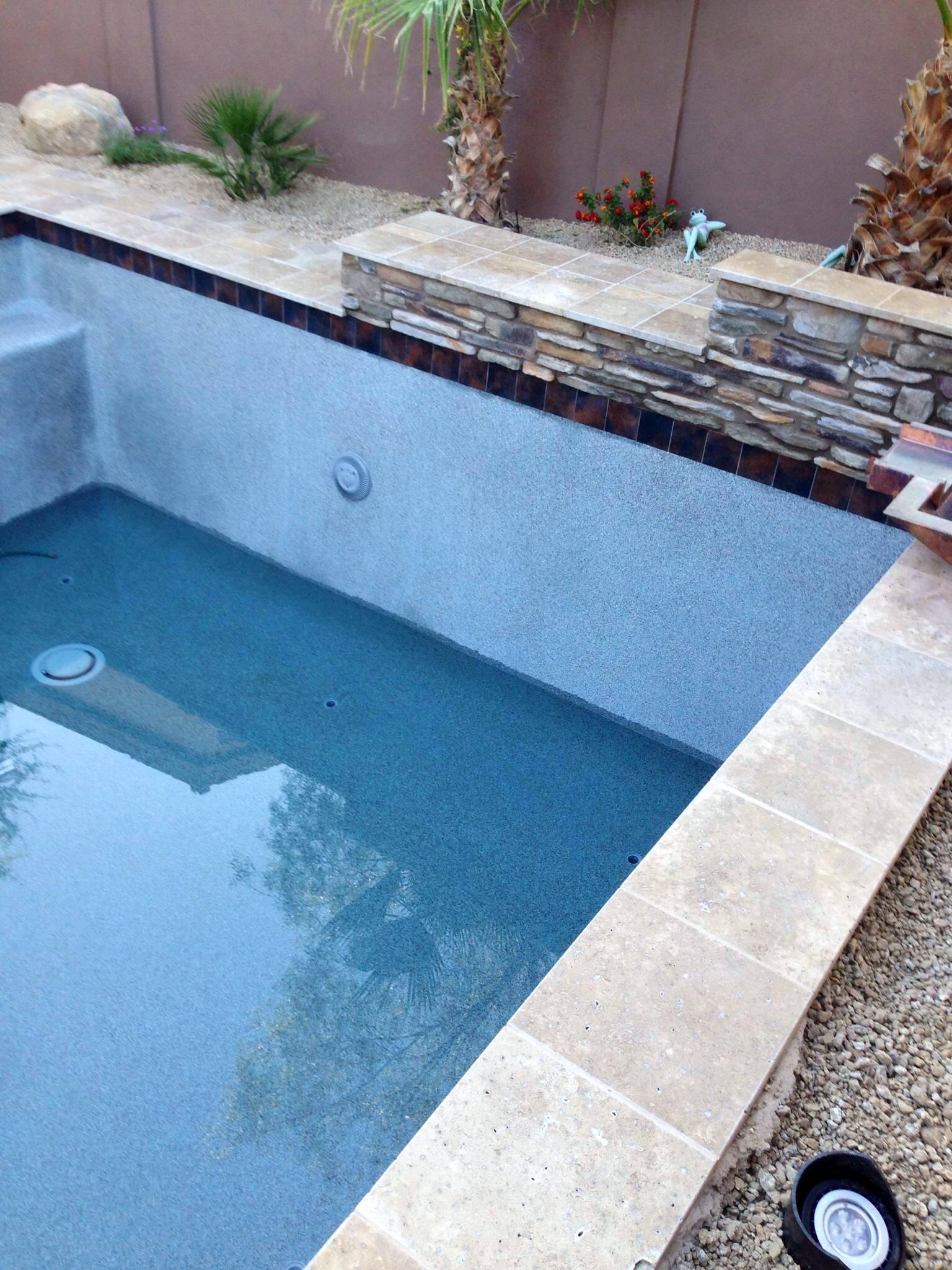 And after a few days, we had a pool!  We went with saltwater, which has been more delicate on our sensitive skin.  On February 28th this is what we came home to find….a filled and done pool….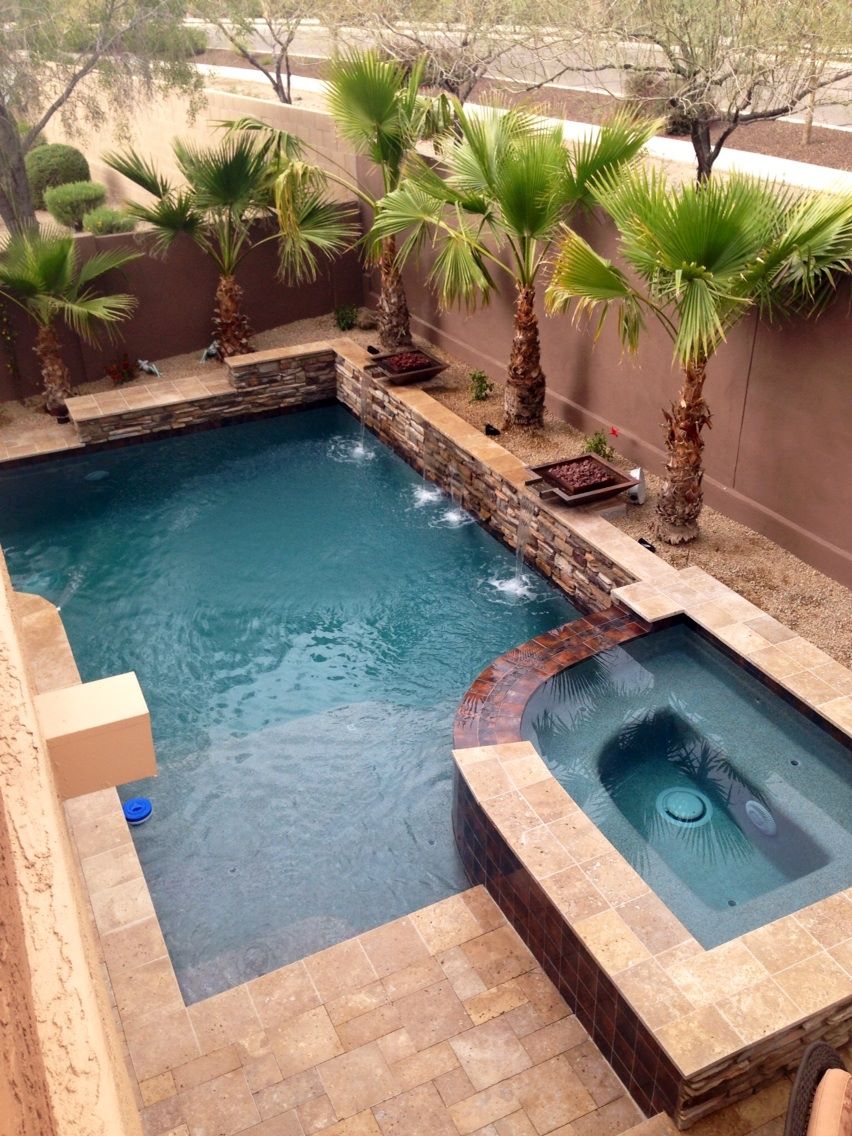 The finished pool, which is especially lovely at night.  We also chose the lighting package that offers different water colors in the pool.  Plus we can set it to do a light show.  For example on the 4th of July we can set it to red, white and blue!  We really like the blue and purple shades.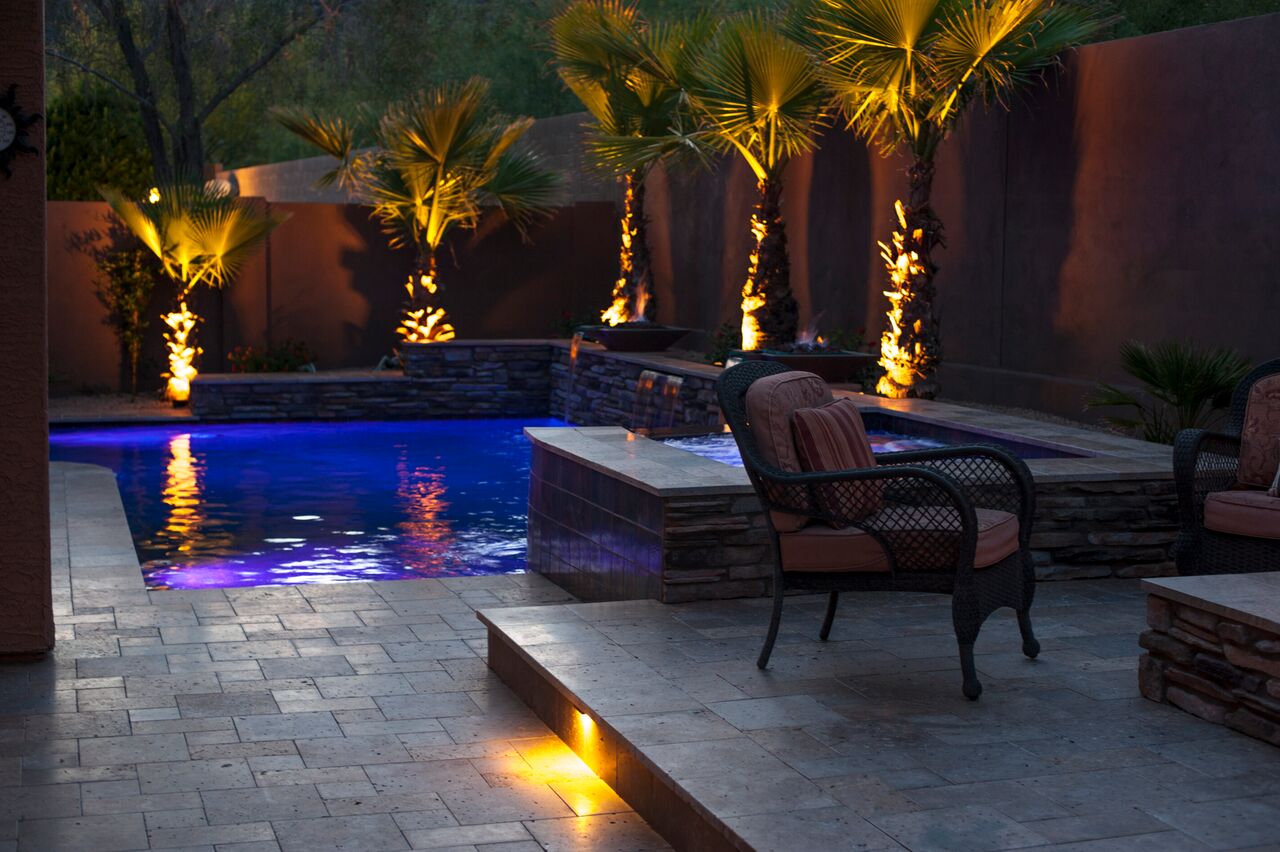 Now let's talk about the bar and grill area.  Hubs wanted a nice grill and I wanted a large bar that would seat 10 to 12 people, so this is what we went with as suggested by Alexon and we love it!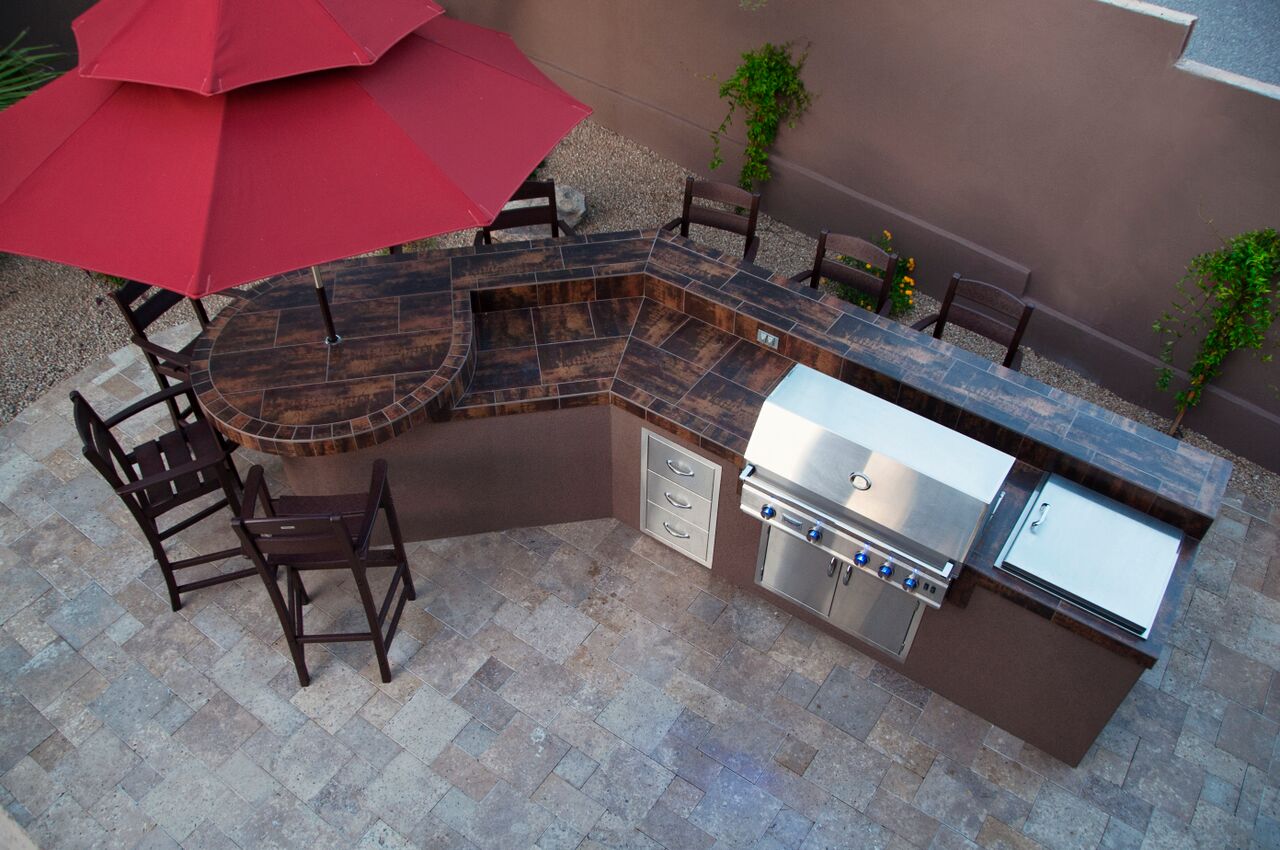 The built in drop cooler is one of our favorite features and it holds a lot of drinks.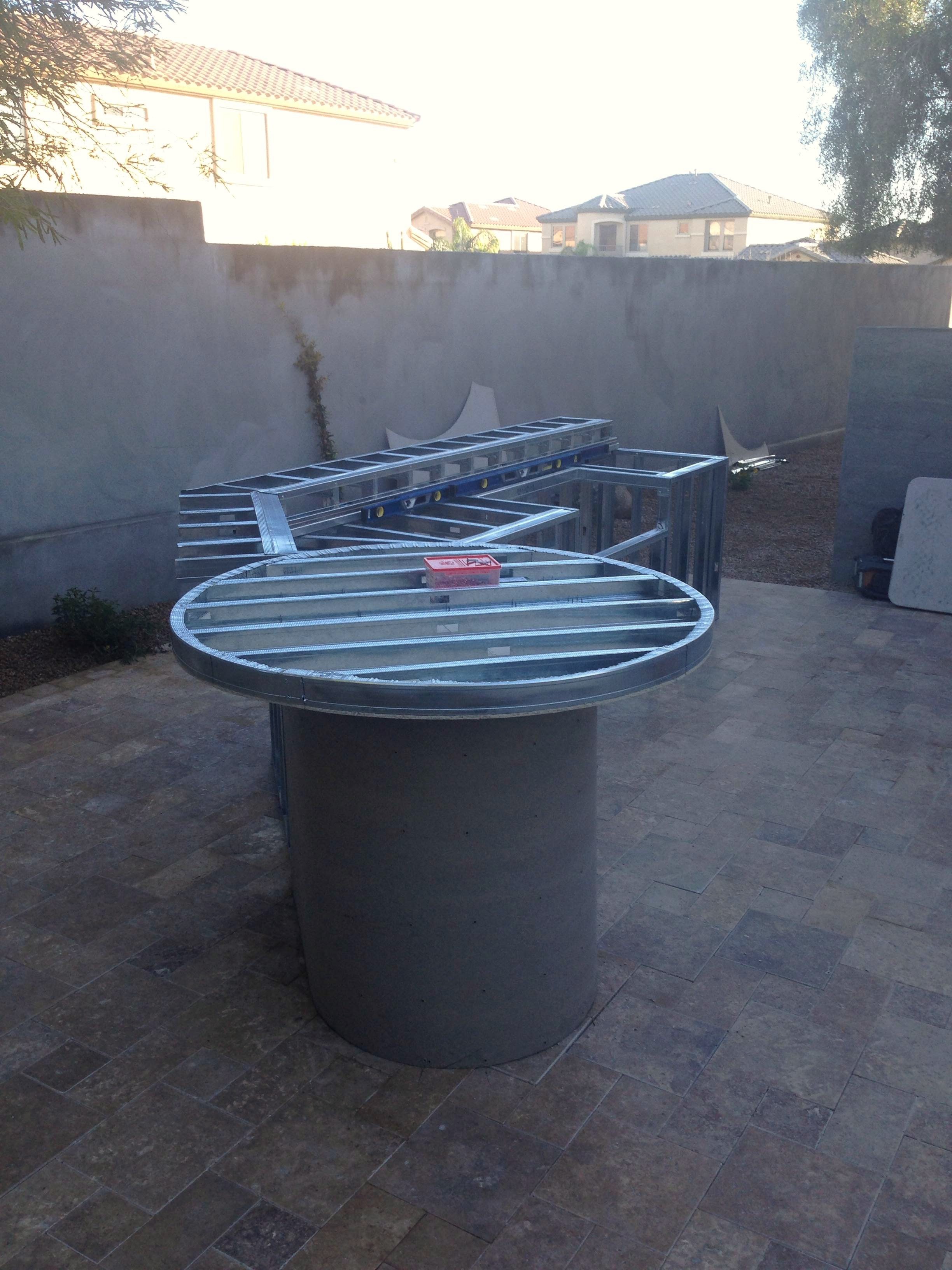 Keep that in mind if you build that the finished result will be bigger than it looks under construction.  I love the finished bar and grill area!  We bought the umbrella at Pier 1 Imports and it has worked great.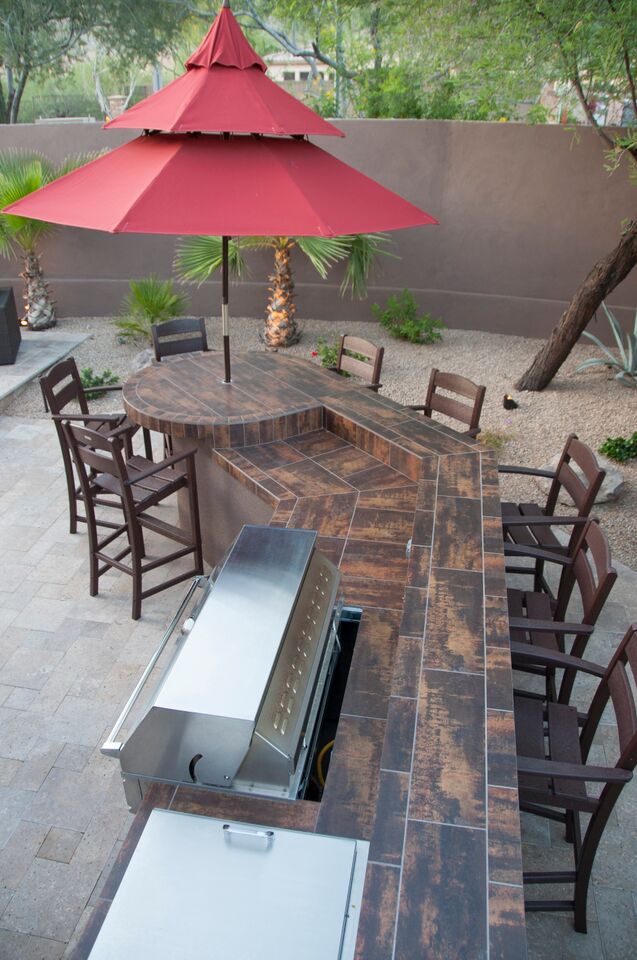 See that?!  Much bigger than it looked going up.  We are really enjoying this feature for sure!  We filled our new backyard with furniture from Costco.com and we like the set a lot.  I recommend Costco.com.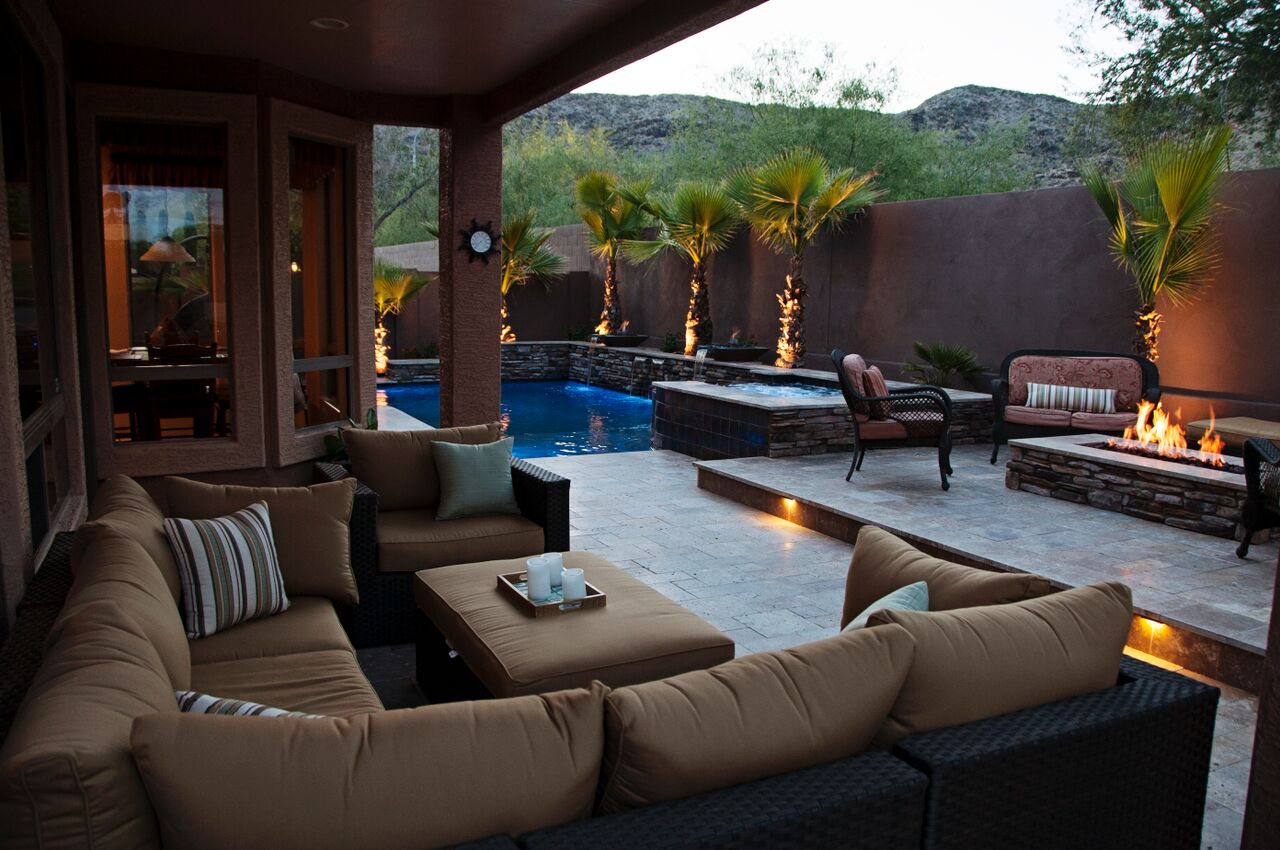 We also painted and did stucco on the walls, which Alexon also set up to have done for us and we think too.  And we knew that we wanted water features, so we chose to have two fountains with the fire element on top of the copper pots (love this) and a scupper in the middle, plus a spillover from the spa to the pool. It is perfect and it really does help to kill the street noise.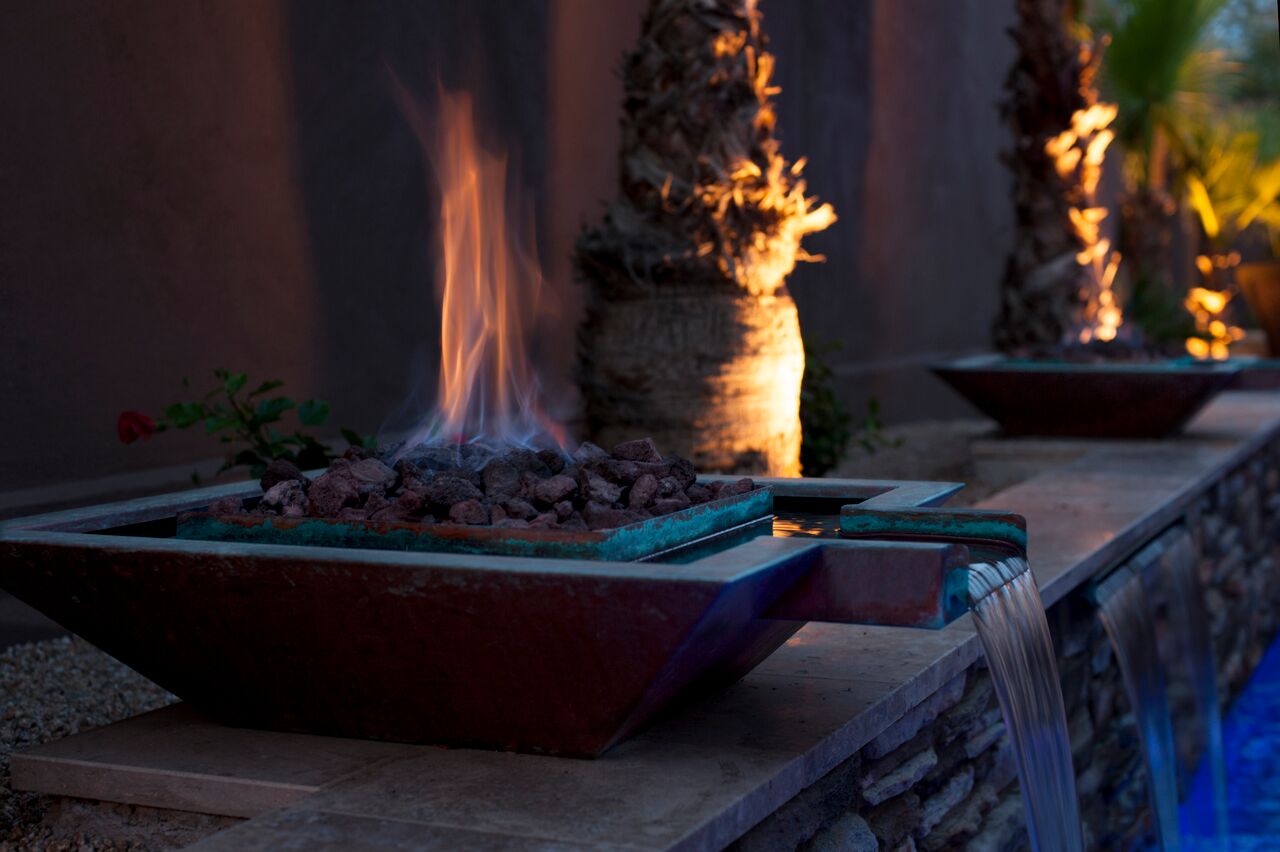 We selected the in floor cleaning system instead of the snake cleaner and we like how well the in floor cleans the pool every night as we sleep.  Sometimes after a big storm, we may have to run the filter again and skim the top of the pool, but it is easy to do and cleans up quickly.  We have a handy remote control so we can do that and control the water features, lighting and more from inside our house.  Some people have these options on their phones and can heat the spa before they even get home, but we didn't opt to get that feature and we don't feel like we have missed it.
Another huge perk with going with Alexon is that we received two months of free pool cleaning and maintenance service with Paul's Pool Patrol and he is top notch!  Once the free period ended (that TJ with Alexon treats his customers to upon pool completion) we opted to keep Paul on and it has worked out very well.  He comes every week to keep the pool and spa cleaned and to make sure all the levels are correct and that all is functioning properly.
The new backyard was worth the 10 year wait.  Our teenagers are here a lot (which we love) and sometimes when we are sitting in the spa with our kids, they really talk to us.  With no electronic distractions, it ends up being quality family time.  And my favorite part is having wine and smores by the fire pit after relaxing in the spa.  Truly priceless!