New Year's Eve is upon us, so if you are planning a big night out, check out these glam, glittery and good beauty products that will have you looking ready to ring in the New Year from head to toe!  If you missed my morning show segment showing all of these cool items that aired on Christmas Eve, the entire list of products is right here, so check these out for New Year's beauty and beyond!  And a big thanks to my blog's beauty expert, Bianca, Walgreens beauty aficionado, for showing me what's hot in the New Years beauty aisle!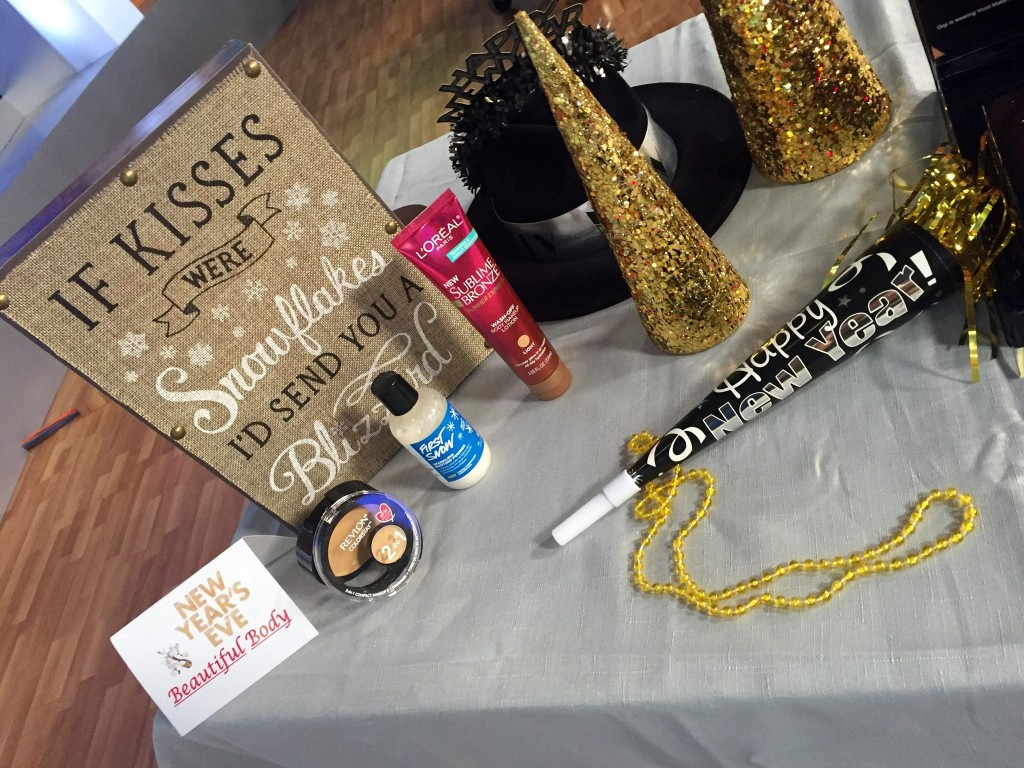 Here is what we found in the beauty aisle for New Year's Eve beauty and beyond…
Eye Catching Eyes
*Wet n Wild Graphic Marker Eyeliner Tracer Liquide ($3.99 at Walgreens) — To get that emphasized gorgeous cat eye look, try this eyeliner.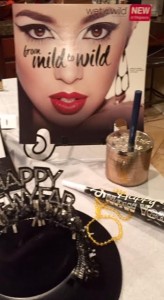 Plus the Airline Blue shade makes brown eyes look bigger and brighter and enhances those baby blues and gorgeous greens while adding a little holiday flair.
*Maybelline Color Tattoo 24Hr Concentrated Crayon ($7.49 at Walgreens) — Non smudge eye shadow that actually comes in a cool crayon applicator.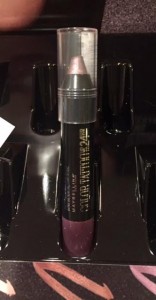 Our testers from my blog love this and it is great for a night out when you need eye shadow that will last all evening long.
*LUSH Fantasy Liquid Eyeliner ($19.95 at LUSH stores or www.lushusa.com) — Apply this quick-setting liquid gold liner for a brilliant, lustrous gold look that perfectly enhances your party dress.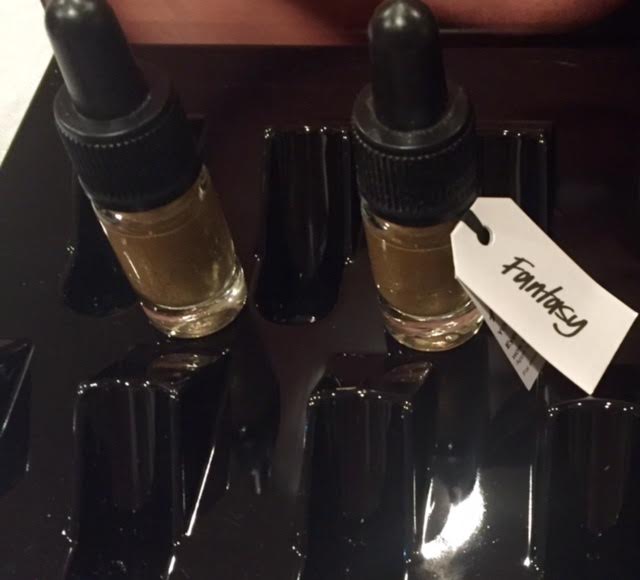 Fantasy's no-smudge, quick-drying base means you can apply and party all night because it won't budge until you remove it.  Perfect for New Year's Eve!  Love the LUSH line!
 *Plumpify Blast Pro Extreme Plump + Lift Mascara ($11.99 at Walgreens) — Katy Perry is endorsing this new mascara that sports a big brush and claims to give 50x the volume to lashes. 
*KISS Blooming Natural Flourish Lash ($4.99 at Walgreens) — This fake lash looks natural and quite enhanced at the same time.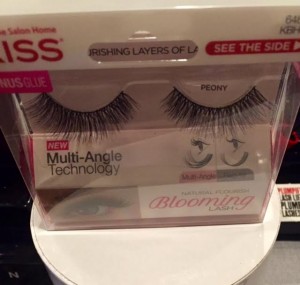 Fake lashes really finish your New Year's night out look!
Lovely Lips
*Maybelline Vivid Matte Liquid Matte Lip Color ($8.49 at Walgreens) — My blog's beauty expert, Bianca from Walgreens beauty department tells me that matte lips are all the rage now.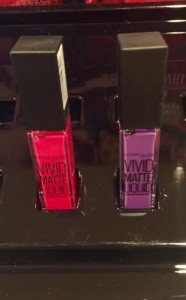 She and her customers like Maybelline's Matte Liquid lip shades because the colors last and the line offers a lot of festive holiday colors, too.
*Strong Liquid Lipstick ($19.95 at LUSH stores and at www.lushusa.com) — This rich pigment liquid lipstick blends color into a softening rose wax and jojoba oil base to keep lips hydrated.
For the Fab Face
*Revlon Colorstay 2 in 1 Compact Makeup & Concealer ($16.49 at Walgreens) — This new 2 in 1 product from Revlon gives you an easy to carry and touch-up compact makeup and concealer.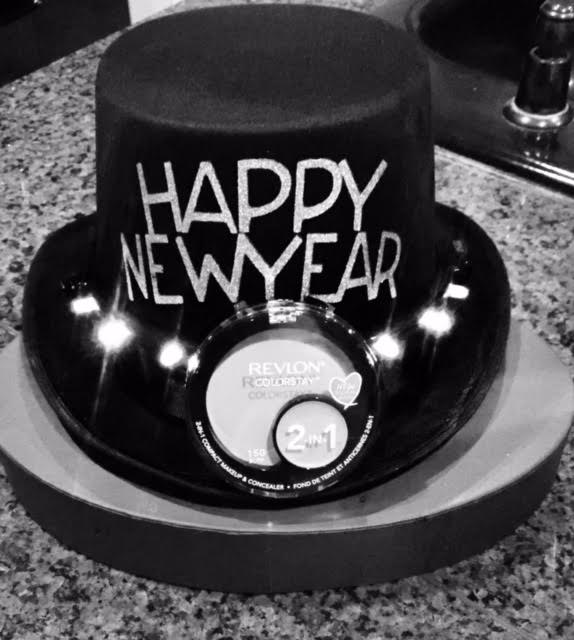 It is long lasting, which works well for New Year's celebrations that carry over to New Year's Day.
Holiday Hair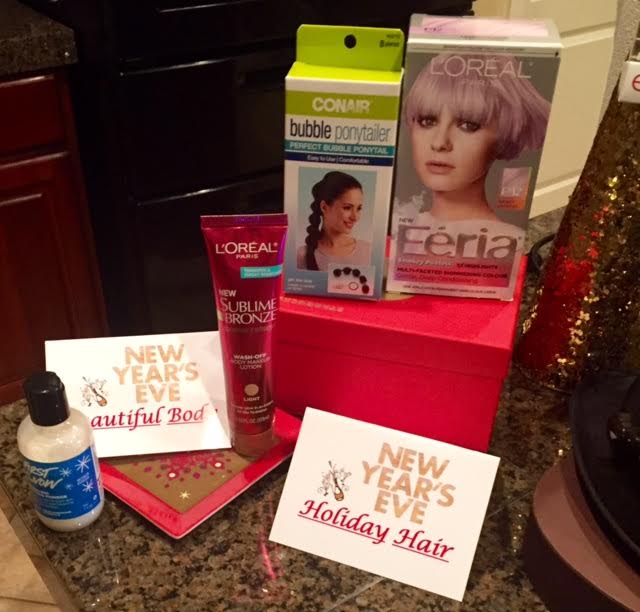 *L'Oreal Feria Smokey Pastels 3x Highlights Shimmering Colour for Hair ($12.99 at Walgreens) – Pastel shades for your hair and now L'Oreal offers it in shades that include lavender and blue.
*Conair Bubble Ponytailer Perfect Bubble Ponytail ($5.99 at Walgreens) — If you want to wear a classic and pretty ponytail with your New Year's Eve ensemble, check out this hair tool.
Beautiful Body
*L'oreal Paris Sublime Bronze Wash-Off Body Makeup Lotion ($12.99 at Walgreens) — Perfect for leg makeup in the winter when legs have lost that summer color.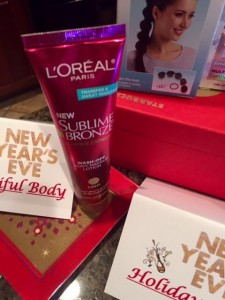 It will also cover varicose veins, bruises and more.  Use all over and especially on legs that you want to look good in your New Year's Eve dress.
*LUSH First Snow Dusting Powder ($6.95 at LUSH stores or www.lushusa.com)  This unique beauty product called First Snow Sparkling Dusting Powder is packed with a nice blend of essential oils like sweet orange, cognac and lime.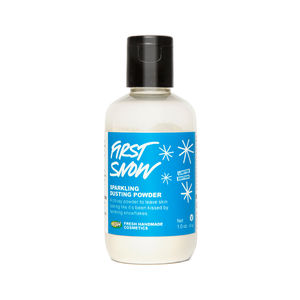 And it is perfect for that big New Year's party because it is also filled with glittering sparkles to make skin look like it's been kissed by twinkling snowflakes.  Fun!
Magnificent Manicure Looks
*KISS Acrylic Nude French Nails ($7.99 at Walgreens) — Do it yourself acrylic nails in the always stylish French mani look that is clean and pretty on New Year's Eve and goes with every outfit.
*Essie Nail Polish Ignite the Night Fringe Polish ($8.50 at Walgreens) — Fringe nails are all the rage and that means that you apply a solid shade of polish first to your nail and then top it off with the sparkly color on the tip of the nail for a festive flair.
Have fun with these festive beauty products for the big night out and Happy New Year!