Valentine's Day is just around the corner!  So I did some Heart Day shopping and I found all kinds of fun gift ideas for everyone on your list including teachers and stuff to cheer a friend up who may feel down on February 14th. And if you caught or missed my 3TV segment showing fun and unique Valentine's Day gift ideas for all, here is all the information.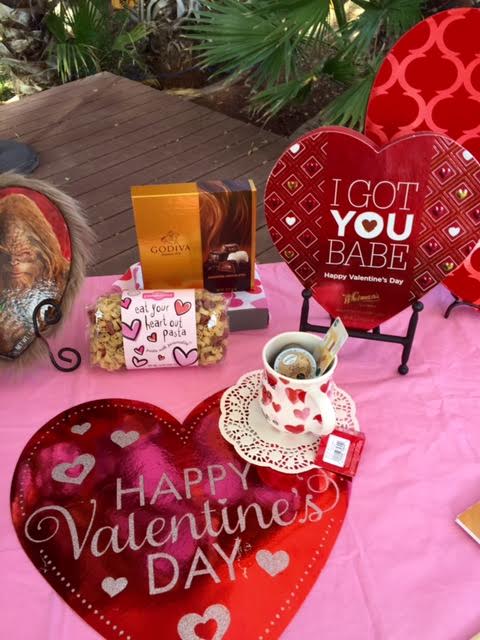 Cute Couple Set Gift Ideas
*I Love You & Love You More Cotton Polyester Standard Size Pillowcase Pair for Bedroom, Home Decoration Set, Anniversary Valentine's Day Gift by Super Z Outlet ($12.99 for a set of two at Amazon) — Found these fun and comfy pillow cases on Amazon.  One says, "I love you" and the other one says "I love you more" making this pillowcase set perfect for Valentine's Day! 
 *Shutterfly Stylized Monogram Name Mason Jar for him beer mug ($19.99 at Shuttefly.com) AND Shutterfly Stylized Monogram 15 oz stemless wine glass for her ($17.99 at Shutterfly.com) Both pieces say his name and then her name with a little heart in the center.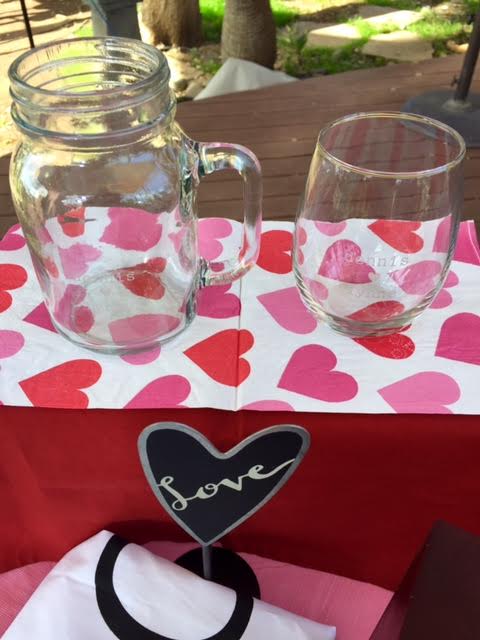 Sweet glassware set! 
*Broadway Basketeers Organic Gift Basket Photo Box ($34.92 at Amazon) — This gift set is unique because it is a photo box for storage so favorite pictures can be placed inside that are shown on the lid cover…and it is filled with yummy treats that include milk chocolate covered peanuts (7oz), Ghirardelli chocolate squares, assorted (5pc), milk chocolate Bavarian pretzels (2pc), dark chocolate Bavarian pretzels (2pc).  This is a perfect gift for a guy.
*Stud Muffin & Food Ideas – Make him a basket of his favorite muffins with a little sign that reads, "You are my stud muffin" or an apple pie with a sign that says "You are the apple of my eye" because guys love food!
*Jack Link's Feed Your Wild Side Beef Jerky Heart Box ($7.99 at Walgreens) – The perfect box of goodies for him because instead of chocolates, this heart box is filled with manly beef jerky!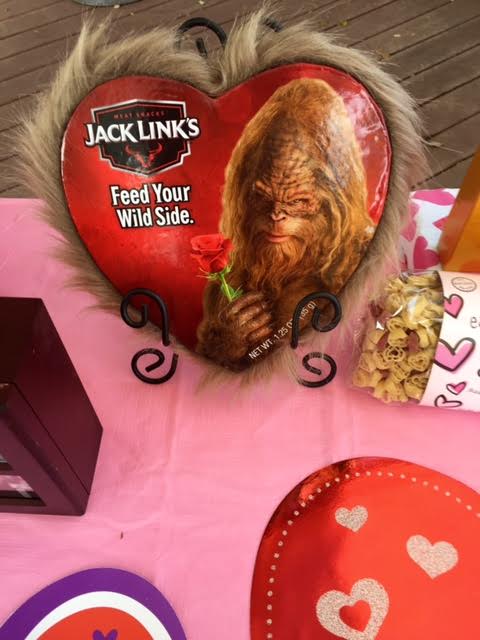 *Emily's Milk Chocolate Covered Fortune Cookies ($3.99 for a box of 4 individually wrapped cookies) — Unique and fun Valentine's treat gift idea.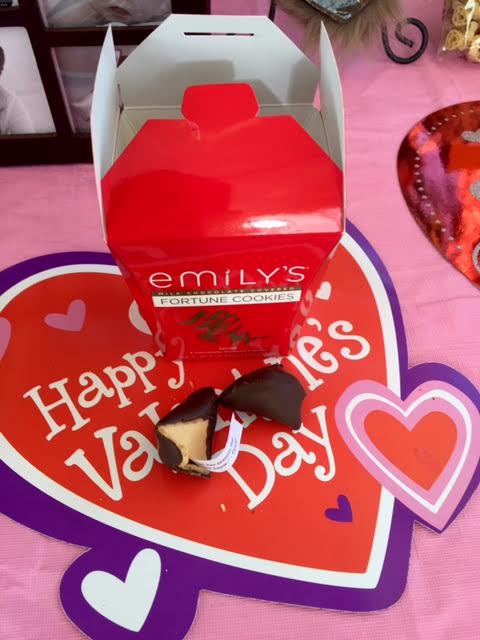 *Love you a latte mug ($5.09 at Kohl's) – Get him the mug and then put a Starbucks gift card inside and his favorite coffee flavored cups, too.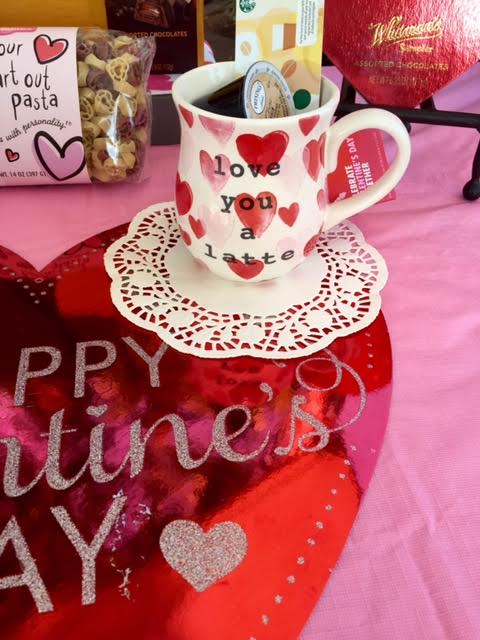 Funny Valentine Gift Ideas
*Fan Face Cutouts (Kinkos and www.shindigz.com) — Make him or her laugh with a big face cutout on a stick to show your humorous love.  And if your loved one plays in a sport or has an upcoming graduation or special event, the signs can be used to show your fan support.  Fun gift idea!
 *Giant yellow stuffed smiley emoji with heart eyes – ($9.99 at Walgreens)  Fun, cute and funny gift that will make the recipient smile.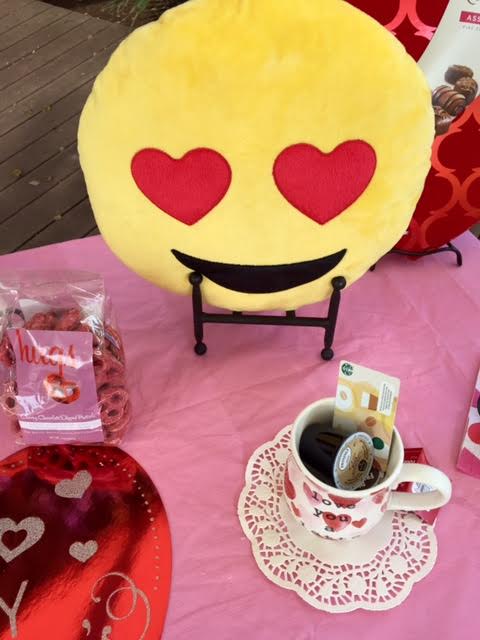 This is a fun one for kids, too.
 *Emoji Plush Key chains ($2.99 each at Walgreens) These are collectibles, too.  There is one that winks, blows the heart kiss and more.  Fun!
 To Cheer Up The Single Gal Feeling Down On Heart Day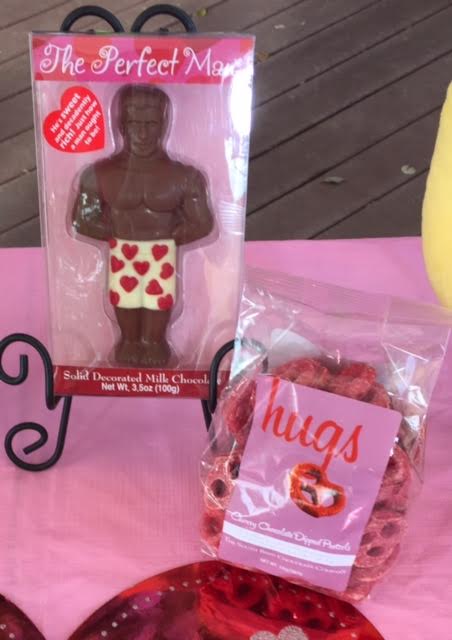 *The Perfect Man Chocolate Man ($5.95 at Hallmark store and at Walgreens) – For the single gal pal who may feel down this Valentine's Day, give her this yummy chocolate candy shaped like a man in red heart boxers.  The box says, "He's sweet and decadently rich! Just how a man ought to be!"  This tasty treat will cheer her right up!
 *Hugs Cherry Chocolate Dipped Pretzels ($9.95 at Hallmark stores) — Yummy gift that is also nice to give a gal pal to cheer her up if she is feeling sad on V day.
 For Her: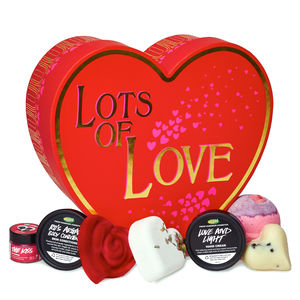 *LUSH Lots of Love Wrapped Gift ($62.95 at www.lushusa.com and at LUSH stores) — This amazing big heart gift box is filled with beautiful items from LUSH!  Inside the recipient gets the limited edition Roses All The Way soap, the Honeymooner chocolate and honey massage bar, the very moisturizing Love and Light hand cream, Ro's Argan Shower Smoothie, a rose scented shower lotion for super soft skin and The Kiss Lip Scrub!  Plus the box also contains two amazing bath bombs!
*Giant 30 oz box of Russell Stover Assorted Fine Chocolates ($29.99 at Walgreens) – This will impress and delight her because this 1 pound heart box is filled with 50 pieces of assorted chocolate candies.
 *LUSH Prince Charming Shower Cream ($21.95 at LUSH stores and at www.lushusa.com) — Every girl loves LUSH stuff and this shower cream is sweet with fruity pomegranate vanilla wash.  All of the LUSH line products are handmade with fresh ingredients that include fruits and veggies.  So cool!
 *Rose Jam Bubbleroon by LUSH ($8.95 at LUSH stores & www.lushusa.com) — This beautiful pink bath bomb features the lovely rose aroma and looks like a rose shaped macaroon cookie that gives a moisturizing, softening and luxurious soak in the bath.  Love this!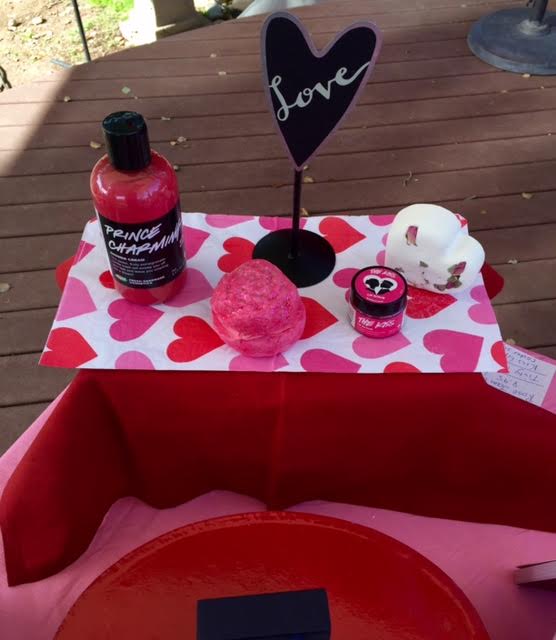 *LUSH Tisty Tosty Bath Bomb ($6.45 at LUSH stores & www.lushusa.com) – Bath bombs are always a big hit with girls who love to take a bath and this heart shaped one is pretty and smells of precious rose and orris root.  This is also a great one for dry skin.
 *The KISS Lip Scrub ($9.95 at LUSH or www.lushusa.com) – Perfect name for a heart day gift and this caster sugar scrub has a sweet mandarin flavor along with a touch of sea salt that will leave lips kissable, soft and smooth.  I love that the LUSH website says to go ahead and kiss and tell with this lovely lip scrub!
 *Pure 925 Sterling Silver Heart necklace & earring set – Big sale on this pretty 2 piece jewelry set since this $75 set was marked down 60% to only $21.23! 
Valentine's Day Gift That Gives Back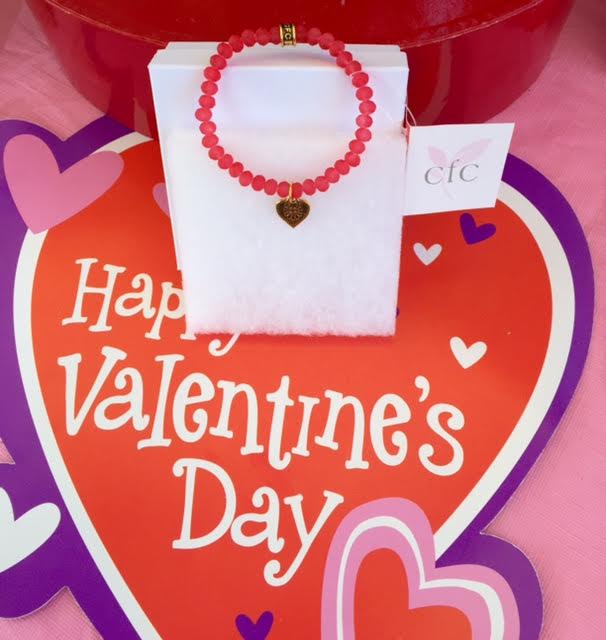 *Chavez for Charity (CFC) Vday Bracelet ($9.95 at Hallmark gift stores) – This pretty red bracelet (lots of other varieties and colors are also available) gives back to charity.  The particular one that I showed in the segment gives 25% back to a global activist movement to end violence against women and girls.  CFC also offers other bracelets that donate to additional charitable initiatives, too.
 For Both Gals & Guys
*Whitman's Sampler I Got You Babe Music Heart Box of Chocolates (9.99 at Walgreens) – When this box is opened, Sonny and Cher's "I Got You Babe" melody plays and yummy chocolates are exposed.  Fun!
 *LOVE Burlap Garland Be Mine Heart banner ($2.99 at Walgreens) Say it with a fun big banner that can be hung across the room or incorporated into a gift basket.
 *Godiva Assorted Chocolates now sold at Walgreens!  ($9.99 for a box of 9 assorted chocolates at Walgreens) – Who knew that the fancy Godiva chocolate line can now be easily picked up at your local drug store?  Makes life easy!
 *I Love Us 100 Love Notes to Share ($9.95 at Walgreens) — This little handbook holds big note cards that say fun things like "I Love You More Than Wifi" and "No One I'd Rather Count The Stars With" as well as a few fun and racy things, too!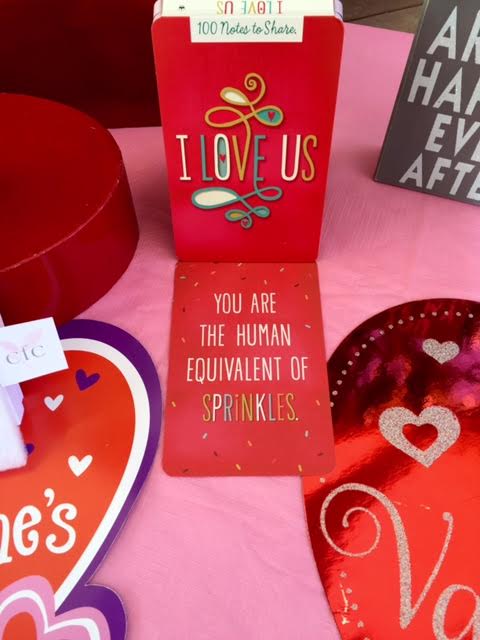 *Married for Life Inspirations From Those Married 50 Years Or More ($12.95 at Walgreens) – This sweet little book shares the secrets of love that lasts with insights from couples who have been married 50 years or longer.  Love this.  Some of the advice shared are tidbits like never get too old to hold hands and marry someone who is a good cook!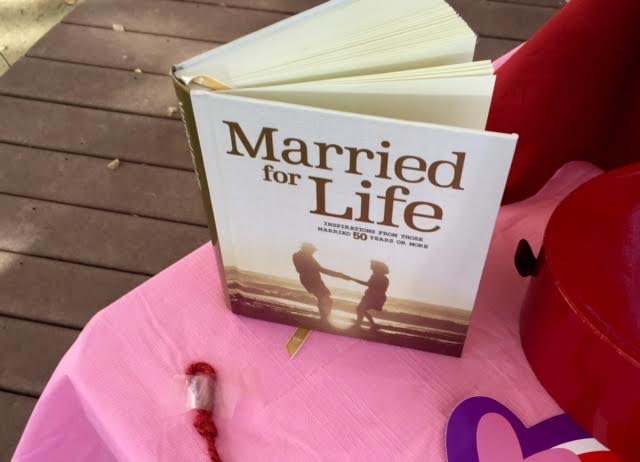 Some of the advice is fun, some very thoughtful and others so right on!
 *You Are My Happily Ever After sign ($19.99 but on sale for $15.88 at Kohl's) — This home decor love sign and many others are at Kohl's stores.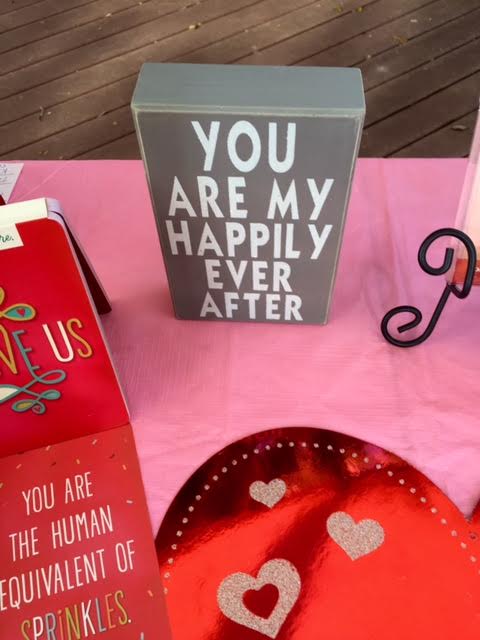 *I Love You Forever positive affirmation socks ($9.99 at Hallmark stores) – Cozy, sweet and loving socks that will warm feet and hearts.
 For The Teacher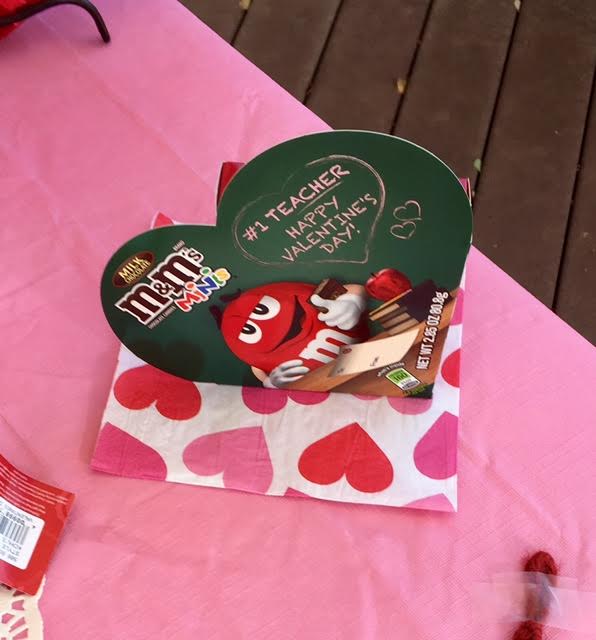 *M&Ms #1 Teacher Happy Valentine's Day Box of Candies ($4.49 at Kohl's) –  I also saw this at Walgreens and what teacher doesn't love M&Ms?!
 Fun Food Ideas For Heart Day
*Heart Pasta ($4.95 at Hallmark) Make a romantic dinner basket or make heart pasta for a sweet home cooked Valentine's Day meal.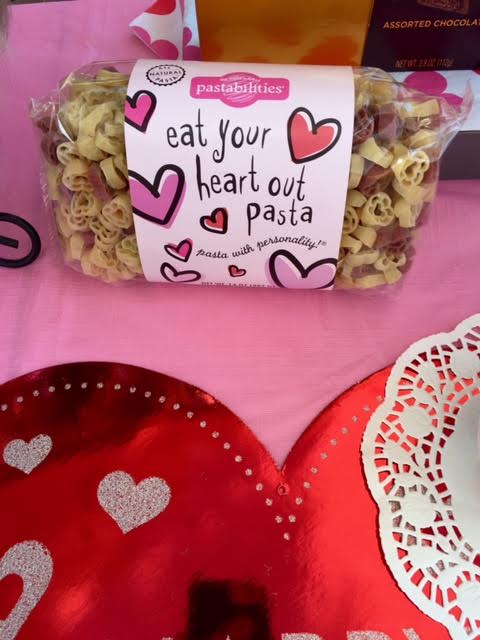 *Assortment of full sized heart shaped candy bars like Reese's, Snickers and more are all sold at Party City Stores.
The pretty extensive list of ideas above should have you covered on Valentine's Day.  If you know of a cool gift idea that I left out, tell us about it in the comments section.  Happy Valentine's Day!