As seen in my KTVK "Your Life A to Z" segment that aired today…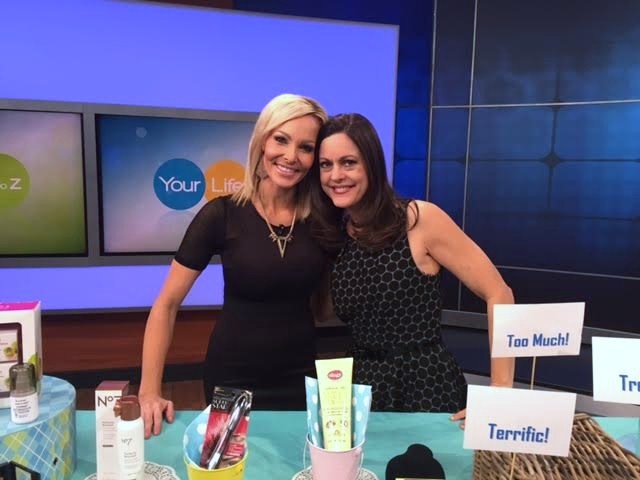 Spring has sprung and so have a bunch of new beauty products on the drug store beauty aisles.  Here is what's hot for spring beauty…
For Hair:
First of all don't miss this great bargain on hair products for spring.  Through April 2nd, 2016 customers get three hair products for the price of two at Walgreens stores!  The best part is that these items can be mixed and matched, too.  This applies to both women and men hair products and can be used to get all kinds of hair items like hair brushes, shampoo, hair spray, styling tools and more.  The least expensive item will be the free one with the purchase of two other hair products.  Here are some of the hair items offered…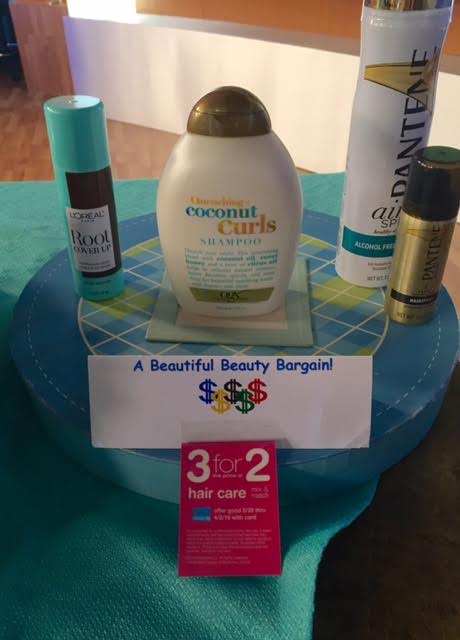 *Pantene Air Spray Alcohol Free Hairspray for Anti Humidity ($5.29 at Walgreens) — With spring break season and summer travel taking folks to humid destinations, anti humidity hair spray is just what women want and Pantene has this in a both full size and travel size, too.
*OGX Quenching Coconut Curls Shampoo ($8.79 at Walgreens) — Got curls you want to tame and enhance?  This shampoo does a good job helping your mane style that way because it is infused with coconut oil, sweet honey and citrus oil.
*L'Oreal Root Cover Up Temporary Gray Concealer Spray ($10.99 at Walgreens) — At 48 I still have yet to ever color or dye my hair!  But that lucky trend for me is quickly coming to an end, so this product speaks my name and covers my greys!  Beware though it does get on your hands when you rub it through your strands, but it washes off pretty easily.
For Face:
*Botanics All Bright Skin Care Kit ($29.99 at Walgreens) — Give yourself an at home warmer weather facial with this skin brightening kit from Botanics that includes hydrating day cream with all bright sunscreen SPF 15, hydrating night cream and a refreshing eye roll-on all brightener for dark circles and puffiness.  The kit is a good value because if each product was purchased separately, the total cost would be close to $40 but this kit is only $29.99 so this is a great beauty buy.  My blog's drugstore beauty expert, Bianca suggests buying the kit and breaking it up to put in Easter baskets…cute idea!
*Maybelline Master Contour Face Contouring Kit Ensemble ($13.49 at Walgreens) — Contouring is also a hot trend that continues on through the warmer weather season, so Maybelline gives us a kit that contains the three shades of blush and powder along with instructions on the box on how to create the perfect contoured and defined cheekbone.  Each compartment in this kit is labeled with a 1, 2 and 3 so women know the order to apply the contour, blush and highlight.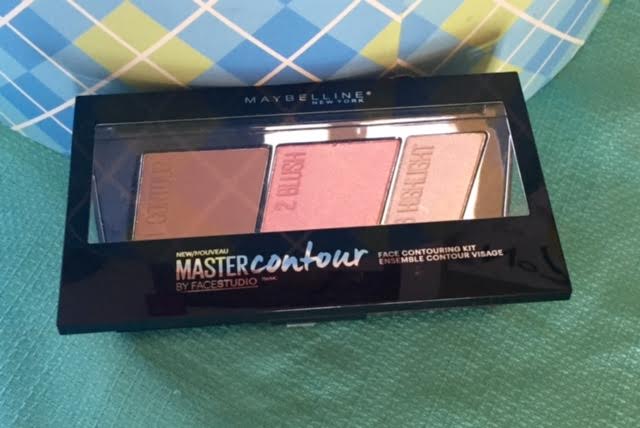 Bianca tells me that a lot of her customers also use the contour shade as a bronzer, so it is like getting four products in one, too.  The bronzer is perfect for an evening out in warmer weather clothing designs that expose the neck and shoulders.  Plus detailed instructions on how to create the contour are included on the back of the packaging.  Helpful for sure!
*Wet n Wild PhotoFocus Setting Spray ($4.99 at Walgreens) — Setting spray is such a great beauty tool that locks in makeup and moisturizes skin, too.  I first learned about using a setting spray a few years ago from our show's professional makeup artist.  I was happy to see that the drug store carries an affordable one that is under $5.  Just spritz a little on your face after all makeup is applied and it is locked in for the day.  It contains aloe Vera to hydrate skin and the handy size is also travel friendly.
For Lips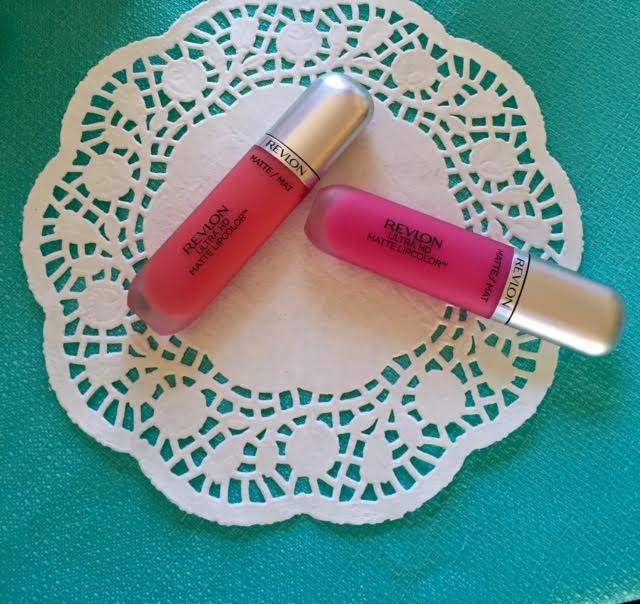 *Revlon Ultra HD Matte Lipcolor ($8.99 at Walgreens) — Bianca tells me that this wax free matte formula is a very hot trend as we move into the summer season.  Revlon's offerings have several spring and summery colors that include a pink shade called Temptation and a coral color called Flirtation. Revlon advertises that this lip color has a moisturizing and velvety feel and I agree and it did last all day.  Thumbs up to this lip color, especially if you like matte shades.
For Eyes
*L'Oreal Voluminous Super Star Red Carpet Black Mascara ($10.99 at Walgreens) — Bianca calls this mascara the selfie ready mascara because the formula on the wand contains light reflecting pearls for camera flash ready lashes.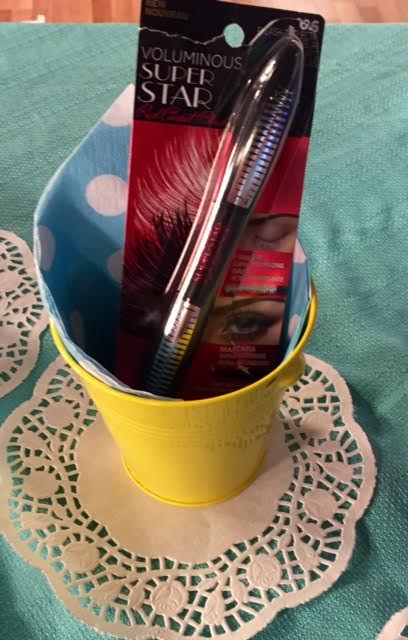 This double sided applicator contains a wand with one end that is the base coat that goes on the lashes first and then the mascara is located on the other end.
*Maybelline Skinny Eye Liner ($8.49 at Walgreens) – A lot of women want to lighten up their makeup in the warmer season, so this super skinny eyeliner does just that.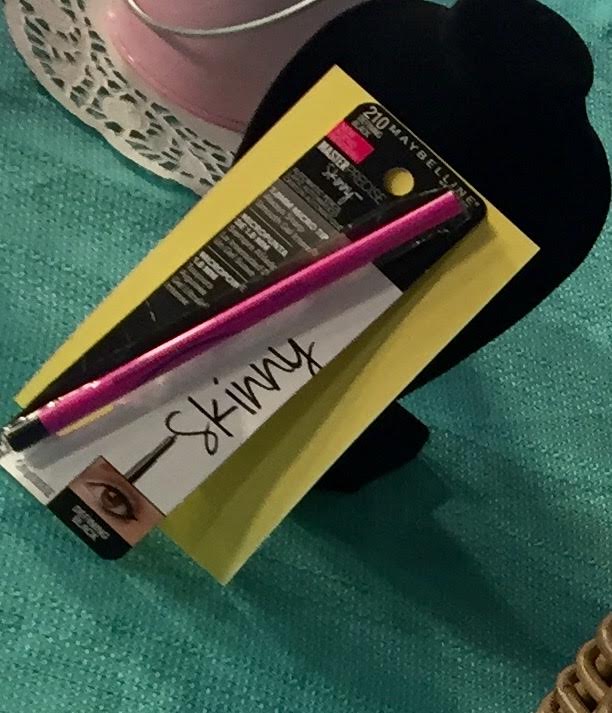 It is also a waterproof gel formula.  I put this to the test and it lasted all day long.  Love this for summer!
For Body
*Ology Oxybenzone Free Sunscreen Lotion Broad Spectrum SPF 50 UVA/UVB Protection ($9.99 for 8 oz tube container) — This sunscreen lotion is water resistant for 80 minutes and is fragrance free, has less chemicals and is also paraben free, dye free and has no added phthalates or fragrance.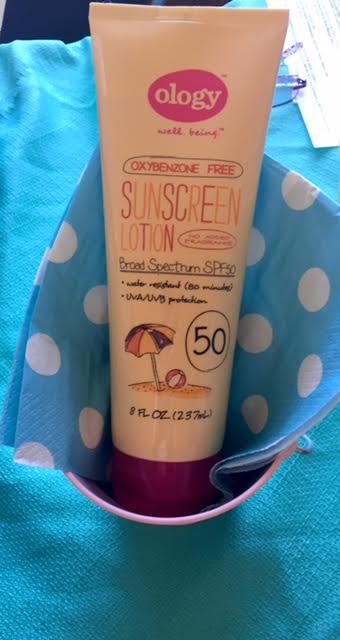 I like that and I like that it got a favorable rating on the Environmental Working Group (EWG) Skin Deep website which rates beauty products based on toxic ingredients.
*Boots No 7 Perfectly Bronzed Self Tan 360 degrees Quick Dry Spray ($12.99 at Walgreens) — Bianca tells me that this is the item that she can't keep in stock at Walgreens because it is a huge customer favorite.  This hypo-allergenic bronzer sprays right on and didn't really have to be rubbed in, although the directions say to do so, so I did.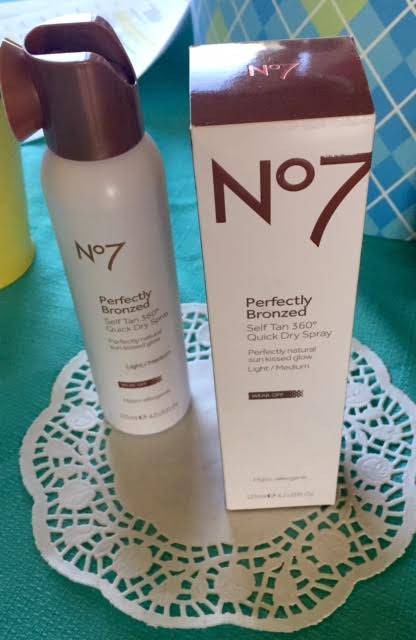 I was impressed that it didn't leave my hand orange after rubbing the solution on my arm.  I also like that the fragrance is light and so is the mist that sprays on so easily.  It did give my skin a sun kissed glow and the moisturizing solution contains passion flower seed oil and Vitamins A and E.  I see why Walgreens constantly sells out of it.  Perfect for summer!  Although I didn't wash my hands and had no problems, definitely wash your hands after applying this and really any beauty products.
For Nails
*Essie Silk Watercolor Palette Artist Kit ($17.50 for a set of 4 nail polish colors at Walgreens) — Spring has definitely sprung with this do it yourself manicure kit that gives your nails a finished silky watercolor look.  Essie has come out with a less expensive product that is similar to OPIs Color Paints and is sold at the drug store, so that is appealing for sure.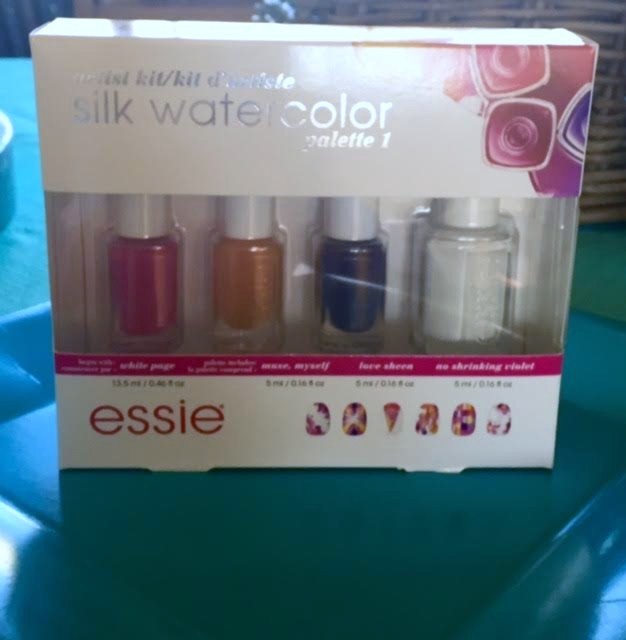 If you are good at DIY nail art, then I think you will like this collection.  Since I do not have a steady hand, I leave it to the pros, but this kit did what it promised and the pastel artsy colors are fun for spring and summer!
For Feet
*Boots No 7 Beautiful Skin Softening Foot Scrub ($9.99 at Walgreens) — For at home pedis, try this softening foot scrub to gently exfoliate those dry heels we get wearing flip flops in our warm weather.  This foot scrub is also hypo-allergenic and works well.
What fun and trendy warm weather beauty products do you know about and love?  Tell us in the comments section since we love to share beauty finds.  Happy Spring beauty shopping!