Yesterday marked the beginning of my 49th year.  Here I am with the one who is still at home with us 🙂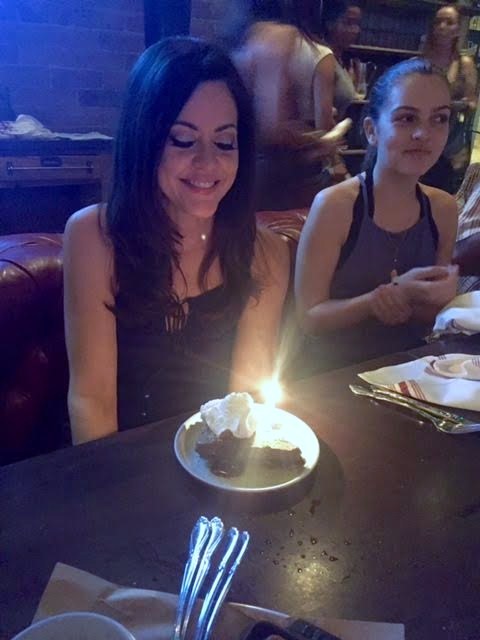 It also marked the beginning of college classes at my son's new university.
Here is the one who isn't still at home with us and this picture captured the pain in my expression that comes with the process of letting go…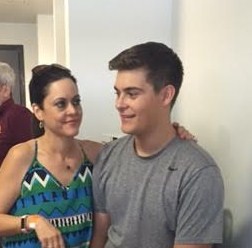 Lucky me because my son and his girlfriend made it to my celebration dinner even with it being the first day of college classes.  Here I am sporting that joyful expression again…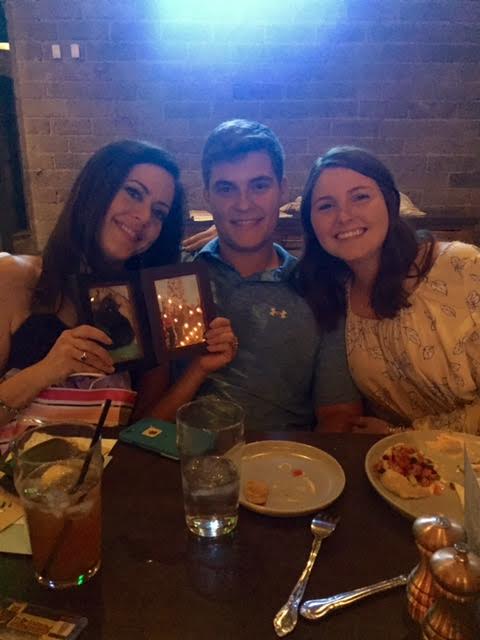 I was overjoyed!  And it may seem strange that I am even writing about this yet, but one week later, 7 days down, life is different.  Because now that the birthday fanfare is over, this is the first time that I probably won't see him until college family weekend next month.
After seeing him almost everyday for almost 19 years.
And I am…mostly A OK.
It does help that he stayed in state.  But his room is still emptied out and the bed stays made.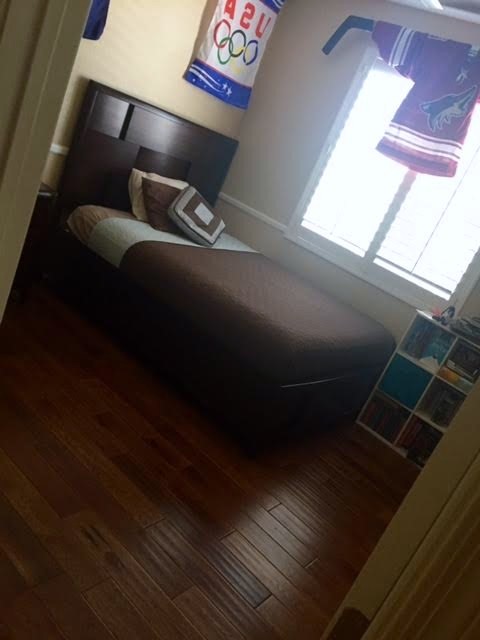 That part is nice about the bed, but it does feel a bit surreal at this point.
My pals with local college students tell me that their in-state, and even in-town, college kid stays away at their college most of the time.  And that they might as well be out of state since they don't hear from them much.
I haven't driven to his dorm to visit him as I am resisting the temptation to do that until family weekend arrives.
It is nice with technology that we can call and text frequently.
But we haven't.
Really hardly at all.  This is because I am truly letting him take the lead on how our new chapter of mother & son communication is supposed to go.  In other words, I am doing what the college advisers told us parents to do.  Let go.
And I also know that every kid is different and parents know how their kid ticks.  Mine ticks best like this. The way that requires me to let go and communicate less.  That is what he needs right now.  And if that changes, I will be right there for him, by phone, text or a visit.  He just has to say the words.  For now he is good.  And that makes me joyful again.  But I do miss hearing from him, of course.
I am told that is a good thing and that means that he is adjusting well and flying smoothly so far.
That totally trumps my desire to hear from him frequently as that is the most important thing.  His wellbeing and how he is adjusting.  My own adjusting comes second and is not his concern.
As it should be for now.
There are some things that are are not so bad about his departure.  Life is a bit easier with only one left at home. One less schedule to worry about.  One less plate of food to prepare.  A smaller and less expensive grocery list.  I don't miss balancing a crazy calendar. The many times that required me to be at exact opposite ends of the city at the same time during the busy sports/recital season literally drove me crazy!
I do have a little more time now.  However the notion that I have a lot of time on my hands has not been true since the demands of running a home, my busy teenage daughter's schedule and my own freelance work keeps the clock running fast.  But it is nice that it has loosened up a bit.
And no he didn't come home to do his laundry.  He did it at the dorm already and seemed proud to tell me about that. He may have just been making small talk, but I think he was proud, too.  He is off, on his own and flying.
What we parents work towards during those 18 years!
This is his time to fly, to embrace his completely new life, to learn, to grow, to make his own mistakes and to flourish.
I made a vow that I would step aside and let my boy…I mean young man…do that.
7 days later.  7 days down.  I am doing it.
Sometimes I see that dark room of his and remember how annoyed I was that he always left his light on and his ceiling fan running.  I have choked up more than once realizing that the room will stay dark and that the ceiling fan will remain motionless until his next visit.
But then my frown turns upside down and my smile warms my face as I reflect on the experience he must be having right then and there at that moment as I am thinking about him.
It is very different to know that he isn't coming home, popping in my office to ask me a question, tell me something or sometimes just chat.  Yeah, I miss that.
But I am adjusting.  You do adjust, Mamas.  It is different.  It is a new chapter.  And I am busy with the one who is still here for 4 more years.  Talk to me after her departure!  I foresee that one being more difficult.
But this one isn't easy either.
But it is easier than I thought it would be.
Last night as I blew out my candles and read my cards, I thought about my wishes for a wonderful year ahead.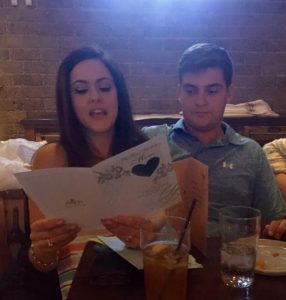 For his new beginnings.
When he announced that our time together was coming to a close, I quickly asked him why he had to leave.  "I have plans, Mom" he answered.  And I realized that of course he does!  Just like I had plans that started at 10pm when I was in college.  Oh those were the days!
And when I looked at his happy, healthy and smiling self, I knew that 7 days down, this life after a child moves out is….different.  Not easy.  Not as hard as I had imagined, either.  So far, anyway.
Simply put…it is good.  So good for him.  As it should be.
But first…he wasn't getting away without a goodbye kiss from his #1 fan!