Wow!  My house is a serious hot mess right now.  Right off the bat by the front door, stacked boxes greet me.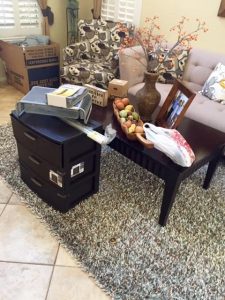 These boxes are filled with stuff that is waiting to move into a brand new dorm room.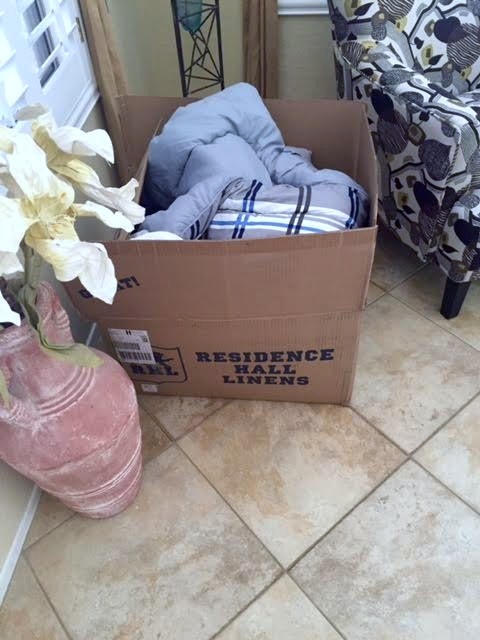 My downstairs office is filled with unfinished projects that are lining the wall.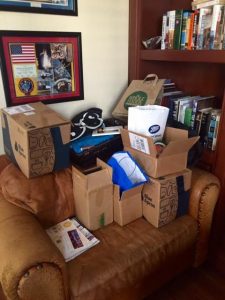 Upstairs, parts of my bedroom look like a moving truck will be here any minute.
These unfinished projects went unfinished this summer because I chose to delay that stuff to instead spend real quality time with my family.  It was the right choice.  We had a lot of fun and we only took one short weekend trip due to our about-to-be-college-parents budget.  But we still had a lot of fun.  We did some community volunteer work.  My son and his girlfriend adopted two kittens from the shelter where we volunteered.  We ate too many calories.  And we did a whole lot of nothing. It was great!
And upstairs, down the hall…oh my!  One room is filled with stuff that used to belong to a little girl who no longer lives here.  She has been replaced by an almost 15-year-old high school freshman.
She no longer resembles anything looking like a little girl.  Neither does her new stuff.  It looks a lot different from her old stuff that wasn't so old last year.  This old stuff that I delighted in buying for a bouncy little excited girl a few years back.
That pretty full length princess mirror that collected funny stickers as she progressed into the middle school years.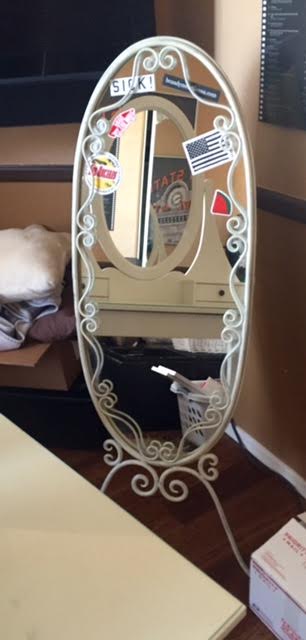 A small sized vanity that is white with yellow wallpaper lined drawers.  I remember how excited we were to find this at Ikea.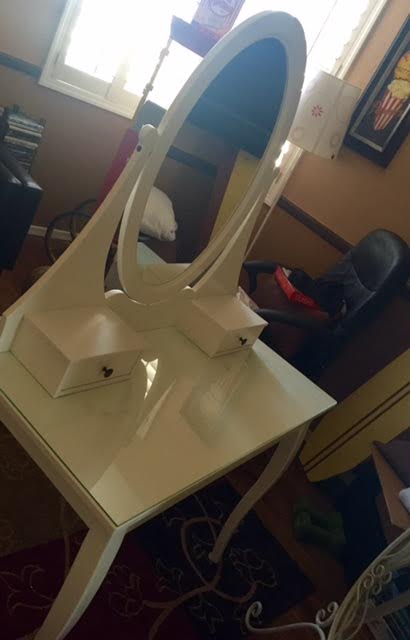 American Girl dolls.  Crayons.  Little kid books that we read together.  Size small girls tees.  Little flip flops.
The things that belonged to my little girl who was little just a few short years ago.  Just material items, but now that annoying pile of clutter has become snapshot pictures of what was with new stuff of what is now.
Over the summer, she quietly moved those old items into the spare room, asked us to paint white over her blue and pink walls and selected a bed from Urban Outfitters that looks like it belongs in a young adult's apartment.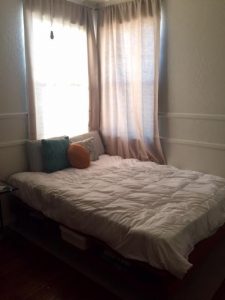 Her room is so different now reflecting her different self.  No more little girl desk or stuffed animals.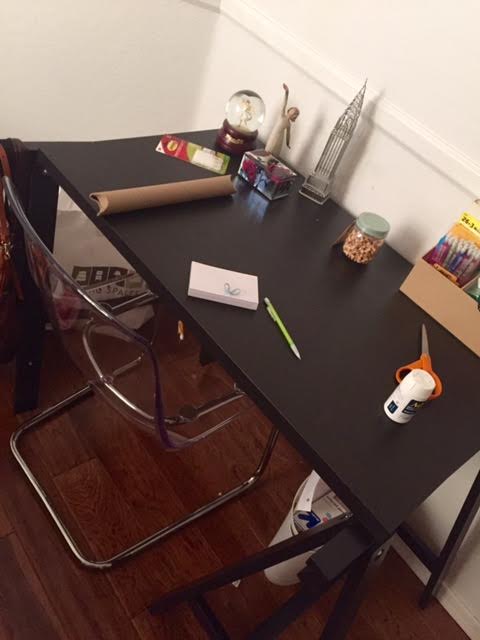 No more princess mirror either.  The self that is gracefully growing into a young woman.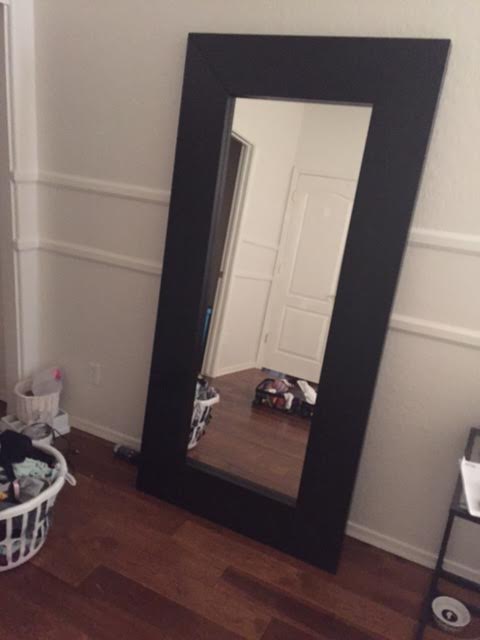 But first high school.  So her new room is sort of a go between of a high schooler and a college student.
The room next to hers does indeed resemble a college student's area and is the biggest mess of all.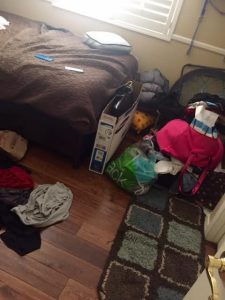 This former little boy's room now houses a young adult who was, just a year ago, a high school kid.  Now he is almost 19!  Hard for me to believe, truly!
His room is filled with boxes, a new TV waiting to be unpacked into a dorm room that is anticipating his arrival next week. Slowly but surly his hockey stuff is coming off the walls.  The clothing that at times I confused with my husband's wardrobe pieces are going into boxes.  I have washed the new sheets, comforter, blanket, towels, pillow and more and it all waits by the door, in his room, in the hall…all over this extremely messy home as the countdown to his move out date revs up to high speed.
In our front room, two of the most adorable kittens have taken up temporary residence until my son's sweet girlfriend is all moved into her new apartment.  Kitten sitting is such fun!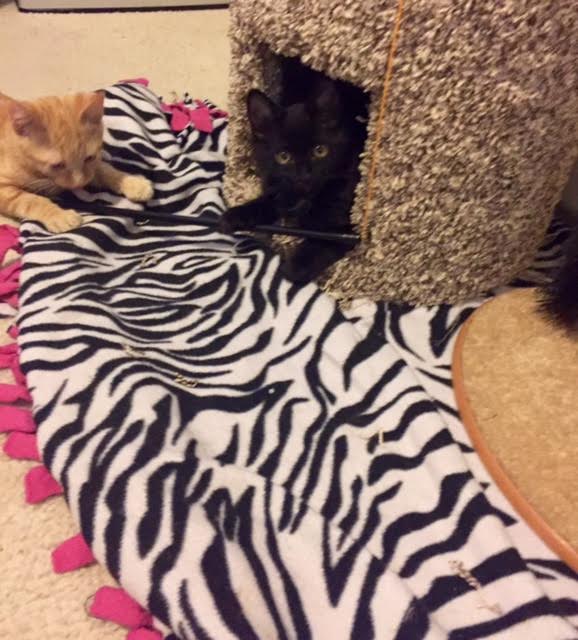 They will leave soon, too.  They are college kitties so off to ASU territory they return to next week.
My husband commented over the weekend that our driveway looks like a parking lot.  I smiled at him and told him to enjoy all those cars for now.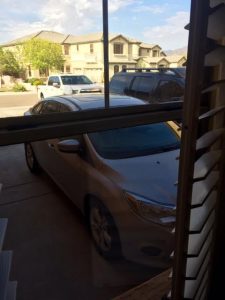 I am buying twice as much food and working on cooking larger quantities every day.  This is very temporary.
The front door alarm chimes at all different times now as early as 6am and as late as 1am.
My house is an extreme mess right now.  Disorganized, cluttered, loud, busy, crazy, full of felines, teens, young adults and me and hubs.
I hate it and I love it.
I hate the mess.  I love the mess.
Soon a big part of the mess will be completely emptied and clean again.
Soon our driveway will house the same two cars that belong to myself and to my husband.  A third car will happen again in a little over a year from now when our daughter turns 16.  And when all return for holidays, I will love that our driveway will look like a parking lot!
The mess would usually drive me insane.  I would holler and plead with my kids to clean it up.
Instead I smile, walk by, stop and pause and look and reflect.
Those boxes of my boy's childhood are headed out the door to the most exciting chapter for him!  How incredible.
So annoying boxes…you can stay for a few more days.  Clutter…I welcome you as your disappearance marks a new huge stage for all of us.
Stay a little longer little girl mirror and sweet white vanity because when you depart, the stuff that reflect my daughter's little girlhood goes away.  No more reminders of the smaller chair that fit her perfectly or the hours that she contently played house with her dolls.
Oh clutter and mess, how I despised you before.  You were such a bother and now you are traces of their childhood that will soon disappear.
I may sound wistful and sad in this post but the funny thing is that I am not.
And…I am.
I am not as sad as one may think.  Because it is time for these transitions to occur.  I am ready.  They are ready.  We are all excited.
But I do still have a small daily lump in my throat.
But that clutter!  That mess!  The fact that it doesn't bother me.  Because I know.  I know what comes next.
Next week.
What a strange time.
What a funny thing that the extremely messy home before was such a bother and gave me a headache for so many years.  But now it is different.
So stay a little longer, piles of mess.  Clutter that gets in my way, you are OK right there for now.  You are fine to stay, boxes by the front door.  For once I welcome your presence and although I never thought I would say this…I will miss you, dear clutter.  Huge annoying mess.  Oh it will be nice when you are cleared out.
But for now go ahead and stay for just a few more loud, messy and fulfilling days.