Manic:  Considering traveling from Tucson, Arizona all the way to Washington DC.  By train.  With six of us traveling together.  Hubs, myself, our college guy, our teenage girl and my husband's dear parents.
Was this idea manic or managed?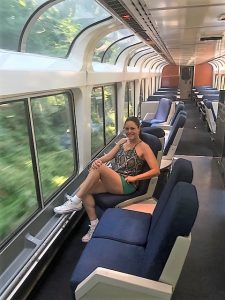 Managed:  We did it on Amtrak and my answer, our experience and a few train travel tips are here in our story.  All aboard!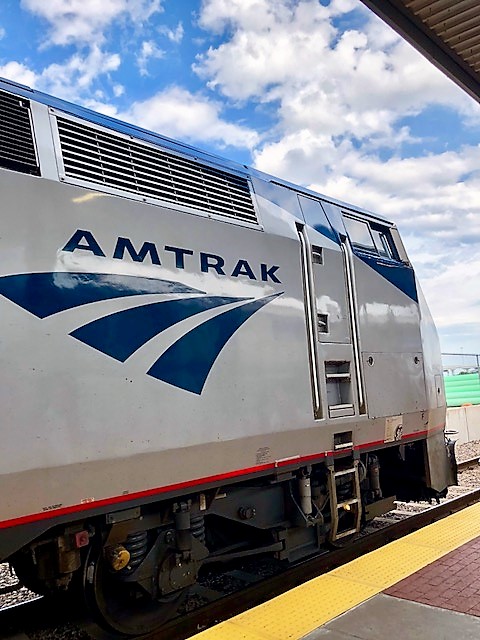 Our train left Tucson, Arizona at 8:15am bound for El Paso, Texas.  To get to our final destination, Washington D.C., we would start on the Sunset Limited Train, switch to the Texas Eagle and end up on the Capitol Limited.  Our journey would take 3 1/2 days with three nights spent on the train.  We would change trains once.  We left Tucson on Saturday morning, changed trains in Chicago on Monday afternoon and arrived in Washington D.C. on Tuesday afternoon.
It didn't take us long to get comfortable in the observation car, my husband with a beer and a deck of cards to play with our son.  The quality time that our family spent together aboard the train was priceless and is one of the great benefits of train travel.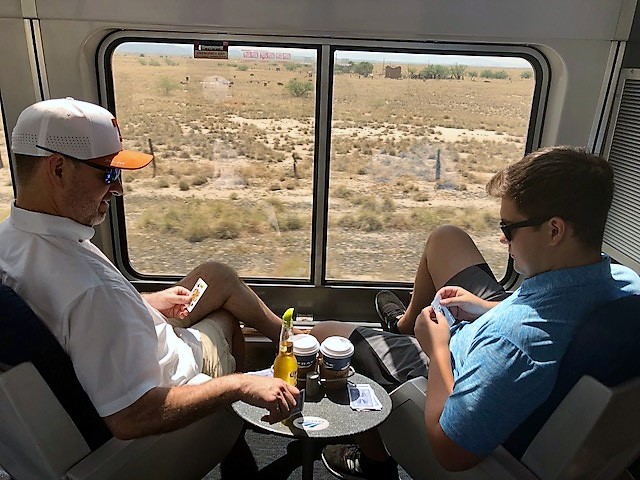 Almost six hours later, we arrived in El Paso, where we picked up precious cargo, my husband's wonderful parents!  They are both big train buffs.  Our cross- country family vacation was now full on!  We were Washington D.C.-bound starting on the Amtrak Sunset Limited Train.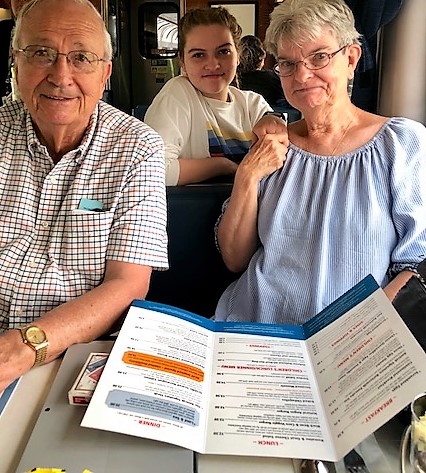 Time spent with the grandparents is so special.  Notice the items on the table in this picture.  A dining car menu, a deck of cards and a laptop computer.  To our surprise, we didn't use our laptop computer or any of our devices much at all.  We did use the menu a lot!  Yum and fun.  And we played several fun card games together, too.  We also spent our time looking out the window at the scenery and visiting with each other.  Dining car time was always enjoyable as well.
The Food
How is the food?  Not bad!  Not bad at all!  And it is neat to have a view of the countryside as we ate.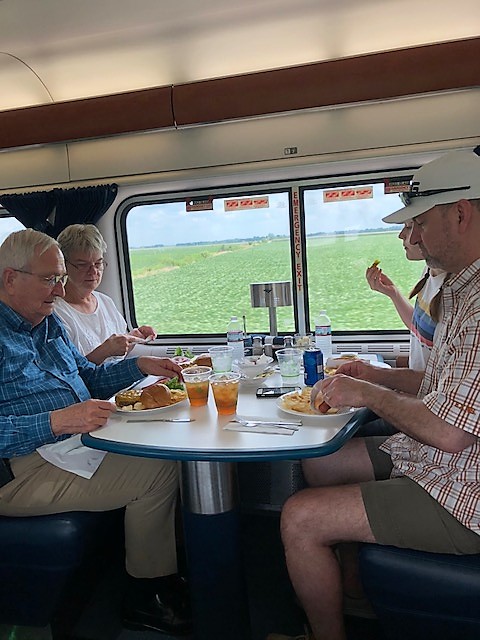 Passengers can make dining car reservations for each meal or purchase to-go meals in the cafe car.  We purchased bedrooms for our trip, so the meals were included (except for the beer, wine and cocktails).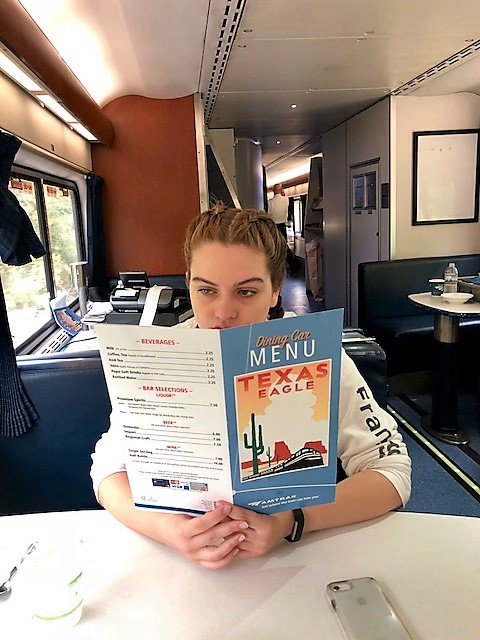 The menu wasn't extensive, but it certainly featured more choices than I had expected.  The entrees were created by renowned chefs from around the country.  To compliment the route, southwestern inspired fare was offered and I enjoyed everything I ordered.
I especially liked the salmon dish that was served with red curry and the desserts were also tasty.  The Pinot Grigio wine perfectly complimented my meal.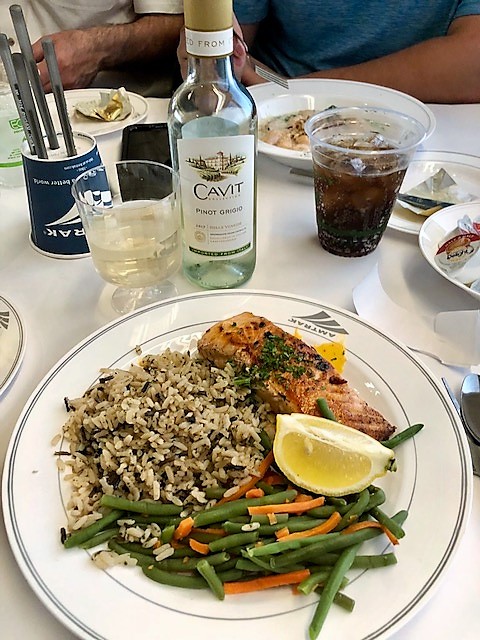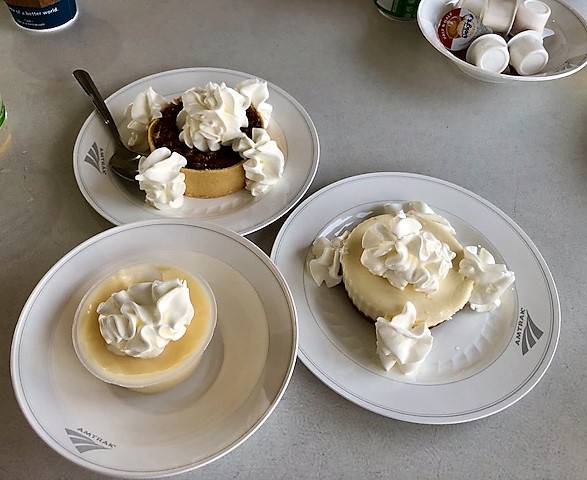 Healthy and vegan options were also offered on the train.  This romaine and goat cheese salad was quite good and was a nice lighter option.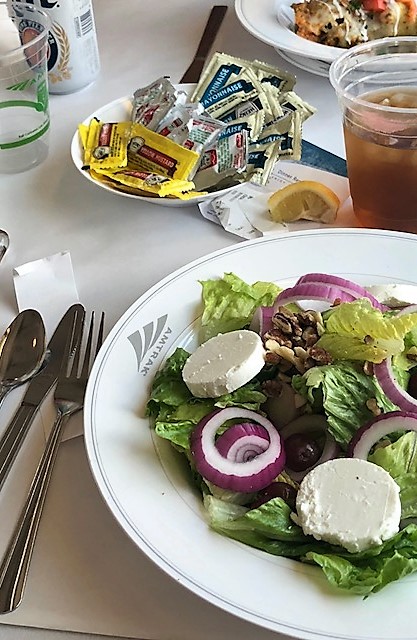 With full tummies, sometimes we would head back to our rooms for a little post-meal nap.  I have zero complaints about the train food.  Very good, satisfying and so fun to eat in the dining car.  Do know that if you don't have four people in your party to fill a table, then you may be seated with strangers.  The train restaurant staff fill the tables to capacity if needed to keep everything on schedule.  We met nice and interesting people in the dining car, so we didn't mind this arrangement at all.
Also note that Amtrak notified us in advance before our trip that we would not have an operating dining car with servers on the last leg of our trip between Chicago and DC.  Instead we were provided with a boxed dinner and breakfast-in-a-box the following morning.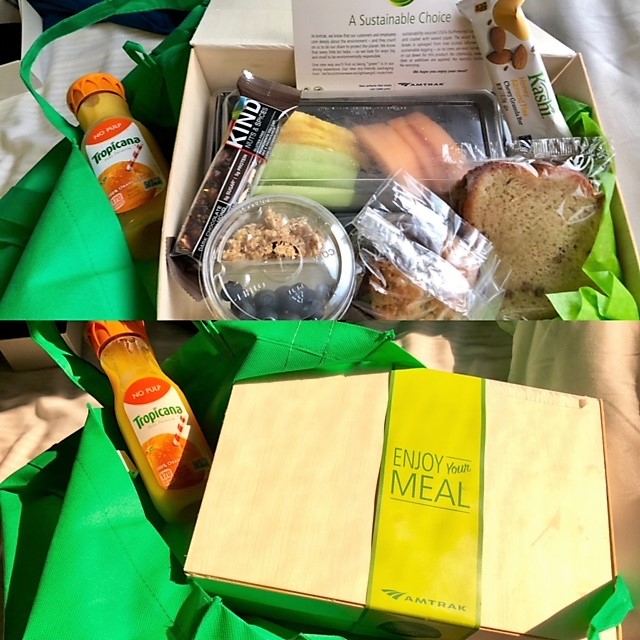 We were given one complimentary cocktail each, but I did the miss the dining car experience.  We were invited to sit and eat our box meals in our own private dining car for the sleeper car passengers, but it sure wasn't the same.  When planning an Amtrak train trip, inquire about the meal options so you know what to expect.  The boxed meals were also included with the cost of our private bedrooms.
The Accommodations
So how were our accommodations?  Not luxurious, by any means, but good enough and better than I expected.  I can't stress enough that if you decide to take a cross country train trip, spend the money and rent the private bedroom in the sleeper car. It is worth every dollar plus you get your own private shower. I took a shower twice and I was surprised that I enjoyed it as much as I did.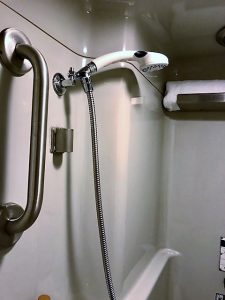 I recommend packing shower shoes.  I don't like walking around in my wet bare feet in the shower and around the rented bedroom.
I found it difficult to adequately photograph what our rooms fully looked like since they are small, but I tried my best to give you an idea with these pictures.  This is a similar configuration of what our rooms looked like, taken from the Amtrak website, although the shower head is missing from the diagram.  The shower is in the same little room that houses the toilet.  It sounds strange, I know, but it works and a hot shower felt great by day 2 of our train trip.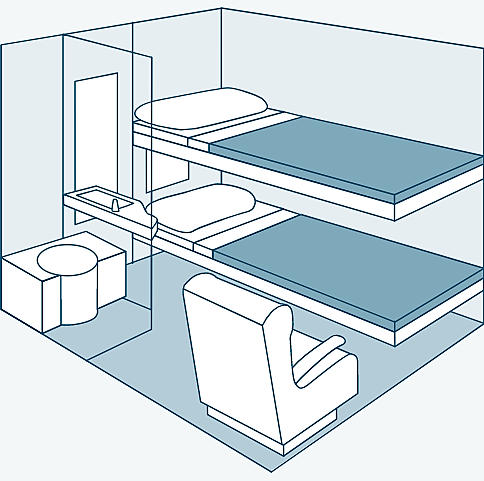 Here are some photos of our rooms.  We rented three bedrooms in a row that were in the last train car, so it was really private, which was nice.  This is the hallway to our private rooms with each door behind the curtain.  The doors locked and the curtain provided privacy.  It was very fun and special to be right next door to our kids and to their grandparents.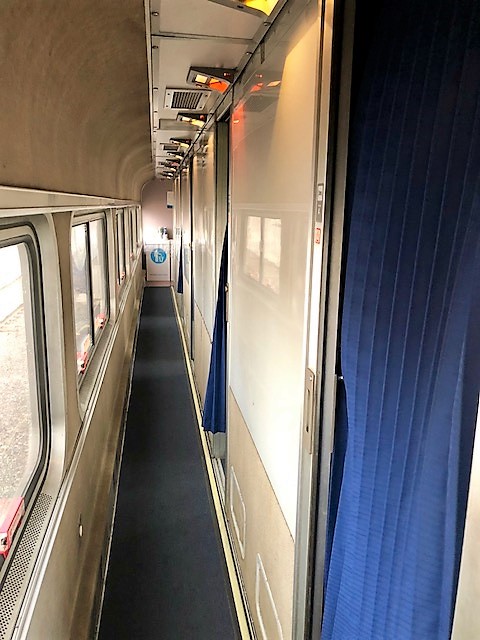 Here is a look inside of our room, but keep in mind that it is impossible to photograph in one picture because the room is small.  Below is what it looks like upon entry. The door to the right is the door to the private bathroom and shower.  The sink has a lit vanity mirror area that worked perfectly for me when I brushed my teeth and applied my makeup.  There are several hooks shown where I could hang my purse, towels, etc.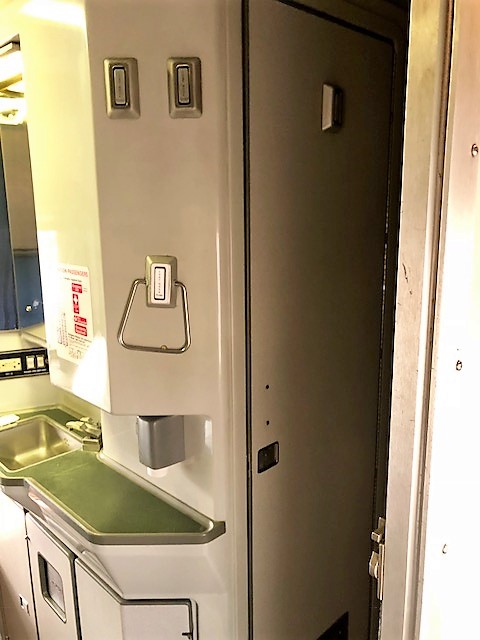 Here is the other side of the room that lies directly across from the sink.  My husband and his father are seated on what later becomes the bottom bunk bed.  The arched ceiling above, that is over their heads, is the top bunk bed that folds out.  Again, this room isn't fancy and it is small, but I was comfortable and I loved that it was completely private.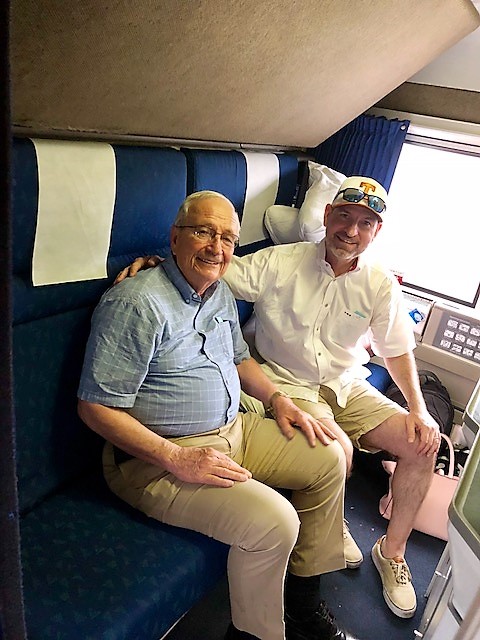 Some bedrooms have a door that opens so two bedrooms can become a family room with two bathrooms, which is a nice option.  In the photo below, our train porter is shown opening the door for us so we could visit with each other.  It was cool.  If you want this option, be sure to ask Amtrak in advance if the porter (also called train attendant) on board has the key to open the adjourning door.  The attendant on our first leg did not have the key, but the porter on our later route did have one, so we could enjoy this option during the second half of our trip.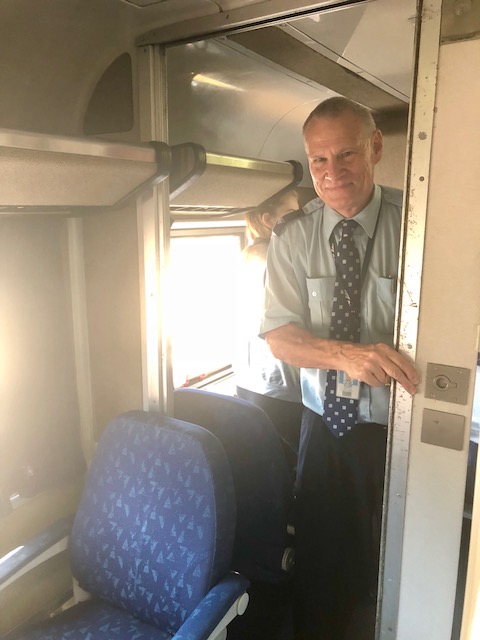 When we weren't relaxing in our rooms, we enjoyed the view from the observation car where we also played cards, visited, had snacks and cocktails.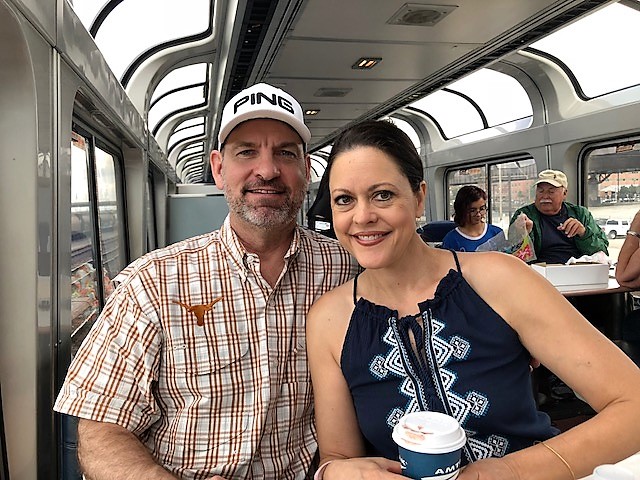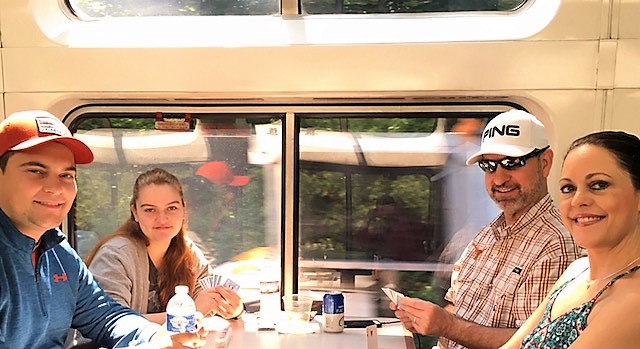 The Scenery
I love some of the pictures I was able to capture like this one of the St. Louis skyline.  Isn't this a cool picture that I took on my smart phone while on a moving train?!  I love this…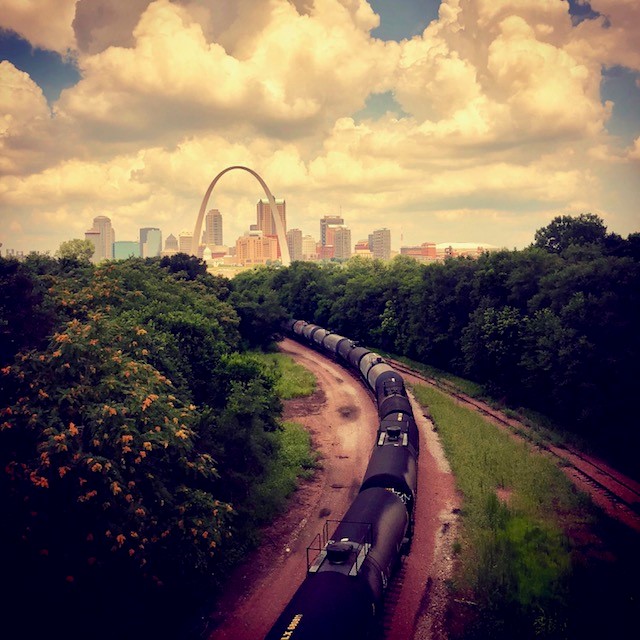 I also got a great shot of my alma mater town (I graduated from UT Austin), the city of Austin with Town Lake featured as well.  Again, I captured this as we were moving, which is so cool…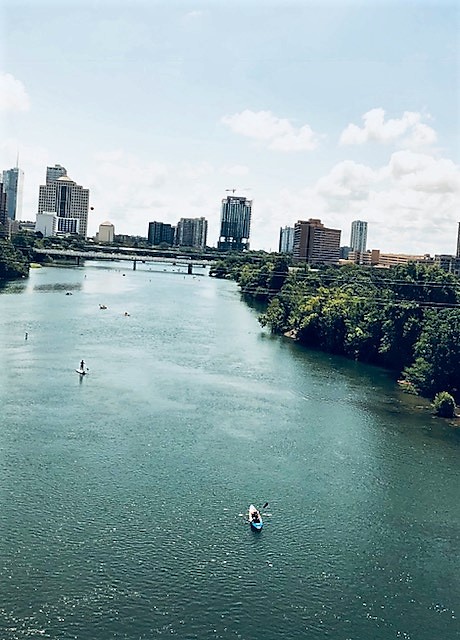 Below is Chicago from the train.  We changed trains in Chicago when we went from the Texas Eagle line to the Capitol Limited run.  The window reflection can be seen in the photo, but not in a lot of my other moving train pictures.  I observed a fellow passenger placing his phone directly against the glass to capture images without the window glare, but I forgot to do that in this one.  I still think it is a cool shot, though…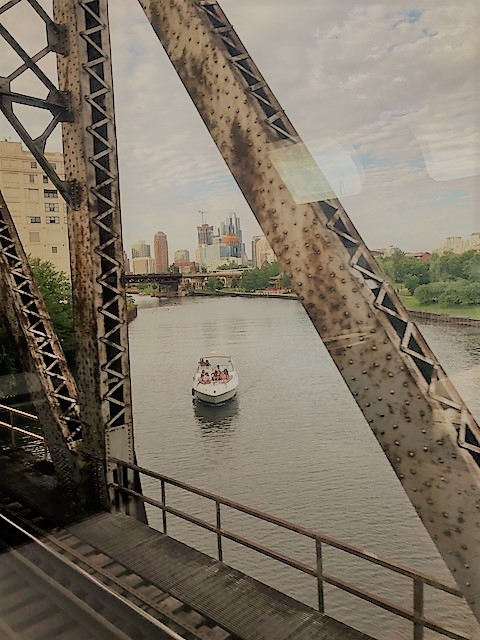 I love this picture of my morning view from my private bedroom with a hot coffee in hand.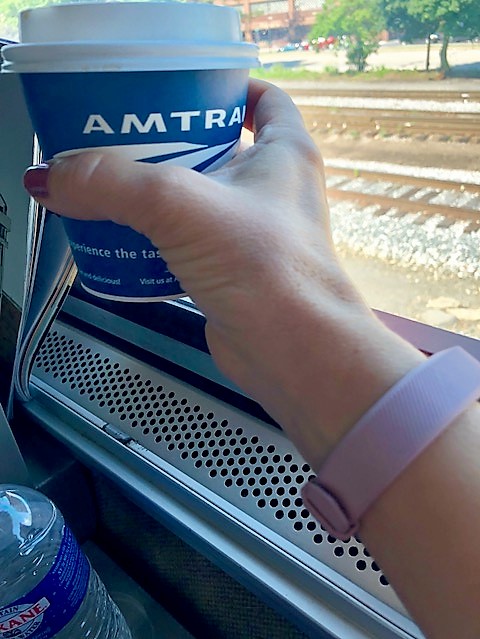 I felt very relaxed and peaceful on the train.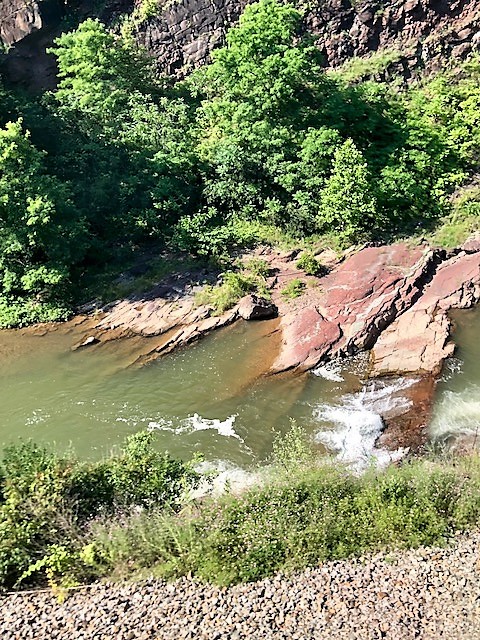 Sometimes it was cool to snap random photos of small town America as we rode along.  I think this picture looks almost artsy in a way…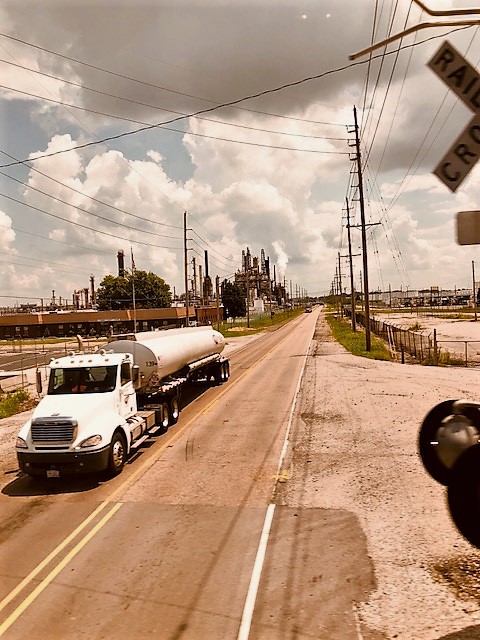 I was sentimental passing through Harpers Ferry, West Virginia.  My 93-year-old grandmother lives up high in the lush green mountains that are seen in the background…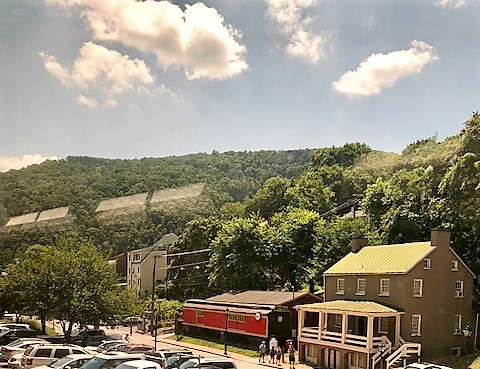 I would get to visit my grandmother a few days later after our DC arrival.  So special!
Our arrival into Washington D.C. concluded our train trip and brought the hustle and bustle of the busy Union Station.  We took one last photograph of our trusty train and thanked the nice Amtrak crew for a job well done.  The crews were fantastic from start to finish.  They were attentive and fun to chat with about their careers working on trains.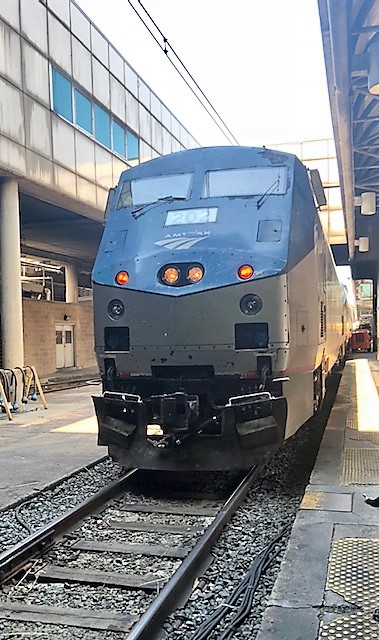 After leaving Union Station, we enjoyed several days touring museums at the Smithsonian, The Arlington National Cemetery and several other attractions.  I also enjoyed some quality time with a lot of my family who live in the Maryland/Virginia/West Va area.  Getting to my family by train was a unique and special memory that I will never forget.  We are even thinking about doing it again from Arizona to New York City!  We will be sure to once again rent the private bedroom and bathroom, which in my opinion, is the only way to adequately do a cross country train trip.
My #1 favorite thing about the train was this…
Quality time with family and seeing my two kiddos hang out together!  I know that my girl misses her big brother since he went off to college.
The Price
So how much did this set us back?  We purchased four coach seats from Tucson to El Paso for only $232.00.  That isn't bad at all for four of us.  We were comfortable in the roomy 2-seat configuration per row.  Plus, since we could get up and walk around, look at the scenery from the observation car and snack in the café car, we kept busy.  But that is only the coach cost for the very first part of our trip.
For the full bedroom that slept two people and came with a private bathroom and shower (huge asset), we paid the highest premium fare.  The premium fare is beneficial, in my opinion, because we received sleeper car accommodations, access into the first-class car, complimentary on-board food, beverages (one free alcoholic beverage per person on the last leg of our trip) and privileged access to the Amtrak ClubAcela lounge at connecting train stations, too.  Each two-person bedroom, with one private bathroom and shower each) cost us $1800.  That gave us three nights' accommodations and all our meals.  So, multiply that by two rooms, one for us and one for our kids and comes out to a grand total of $3600.  I will say that it was worth every penny as it was a trip that we will never forget.  My fourth favorite trip ever behind Maui, London, a wine-country tour in California and now this beloved cross-country train trip!
Amtrak also offers a roomette option for a less expensive fare, but you lose the private bathroom.  Roomettes do get to be in the private sleeper car with an attendant so that is a nice option to consider if you want to pay less and don't mind losing the extra space and the private bathroom/shower that you get in a full bedroom.  There are also family rooms available, but we didn't investigate that option.  All options are explained in detail on the Amtrak website.
Our Amtrak train time was priceless and I am excited to do it again!  Try it!  But like I said, do it right and rent the private bedroom and bathroom.  Make some cross-country train memories and go all aboard!