Is your kid college dorm bound?  Pack these essentials for a smooth move…and don't forget the Kleenix, parents.  This is a bittersweet experience for sure!
Compiled by us, our son's wish list and the best part…suggestions from other parents who have been there, done that…and then had to go back to the store for dorm stuff that is easy to forget.  Stuff like shower curtain rings (although do check the dorm room to see if the shower has a door and doesn't need a shower curtain), a power strip, Advil, a lamp…stuff we don't always think about.  So take a look, print out the lists (I have included several here) and happy college days to your little birdie who is leaving the nest.
And be sure to first consult your child's roommate to check off who brings what and what can be shared like a mini fridge and microwave.
 Linens for bed & bath – Dorm room beds are specially sized so typical sized fitted sheets won't fit.  With this in mind and after shopping around and comparing prices, I found the best value to be at the very helpful online college shopping store, Our Campus Market.  The Student Starter Pak is a good value.  For $139 we received our box in the design that my son selected…and I listed the contents below.  This is our box that we received…
And here is what came in that box…
2 extra-long flat sheets
2 extra-long fitted sheets
2 standard pillowcases
1 extra-fluffy machine washable pillow
1 extra-long reversible comforter
1 extra-long quilted mattress pad
1 extra-long thermal cotton blanket
2 all-cotton bath towels
2 matching cotton hand towels
2 matching cotton wash cloths
2.  Laundry Basket on Wheels – found ours at Target. My son's girlfriend, who is starting her sophomore year at ASU (so she has experience) suggested this.  I would not have thought to get him one on wheels to wheel down the dorm hall.  Smart!  You can see the one we bought in the first picture above. Of course, buy laundry detergent and dryer sheets, too.
3.  Grooming essentials – Our Campus Market has nifty grooming sets for both the guys and the girls.  We purchased one for our son called the Nitty Gritty Grooming Collection that includes a ton of stuff like shampoo, shower gel, deodorant, men's face wash, toothpaste, toothbrush, mouth wash and more.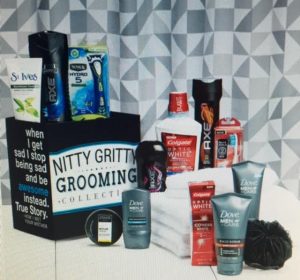 It did cost $59 but it is the perfect set up to get him started.  The box it comes in is super cool and this can be mailed directly to the dorm as a college care kit.  My son liked this a lot.  The girls version, called Primp It Pretty Personal Collection is pictured here and costs the same…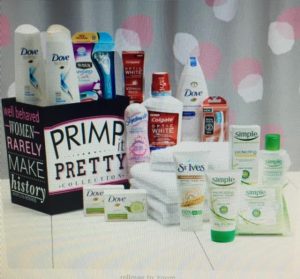 4.  Our son's #1 requested item was a coffee maker so he was so happy when he saw one in his surprise pile!
5. For the rest of the needed items, I am sharing this nice succinct list that ASU provided.  Then I will share a more elaborate list that ASU also mailed to us.  First the short list…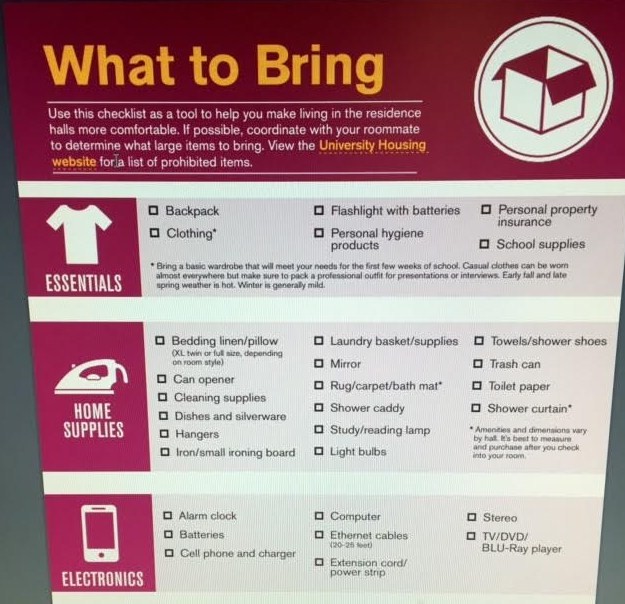 ASU also sent us these tips, but check with your own college dorm to see the unloading vehicle policies…

Here is a more detailed list…
Essentials
Backpack
Clothing
Flashlight with batteries
Personal hygiene products
School supplies
Personal property insurance
Home Supplies
Bedding linen/pillow (XL twin, regular twin or full size, depending on room style)
Can opener
Cleaning supplies
Dishes and silverware
Hangers
Iron/small ironing board
Laundry basket/supplies
Rug/carpet/bath mat
Shower caddy
Study/reading lamp
Light bulbs
Trash can (depending on room amenities)
Towels/shower shoes
Toilet paper
Shower curtain
Mirror
Tool box with tools – we didn't pack this and sure enough, my son needed tools when an item was purchased that needed to be assembled
Electronics
Alarm clock
Extension cord/power strip
Cell phone/charger
Computer
Ethernet cables (20-25 feet)
Batteries
Stereo
TV/DVD/BLU-Ray Player
And last but not least, stuff my gal pals told me that I hadn't thought of…
*1st Aid Kit complete with Advil and Tylenol and a thermometer.  Two of my mom friends told me that they added first-aid cold meds, cotton balls, Q-tips, Cortizone, Pepto, bandages and Caladryl.  I am also putting in bug spray wipes called Bug Band Towelettes that are conveniently packaged from Bug Band.
*One of these Moms also told me that she had to return to the store to get forgotten items that included light bulbs, a lock for a personal cabinet that the dorm provides, an ether net cable for the TV and a basketball.  Love that she told me this about more needed items for her son.
Ok, parents out there.  What did I forget on these lists?  Did I get it all?  Wishing you a joyful transition…for your soon-to-be college student and for you parents, too!  Two years later, ours has been a really good experience.  I still can't believe that my son will be a junior in college this fall.  Time truly flies!