thredUP…an online clothing consignment site with a big colorful logo.  Had me intrigued, so I signed up, filled a big thredUP bag with a bunch of my gently used clothing and sent it in.  How did it go?
Not well.
Huge disappointment with lots of issues.  I test companies, services, hotels and more for my blog readers so I can provide feedback and hopefully my recommendation.  I can tell you that this review isn't a good one, so don't sign up with thredUP.  Unfortunately, I give a big thumbs down to thredUP online consignment site.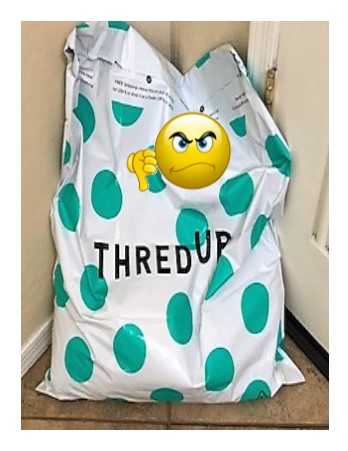 Here is why…
Step 1:  After I registered on the thredUP website, I was mailed a nice large bag to place my gently used clothes in.
I loved the bag, but sadly this is the only good thing I can say about this company.
Step 2:  I stuffed the huge bag, provided by thredUP, full of some of my really nice gently used women's clothing.  Several J Lo dresses from Kohl's that had only been worn twice, one expensive pair of FRAME shorts, a pair of nice quality white denim button fly shorts by Levi's and more.  Tons of stuff.
Step 3:  I mailed my huge stuffed bag in on May 16th.
Step 4:  Nothing.  No word from thredUP.  Nothing.
They only responded after I complained via email (no phone number is provided to call and no one answered my live chat attempt even though it was during their business hours).
On May 31st I emailed the company asking for a status.  The response frustrated me.  From thredUP…
"Thanks for reaching out to thredUP Support!
Your message is important to us, and we look forward to helping you. We're currently experiencing longer than usual wait times, with responses taking several days. To avoid unnecessary delays, we ask that you not send duplicate messages. Our advisors are hard at work to answer all of our customers, and we promise we'll take care of you 🙂
Many questions can also be answered by visiting out FAQs here: https://www.thredup.com/support.
We thank you for your patience, and for being a thredUP customer!
-The thredUP Customer Service Team"
So, I waited another day.
On June 1st, I received a second reply email telling me that thredUP received my clothing to be considered with estimated processing to take place on June 20th.
OK, so I wait some more.  20 more days to be exact.
June 20th arrived and I hadn't heard one word from thredUP, so I went to my account to check it out.  I also checked the thredUP website for an explanation of how long the process takes.  The website says…
"If you sent us a Clean Out Bag for payout, once your bag is processed, we will send you another email with your earnings."
I never got that email.  I had to go to the site myself to get the disappointing information.
My payout was only $14.28 for four items!  That bag was stuffed with way more than four items.  So disappointing.  Had I hand carried my items to a local consignment store, I would have made much more. I take good care of my clothes, so they were truly gently used.
And it took a long time for me to receive my cash.  Over six weeks!  Grrr!
And I didn't receive the entire amount of my measly $14.28 either!  PayPal took a fee, so the final amount paid to me was only $12.06.
And I had to go to the thredUP website to get my money.  No way do they send it out to you automatically!
The company NEVER emailed me informing me of my sell status.  This really made me mad!
And I had to WAIT 14 MORE days for a direct payout.
I could use my measly earnings to shop on thredUP (no surprise) but I had to wait another 14 DAYS to cash out either by transferring the funds to a Visa prepaid card or through PayPal.  A direct check with the full earnings is NOT an option with ThredUp.  Thanks a lot thredUP.
I was also quite frustrated that thredUP provides no phone number and that I must email or live chat in. Once again, I tried to live chat and no one was available.  Like before, I had to send yet another email to thredUP.  I did receive a response and the thredUP employee explained the payout details, which is pretty poor as you can see…here is what she wrote back to me…
"When an item is accepted into our shop, we discount items anywhere from 70%-90% off their retail price and give you a percentage payout based on this resale value. If an item has a retail price of $50 for example, we would list it below $15.99 in our shop, items priced in this bracket $15.00-$19.99 would earn 13% of the resale price, which would earn you $1.95  for an item selling for $15.99 in our shop…"
Not a good return on my investment. And for the time it took for me to go through the clothing, mail it in and then wait the five long weeks to receive any news…and then being forced to wait another two weeks to cash out…ugh.  And one last note – it would cost me $10 to have my unsold clothing returned to me!  thredUP says that they donate the unsold clothing.  I hope that is true, but I have little faith in this disappointing company.  This company gets a big F grade from this manic managed mom!