As I wrote about yesterday, we have four feline rescues, so when Mary from felineliving.net asked if she could share the infographic below and a few thoughts on kids and pet adoption, we agreed.
Mary says:
If your kids have been asking for a new pet, here are a few things to consider…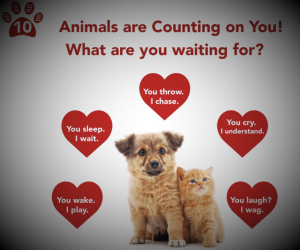 Where to find your child's new pet

Your kids have been asking for a pet. If they can remember that this is a live creature to be responsible for and not just a toy, maybe you should get one. Some kids like dogs and some kids like cats. Bunny rabbits are also becoming popular. Country singer Miranda Lambert recently adopted two rabbits from a Nashville animal shelter. Shelters are a great way to go to rescue animals in need of a good home.
Teach Your Kids That Life Has Value
Miranda Lambert showed the right way to do it and you can too. Your kids need to learn that an animal is a friend forever, not a toy. Puppy, bunny and kitten mills turn out thousands of luckless animals each year. And never forget the abused animals caged up for the purpose of bearing young that will be taken away far too soon. Instead visit a shelter where you'll have the opportunity to meet the pet that's just the perfect fit for your family. Tell all your family and friends what you're doing. Go on social media to announce it like Miranda did! Encourage everyone to adopt too. Lots of darling animals would thank you!
It Saves Money
The adoption fee not only goes to help other animals but it's a lot less than what the store or breeder charges. You may also save on veterinary bills as some shelters provide some medical benefits like spay and neutering service before the pet is released to the new owner.  Some veterinarians offer a discount on the first wellness appointment with the adoption receipt.  If you have any questions or concerns about your new buddy, the people at the shelter can give you some pointers on how to make things a little smoother for both you and your fuzzy friend. For example, they can tell you which food brands are best.
What Else Needs to be Said?
Well, we don't need to tell you that your child is one of a kind! You do need to know that the animal your child will adopt will also be a unique creature in need of love and care. Do you think your child is up to the responsibilities of a pet? If so, then take a family trip to a local shelter. Everyone should get to know the new furry friend they'll be taking home. Ask the volunteers which animals are best suited to a home with children. They will be more than happy to introduce you to a plush plethora of pets that need a good home. Your kids should be allowed to pet and play with many animals. Remind your kids to be gentle! It could take more than one visit to find the one perfect for your family. Take your time!
If you adopt, the animal is happy, your kids will be happy and you will be happy too! If you would like to know more about pet adoption, please take a few minutes to look over this infographic.
If you are considering a special rescue pet companion, check this out…
This infographic was sponsored by felineliving.net.  We are very proud to partner with them in hopes of saving many more animals through rescue adoption.