My favorite new year get organized tool only cost five bucks and I swear by this handy item.  This is my top tip for starting out the new year organized and for keeping it that way!  Believe it or not, it is simply an empty cardboard box…but it fills so many useful needs.  It also looks cool and functions well.  I highly recommend the Best Box from The Container Store.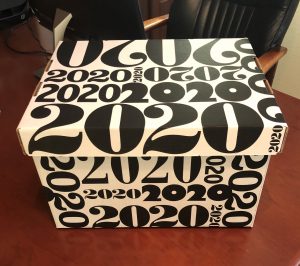 Since 2013 this simple organization tool has been my go-to system for stashing and saving important papers, receipts, photos and more.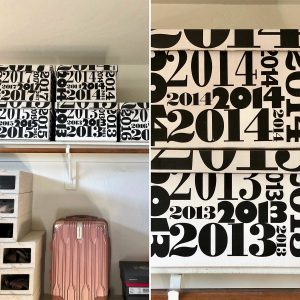 When we refinanced our home a few years ago the Best Boxes saved me a lot of time because I could quickly glance at the attractive stacked boxes and grab the year I needed to access historical items.  I wish I would have known about these boxes when my kids were born.  They would have been perfect to store photos and school projects by year.  I am currently sorting through 18 years of photos galore to prepare for my daughter's upcoming graduation.  Having those boxes back then would have made my life so much easier with the graduation video project I am working on now.
My husband asks me why I don't just grab a box and label it with the year myself.  I could do that but I think that the Best Boxes are labeled just right so that the year can be seen from any stacked angle.
They look nice, too.  And for only $4.99…I'm sticking with buying the Best Boxes every January.  I went to The Container Store a few days ago to buy my 2020 box.  It felt great to stack last year's away and start fresh with my new year box.  The boxes can be ordered online or purchased in the store.
Buy one and try this system.  You won't regret it especially when you need to access previous pictures, receipts and more from years gone by.  So simple.  So smart!
Let's do a New Year's giveaway drawing with this article, too!  Let's give away a $20 gift card to The Container Store!  To enter simply…
 Email your name, email address and address where you want the gift card sent if you are our winner.

Email to [email protected] by 10pm (MST) next Sunday, Jan. 12th. 

We will draw the winner through random.org next Monday, Jan. 13th.  The winner will be posted on this blog to start the week off right. 
Good luck & Happy New Year!
This year I will post lots of helpful quick tips and more giveaways on my beloved blog.  Let's work smart in 2020!  Being organized makes life a little less stressful.  I think we will all take that as we dive into 2020.