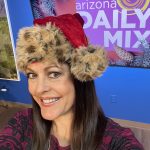 Two weeks and counting down until Christmas morning, so here are some festive and fun last minute gift ideas and stocking stuffer suggestions as seen in my Arizona Daily Mix morning show segment on AZTV Channel 7. Watch the segment to see all of the items. Descriptions, prices and links for each gift idea is listed below the video.
Last Minute Gift Ideas (Stocking Stuffers below this section)
*Holiday Yuletide Craft Beer Brittle – $27.95 sold in Dillard's Scottsdale in the Home Department. 
*The Annual Estée Lauder The Ultimate Gift Beauty Box – 10 EstéeLauder full size products (both cosmetics & skin care) plus 3 Estée Lauder travel size products. Full kit only $79 with purchase of 1 Estée Lauder item…the kit is a $570 value! Sold at Estee Lauder counter in Dillard's Scottsdale
*Holiday Bloody Mary Meatball Kit – $29.95 at Dillard's Scottsdale
*Jack Black JetSetter 6-Piece Bath & Body Set – $59 (a $116 value!) – great gift idea for the guys with travel-friendly sizes and beard lube included. Get it here at this link and at Dillard's Scottsdale.
*Southern Living Christmas Cookbook – $14 at Dillard's Scottsdale and at this link. I love that this festive limited edition 256 page beautiful cookbook gives 100% of the proceeds back to the Ronald McDonald House! 
*Triforce Glamour Collection Dotted Travel Beauty Case  – $59 at Dillard's Scottsdale and at this link. This is my personal favorite gift that I showed in my segment! This lightweight durable pretty rose gold fully lined beauty case has a handy backstop that easily attaches to your rollaway suitcase. Also included is a mirror inside and a handy little pouch that holds EarPods. The case also comes in several other attractive colors. 
Stocking Stuffers
From Changing Hands Bookstore located at 6428 S McClintock Drive in Tempe. This items sold in the store:
*Noble Mick's Single Serve Craft Cocktails – $2.50 each 
*Happy Wife Happy Life mini sign – $7.99 
*Lip Lip Hooray Orange Mimosa Lip Gloss – $5.99 
*Handcrafted Arizona chocolates 
*Bath Crayons – $9.99 for a box of 8 
*Survival Fire Starter – $9.99 
*Cat Call Phone Stand – $11.99 
*The Gift of Tarot Cards – 3 cards in a pack for $3.99
*Gentleman Hardward Whiskey Chillers set of 6 for $15.99 
*Wild Woman Soaps Joy from the Holiday Collection
*50 Fun Things To Do On A Plane Card Kit Set – $8.95
*Kids vs Adults game – $9.99 
*60 Second Cocktails Book  – $24.95
*Gather Round Mini Board & Spreader – $15.99
From Amazon:
*My Mother Was Right About Everything dish towel – $7.62 on Amazon at this link
*Burt's Bees Overnight Intensive Lip Treatment – $8.99 on Amazon at this link
*Lippy Pals Lip Smacker – $4.99 and got in next day with Prime membership overnight at this link
*Reindeer Poop Blueberry Mints – $17.63 for a set of 4 variety holiday mints that also include Elp Poop Cool Mint, Snowman Wintergreen and Santa Cinnamon Poop Mints. Get at this link.