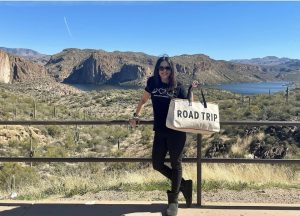 Vegas is definitely on the map these days. With the new Sphere, Allegiant Stadium, upcoming Super Bowl and the scores of not only tourists, but families coming to the Neon City for kids' tournaments and more, the city is hopping. I myself had not been to Vegas in over 10 years, so I was anxious to return to experience it again. We spent 48 hours in Vegas to take in a big show, stay at a new property, find some hidden gems and eat our way through town. But this time I didn't hit the casino and I drank way less boozy beverages as well.  Here is my Road Trip with Rach to Vegas segment that I did on my morning show, The Arizona Daily Mix on AZTV7.

Read below for more information and links to our picks that we packed into our enjoyable weekend trip to the Neon City.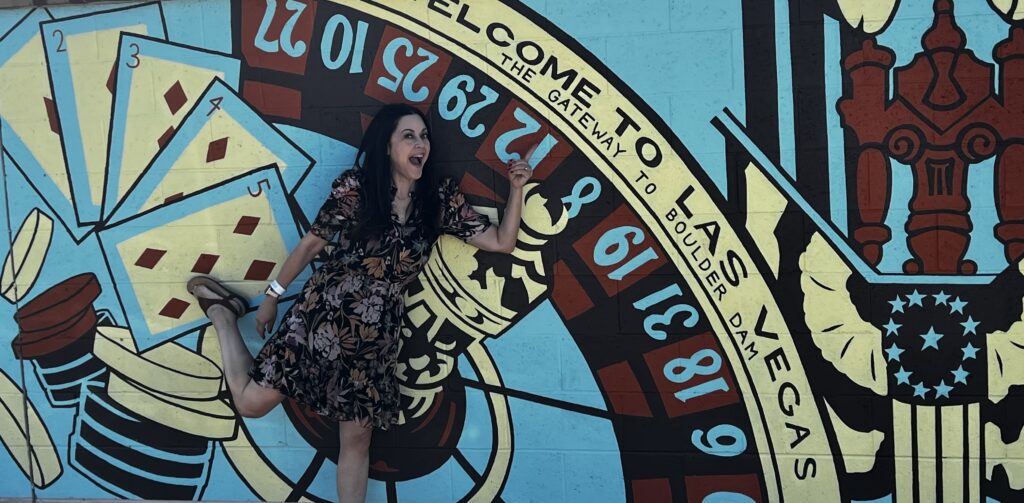 A big thank you to my travel buddy/travel producer, Kim who wholeheartedly agreed that what we found in Sin City was mostly sinless, family friendly and especially enjoyable.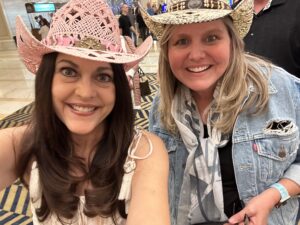 Our Vegas Weekend Itinerary & Our Picks:
Friday: Resorts World Las Vegas Hotel Check-In, The Neon Museum, Alle Lounge on 66 & Fuhu Dinner
Friday – We checked into the – Resorts World Las Vegas
Checked in at the newly opened fabulous Resorts World Las Vegas Hotel. Opened in 2021, this massive property is the first integrated resort built on the strip in over a decade.
Why we recommend Resorts World Las Vegas:
*Three properties to choose from with over 3500 guest rooms & suites
*Book at the Hilton, Conrad Las Vegas or ultra upscale Crockfords
*We stayed at the Hilton for the best value and found the hotel and our rooms to be very nice
*Stunning 7 pool layout with reservations for cabanas and more
*Located at North End of Strip, so close to action, but not as hectic and noisy
*Includes mall with unique specialty stores and boutiques, over 40 food and drink establishment options and all that we tried was fantastic and delicious
*Beautiful 5,000 seat Resorts World Theatre that hosts world famous acts. We had a blast seeing Carrie Underwood perform
*117.000 square foot casino, gym, spa, nightlife venues and more
I highly recommend a stay at Resorts World Las Vegas Hotel, especially if you decide to buy tickets to see a concert or enjoy additional big acts like the dynamic duo of Tina Fey and Amy Poehler, who will perform there next month (I wish I could return for that fun show!). Book reservations and get more information at Resorts World Las Vegas Hotel.
Friday afternoon – The Neon Museum
We thoroughly enjoyed our visit to The Neon Museum visit that operates out of the historic former La Concha Motel 1961 building.
Why we recommend The Neon Museum:
*Enjoyable outdoor tour experience that is a nonprofit 501c facility that collects, preserves, studies and exhibits iconic Las Vegas signs
*Educational, historic artistic and cultural
*Displays 250 signs with 24 that are working with illumination
*Each sign includes exhibit information making this place an especially fun way to learn about Las Vegas history
*Tours can also be booked at night to get a fantastic look at the lit signs up close
*Be sure to read the photography rules and variety of tour types that are offered on The Neon Museum's website.
I especially enjoyed Vegas's premier rooftop bar because it was located in my hotel at Resorts World Las Vegas and the hip and lovely lounge served up the best cocktail I've ever had. Sipping and sightseeing the Vegas views from 66 floors up was especially enjoyable. Reservations are required and the elevator to this popular place only has one destination, a nonstop ride up to Alle Lounge on 66.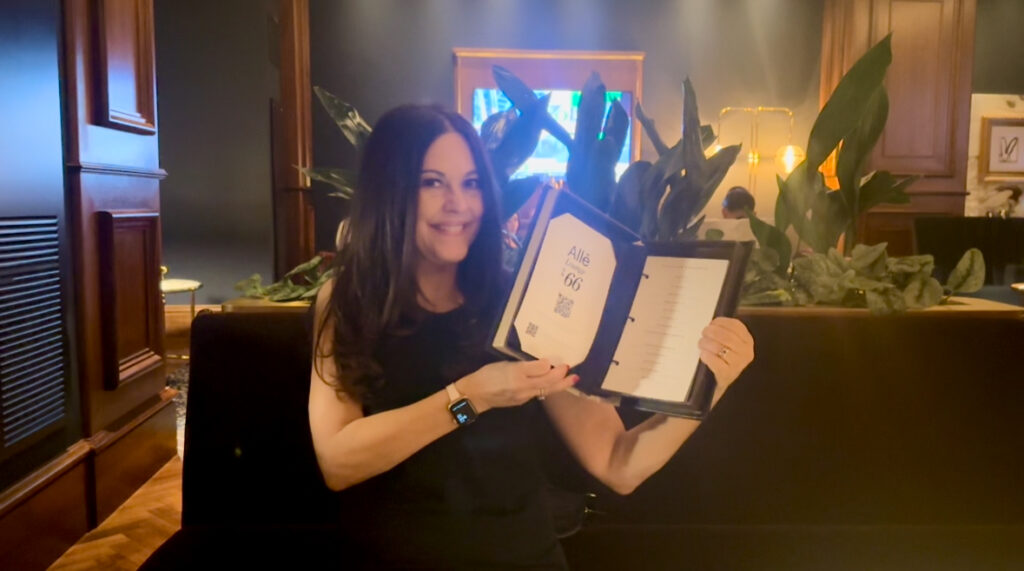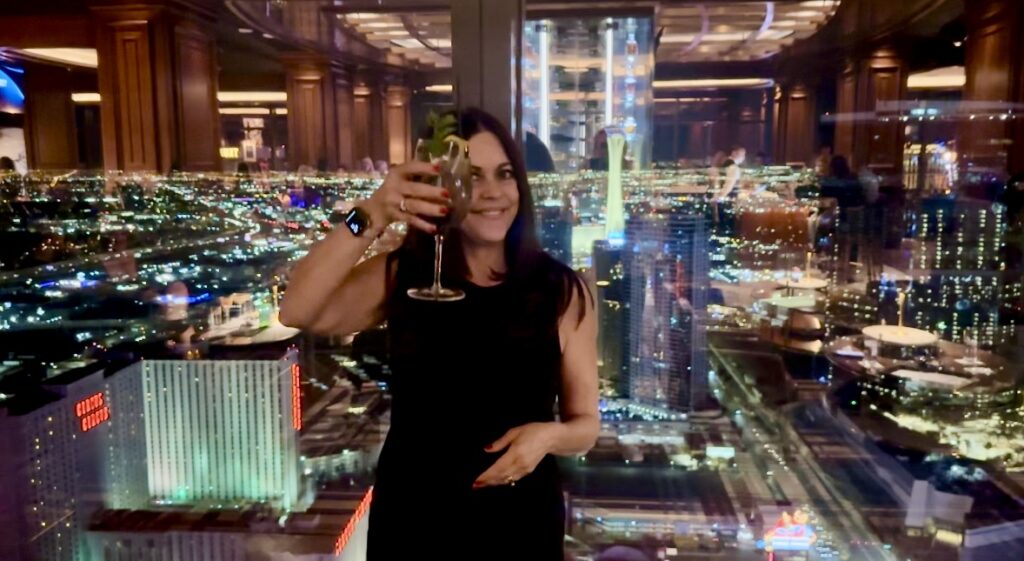 Cocktail creations and sweet spirits will cost you here, averaging $25 a glass, but reasonably priced appetizers complement the drinks and the food is good. For high rollers, the lounge also offers a high table limit casino lounge. For reservations and more information, visit the Alle Lounge on 66 website.
Fuhu Las Vegas sports an artsy and vibrant atmosphere paired with a delicious contemporary Asian influenced menu. We ended up sharing sushi and several side dishes that were both big and beautiful. Check out the menu and pretty pictures of this popular Vegas restaurant at the Fuhu website. We especially enjoyed that this establishment was conveniently located just steps from our comfy hotel room at the Resorts World Las Vegas in the happening District part of the property.
Saturday – Dining, The Mob Museum & Carrie Underwood
*Quick Breakfast at Suns Out Buns Out located in our hotel at Resorts World Las Vegas and treat yourself to a scrumptious treat at Randy's Donuts that has a pickup window inside the sunny fun Suns Out Buns Out eatery in the Resorts World Las Vegas right next to the casino.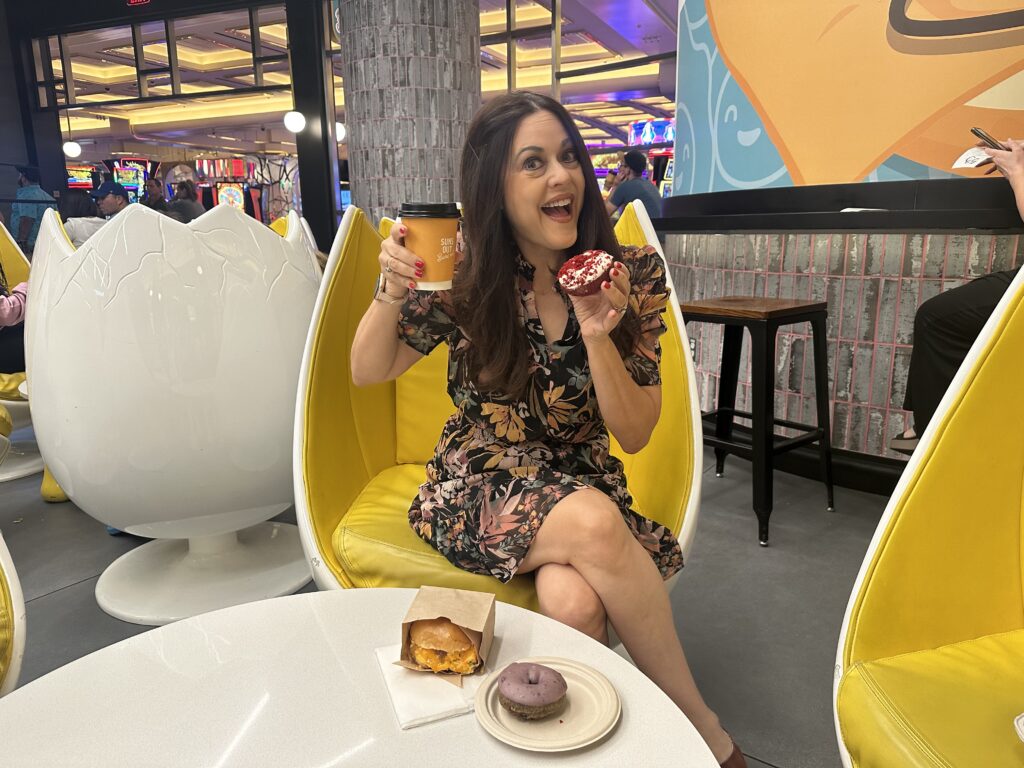 Both serve all day long.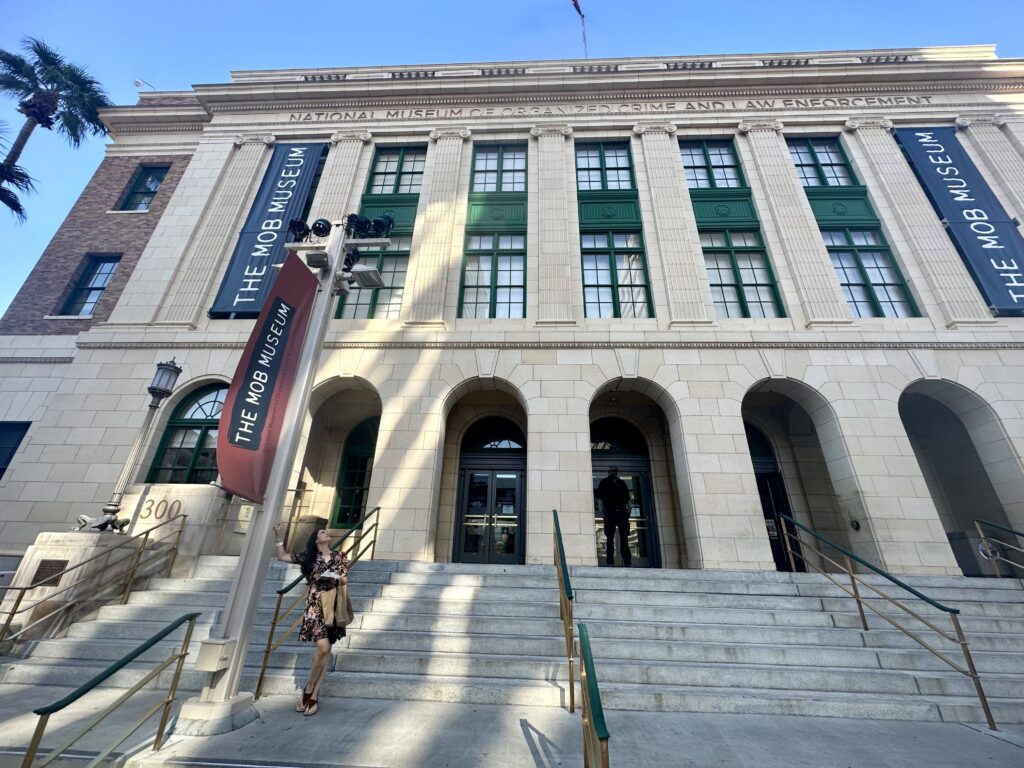 We were intrigued when a friend recommended The Mob Museum as a not to be missed Vegas attraction. We planned to spend two hours there, but had to pull ourselves away four hours later as we had such an interesting and good time, including a moonshine tasting at the museum's distillery!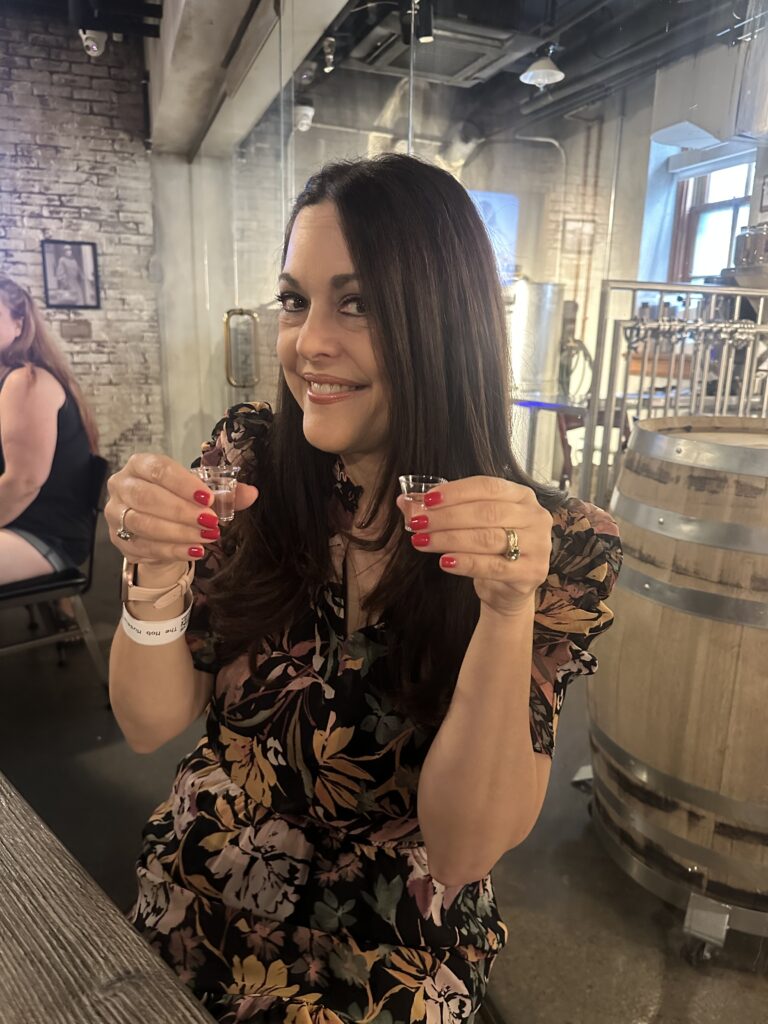 Why we recommend The Mob Museum
*The Mob Museum National Museum Of Organized Crime and Las Enforcement gives an in-depth look at the history of organized crime and the law enforcement organizations that catch the bad guys. A visit to this place is a fascinating way to learn about historic mob events that are a big part of history in Vegas, as well as other cities in the USA and places all over the world, too.
*Fascinating exhibits, hands-on experiences like the interactive crime lab and even a distillery tasting class that take visitors back in time to the Prohibition period with samples of moonshine and more.
*Tasty underground speakeasy bar with innovative and classic spirits and decent food.
*An award-winning museum with an expansive layout that takes visitors step by step through decades of true crime events that influenced sectors of our nation's culture and history. Time flies here because every corner of this museum keeps visitors wanting to learn more.
*I recommend purchasing the interactive experiences in addition to the general admission tickets. I loved the Distillery Tour & Tasting and my travel producer couldn't get enough of the Crime Lab Experience.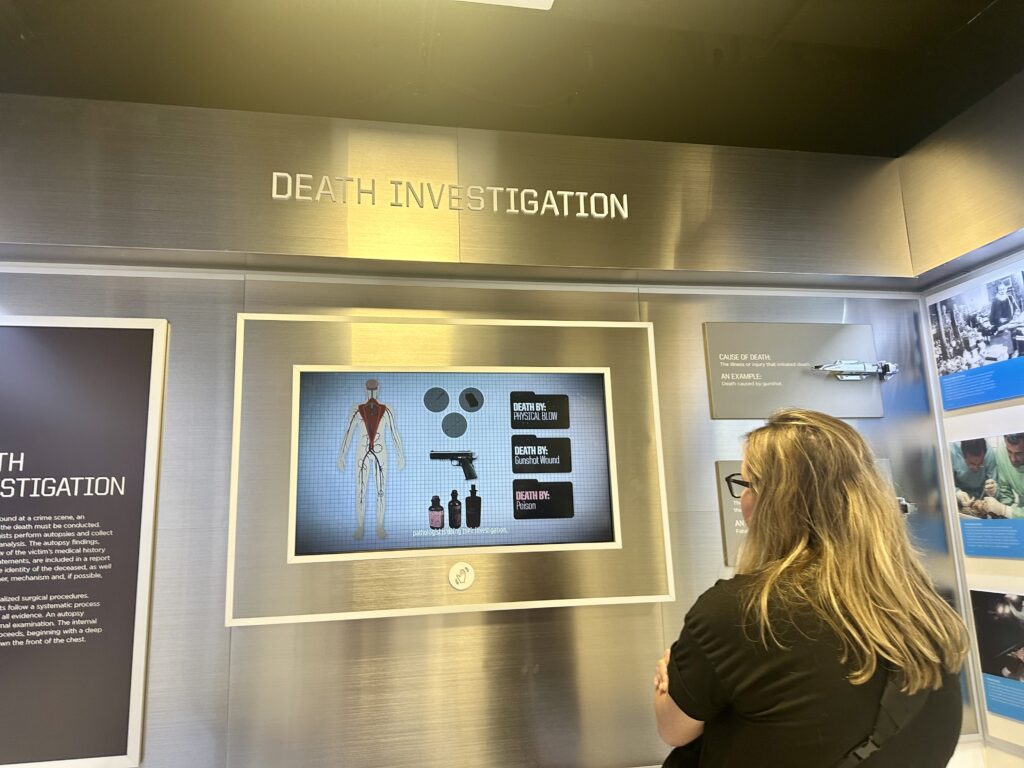 For tickets and information, visit the Mob Museum website.
Saturday Lunch: Wahlburgers
For lunch, we chose the famous Wahl brothers' owned Wahlburgers. Tasty burgers, cold brew and fun atmosphere. Don't miss the Kale & Brussels side dish. For Walhburgers locations and menu, visit the website. Yummy fun!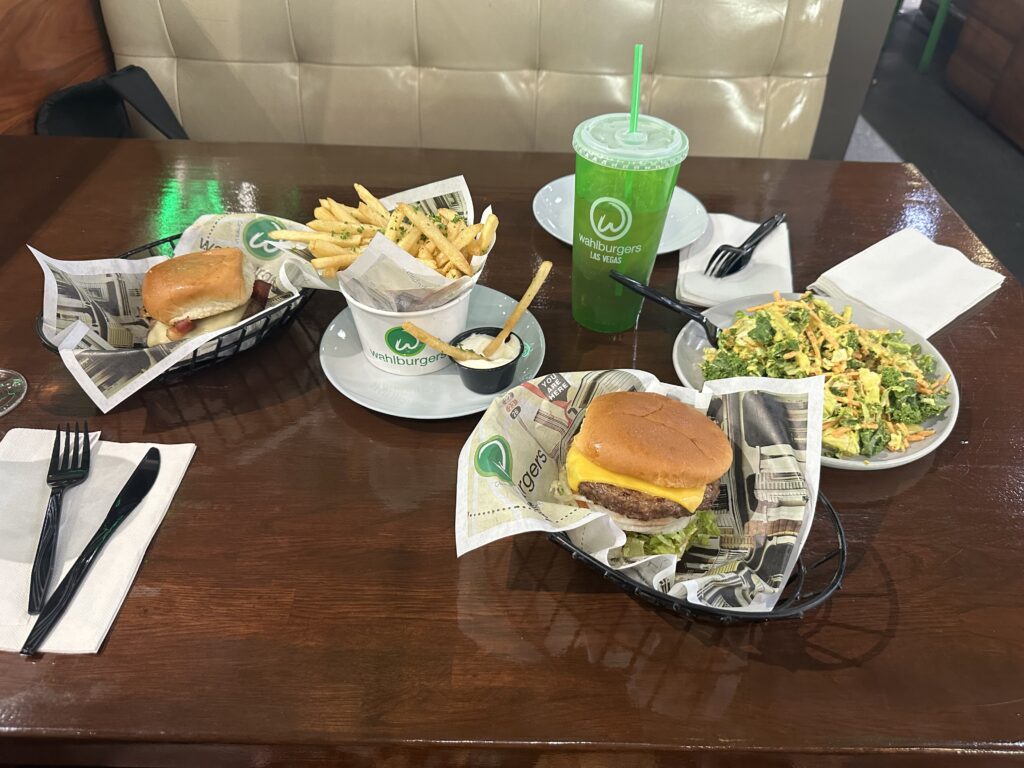 So Much Fun! I highly recommend this experience!
Carrie Underwood sports some incredible pipes and she wowed the audience with both her popular sing-along hits and her moving faith songs, too. Housed in the uber impressive Resorts World Theatre, Carrie's Reflection Show has been so successful that 2024 dates were just added! Do what we did and book a room at the Resorts World Theatre, take in a hugely entertaining Carrie Underwood concert in walking distance from your room and enjoy Vegas! To see a list of all of the exciting upcoming acts (Tina Fey and Amy Poehler anyone?!), visit the Resorts World Theatre website.
Saturday Late Night Dinner at Crossroads (First Fully Plant Based Restaurant in Vegas)
Another fantastic benefit to stay at the Carrie Underwood host property, is the large number of all types of restaurants that live at Resorts World Las Vegas. Open late, we enjoyed exiting the Resorts World Concert to simply walk several steps to Las Vegas' first fully plant based restaurant, Crossroads. It was scrumptious! I am not usually a calamari fan, but my travel producer loves the dish, so we ordered the Crossroads Calamari Fritti appetizer and I absolutely loved it!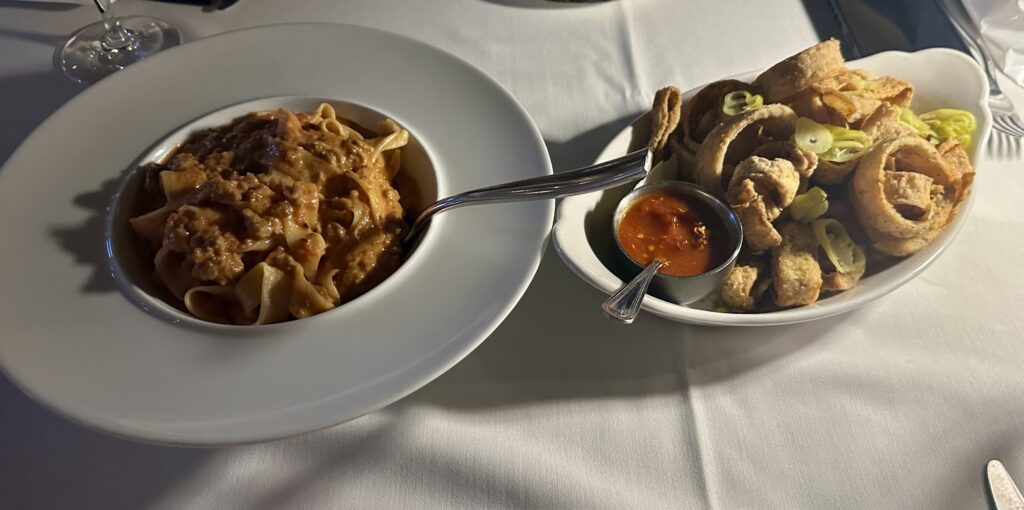 Don't miss the Tagliatelle Bolognese with a glass of red wine, too. So good! Crossroads is located in the Resorts World Las Vegas. Visit the Crossroads restaurant website for the menu, reservations and more information.
Sunday: Cafe Lola Brunch & Hoover Dam Tour! 
On our way out of town, we dined at the restaurant that was voted "One of the Most Instagrammable Restaurants in America" by Food Network. Cafe Lola is definitely a photogenic place to snap pictures and the food and coffee is terrific, too. With multiple Vegas locations, including inside of Allegiant Stadium, trying this place is an easy stop. On the strip, the eatery lives in Caesars Palace.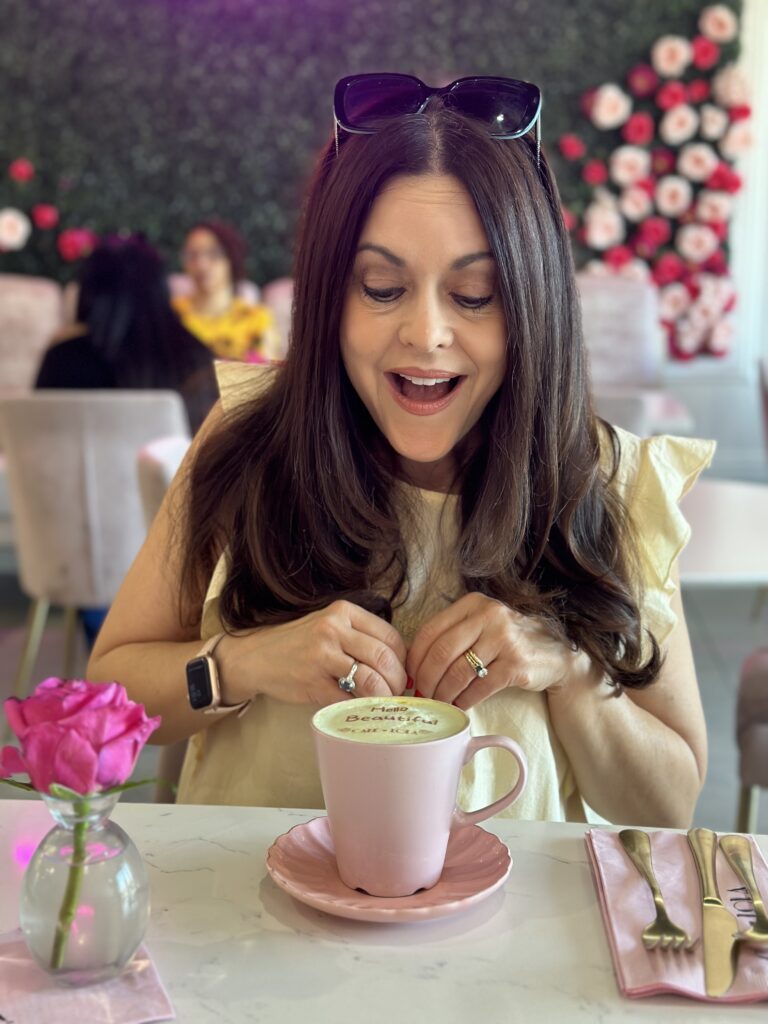 We visited the Summerlin location on our way out of town. Try the Pistachio Latte…so good!
Last Stop Out of Vegas: Hoover Dam
After driving past the historic Hoover Dam the last 30 years, this time we made time to stop and take an official tour. I highly recommend this educational detour that also provides exercise as you take in one of the 7 Industrial Wonders of the World. Just 37 miles from Vegas, it's an easy stop with free parking. In addition to the tours offered, a packed gift shop and restaurant with dam view outdoor seating is also on the site. Hoover Dam tours range from $10 to $30. Upon entry, cars must stop to clear the security checkpoint entrance. Don't miss this popular worldwide marvel that is visited by folks from all over the world.
Spend additional time at the dam and take a hike to walk across the famous Mike O'Callaghan–Pat Tillman Memorial Bridge. We didn't do that this time, but I plan to the next time I hit the road to Vegas. I highly recommend the guided tour that took us 570 feet down to one of the four diversion tunnels to see the massive power plant generators up close and to feel the strong vibration of the 30 foot penstock pipe filled with 96,000 gallons of rushing water pass per second pass under our feet as we stood on the platform high above the impressive piping. The experience was topped off with the expansive 360 view of the Hoover Dam, Colorado River, Lake Mead and the bypass bridge. It is truly remarkable to reflect on just how this world wonder was successfully built back in the 30s before all of the technology we have today. Take the family. Such a great way to learn about our country's innovation history and to appreciate the precious water resource that we must not take for granted…this is a great way to educate kids to work to protect our future water supply. I definitely a recommend experiencing the Hoover Dam on your road trip and/or during your Vegas trip.
My return to Las Vegas was packed with surprises. I truly can't wait to return! What are your Vegas visit picks when in the Neon City? Share in the comments section and Viva Las Vegas!