One dish that my family loves is parmesan chicken, so it is always appreciated when I make my stepmother's version that calls for flour, parmesan cheese, paprika, egg and more.  That one is pretty easy, but I was thrilled to find the same dish in a recipe that only requires four ingredients! 
The trick is in a simple light-weight salad dressing packet.  Read on to see how to make pleasing parm chicken that is simple and savory.  And finding an easy recipe that the entire family loves is always an achievement in this hungry household!
First let me credit the cook book that the recipe comes from.  Two weeks ago, I took my holiday book store gift card that I received and headed to Barnes & Noble.  My mission was to find cook books that met my three requirements.  You may remember from my previous posts that one of my New Years resolutions was to cook more for my family. 
In my manic managed life, I had to be realistic about the recipes that I would attempt.  So my three requirements were that the book had photos (I'm big on being able to see if my end result comes close to the cookbook's presentation), included quick and easy recipes and had to be inexpensive.
After searching several aisles of cook books from gourmet to greasy grub, I found one that met all three of my requirements.  Kraft Foods Busy Family Recipes caught my eye, especially with the words, "busy family" displayed on the cover!  It also has pictures of every recipe and was bargain priced at $9.98 plus it houses close to 200 recipes, so I was sold!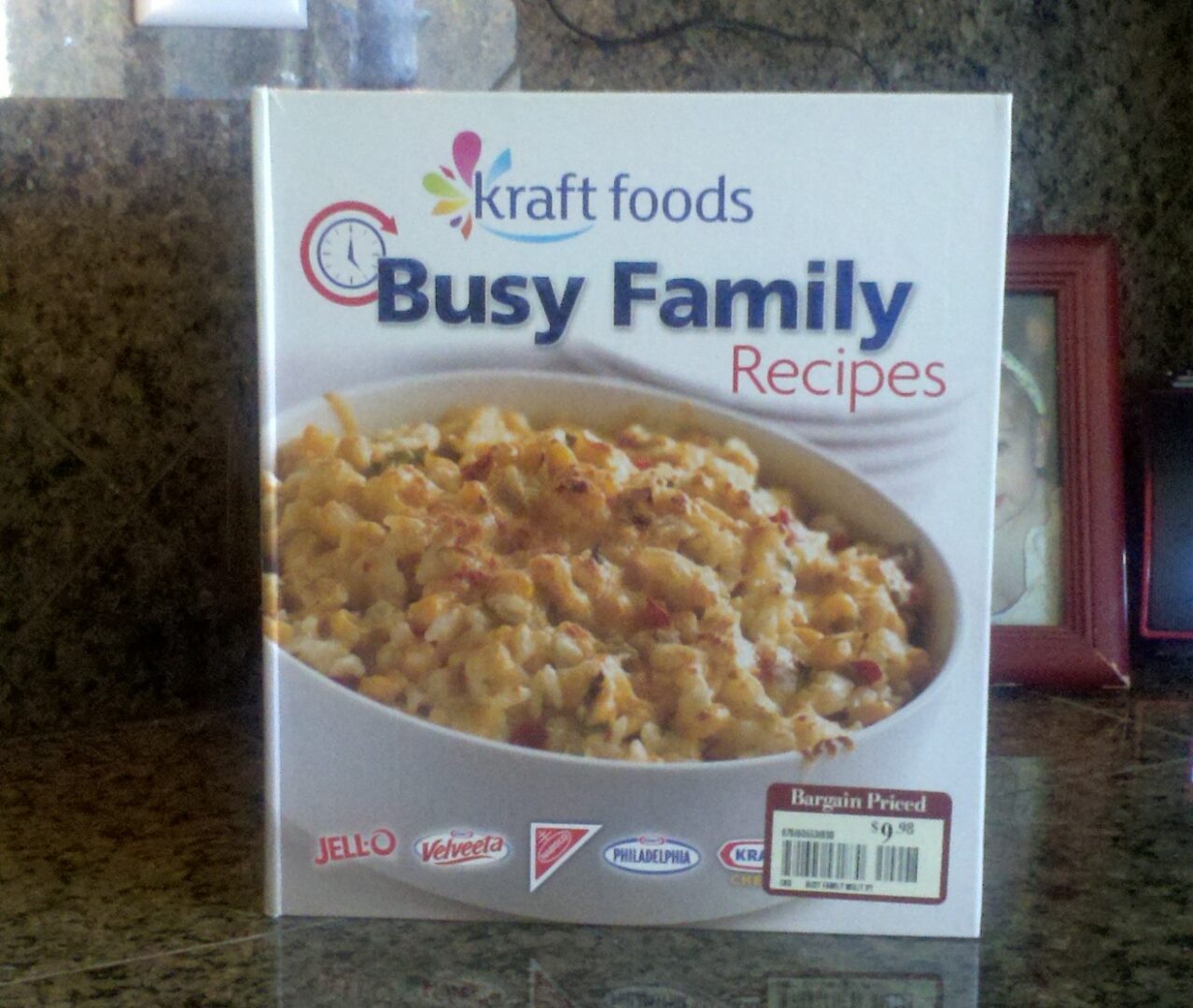 Appetizers, entrees and desserts are offered, but I went straight to the dinner section as I work to keep that resolution going.  I try (key word is try) to cook for my family at least five days a week.   When I found the parm chicken recipe, both my daughter and I were eager to try the book's version.  And it was a success, so here is the recipe for your family to taste:
Easy Parmesan-Garlic Chicken
from Kraft Foods Busy Family Recipes
***Manic Managed Mom gives this cook book a hearty thumbs up!***
 You will need:
1/2 cup Kraft Grated Parmesan Cheese
1 envelope Good Seasons Italian Dressing Mix (0.7 oz)
1/2 teaspoon garlic powder
6 boneless, skinless chicken breasts
1.  Preheat oven to 400 degrees.
2.  Mix cheese, dry dressing mix and garlic powder.
3.  Moisten chicken with water and then coat with cheese mixture.  Place in shallow baking dish.
4.  Bake 20 to 25 minutes or until chicken is done (165 degrees F.)
**An extra step that the book recommends is to broil the finished chicken for 2 to 4 minutes, so I did this and it gave it a nice golden appearance that really enticed my family to dig in. 
The book also shares several variations, which you can try if you get the cookbook.  We liked it just the way the recipe read, without any variations because it was that good. 
To make this a balanced meal, I served the chicken with organic strawberries, a salad made with romaine lettuce (much healthier than the iceberg stuff) and chicken flavored noodles.  It was a manic managed mom masterpiece!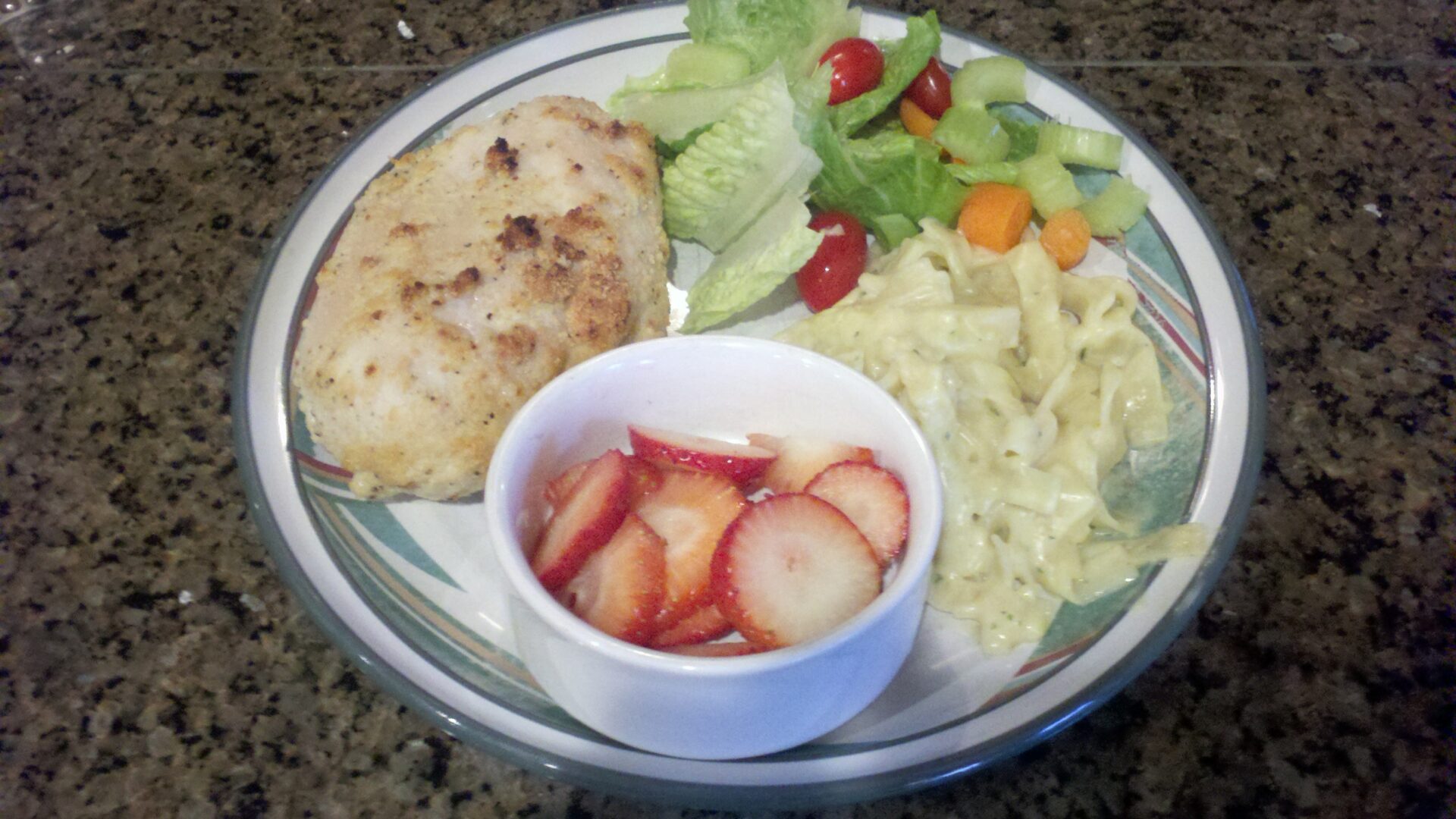 Well perhaps not a masterpiece in terms of culinary skill but in my house if the dinner looks good, tastes great, is nutritious and can be prepared and served under 45 minutes, then I'm calling it a manic managed mom masterpiece!  And when the family eats every bite on their plates…well success does taste sweet, doesn't it?!
And of course, when the dishes were loaded into the dishwasher, as usual, it was time to load the family in the car to get to practice on time.   It feels good to blow past the fast food drive-thru because I found a recipe that enabled me to feed the fam while beating the clock!
So, I recommend this "busy family" cook book for all of those manic managed moms out there working each day to keep everyone fed, on time, organized, healthy and happy. 
And happy Friday ladies!  I don't know about you, but tonight I'm pouring myself a glass of happy healthy red wine!  Cheers!
Oh and I forgot to mention that I'm heating the leftover chicken for my own manic managed mom lunch today as this recipe reheats nicely.  Now that is economical, easy and tasty!