Manic:  After a scenic, but long drive from the second leg of our 1700 mile road trip, which was from LA to Carmel, we were ready to get there.  And all we wanted to do was eat and sleep!
Managed:  Called the resort two hours before our arrival to confirm that our room was ready and that food was available.  We were surprised to learn that this property only has one restaurant and that it closes at 9 p.m.  So we ordered over the phone and when we arrived at 9:30 p.m., our food was ready! 
And when we did arrive, my family of four got our second wind because the resort was lovely, the grounds were scenic and Carmel was simply beautiful!  And the resort that we stayed in….well this is my new favorite place to stay in California!  It's called Carmel Valley Ranch Resort (www.carmelvalleyranch.com) and it quite simply, rocks!  I'll let my pictures tell the rest of the story….
 And this property had a beautiful pool area, incredible food and even a friendly dog named Roxi!  And we met some fun and kind folks from Dubai for after dinner drinks for us and marshmallow roasting for the kids!  A terrific time was had by all!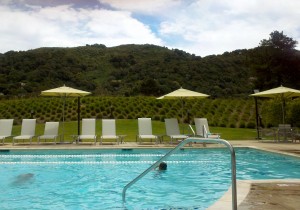 Yep, we loved Carmel Valley Ranch Resort (www.carmelvalleyranch.com) so much that this part of our road trip turned into to days 3, 4 and 5 because we extended our stay here before heading to busy San Francisco.  It was relaxing, quiet and beautiful and yet, there were plenty of activities for our kids, too.  I highly recommend this resort if you ever visit Carmel. 
It is pricy, but we secured a good deal with our American Express card that included free breakfast, a $100 credit towards golf or the spa, a free room upgrade and a 4pm late check-out.  Check with your American Express card services about that discount package the next time you plan to travel.
Stay tuned for my next road trip post.  Our next stop was Monterey and I can't wait to tell you all about it!