Manic:  Can't find time to put out our Christmas decorations and my very spirited daughter is on me to do it!
Managed:  Asked our managedmoms.com interior design expert for a quick holiday decorating tip and I love what she came up with.  Take a look…
Bridget says:
Holiday decorating can get so expensive, so I like to look for things that can be put out all year with a just a little altering.  Here is my idea for my counters. I love candles and things that smell good, but I love lights too. But I also need my counter space. So I went to Lowe's and I bought some fresh pine (not artificial).  Mmmmmm so good! Then I bought glass blocks.  How cute are these?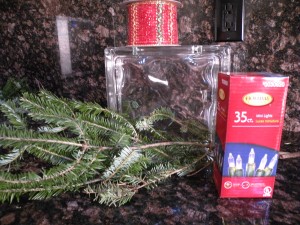 The glass block has a top area with an opening, so you can put whatever decorative items you want into the block. You can insert pine cones, flowers, lights, red, white and blue flags, ribbons, pine, Easter eggs…whatever you like.  Be creative with each holiday!
The glass block only cost $9.98 at Lowe's, the fresh pine was only $2 at Lowe's and the ribbon was $2.99 at Hobby Lobby during the store's half off sale.   Two sets of lights sell for $7 at Walgreens and they come with a white or green cord.  So all of my supplies for this easy festive home decor idea was under $25!
This was super easy to set up.  First note the two openings on the top, a little one for a cord and a bigger one that pops in to add decoration. You can see how narrow it is, which is great because it doesn't take up too much of your counter space. And it looks beautiful, plus it only took me ten minutes to create this pretty piece.  And you don't have to be crafty to pull this off!  Here is how I did it…
I wanted mine to look like a present (which you can either set up or lay down).  I also wanted lights and that fresh pine smell, without taking too much space from my heavily used counters.  So this idea lights up my counter and makes my kitchen smell good.
I also laid it on the fresh pine, which looks…and smells great!
For less than $25, I can keep it out all year and change it up with every holiday or season.  Happy Holiday decorating!
…And a special thanks to Bridget for sharing her terrific idea with us!
AND A VERY HAPPY BIRTHDAY TO BRIDGET TODAY! 
Our home decor guru is celebrating her birthday today!!!

What holiday home decor ideas do you have?  Share with us here in the comments section!