Manic:  Yesterday, today and tomorrow….basically everyday during the holiday season!
Managed:  Taking time out to see a festive local holiday play!  So I did and I saw the Ahwatukee Children's Theatre (www.azact.org) production of A Christmas Carol.  In fact, I've seen it three times now!  Since my daughter was cast as Belinda Cratchit (Tiny Tim's sister), I decided to see every show, so I would be there to support her.  What I didn't expect was to be absolutely blown away by the caliber of this first-rate cast!  I knew it would be good, but I didn't expect to enjoy so many big belly laughs, while also being moved to tears at other times.  Truly a terrific production to behold!
(Photos below courtesy of the very talented photographer Debbie Rydman with www.Shootingstarsphotography.org)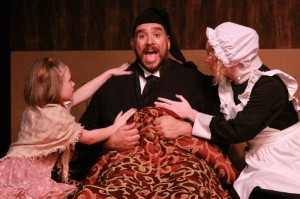 The 60 cast members range in age from 4 years old and up, with some very talented teenagers and adults playing several key roles, including Michael Rubino, who portrays Scrooge with the perfect amount of grump and glee at the absolute right times in the story.
Tiny Tim, played by the adorable little Collin Bridge, projects and wins the audience over with his sweet singing and precious stage presence.
The Marleys, played by girls this year,(Stanci Snow and Megan Gardener) are top notch with lines, singing and dancing, that perfectly portray their ghostly beings, while getting a lot of laughs from the very entertained audience.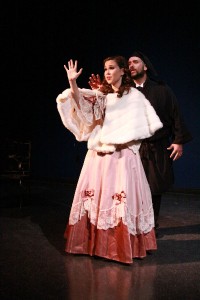 And be prepared to tear up with a beautiful song performed by Scrooge and his long lost love, Belle, played by Brooklynn Rydman, whose voice is perfectly pitched and moves the audience with each lovely note.
Narrator (Kiarra Goldberg) and her sidekick, (KG  O'Neall) keep the story moving along with the right amount of humor and anticipation, while the fundraisers get a lot of laughs when their smallest member, Hermione (Megan O'Neall) steals the show with her timing and talent.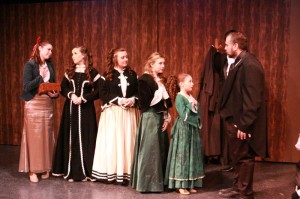 I truly could go on and on because every character, every dancer and every person in this cast hits their part right on, resulting in a production that comes together beautifully and leaves the audience feeling festive and filled!
And the special effects are great fun as well.  There are strobe lights, fog and snow that all enhance the Christmas Carol experience.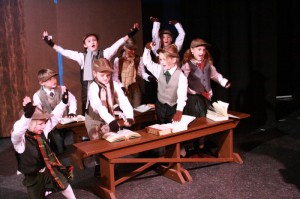 This is the 9th consecutive year that Ahwatukee Children's Theatre has produced the local Christmas Carol show.  I'm looking forward to seeing what they do next year when they celebrate the 10th anniversary!  Shows run all weekend in Ahwatukee, but the tickets are almost sold out.  To inquire about available seats call ACT at 480-705-9319.
If you miss out this year, mark your calendars for next year and make seeing the Ahwatukee Children's Theatre production of A Christmas Carol a holiday tradition.  You won't regret it!
Friends and family that have attended so far all left telling me that the show was phenomenal and that they were blown away!  Congratulations to the Christmas Carol cast and crew members!  And cheers to the very talented directors/choreographers that include Michele Rubino, Melissa Snow and Bailey Isenburg.  Thanks for bringing such a special holiday tradition to our community!