Manic:  Launching a new website when I was already busy with a family, freelance work and more!
Managed:  Doing it the right way by first seeking advice from my gal pals, Jill, Kim and Lori on how to launch a website.  Then I hired my amazing webmaster, Elizabeth who built the site and made it look so beautiful with her top-notch talent and then striking gold by assembling a talented team of writers who said yes when I asked them to be on the team!  And now, today, March 4th….we celebrate the 1-year anniversary of managedmoms.com!  Woo Hoo!
So to celebrate, we are doing fun posts this week!  We are showing you, our awesome subscribers and readers, what YOUR top picks for 2011 were on our website.  We kick this off today with your top 3 most viewed pet pics!  And then I'll show you my favorite pet pic picks.  
Tomorrow we will show you the top five most read recipes and we will do a different topic every day this week.  So you can see what you may have missed and see the top picks from our readers based on the number of page views.  Fun!
So let's start today with your favorite pet pics!  Every Saturday we published a fun pet pic either from our managedmoms.com team or great shots that were sent in by you.  The top 3 most viewed 2011 pet pics were:
1.  Published on August 27th and called "Tea Please"…..this adorable series of pet pics was sent in to us by Tonya!  Take a look at her cute pets…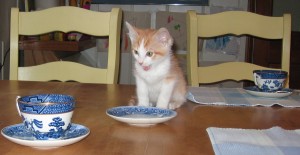 2.  And the 2nd place fan favorite for our 2011 weekly pet pics goes to "Hockey Cat" which was published on March 26th — almost a full year ago….
3.  And the 3rd most popular pet pic in 2011 was a sweet picture and pet tip from subscriber, Lynnette called "A Pet Tip from One of Our Subscribers" and her tip included a sweet picture of their late cat who was named Cookie Monster.  Here is his sweet pic:
Lynnette shared a pet tip about how to keep outdoor pets cool.  You can read her tip and see the full article here:
https://managedmoms.com/2011/08/weekly-pet-pic-plus-a-pet-tip-from-one-of-our-subscribers/
Thank you so much, Lynnette!
And my favorite pet pics were hard to choose because there were so many good ones, but my top three for 2011 were:
1.  "Maxx Meets Charlie" sent to us on August 20th by one of our awesome readers: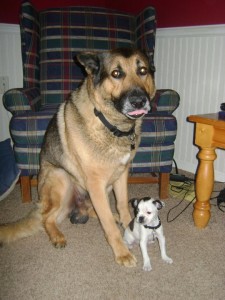 2.  "Lola's Lookout Buddy" sent to us on September 3rd: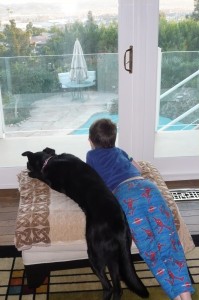 3.  And my fat, but happy cat, Tucker doing a yoga pose….
And I'm happy to report that Mr. Tucker has lost 5 lbs….good job, buddy!
And we had a hilarous pet video sent to us by Kelly.  The title of the video is "Cat vs Toddler" and you will see why when you watch the video, so be sure to click the play key to see this:

We want to thank everyone who sent in terrific pet pics all year long!  We have already received some fantastic ones in 2012 that will be fun to include in our 2nd anniversary look-back pet pics!  Please keep them coming!  You can email your pics in through the website or send them to [email protected]!  We love to get them!
We hope you enjoyed seeing the top pet pics picks from 2011!  Tomorrow we will show you the what the top five most read recipes were in 2011.  Your favorites from 2011 will be posted tomorrow, so if you missed printing them out the first time, be sure to check the website tomorrow for some tasty recipe ideas!
And remember that you can always look for something you saw on the website by simply entering a search word in the search field that appears on the top of the home page.
As we celebrate our 1-year anniversary, we must send a hearty thank you out to all of you who follow the site and to our subscribers.  We appreciate you and we thank you for helping us make year #1 a great success!
Cheers to managedmoms.com!!
And remember we start Five Freebie Fridays tomorrow!  We will announce a daily winner all week long to celebrate so be looking for that and good luck!!