Manic:  While my daughter had her teeth cleaned, I ran across the street to Trader Joe's to pick up something for dinner.
Managed:  Running into my great gal pal, Liz who told me that Trader Joe's has a cookbook, that was available at a gift boutique right next door to Trader Joe's.  She told me that the recipes have ingredients that are all sold at Trader Joe's.  I love this idea, so I popped into the gift shop and bought myself a copy.  Read on to see more about the cookbook and what entree I prepared that night from my new book of recipes!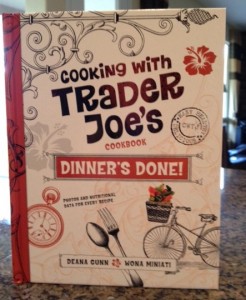 The cook book is called Cooking With Trader Joe's Cookbook:  Dinner's Done! by Deana Gunn and Wona Miniati.  I bought my copy at a cool gift shop called Expressions Boutique located at 40th Street and Chandler Blvd. in Ahwatukee, right next door to Trader Joes.  My copy cost me $24.95  and it is a nice hardcover book filled with recipes that include a picture of each dish.  I love cookbooks with photos!
The store also sold several other versions of Trader Joe's cookbooks, including lower calorie meals, a smaller book called The Companion and others.  I chose this one because I'm always looking for dinner ideas for my family.
Copies of the book can also be purchased at the Cooking with Trader Joe's website.
Since I don't have permission from the authors to share a recipe, I can't do that, but I can show you what I prepared from the book.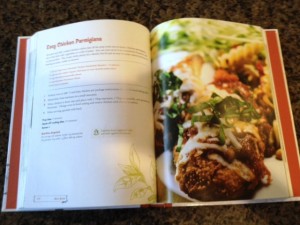 For my first trial recipe, I selected a dish called Easy Chicken Parmigiana and I can tell you that my family loved this entree!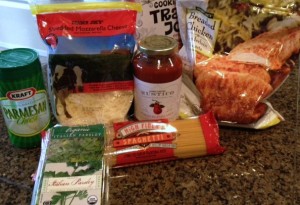 And I loved that I could easily pick up the ingredients at my local Trader Joe's.
The book looks nice and the recipes are super quick and easy to follow…a real plus for a manic mom!
And I love how the finished dish looks and tastes!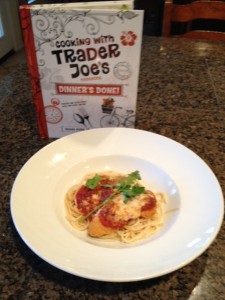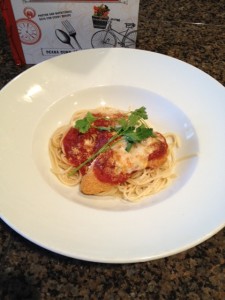 YUM!
Have you tried a Trader Joe's cookbook recipe?  Tell us your favorite here in the comments section!