Manic:  My son's schedule with honors classes, travel hockey, Student Council, National Jr. Honor Society, ushering at our church and more!
Managed:  He got away from it all and took a very special trip with his Grandparents on an Amtrak train.  And he offered to blog about it for us, so check out what he wrote and consider taking an Amtrak train vacation!
Jack says:
This past Spring Break, my grandparents and I took a train trip.  For those of you who don't know much about trains and are thinking "why would they do that" think again.  It was one of the best weeks of my life and being with my easy-going grandparents only made it that much more special.
Our trip began back on the Friday before Spring break.  Though the getaway had been in the books for months, I was anxious, excited, and not knowing what to expect.  I had ridden the Amtrak trains before, but only for a couple hours.
During our trip, we planned to travel 2,685 miles across the western United States.  My grandparents live in southern New Mexico, so I flew from Phoenix to El Paso, TX.  After spending a night at their house, we headed back to El Paso to board our first train.  Our plan was to travel from El Paso to Los Angeles, CA.  From there we would transfer trains and head north from LA to Sacramento.  After spending two nights there, we would head back west to Denver and spend a couple nights there.  Finally, after almost exactly a week, I would fly home from Denver to Phoenix and resume my normal life.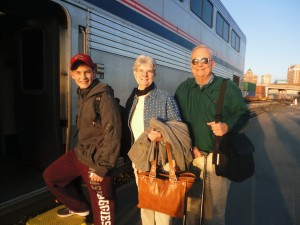 So we were off and we boarded our first train, the Sunset Limited, at the El Paso Union station and embarked on our adventure!  Once aboard, and over my initial excitement, I decided to explore our 8 car long train.  The train had 2 locomotives at the front, followed by three sleeping cars, a dining car, a lounge/sightseeing car, and four coach cars.  Since the first leg of our trip was overnight, we paid extra to be in a sleeper.  The room was roomy enough for three people, and windows on either side gave everyone a chance to see the desert scenery.
Soon, we left our room and moseyed our way to the dining car for dinner.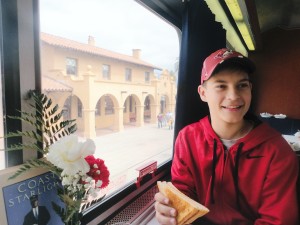 One of my favorite parts of the trip was the dining car.  From the first meal to the last (and the countless number in between), not once was I disappointed with my meal.
After dinner we returned to our car for the night.  With just a press of a button, the porter for our car came and turned our chairs into beds.  My grandparents slept on the lower beds and I slept on the bunk.  Never was I worried about falling, for harnesses banked the side of my bunk, and the slight rocking motion of the train instantly put me in a deep sleep.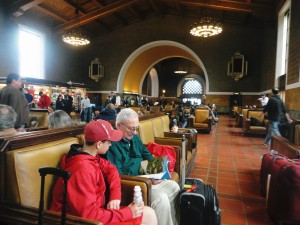 The next morning, we detrained at the historic Los Angeles Union Station in downtown LA.  The building was massive and very elegant.  Added with the rush of a weekday morning, I found a seat and took in my surroundings. It wasn't long before we had to catch our next train, the Coast Starlight.
Ah, the Coast Starlight, Amtrak's most elegant train.  The seaside route provided breathtaking ocean views while you sit back in the lap of luxury.  From the Pacific Parlor Car, to even the simplest coach seat, this train had it all.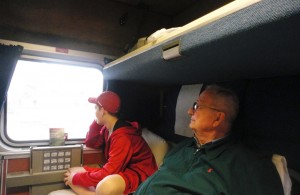 Maybe the most memorable part of the trip though, wasn't the lavish seats or the amazing views, but meeting a young Amtrak waiter.
After our first encounter, when I "took charge" and decided when our dinner reservations should be, our waiter, Dustin took right to me.  By the end of dinner, we had chatted with him and a San Francisco mom we had met over the meal, for almost three hours!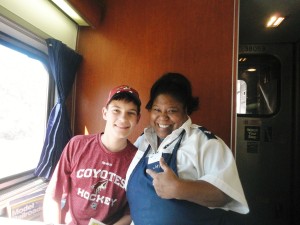 Don't think that this was the only pleasant employee we met.  Almost everyone that assisted us was not only friendly, but open to talking or giving us anything we need.  My only thought, "My mom would love chatting with them."
Finally, it was time for the final leg of our journey.  After arriving in Sacramento and exploring California's capital, it was time to get back on the road.  The California Zephyr would be the name of our last carrier.
After seeing desert and ocean, the only type of scenery yet to be found was the mountains.  The Zephyr resolved that "conflict" by going through not one, but two mountain ranges (the Sierra Nevadas and the Rockies).  We saw snow, peaks, and followed along the banks of the Colorado River.  The scenes I saw were unforgettable.  After climbing, descending, and going through five mile long tunnels, we reached the heart of Colorado.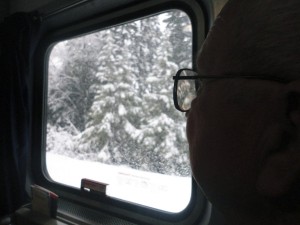 Denver was great, and a quick visit to Golden, Colorado (best known for being the home of Miller Coors corp.) made everything magnificent.  Unfortunately, our getaway didn't last forever, and before I knew it, I was boarding the blue Southwest plane that would take me home.  I said my goodbyes to my Grandma and Pop Pop, and walked down the jet way to return home.  A week I would never forget was over, but exceeded my wildest expectations!
Amtrak Review:
Hopefully  this article has got you interested in train travel as a future vacation.  Here is my review of the Amtrak experience.
On-time: You may have heard rumors that Amtrak is never on time.  We rode three different trains, and never did we arrive at our destination more than an hour late.  For train travel that's great.  And if you are in a hurry, the train ISN'T the way to go.
Service: I couldn't believe all the friendly employees that I met during our trip.  Dustin was only one prime example of the Amtrak spirit.  Our porters, waitresses, and conductors treated us with respect and helpfulness.
Amenities: The amenities on the train were better than I expected, but not over exciting.  For sleeping car passengers, showers are available.  Though the showers aren't as easy while moving, the results were the same as if I was at home.  Bathrooms were numerous, outlets accessible to everyone, and lounge cars had snack bars with various Pepsi products, snacks and small meals.
Comfort: Ample leg room on coach cars, soft beds in sleepers.  The comfort of the train is second to none.  You can relax, have a drink of any sort, and take in your surroundings.  If you are looking for a peaceful, beautiful getaway, the train is a great option. 
If you are looking for a relaxing way to travel, or take in amazing sights, the train is the way to go!  I highly recommend an Amtrak train trip!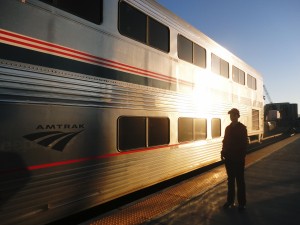 ***A big thank you to my son, Jack for writing this terrific review.  I am a proud Mama!  And a huge thank you to Grandma and Pop Pop for taking our son on such a special trip!  This trip was taken on the Grandparents' dime with no compensation from Amtrak.  The opinions are 100% owned by my teenager!***