Manic:  Constantly telling my kids no to sugary drinks!  The sugar and the caffeine are nothing but empty calories.
Managed:  Accepted a written review of the Peter Rabbit Organics and Buddy Fruits juice pack lines by guest writer, Jenny Dean.  I must tell you that I have not personally tried the line yet, so read on to see what Jenny says about the brand and then you can decide if you want to try one.  I like that the label lists only whole ingredients like the Pea, Spinach and Apple juice pouch  which simply lists the ingredients on the back as pea, spinach and apple.  Here is what Jenny tells us about the line…
Jenny says:
Great Fruit Stand Up Pouches for Adults and Kids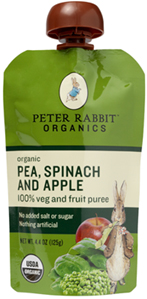 A few years ago when my nephew was just getting into adult human food, I discovered fruit stand up pouches.  I actually didn't know they were targeted towards children; I was looking for healthy snacking options that didn't have to be refrigerated and found them.
Since my discovery, we have reviewed several on Antioxidant-fruits.com  – including two of my favorites – Peter Rabbit Organics and Buddy Fruits.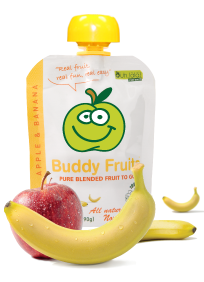 It is my understanding that these fruit puree pouches were a big hit in Europe before they came to the USA.  That's probably why Peter Rabbit Organics originated in the UK and Buddy Fruits in France.
Here's what to love about them:
They taste great.
They do not have to be refrigerated.
They are a great snack to keep in your desk at work (and you won't feel guilty about eating them).
They are ideal for road trips – just think about it – don't have to worry about spilling because it is all packaged together nicely.
They are a great snack to keep in your glove compartment for the kids after school or on the weekends when they're cranky because they're hungry (or when you're cranky from being hungry).
Peter Rabbit Organics came out with a veggie line a few years ago.  I probably like those the best because if I eat too much fruit I end up getting a little weak from all the sugar of the fruit.  And that's the thing; they don't have any additives – just the pure fruit and veggies that are in them.  The Peter Rabbit Organics puree pouches are my favorite because they are all organic – so I feel like I am doing something good for my body when I eat them.
What are your favorite fruit pouch companies?  Do you have a favorite flavor?  Tell me about them in the comment section below.
About today's guest writer:
Jenny Dean is the blogger over at Antioxidant-fruits.com, a site dedicated to the health benefits of fruit.
***Jenny Dean was not paid to review the Peter Rabbits Organic line, but she did receive free samples.  Her opinions are 100% her own.***