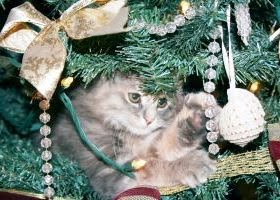 Manic:  This time of year can feel manic to your pets as they observe their people going full-speed through the hustle and bustle of the holiday season!
Managed:  The great  ideas in this terrific article written by managedmoms.com writer, Lisa Walton.  Take a look at her tips to keep your pets stress-free and safe over the holidays!
Lisa says:
Because our pets are special, we want them to share all the special times in our life, including holidays. However, they may not be able to appreciate the strange people, noises, things and goings-on associated with holiday celebrations. In my family we've had cats climbing Christmas trees, dogs running off with stolen turkey legs from the table, dogs unwrapping presents under the tree, and all kinds of holiday craziness!
Here are some ways to keep your pet safe and happy during festive times.
General Tips:
Stick as closely as possible to your normal routine. Try not to vary your pet's feeding, walking, and playtime schedule.
Don't give your pet scraps from the table or holiday buffet. Cookies and pies, stuffing, and fancy hors d'oeuvres, are inappropriate foods for dogs and may make them sick.  Don't feed them leftover turkey or ham, bones can actually splinter off and hurt their insides.  Some holiday foods can also make cats ill, too.
If you host a party, remember that some guests may be uncomfortable around dogs/cats. Your pet may, in turn, be uncomfortable or frightened around a large group of unfamiliar people. You may want to confine him in a crate or a room that will not be used by guests.
No matter how fun the party gets, never ever give your pet alcohol.




Holly, mistletoe and poinsettia plants are poisonous to animals. Make sure they are kept in places your pet cannot reach.
Watch out for electrical cords. Pets often try to chew them and get badly shocked or electrocuted. Place them out of reach.
Avoid glass ornaments, which break easily and may cut a pet's feet or mouth.
Do not use edible ornaments, or cranberry or popcorn strings. Your pet may knock the tree over in an attempt to reach them.
Keep other ornaments off the lower branches; if your pet chews or eats an ornament, he can be made sick by the materials or paint.  Do not put lights on the lower branches of your tree. They may get very hot and burn your pet.
Tinsel can be dangerous for pets. It may obstruct circulation and, if swallowed, block the intestines.
Keep burning candles on high tables or mantels, out of the way of your dog's wagging tail, and be watchful of your cats climbing nearby them.  You don't want them burned or a candle accidentally knocked over.
Your pet may want to investigate wrapped packages; keep them out of reach or fence them off.




Santa Paws Wish List:

Review pet holiday gifts for safety. Small plastic toys or bones may pose choking hazards.  Dogs have been known to tear their toys apart and swallow the pieces, which can then become lodged in the esophagus, stomach or intestines. Stick with chew toys that are basically indestructible, like Kongs that can be stuffed with healthy foods or chew treats that are designed to be safely digestible.

Long, stringy things are a feline's dream, but the most risky toys for cats involve ribbon, yarn and loose little parts that can get stuck in the intestines, often necessitating surgery. Surprise kitty with a new ball that's too big to swallow, a stuffed catnip toy or the interactive cat dancer—and tons of play sessions together.




New Year's Eve:

As you count down to the New Year, please keep in mind that strings of confetti & streamers can get lodged in a cat's intestines, if ingested, perhaps necessitating surgery. Noisy poppers, fireworks, and banging pots/pans can terrify pets and cause possible damage to sensitive ears.  Put them away where it's quiet and they can stay safe.

    Happy Holidays…have fun, and keep those critters safe!

About our writer, Lisa:

Lisa Walton–Parenting tips & Family Matters
Valley Teacher and Mother

Lisa Walton has been a teacher in the Valley for over 18 years. She holds a Bachelor's Degree in Deaf Education from Illinois State University; and Master's Degree in Special Education from Arizona State University. She currently works as an itinerant teacher, collaborating with regular education teachers in the public schools.

Read more about Lisa on our team bio page