As we do every week, today we post several pet pics from one of our faithful readers who is nursing her broken heart after the recent loss of her loving cat, Hercules. Hercule's mom, Catherine (appropriately called Cat for short) is a dear friend of mine and I was touched by an email that she sent me about the passing of her faithful feline.  I invited her to share those words with us to honor Hercules and to reach out to those of you dealing with the loss of a pet.
Although we adopt animals knowing that we will almost certainly outlive them, it doesn't make the loss any easier.  Even though their little heart has stopped beating, our hearts beat harder with the love that they gave us, that unconditional love that only a furry friend can truly provide in just that special way.   And bookmark this article because Cat shares several important links that are very helpful when it comes to the loss of a pet.  If you have a pet, chances are that you may need one of these helpful links someday.  So read on to hear Cat's story about her cool cat and enjoy the pictures of just how beautiful her Hercules was in life and remains in her human's mom memory.
Cat says: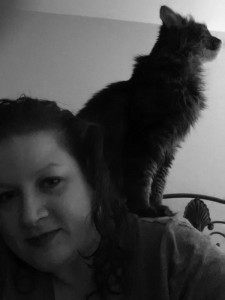 As pet parents, chances are we will be faced with a difficult decision at some point.  Difficult doesn't begin to describe it, but because our pets do not live as long as us humans, end-of-life decisions — barring accidents — are all but inevitable. And the goodbyes are never easy.  I've had to say goodbye to four cats, five if you count my sister's.  First was family cat Twinkles. She was diabetic and her quality of life had seriously deteriorated, prompting my parents to do the humane thing and have her put to sleep. I was 12, so my parents did not let me go with them to the vet. I said good-bye to her at home.
Next was family cat Pharoah. He suffered from kidney failure. Like Twinkles, he let my parents know when it was time. The whole family went with him. By then I was in my 20s, and I had my first my cat, Abu, to go home to. When it was Boo's time to go, there was no warning and no decision to be made. I was picking him up from boarding after a vacation in August 2000. I placed his carrier on the passenger seat of my car and by the time I walked around to the driver's side, he was gone. It was that fast. He was 4 and had an undiagnosed heart condition, probably feline cardiomyopathy. A couple of weeks after losing Abu, I adopted Hercules.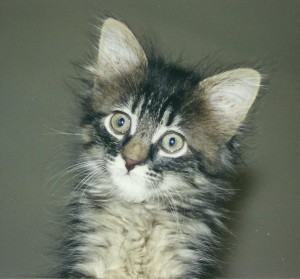 We had more than 12 years together.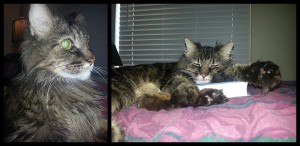 On Dec. 17, 2012, I lost him. This was the first time I had to make an end-of-life decision on my own. I chose to keep him home with me. Not only did he hate — and I mean hate — the vet, there was nothing the vet could do. The trauma/drama of a vet visit aside, Herc had been sick enough that I didn't think he could handle anything invasive, and that was all that was left. As long as he didn't seem to be in pain and had a relatively good quality of life, I decided to let him call the shots. I knew what was coming, but that did not make it any easier. My baby held on as long as he could — longer than I thought possible.
When it was time for him to go, he was lying on my chest, where I firmly believe he wanted to be. I won't lie. It sucked. But I was comfortable with the decision and am sure I did right by him. Such decisions are intensely personal — between pet and parent. While there really is no right answer, there are several things to consider — practical, emotional, physical, and, and much as I hate to say it, financial.
Then there's the decision of what to do with the remains. Your vet should be able to handle this or at least point you in the right direction. Because Hercules died at home, I had a slightly different situation. With my mom's help, I had planned ahead to have All Animals Rescue & Transportation pick him up. Yes, that sucked, too. But the technician was kind and understanding.
PALS is also an excellent option. Both services can return your pet's cremains to you. I did not go that route, but I know several who have. Again, it's all about what's right for you. The PALS website also offers a variety of resources to help pet parents through what is surely an incredibly hard time. There is also a list of ideas to memorialize your pet.
Regardless of how it comes about, losing a beloved pet can be devastating and that's not something everybody understands. While some people might say, "It's just an animal," we pet parents know different. "They're family. I don't care what anybody else says," a co-worker said to me the day after Hercules died. Bless him, he's right.
Most of my friends are pet people. Those who aren't know that I am. All of them (including Ms. Rachel) have been, and continue to be, extremely supportive. That's exactly what I've needed. Losing a pet brings about another decision — if and when to open your heart and home to a new furkid.
While the ASPCA recommends waiting at least a month before bringing home a new pet, I think it's another personal decision. You'll know when you're ready. For me, there is no if.  I require feline supervision in my day-to-day life, so the only issue is when. I waited two weeks after Boo died. This time it will be a bit longer and it will be the longest I have been catless in my entire life. I'm not quite ready to venture to the Arizona Humane Society shelter yet, but I can feel it coming. I know there's somebody out there who needs me, just as Hercules did once upon a time. And I believe that the willingness to let another cat into my heart is one of the best ways I can honor him and all of those who came before.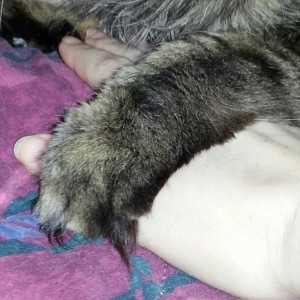 About our guest writer, Cat Holland: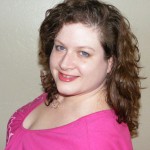 Catherine Holland, aka Cat, is a senior producer for 3TV's website, azfamily.com. That rare thing known as an Arizona native, Catherine joined 3TV in 1995, starting out as a writer for the station's flagship show, "Good Morning! Arizona." (That's how she met Manic Managed Mom Rachel.) She made the move to online media in 2000. Catherine has a bachelor's degree in broadcast journalism from the University of South California. (Go Trojans!) A self-proclaimed "girly geek," she loves gadgets, gizmos and all varieties of technology although she has yet to jump on the iPad bandwagon.