Manic:  My house the last four weeks as we added a beautiful and sweet foster cat to our mix of a tween, a teenager, two male cats, one female cat, two tired parents….and one foster cat that we affectionately named Oliver. 
Managed: After having Oliver neutered, immunized and micro-chipped, we tried for one full month to incorporate him with our three other kitties.  If you are new to managedmoms.com, you can read the story about how Mr. Oliver appeared on our doorstep one month ago here.   I will also tell you that after I took him in, I discovered that his family had moved away and left him behind.  Ugh!  He is such a friendly and beautiful cat, too!  How people can do that is beyond me.
Oliver did great and was super sweet to our cats and two of the three came close to accepting him, but our Tucker just couldn't do it.  In fact, you can see the results of our attempts on poor Oliver's nose…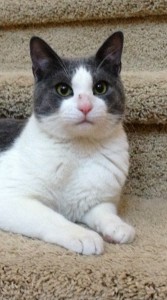 …and once the other cats observed that Tucker wasn't having a 4th cat join the pack, the others even started fighting with each other.  So after consulting with our vet and a family meeting…and a lot of tears on my end, our prayers have been answered.    A lovely family, who are friends of ours, came to meet him and all five of them fell in love with our Ollie!
This family has three beautiful daughters and when they visited they just played and played with Oliver and he loved it.   When they went home to discuss their decision, the girls all gave Ollie big kisses goodbye on his cat cheeks.  The Dad told me that Oliver reminded him of a cat he once had and they all agreed that he looked a little like their beloved 16-year-old kitty that passed away the day after Thanksgiving.  They told me the next day that it was an easy family decision…they wanted to give Oliver a permanent home!  Finally, this sweet boy gets his furr-ever home!  Our family is thrilled and it is definitely bittersweet news.
Since the family had a trip planned a few days after making their decision, they decided to formally adopt him when they returned, so we got one more week with Ollie the cat and we enjoyed him to the fullest.  We did feel bad each and every time that we had to put him up in a room to protect him from Tucker.  To our surprise, he didn't complain.  He would meow two or three times and then play with his toys or settle in on top of his beloved cat tree that has a window view.
This has been quite an experience and I have made several observations after riding the emotional roller coaster that comes with fostering a pet….
*When Oliver appeared at my front door, and because I was able to do so, I made the decision to take him in and foster him, especially after I discovered from neighbors that his previous owners had left him behind.  I met with my family about my decision and they were wonderfully supportive.  So lesson one….throw caution to the wind when you can and you feel like you are doing the right thing.  
*My kids and I both had some interesting comments about crazy cat people (since we were now housing four cats), but we quickly decided that crazy was the wrong C word….the right word is compassion.  So if you think you are doing the right thing, it really doesn't matter what others think when you know in your heart that you are doing the right thing.  I recently heard something that really struck me….what others think is not my business!  I like that.
*Patience grasshopper patience (remember that catch phrase?) and this was a good one for patience.  Every day was a new day fostering Oliver and not knowing what would happen next as far as his future…and ours with him.  That was hard as I am a planner and I like to know the goal that I'm working towards.  I was reminded about patience and how to give a situation time to work itself out with good decisions, support from friends and family and just trusting in the process.
*My family's support was wonderful to experience.  It was even more rewarding to see my kids watch me and then comment to me about the importance of having compassion and having some heart in this sometimes cruel world.  This is one of those instances when actions speak louder than words.  I hadn't planned on teaching my kids about compassion this last month and I didn't even think about that part of it.  I just took it day by day and to see how my kids responded was pretty neat.
*Letting go with love.  This fostering experience was very much an emotional journey for me.  I cried a lot.  Animals are so innocent and they love you unconditionally and I really bonded with Oliver.  With each vet visit. helping him recover from being neutered, learning his different meows and body language to understand what he wanted really made me become attached to him.  But I had to step back and decide,with my family's input, what was best for our family and for his happiness.  Constantly being put in a safe room to keep him away from Tucker is not a happy life.  Our three cats are very sweet together, but when the stress of a stray caused them to hiss at each other…and with the input of our vet, we knew that we had to let go with love.  And the best part is that we handed him over to a family who couldn't wait to get him!  Hurray!
As my journey ended, one of my best gal pals, Julie E. texted me to tell me…."you did good" and that made my day.  Because this 12 pound male cat that is so sweet and so handsome really got into my heart.  So hearing that I did right by him and that I did good was just what my heart…and my head (as I pondered so many decisions during this fostering experience) needed to hear.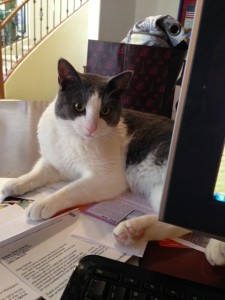 I want to thank all of you who emailed, texted and called me along this journey with your supportive words!  Thank you!  I can't tell you how lucky I feel that a beautiful family, who only lives 10 minutes away from us, opened their hearts and home to complete Oliver's journey and quest to finally find a family and a good home.
I will never forget these last four weeks.  And I have to give a shout out to all of the special people who foster animals and children, too.  I can't imagine what it is like to foster a child….wow….but I can tell you that fostering an animal is quite the experience….and I believe that my family is better off from this friendly feline that literally appeared at our doorstep.   Congratulations on your new home, Oliver!  You will be very missed and we know that you will also be very loved.  I am grateful 🙂