Editor's Note:  A few weeks ago we told you about managedmoms.com subscriber Catherine Holland's loss of her beloved cat, Hercules to illness.  She shared a nice tribute with us about him.  She has since adopted a very special boy named Figaro and we get to hear in his word's how his new human is adjusting.  This is a fun and heart-warming story that celebrates pet rescue!  Plus read on for your chance to win a $50 PETCO GIFT CARD!  AND the winner also gets to select an animal charity that Fig's mom and managedmoms.com will donate to, made in your name!  All thanks to the kindness of Catherine, who wants to celebrate adopting Figaro!  So read this story, written by one clever cat, because it will make you smile…
Being a human guardian is a lot of work. Like a lot a lot. You can ask any cat. Or even a dog, I suppose. But you don't have to because I can tell you from personal experience.
My name is Figaro. I'm 8 months old and I recently 'dopted a human of my very own.
I met my human, I call her Mama, at the lots-of- kitties, also called the Arizona Humane Society, place almost a month ago. Her eyes were leaking a little — it's a weird human thing — and she seemed kinda sad. I knew immediately that I had to have her.
I let her hold me. I put my paws on her chest and purred and purred and purred as hard as I could.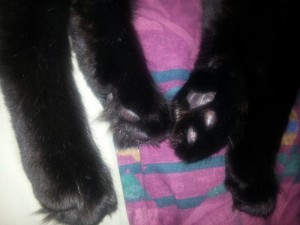 That seemed to make her happy. The lady with Mama, I call her Grandma, said I sounded like a Maserati. I'm not sure what that is, but she sounded way impressed.
I knew I had to make Mama mine (while making her think she was picking me), but another guy at the lots-of-kitties place, James, wanted her, too. I won Mama in the end, but don't feel bad for James. He found a whole family of humans to 'dopt.
So Mama took me home — I didn't like the box I was in so I clawed my way out — and when I first got there, I smelled another kitty. Another boy kitty. I tried to find him, but I couldn't. And I looked everywhere. Lotsa times. I was the only feline in the whole place.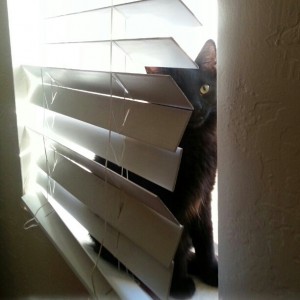 I knew Mama's care was completely in my paws, which meant I had lots to do.
Every day, I let her feed me and play with me and pet me and even clean my litter box. When her eyes get leaky, I purr and try to make her laugh. When she's bored at night and just laying there, I bring her my crinkle balls to play with. Sometimes I have to chew on them to make them crackle so she knows they're there.
I'm trying to teach her to speak kitty. She's got the sounds down, I think, but she makes no sense at all. It's like she's just saying random words that don't even go together. I don't have the heart to tell her that, so I just pretend to understand what she's saying.
I also don't always get the names she calls me — babycat, herc, goofball, kleptokitty, destructoboy and hercules, to name a few — but I'm pretty sure they're all affectionate.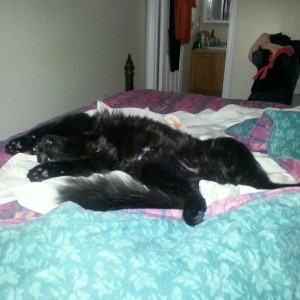 I know she loves me because she gives me crazy good ear and cheek scratches, belly rubs and butt pats. I didn't have to train her at all!
While I've only been caring for Mama for a month, I think I'm doing a pretty god job. She doesn't seem quite as sad as that first day I saw her. I love her, but humans are such strange creatures. I heard a good description in something she was watching on the picture box — "high maintenance." If that means "a lotta work," like I think it does, then it totally applies .
She's worth the effort, though. Especially since she knows — and accepts — that I'm the boss of her.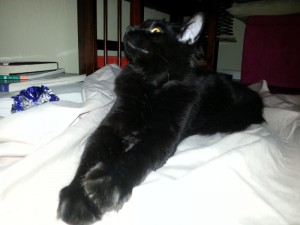 That said, it's time for my nap. Humans are exhausting.
Oh, before I forget, I'm having such a good time with Mama it made me want to do something nice for somebody else.
Since I can only handle one human by myself I'm using my allowance to give one of Miss Rachel's readers a $50 Petco gift card (via e-mail because I'm not allowed outside to go to the store; and I can't drive).  To be in the drawing to win the $50 Petco gift card, simply email your name and email address to [email protected]  She will announce the lucky human winner this Wednesday morning, February 13th at 9am, so good luck!  Must be 18 years old to enter.  Email your entry now and good luck!  (Winner drawn through random.org)
Purrrrrrr, zzzzz…
About our guest post feline writer, Figaro Holland: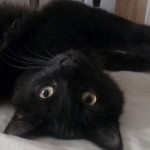 Figaro Holland is an exuberant 8-month-old bundle of fur — a domestic medium hair — with a fabulous tail of which he is quite proud. A Good Samaritan found Figaro and a friend and took them to the Arizona Humane Society in October 2012. He adopted his mom, Catherine, on Jan. 11, 2013. Fig's hobbies include crinkle-ball hunting, foam-tube chasing, felt-mouse throwing, scratching-post climbing, extensive grooming and, of course, marathon napping. He excels at all of them.
—————
Fig's Mom, Catherine says:
You've already read Figaro's version of how we came to be together and I think he did a pretty good job, especially for a kitten. And yes, he has a truly lovely tail and a fabulous rumbling purr that I can hear from across the room. I think it was his purr that won me over. That and the fact that black cats tend to have a hard time finding loving forever homes. (I also dig his cute little fangs.)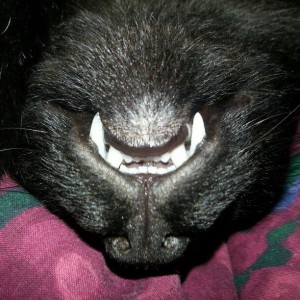 I have to admit that I do call him Herc and Hercules from time to time. It's a habit that's more than 12 years old, but I'm getting better. And besides, he knows I'm talking to him.
By the way, my felinese can't be that bad. Fig usually looks a little startled when I meow at him, but he always answers.  By the way, if anyone is high maintenance (we were watching "When Harry Met Sally"), it's him. (If he's going to quote movies, I might have to keep a close eye on what he watches.)
We've only lived together for a month and we are still getting to know each other's routines, likes, dislikes and foibles, but I think Figaro and I are a good match. An excellent match, really.
Still, there are, of course, a few specific things on which we have disparate views.
Figaro: When Mama gets in bed and turns out the light, she really wants to play.
Me: When Mama gets in bed and turns out the light, she really wants to sleep.
Figaro: Everything is a toy! Including Mama's bare feet.
Me: Not everything is a toy. Mama's bare feet, especially, are not toys.
Although he continues to insist that bedtime is playtime and that my scratched-up feet are his prey, Figaro's inherent cuteness garners instant forgiveness. He has this habit of looking at me upside down. Melts my heart every time.
Figaro has such a fantastic personality and is endlessly entertaining. Exhausting, for sure, I wish I had even a tiny fraction of his energy, but always entertaining — even when he's dangling by his claws from the back of my chair. I also envy him his ability to fall asleep the minute he closes his eyes.
While I still miss my Hercules, naturally, I adore my new furkid and am so happy to have him.  I look forward to having him take care of me for a long, long time. I am completely aware that he's the boss of me. And he knows it.
Since he's giving away a gift card (with his allowance?), I'll add a matching donation to the pet charity of the winner's choice!
That said, it's time for a nap. Kittens are exhausting.
About our guest writer, Fig's Mom…Cat Holland: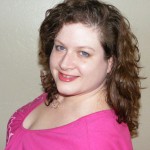 Catherine Holland, aka Cat, is a senior producer for 3TV's website, azfamily.com. That rare thing known as an Arizona native, Catherine joined 3TV in 1995, starting out as a writer for the station's flagship show, "Good Morning! Arizona." (That's how she met Manic Managed Mom Rachel.) She made the move to online media in 2000. Catherine has a bachelor's degree in broadcast journalism from the University of South California. (Go Trojans!) A self-proclaimed "girly geek," she loves gadgets, gizmos and all varieties of technology although she has yet to jump on the iPad bandwagon.
No compensation was provided by Petco.  The gift card comes 100% from our guest writer, Figaro the cat and his human Mom.  They want to celebrate Fig's adoption by sharing a gift and a donation to a pet charity, too.  Very nice!