Manic:  The high number of times that my family was eating out a few months ago.  My clothes were getting tighter and my wallet was getting smaller and I was feeling guilty about the calories and unhealthy food that my family was consuming.
Managed:  Got it together and got my family on a plan with tips that are working below….and I have started juicing at home and it is easier than I thought it would be.  So read on for ideas, that are working for us, to get your family on a better eating plan.  Plus I have a healthy and yummy juicing recipe below.  First here are the changes that I made with my family and we took it slow and it is working….
*When they complained about feeling sluggish or having a bit of a tummy, I used that as an opportunity to discuss and share ideas about how to improve our diet.  We all agreed that we had to stop eating out so much and start eating in much more.
*I started weaning our family off of the snacks and sweets slowly in small steps by replacing my beloved Blue Bell ice cream with Skinny Cow instead.  I purchased snack sized treats instead of the big bags.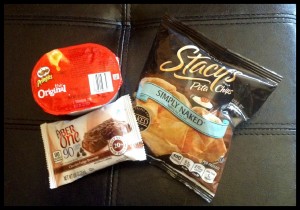 This made all of us more aware of the calories and ingredients that are listed on the individual sized packages.  I'm not touting Pringles as healthy because they are not, but getting the snack sized portions was a good start to making my family aware of portion control, reading labels and practicing moderation.
*I also asked them for ideas on what healthy foods can replace the sweets.  Asking them to come up with alternative foods gives them ownership, too.  Foods like bananas, nectarines and watermelon made the list and the other night my family had frozen grapes for dessert.
*I did the same thing with snacks.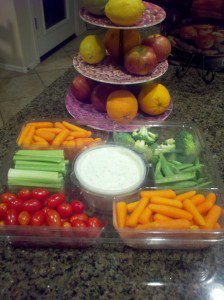 They came up with dill pickles, whole grain crackers with swiss cheese slices, air popped popcorn, carrots, a veggie tray with ranch, tree nut mix for my boy (our girl is allergic unfortunately), homemade guacamole and more.
*Hubs started taking our teenage son with him to the gym several times a week and they are both getting muscular right before my very eyes.  That is cool.
*My girl asked to take up volleyball for a new hobby and for the exercise and the other night my sweet son took her running.
*I made myself a promise that I would cook real homemade healthy meals at home four times a week.  With our busy schedules, the other days are sandwiches and easy meals like quick tacos and eating out when needed, but making better choices like ordering chicken teriyaki over brown rice at Pei Wei instead of a greasy burger.
*I became very strict on drinks.  Our only drinks in this house are milk, water, my husband's daily grapefruit juice and occasionally Gatorade.   Only once in a while though because Gatorade is loaded with sugar.  For me, my daily drinks are water, water and more water, coffee with fat free creamer, ice unsweetened green tea and the occasional glass of a good white wine.
*I explained to my family that packaged foods have ingredients in them that are chemical that we would never put in our own homemade recipes.  That really got them thinking about the wholesome difference between addictive convenience foods and the good stuff that generations before us ate for dinner.
So these tips have been working and everyone is looking and feeling better in our home.
Now on to me because I don't have the speedy metabolism that a tween and teen benefit from and it does seem to be easier for my husband to keep the weight off than it is for me.  So I practiced all of the changes listed above, started exercising to home fitness DVDs (don't have time for anything else and they work and are free after the initial purchase) and I added juicing into my life.  I have lost 7 pounds over the last two months and my skin is looking better, too.  The juicer I tried is the T-Fal Balanced Living Juice Extractor.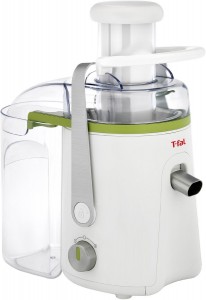 I thought that juicers cost several hundred dollars, but this sells for only $66 at amazon.com.  This cool kitchen tool guarantees a quick and easy way to make healthy fruit and vegetable juices in just a matter of minutes with two speeds and a whole fruit feeding tube.  The juicer features an anti-drip spout, stainless steel filter and 1.25 liter pitcher, which are all dishwasher safe, for fast and easy clean up.  One tip…if you buy a juicer, clean it right away as it will be much easier to get the veggie and fruit residue off quickly.
My favorite restaurant in the world is the very healthy Pomegranate Cafe and I regularly order their Braveheart green juice.  So I tried to make one myself and it worked and is so good for me!  Here is what I did….
My Good For You Green Juice inspired by Pomegranate Cafe!!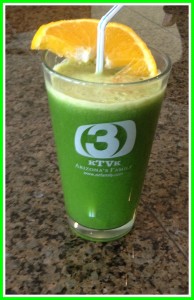 I simply put one apple, 1/2 cucumber, 4 small celery stalks, a handful of Kale and a handful of leafy greens in my T-fal juice extractor and then add the juice of one freshly squeezed orange into the pitcher that comes with the extractor.  Mine tasted just like Pom's Braveheart.  I was so excited to be able to create it!  It tastes like celery, cucumber and apple and it is tasty to me and delicious to my skin.  So in under 3 minutes, I was able to create two servings of leafy greens, one apple, celery, cucumber and fresh orange into my drink and into my body.  I  can't wait to try other combos, too.   I just bought the Juicing Bible and am looking forward to trying the many recipes found in that book.  Do you know of any good juicing recipes?  Please tell us in the comments section.
The parts come right off and are easy to clean, too.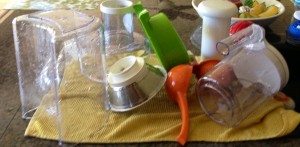 Here's to eating well for our health, our skin and for our families.  We need to be fueled up to keep up with them!
One new T-fal Balanced Living Juice Extractor was provided to me to test.  The opinions about how much I love and use it are 100% my own.