Manic:  Bored kids in the summer and trying to keep them busy without spending too much money and while getting them exercise, too.
Managed:  Received some cool new water toys from Prime Time Toys, so we put them to the test to show you what's new in summer 2013 water toys for your pool…or if you are like us and you don't have a pool….these toys work great for summer water fun in your backyard.  Plus email your name to [email protected] for your chance to win ALL of these water toys!  Email your name and email address to [email protected] and your name will be put in a drawing through random.org.  We will announce the winner this Saturday, June 15th so good luck and be sure to get your entry emailed in by 5pm (Arizona time) this Friday, June 14th, 2013.
Here are the fun water toys that we reviewed….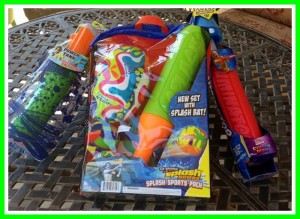 We received three fun items that include the Max Liquidator Luminator, the Hydro Blaster Power Tank Combo and the Splash Sports Pack.  We put the toys to the test with my 11-year old daughter and her 10-year-old gal pal.  Here is their kid review….
The Max Liquidator Luminator
Ages 6+ & sells for $9.99 at Walmart, Target and selected pool supply stores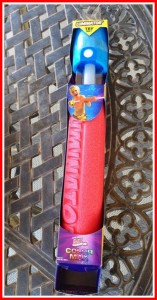 The kids were immediately impressed that this water toy lights up.  That would be especially fun for water play in the evening, too.  The Luminator blasts water up to 30 feet, floats in the pool and comes ready to light up with batteries included (I love when toy companies include batteries with their products) and it is lightweight and very fun. They give the Luminator two thumbs up.  We also took a picture in a dark room to give you an idea of how well it will light up at night.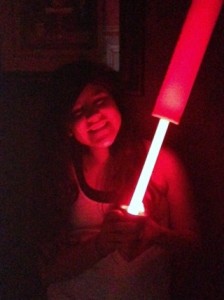 The Hydro Blaster Power Tank Combo

Age 6 + and sells for $12.99 at Walmart, Target and select pool supply stores
The Power Tank Hydro Blaster Combo comes with a cool portable bucket that enables kids to hold up to 20 refills.  As you can see in the picture below, the girls had a blast blasting each other with these fun water toys.  The neon colors are cool and make the items easy to find in the pool, too.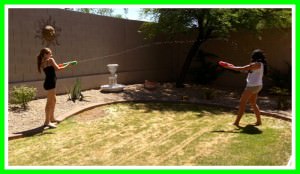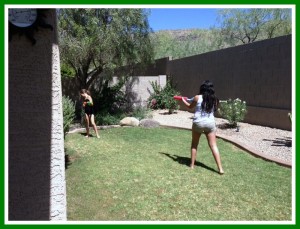 Splash Sports Pack
Ages 4+ and sells for $9.99 at Target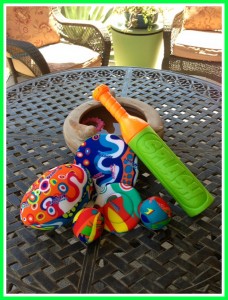 The Splash Sports Pack comes with a giant splash bat, a big splash football, two splash flings (which my kids used like a Frisbee), two splash bombs that make great water baseballs and a handy reusable carry-all pool bag to keep it all in.  That is also nice for clean-up.  The girls enjoyed playing water baseball and they also are looking forward to using this sports set in the pool, too.  Be sure to check out the Splash Sports Pack video clip that gives a great demo of how the items work.
So these toys are fun for backyard water play, with or without a pool, and that is a nice and economical way to cool off and get exercise.  So as a Mom, I say these water toys are a win win for the entire family during the dog days of summer.
What are your favorite water toys?  Have your kids played with any of the fun splash toys from Prime Time Toys?  Stay cool and have a happy summer.
All three water toys were provided by Prime Time Toys for us to review and to give away in a drawing.  No financial compensation was received and the opinions are 100% my own and the girls' opinions are 100% their own.  A big thank you to Prime Time Toys for giving managedmoms.com these water toys to give away to one of our lucky readers!