I love doing our weekly pet picture and I especially love it when it is a picture of a sweet animal with the news that he or she has been adopted from a shelter. Today's cute pooch is Artie and his new Mom, Jodie couldn't wait to tell managedmoms.com all about him!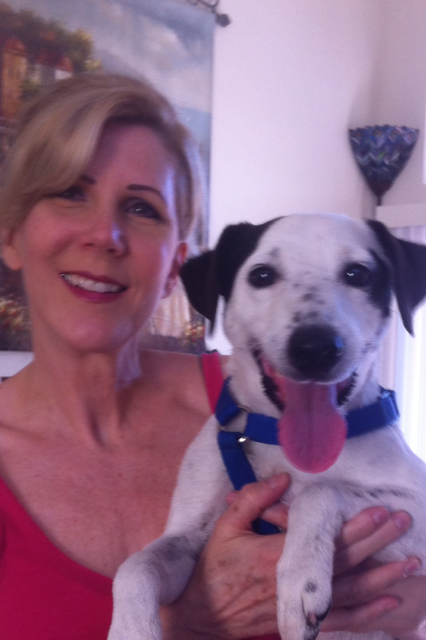 Such a cutie!  Artie was found on the streets back in July.  The vet estimates that he is about four years old. Since he is a purebred Jack Russell Terrier and is large for the breed, the vet also is guessing that he was part of a puppy mill.  The nonprofit animal rescue group that has been caring for him, AZ Happy Tails Animal Rescue told Jodie that they had been hoping for a special dog parent that has had Jacks before.  You may remember my post about Jodie's beloved Jack Russell dog, Scooter who passed away in July.  So Jodie has been healing her heart and it seems fitting that the month of July was when Artie was found.  He has been working his way towards Jodie and they found each other!  Congratulations to both Artie and to Jodie.
Jodie wants our readers to know that AZ Happy Tails Animal Rescue is a wonderful organization that rescues animals from various shelters.  Many of the animals that they save and adopt out would have been put down.  AZ Happy Tails Animal Rescue  finds foster homes until the right home comes available They are very good at matching the right pet with the right family and Artie is the perfect example of this!
Congratulations to Artie and to Jodie.  What a wonderful and happy beginning 🙂
And send us your pet pics.  We love to get them and post them every week to celebrate the love and companionship that our animals give us.