As seen in my 3TV KTVK morning show segment that aired today.  Here is the list of the beauty products I showed with many more that I didn't have time to get to this morning on the program. All items are sold at Walgreens, which keeps us on our beauty budget.  Gotta love that!
Our awesome managedmoms.com blog beauty expert, Bianca, is an official beauty product expert for Walgreens.  So, I met her at the store, looked at what's new, and bought a slew of stuff to show you.  Fun!
Here is what's new in 2017 drugstore beauty products that you will want to know about…
Nail News
*OPI Nail Polish — Big news!  Walgreens now sells OPI nail polish!  Get yours for $9.99 a bottle. The line just hit store shelves this week.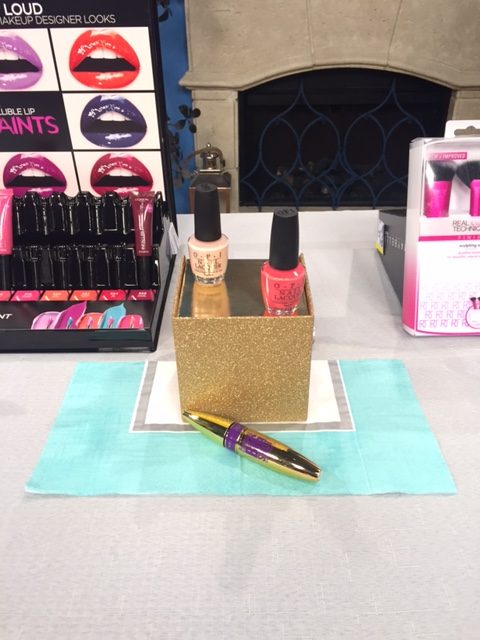 For the Eyes
*Maybelline Colossal Big Shot Mascara ($8.49) – Maybelline says that their new mascara will give lashes fully loaded volume in one coat.  Our blog testers had to apply two coats, but we are happy with the volume that our lashes exhibited with just two coats.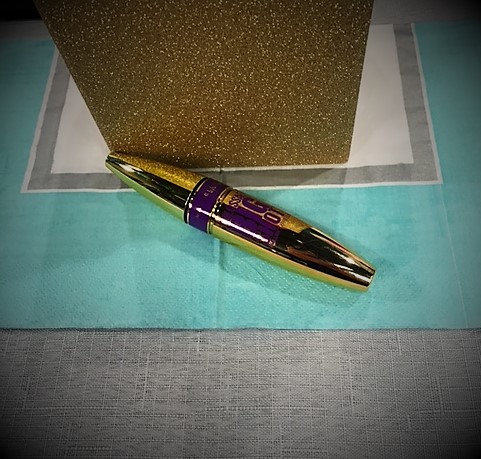 We compare this mascara to the Too Faced Better Than Sex Mascara, which sells for $23, while this Maybelline Big Shot only costs $8.49.
*L'Oréal Infallible Paints Liquid Eye Liner ($9.66) – New to this eyeliner line is the intense color options and our test panel thought it was as good as MAC's eye liner, which sells for much more, around $20, in department stores.  For a performer or a person on camera, this liner really shows up.
Loral Infallible Paints Eye Shadow ($8.99) – We love that this cream eye shadow stick didn't crease.  With this double ended stick, you get two shades that can be worn alone or blended.
*Maybelline 24k Nudes Eyeshadow Palette ($11.99) – This is like the more expensive Urban Decay nude eyeshadow palette that is very popular.  And this one is much cheaper at only $11.99 compared to Urban Decay's Naked Palettes that range between $24 to $54.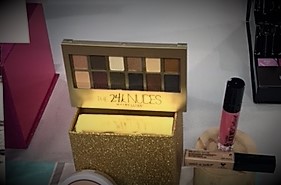 So, this is a terrific value.  It is in smaller packaging, but I think the savings is still good.
Lovely Lips
*L'Oréal Infallible Lip Paints ($9.99) – These full colored lip sticks promise to stay on all day and my blog testers and I did get a full 8 hours of wear. We did have to reapply for evening, but we were impressed with the work day longevity of this lip paint.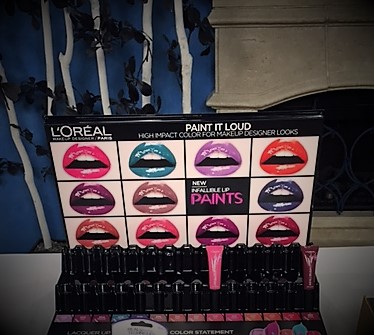 Wear this lip color with a liner, otherwise it will bleed.  We found this line to be like the Too Faced Melted Lip Color, which costs $21 and we like the under $10 price tag of the L'Oréal one for sure. We are also big fans of the lip applicator that makes the sweetheart shape of lips easier to achieve.  Plus, the color is shiny and vibrant and we like that!  This is also smudge proof and water proof.
*Wet n Wild Liquid Catsuit Matte Lipstick ($4.99) – This lipstick reminds us of Jeffree Star's matte lipstick that sells online for $18.99.  At $5, we like this one just as much. The applicator brush is similar and both lipsticks wear nicely.  Jeffree Star's can only be purchased online plus shipping, so we think Wet n Wild's new lip color is the steal vs the splurge. Kudos to Wet n Wild, as they became cruelty free this year as well!
Burt's Bees Lip Crayon Gloss ($8.99) – New from Burt's Bees is this nice tinted shade that wears like a gloss in a smooth crayon applicator.  We like it and like when Burt's Bees introduces new products to their line.
Beautiful Brushes
*Real Techniques by Sam & Nic Techniques Finish Sculpting Set ($19.99) – Sisters Sam & Nic Chapman are professional makeup artists with a popular YouTube channel that shares all kinds of makeup tutorials. With each purchase, head to their YouTube channel to learn tips on how to best use their products.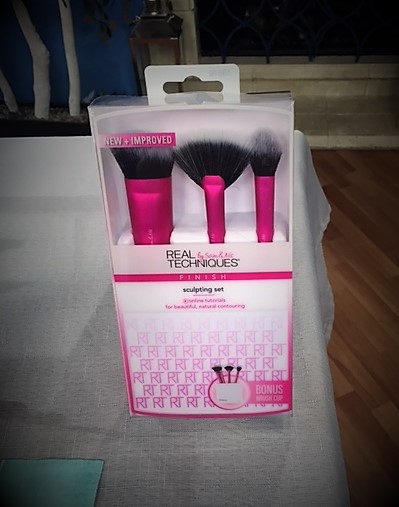 This three-brush set includes a sculpting brush with a wide angled head that will create defined contours using cream and liquid bronzer or contour makeup.  The second brush in the set is the fan brush, which softly sweeps on powders and whisks away excess makeup.  The third brush in the set is the setting brush and it completes a look with a controlled dusting of powder or highlighting.  For $19.99, we also like that it comes with a brush holder that stands upright to keep brushes clean and organized.
 Sponge Love
*Real Techniques Eyes Miracle Mini Eraser Sponges ($5.99) – These are the perfect mini size for under the eyes.  We like this one over the Beauty Blender line because this cost less and we think works just as well, if not better.  We also love that you get two of these cute little blenders because, as the Real Techniques YouTube tutorial on this product explains, one can be used for applying makeup and the other for cleaning up.  So, the flat side of this teeny eraser sponge works great for blending under eye concealer.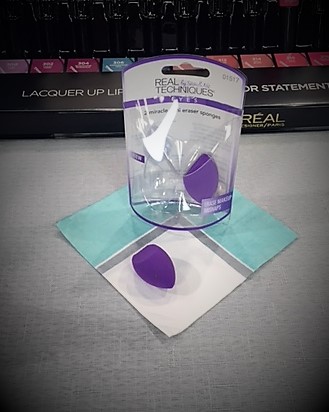 The tip fits around the nose contour and the tiny place on the inside of the corner of the eye perfectly.  Use the rounded sponge side to blend eye shadow.  These two teeny sponges do so much, so we give a thumbs up to these cute and useful mini eraser sponges.
*CoverGirl Outlast All-Day Matte Finishing Powder ($9.99) – One of our favorite new products because this compact powder works great in the morning and as a touch-up throughout the day.  It is lightweight, hides imperfections and minimizes shine without clogging pours.
All About Brows
*L'Oréal Brow Stylist Kabuki Blender ($12.99) – For those who want a thick brow, check out this brow stylist soft and creamy crayon that has a kabuki brush on one end that enables smooth blending.
Use lightly for a more natural look and go for it with heavier blending to show off a statement brow, which continues to be all the rage in 2017.
*L'Oréal Brow Stylist Frame & Set ($12.99) — Anastacia Brow Beverly Hills is a popular expensive brand that is all about the brow and is very popular.  We think that this L'Oréal product is just as good.  With this L'Oréal set, you get both the two-ended styling brush and the cream makeup for $12.99 and with the more expensive line mentioned above, the duo brush sells for $18 and the makeup costs $18 compared to this set of all three for $12.99.
*Maybelline Brow Precise Highlighter ($7.99) – Brow highlighters are in and this one does the job.  With the angled tip applicator, this creamy highlighter goes above and below the brow to highlight and shape nicely groomed eyebrows.
For the Face
*Maybelline Dream Cushion Fresh Face Foundation ($15.99) – Dream foundation by Maybelline is loved by many, so it is cool that this year it is offered in a transportable on-the-go convenient compact.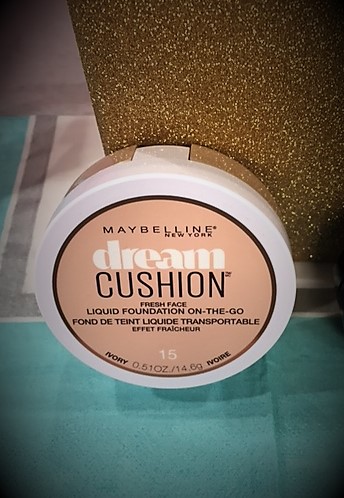 It comes with a cushion applicator with a little sleeve so that fingers can be inserted in the pad and applied to give buildable coverage.
*Maybelline Master Camo Color Correcting Kit ($12.99) – This cool kit does three things that include correcting, concealing and highlighting.  The green palette reduces redness, the orange and apricot reduce discoloration and the yellow brightens skin.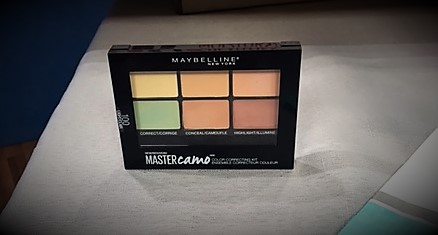 For undereye circles and to blend over imperfections and to highlight brows as well.  This palette does it all.
Wet n Wild Concealer Corrector ($3.99) – Our testers loved this creamy concealer that hides under eye circles, blemishes and discolorations well.
*Soap & Glory The Fab Pore Purifying Foam Cleanser ($12) – So fun that Walgreens carries the unique and trendy Soap & Glory line.  New for this brand is this foam cleanser that contains witch hazel and helps to shrink pores.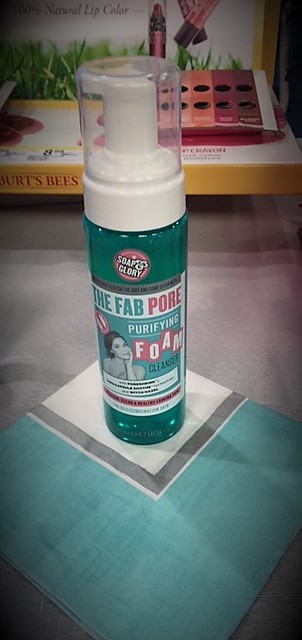 I didn't try this since I have sensitive skin and use specific facial cleansers, but our blog testers tell me that it worked well for them.
*Wet n Wild Mega Cushion Contour ($5.99) – Wet n' Wild has some fabulous new products out this year including this cool compact that enables a smooth and contoured blush line on the cheeks. The shade that is out now is the Café Au Slay! color.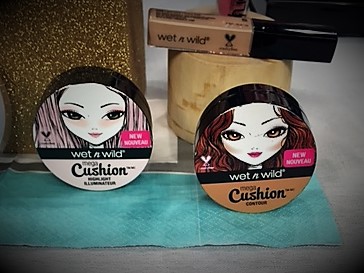 *Wet n Wild Mega Cushion Highlight Illuminator ($5.99) – This one is similar to the cushion contour above, but this one is used to add highlights that illuminate and give a glow to the skin.
As you can see, there a lot of new products in the 2017 beauty aisle.  Do you know about a new beauty item that is a must have?  Share in the comments section.  Happy 2017 beauty shopping!