As I blogged a few weeks ago, I have been trying to eat plant based foods about 85% of the time.  So far, so good.  And I do notice a difference in how I feel when I eat clean.  Much better in every way!  I decided to put my taste testing fork to work with a trial run of Purple Carrot.  Like many other meal service plans, fresh ingredients are delivered to my door and I do the slicing, dicing and cooking.  Unlike many other meal service plans, Purple Carrot delivers meals that are exclusively 100% plant based.
This fits my new 85% plant based lifestyle, so I tried Purple Carrot.  Here is my review and the recipe I prepared, a Kale Cesar Salad with Crispy Butterbeans with Everything "Bagel" Croutons.  Did I like it? Tasty? Easy to prep?  My opinion of the overall service?  Read on to see what my test fork determined.
Let's start with a picture of the entree.  Below is my finished dish.  It lies on top of the handy recipe card that comes with the ingredients, similar to most meal service plans.  Repeat or reject recipe?
I would definitely say that this is a repeat recipe!  The homemade dressing was delish and perfectly flavored the kale.  And the croutons…yum!  I will talk more about the specific flavors in a bit.  Let's take a look at the food and prep.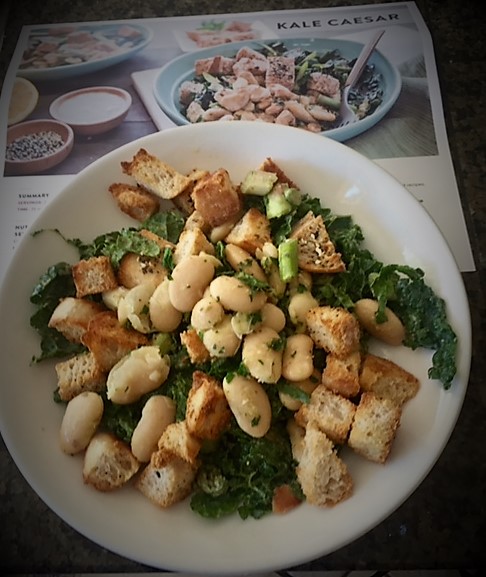 Here are the ingredients for the recipe as they came packaged to my front door. I especially like the little round containers with the white lids.  Easy to rinse out and throw in the recycling bin keeping our green lifestyle in tact.  Speaking of green, the kale is just beautiful and perfectly fresh.  The cute square loaf of whole wheat bread will become the homemade croutons.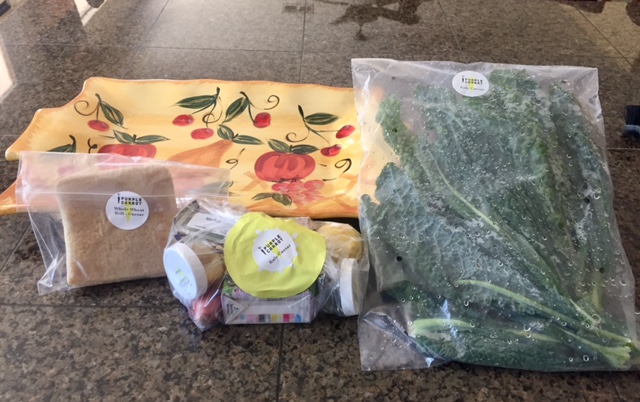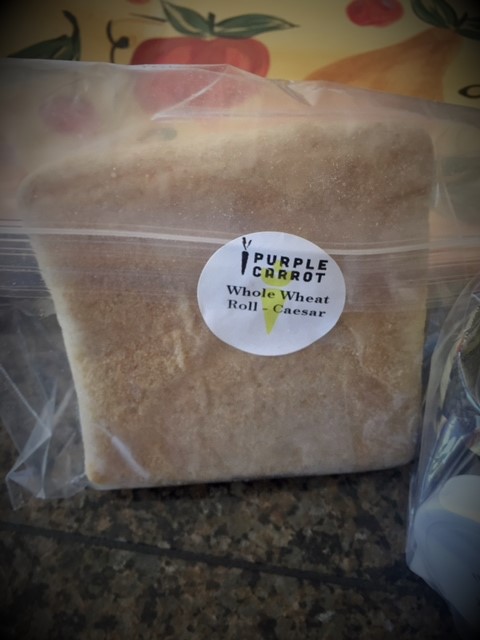 The nicely sized recipe card was easy to follow and took me step by step pretty effortlessly as I made the salad.  I appreciated the nutrition info, too.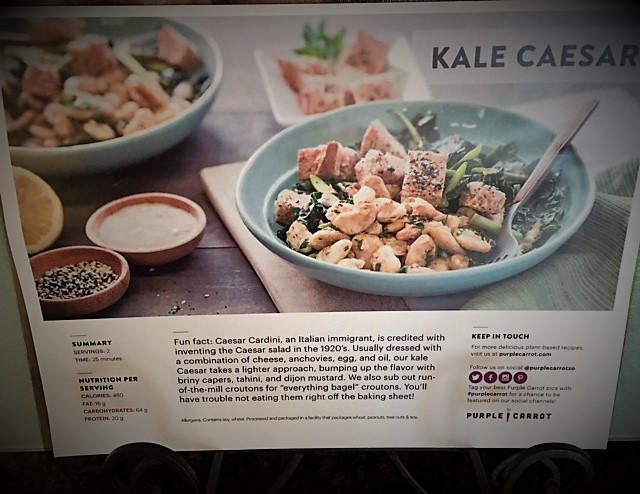 Look at that lovely green kale!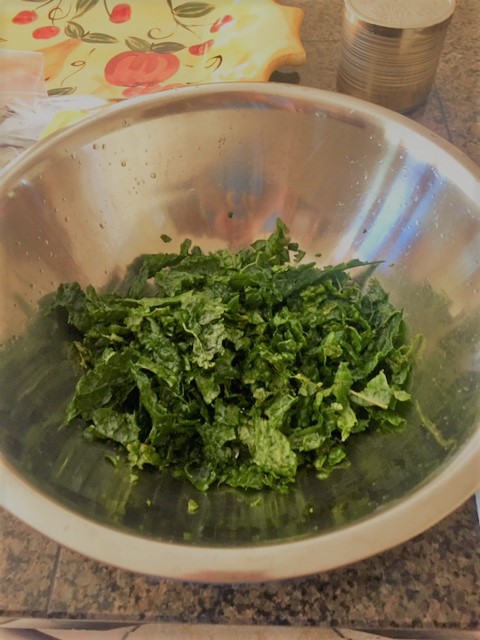 As instructed by the recipe, I gently massaged it with my hands. I had never heard of that tip prior to reading it on the recipe card. It makes the kale softer with a less rough texture. It worked and I am happy to know this kale tip now.
While the croutons baked, I prepared the butterbeans, which would be the protein that tops off the finished salad.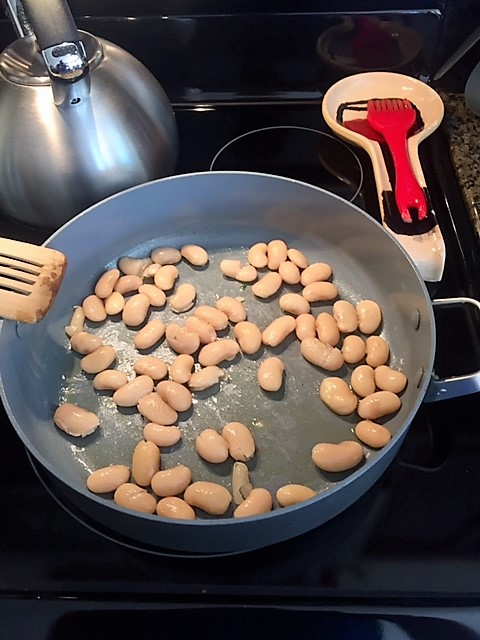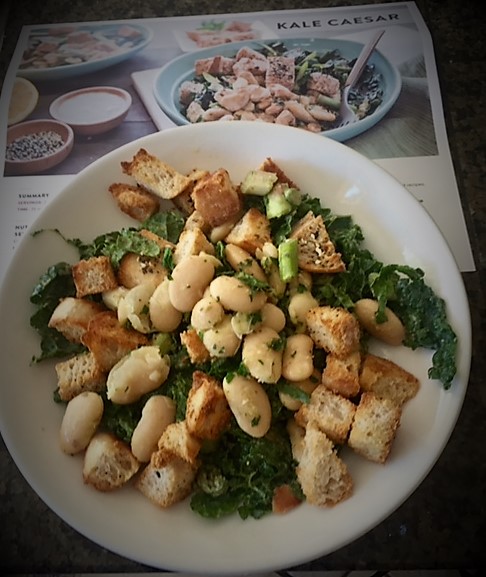 The very best part is this picture below of my teen daughter's plate.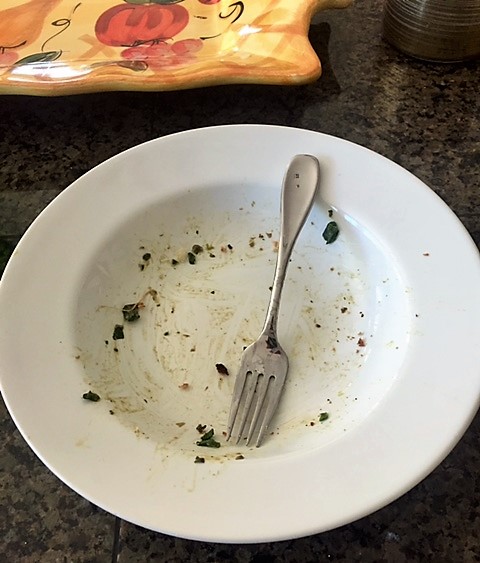 A clean plate because her palate was pleased, which pleases this Mama.  We do eat some meat and we definitely make sure that we are getting our protein, but it is so wonderful to see us eat more plant based foods. Purple Carrot makes this goal much easier to accomplish, so for that reason, as well as others, I highly recommend this plant based meal service plan.
Several plans are offered and can be seen on the website here. I chose the 1 – 2 person three unique meals a week option at $68 a week or $11.33 per plate.  I think that is a good value because we receive healthy clean whole foods with the recipes and without needing a grocery store run.
The Caesar salad dinner was delicious with the pleasing taste of crisp asparagus and the yummy crunch of the croutons topped it all off nicely.  The beans weren't my favorite ingredient, but they were good enough and provided protein.  The dressing was scrumptious and may be my favorite when it comes to a good Ceasar salad dressing now.
I am anxious to cook and try the other two recipes that came in my box this week that include the Elote Bowl (I am a big corn fan) with Lime Chickpeas dinner and the Quinoa and the Seitan Gyro with Shaved Artichoke Salad and Tahini Yogurt.  Greek is good!
My test fork is seeing purple and I raise my fork to happily recommend Purple Carrot.