Hard to believe but graduation party planning season is once again upon us.  Not to mention birthdays, showers or other events on the calendar.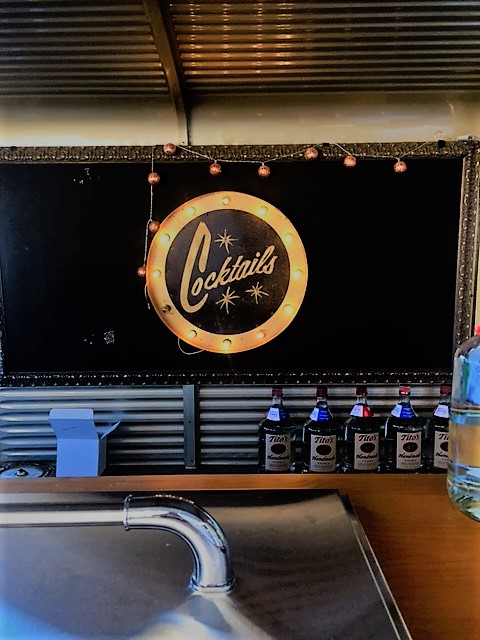 If you are party planning for this time of year or for any kind of celebration, check out my top local Phoenix party rental picks.  I have put several to the test several times now for my son's big graduation party, a few other events and most recently, my own 50th birthday bash.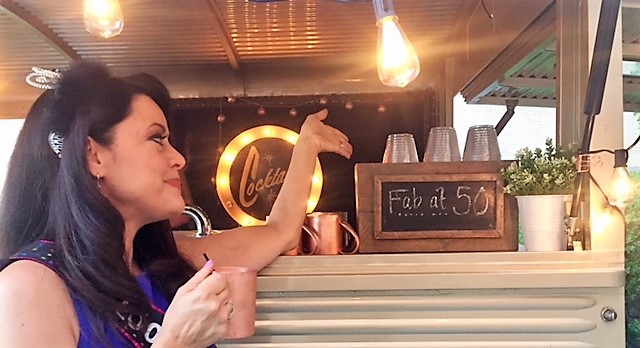 I believe that these suggestions below are the best of the best and I even found a company that will rent you Moscow mule copper mugs and that was actually not an easy find!  Two weeks ago I blogged about the cool and chic cocktail truck that I rented called The Duke and The Duchess.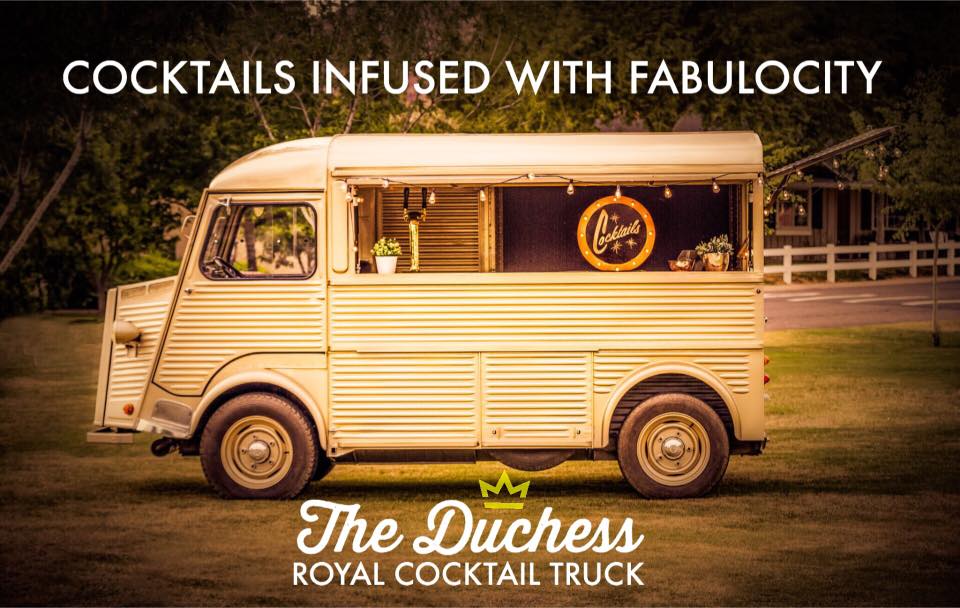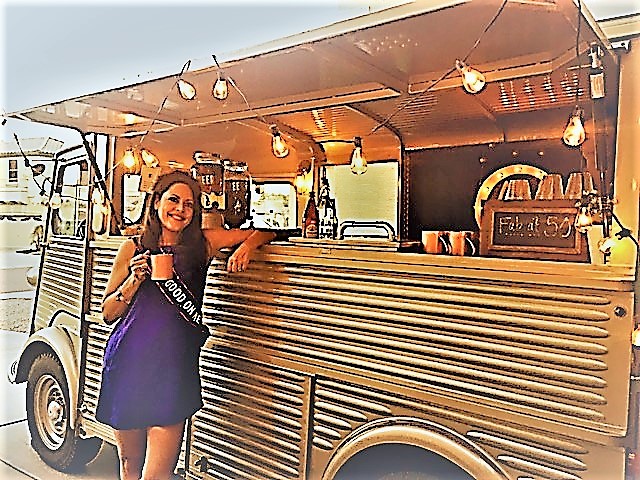 If you missed that article, you can find it here and I highly recommend that fun feature that will make your party truly unique.
Read on to see my other party rental service/supply picks that will have your guests saying what a pal texted me the morning after my latest party….that I had the party of the year!  Woo hoo!  Here are my Phoenix greater area party stuff recommendations:
*Party Pick 2 – Moscow Mule Copper Mug rentals — American Mule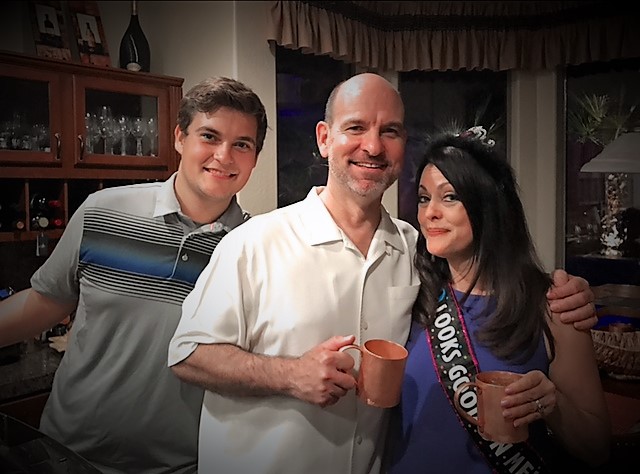 We almost gave up on having the cool copper mugs that chill the Moscow Mule drink so beautifully because the only local rental company we could find quoted us $12 a mug for rentals and we needed 50 cups, so there was no way we could do that!  I got lucky and typed in copper mug rentals on Google and American Mule came up, but I thought the company was out of state, so I left an email inquiry.  To my pleasant surprise, the company emailed me back 24 hours later and told me that they would rent me the mugs for $3.20 a cup!  Yay!  Then I discovered that they operate out of Mesa.  So awesome!  So they delivered two crates of the lovely mugs and picked them up the day after the party dirty…they told me not to clean them.  They would happily do that for us after the party.  The one thing to note is that if any of the mugs go missing, the cost to replace them is $30 a cup, so I made sure that all were returned to the cocktail truck.  Our guests loved the mugs and the drinks!
*Party Pick 3 – Outdoor Cooling & Heating Needs – Hacienda Rentals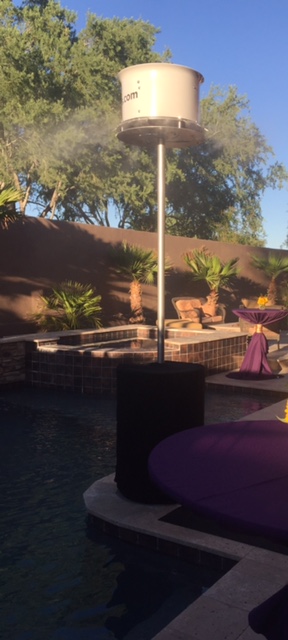 I was a bit stressed having my party on August 18th in hot Phoenix and during monsoon season, but that is my actual birthday and it fell on a Friday, so it was too perfect!  I searched a lot of websites and asked some friends, and all of the best recommendations were Hacienda Outdoor Comfort Rentals. A lot of resorts, hotels and special events use Hacienda, so I gave them a call.  They do charge a fee to come out for an on site inspection, but I paid it because I really wanted a specific plan of how I would cool our backyard and part of the driveway since the drink truck was going to parked there.  Hacienda told me that they could easily give me a game and price plan by looking at Google Earth, so that is an option for folks wanting to avoid the inspection fee.  I can tell you that the inspection fee, the rental charges and all of it was absolutely worth every penny!  If you want the best, most professional, nice looking and operating equipment that will cool your yard down close to 30 degrees, go with Hacienda!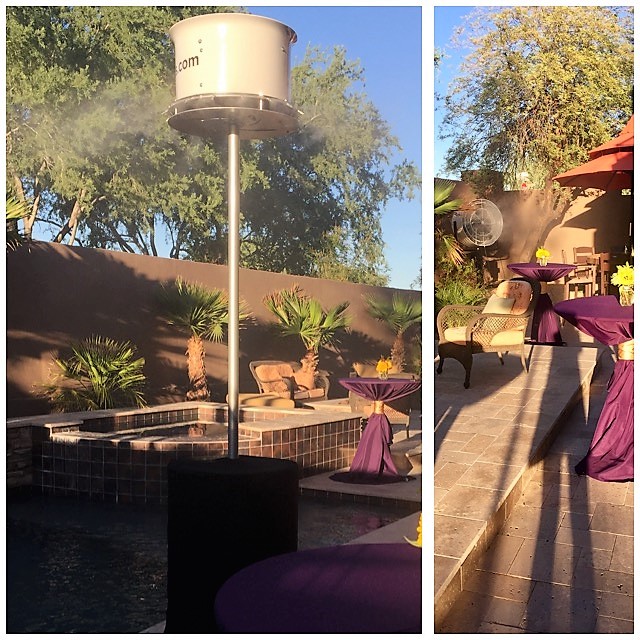 I have used other cooling companies in the past and they don't compare, which is why I am sure Hacienda is the top pick by the resorts.  Not only did the equipment cool my outdoor spaces perfectly, but the units looked nice, too.  Guests were comfortable and asked me about the cooling rentals.  I had a big white revolving fan that looked nice and cooled perfectly, plus two ultra modern units that are like the stand-up winter outdoor heaters, but instead are coolers that are called misting towers.  Marc Maples with Hacienda, was professional and perfect to work with from start to finish.  He recommended that we not use the hanging misters across the sky in my yard because monsoon season combined with that type of a misting system could make my outdoor climate humid and sticky. I did not want that!  So I took his advice and his recommendations and my backyard was perfect!
*Party Pick 4 – Classic Event & Tent Rentals
To save on money and space, I decided not to rent full size tables and instead I rented cocktail tables that people can stand around.  My pick for these rentals is Classic Event & Tent Rentals.  Classic has an extensive selection of pretty linens and bows to customize the cocktail tables. The tables were set up perfectly by Classic's team and I appreciated that because I had used a different company for my son's graduation party and the bows fell to the ground during the party.  That company didn't tie them down right and they looked sloppy.  Not so with Classic.  Plus when Classic misquoted me a few dollars due to the wrong  linen size for the table size, she discounted the order for his mistake without me having to ask.  I will always use Classic from here on out.
*Party Pick 5:  Robert's Catering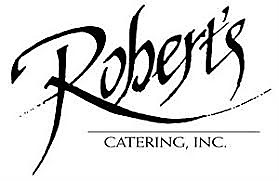 For over 20 years, I have worked with and used Robert Richter and his longtime delicious catering company, Robert's Catering.  Back in the early 90s, I was a marketing manager for Southwest Airlines so he would cater flights to new cities with that destination's themed food, like Cajun fare when we started serving New Orleans.  For big and small events nationwide, Robert never disappoints and always exceeds expectations with his large assortment of menu items, incredibly tasty appetizers, main fare and his specialty, beautifully adorned and luscious cakes.  Plus he provides servers that are professional, top notch and friendly.  They put the class factor in the event.  Robert's food is all good and my faves include his Chiptole mac and cheese, mouth-watering grilled teriyaki chicken with toasted sesame seeds and chive garnish.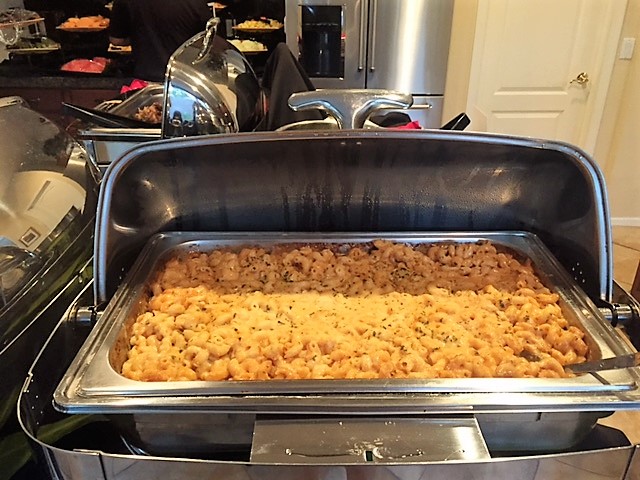 That is part of the Robert's Catering Hawaiian Luau Buffet, which is the theme I chose for my recent 50th birthday bash.  That included the teriyaki chicken, roasted pulled pork served with Hawaiian dinner rolls, honey hot maple sauce and Hoi sin sauce.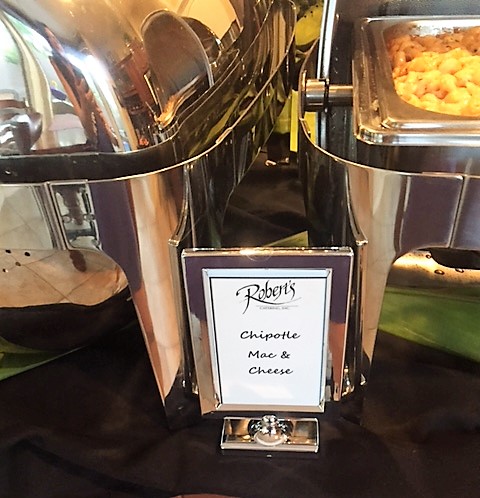 Also included in that yummy grouping is spring greens with romaine ginger miso dressing and a stunning and colorful fresh tropical fruit display that offers pineapple, yellow papaya, honey dew, orange, cantaloupe, grapes and strawberries.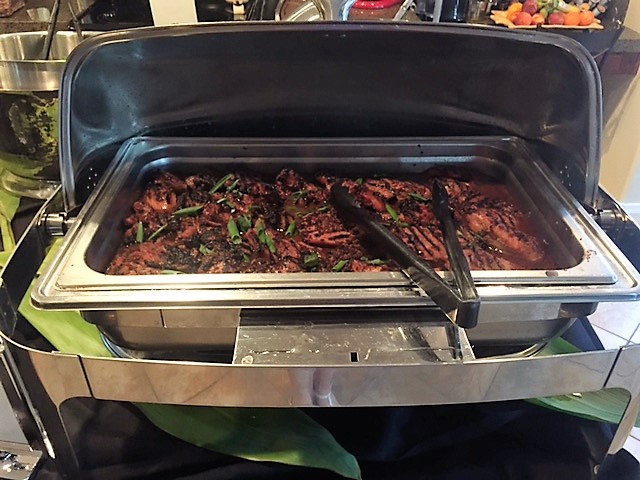 Also included is a really good island rice pilaf with sliced macadamia nuts, dried cranberries and pineapple with saffron butter, but I asked him to swap the incredibly irresistible Chiptole mac and cheese instead. All was a hit and every time I have Robert cater my celebrations, my guests always tell me that I have the best food hands down at my parties!  And Robert's cakes are incredible!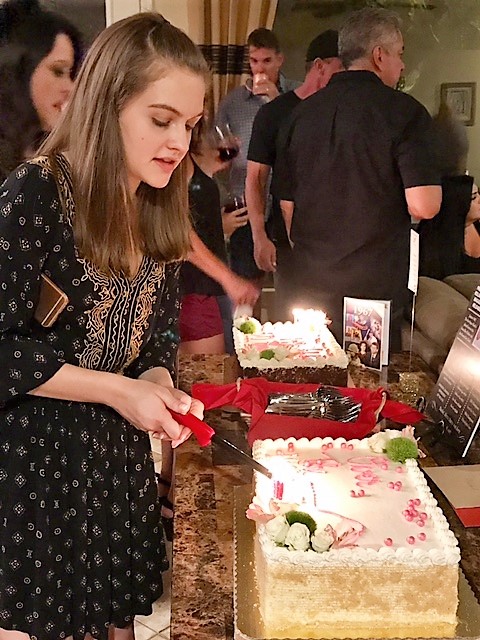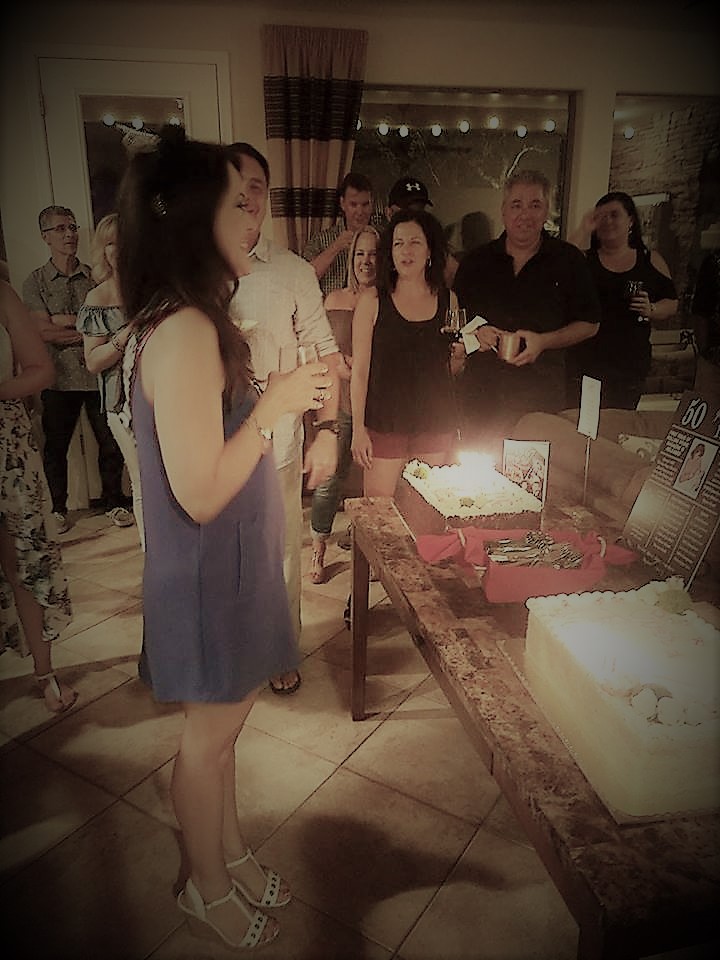 He has an extensive assortment of all sorts of flavors and cake décor.  He surprised me at my son's graduation with two beautiful giant cakes that displayed a sharp picture of my son's graduation announcement and a second cake with his senior pictures.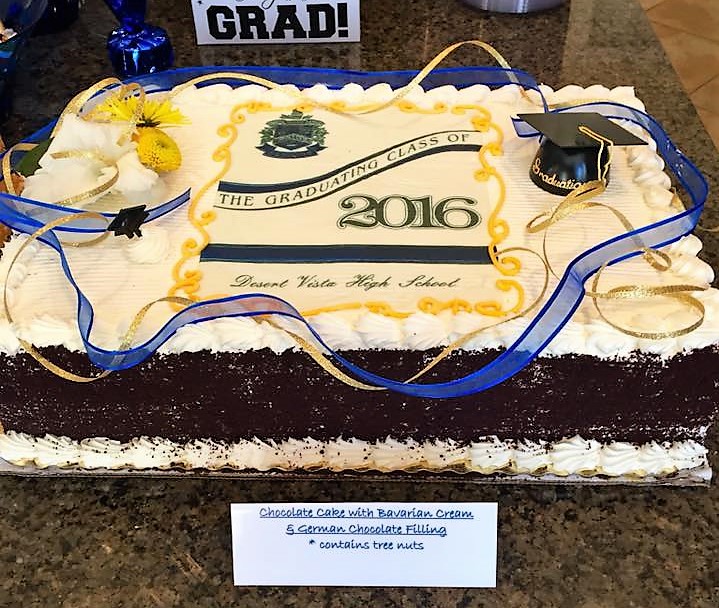 They were stunning and scrumptious.  For my birthday, I chose one chocolate, his Heath Bar Crunch Bavarian Crunch and Robert's Cherry Rum Cake.  So incredibly good!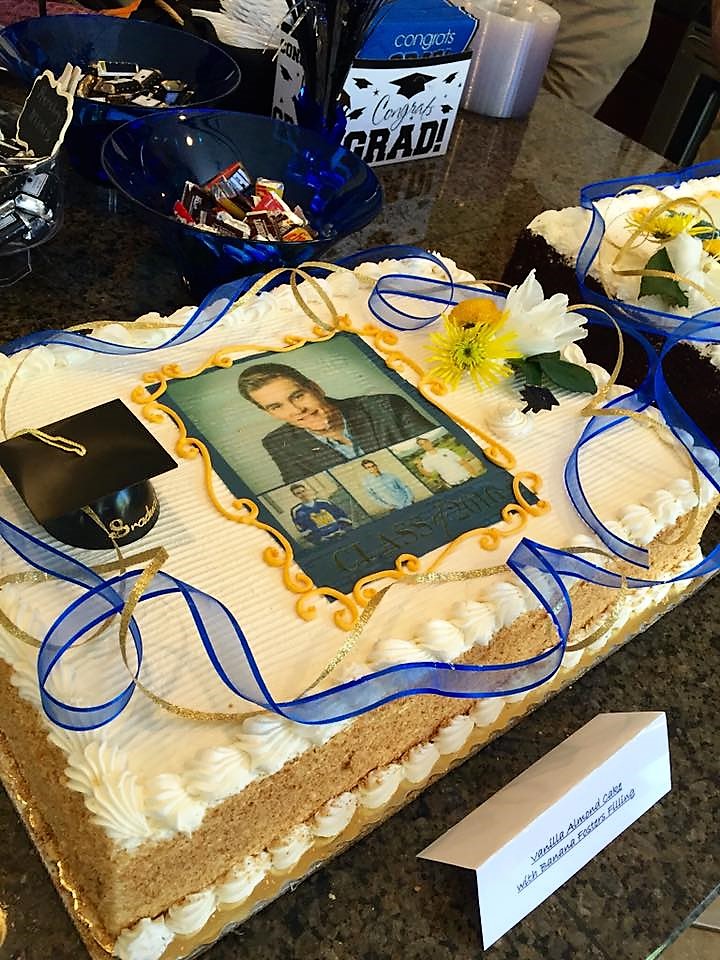 Party Pick 6:  Décor – Party City, Kirklands & Hobby Lobby
Party City almost always has everything I need for my décor.  My daughter surprised me this time around with Fab 50 items (and a few over the hill things, too) all from Party City.  I especially liked my  "50 Looks Good on Me" sash and crown that she added to my party outfit.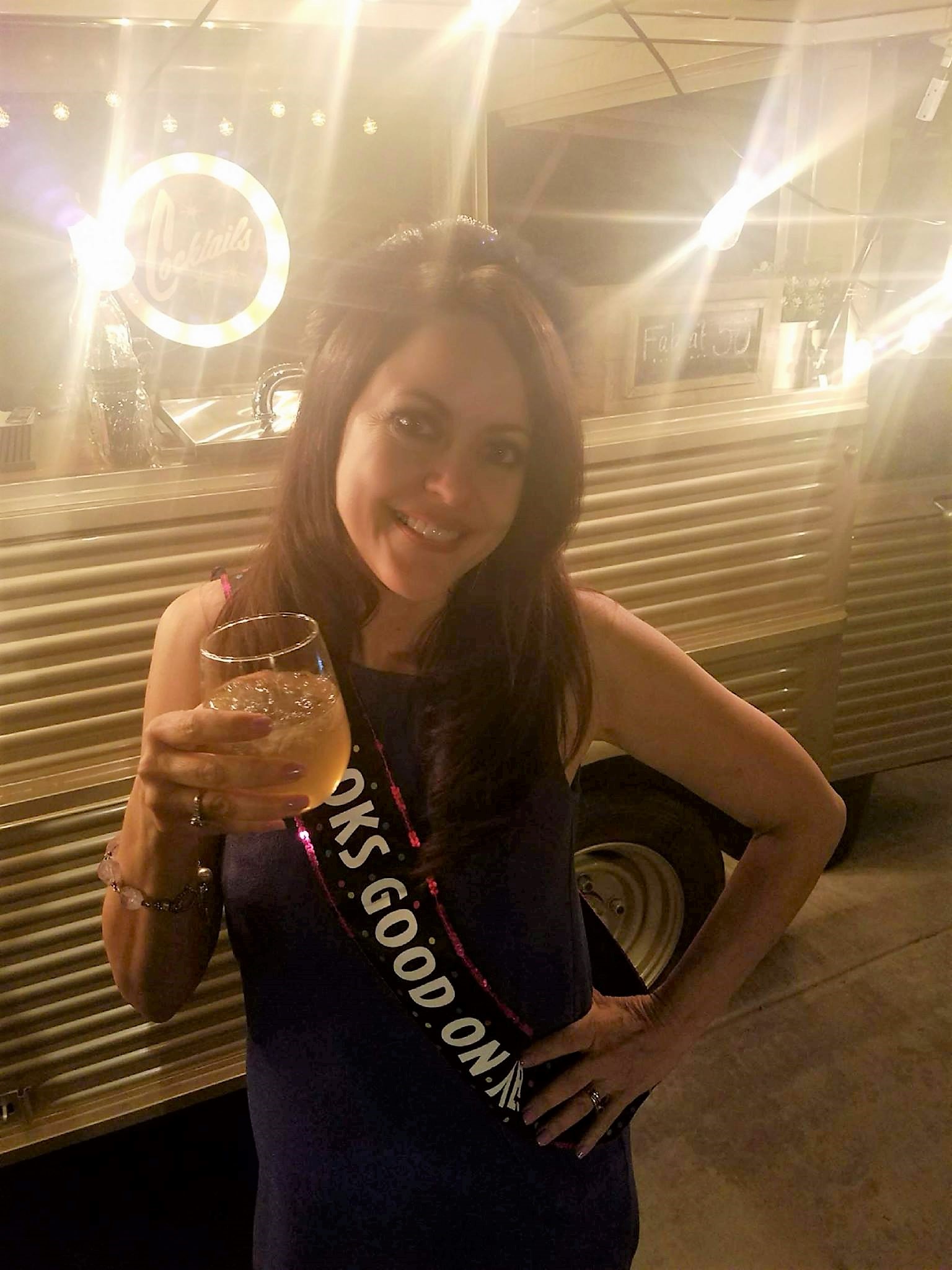 The hot pink cane with a horn, oversized silly reader glasses and other fun over the hill items made for fun party décor.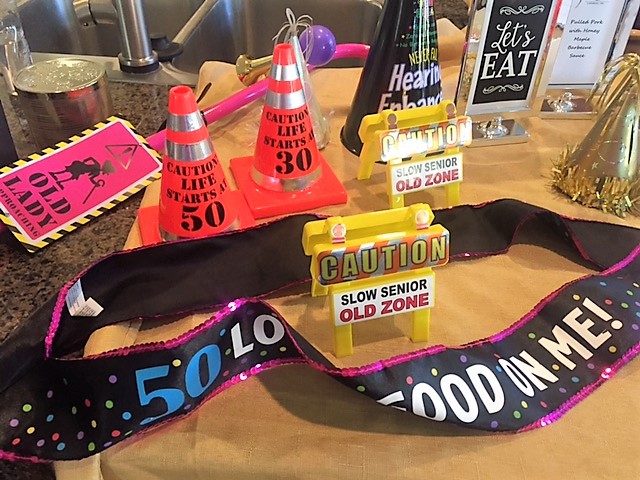 I asked that instead of gifts, guests pay it forward in some way.  To display the awesome charitable acts done, I bought a beautiful bulletin board where folks could add a post-it note with a short description of what was done.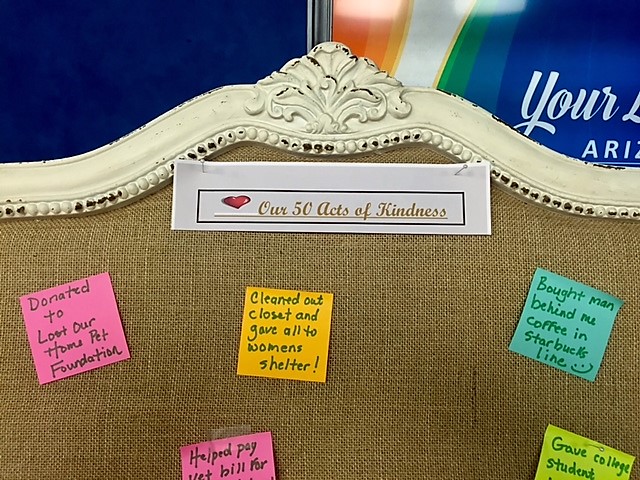 That was so cool!  I also did a drawing for a $50 Visa gift card for all that put their name in a drawing box for doing a charitable act.  Hobby Lobby had the big bulletin board and the handy store also had a pretty large chalkboard on an easel with lights all around the edge.  It is a perfect way to write something fun with colored chalk to invite folks in or to direct them to the food, etc.  Kirkland's also had some terrific accessories for décor as well and for fall and holiday events, the inventory is plentiful and unique.
Party Pic 7:  Centerpieces – AJ's Fine Foods Mini Bouquets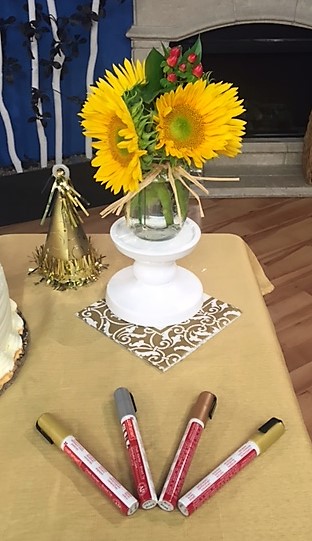 AJ's Fine Foods has the cutest and prettiest mini bouquets of all types of flowers and some come in fun little mason jars.  These worked perfectly in the middle of the cocktail tables and can be given as party favors to guests as well.  I also found the metallic chalkboard markers at Michael's that I used to guide guests to the food on this cool illuminated giant chalkboard easel that I bought from Hobby Lobby.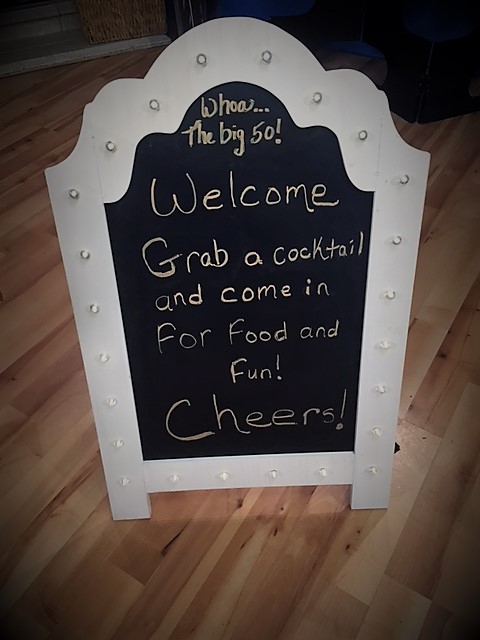 It worked great!
Are you ready to party now?  Did I leave out a great local party planning tool or service that I need to add to my top picks party list?  If so, share in the comments section and happy party season to you!