Top your holiday desserts with this festive red and green topped homemade vanilla bean ice cream!  Your holiday guests will love it!  Who says ice cream is just for summer?  If you own an ice cream maker, this recipe is for you.  Your holiday guests will cheer when they see that ice cream is near, especially since it isn't expected this time of year.  And it is ice cream!  Homemade.  Vanilla bean with the real beans.  With a little red and green holiday flair on top.  Yes please!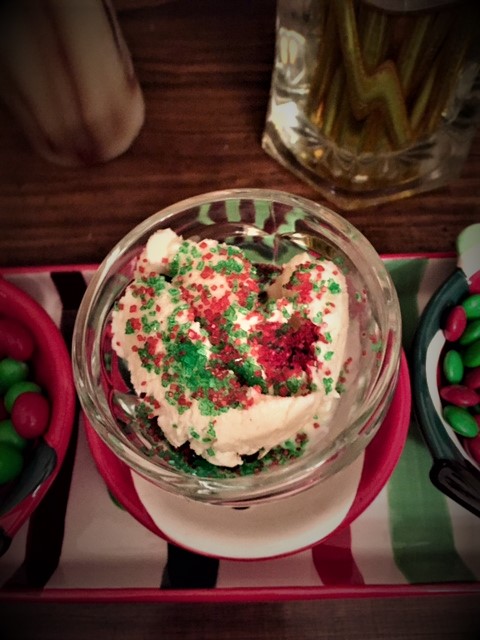 I did this over Thanksgiving and it was a hit!  I like that the vanilla bean can be seen in the ice cream, too. I am sharing this recipe from my Cuinsart Ice Cream maker recipe book that came with my delightful ice cream machine that my sweet mother-in-law bought me a few years ago for Christmas.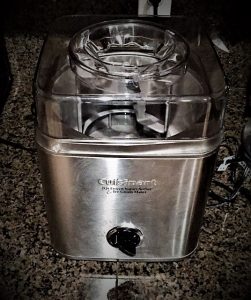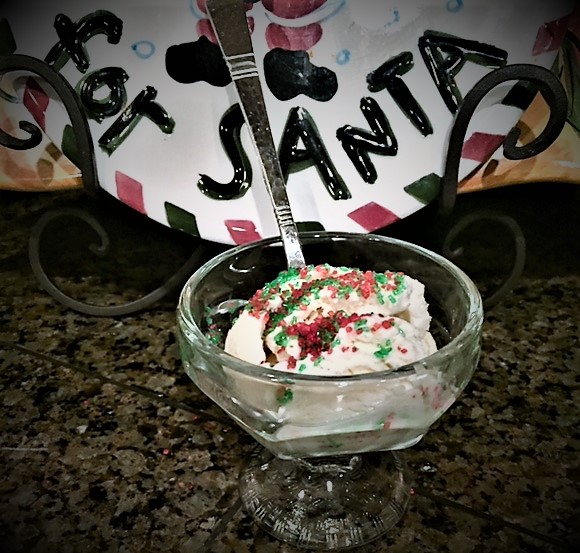 Here is how to make what I call Holiday Vanilla Bean Ice Cream (using an ice cream maker…I used a Cuisinart Pure Indulgence Frozen Yogurt-Ice Cream & Sorbet Maker). The coolest ingredient is the actual vanilla bean that comes in a jar like this one that sells at Walmart and other grocery stores.  This costs around $8 a jar, so it isn't cheap, but it is the real deal bean that makes the vanilla bean ice cream authentic.  This recipe makes about 14 1/2 cup servings.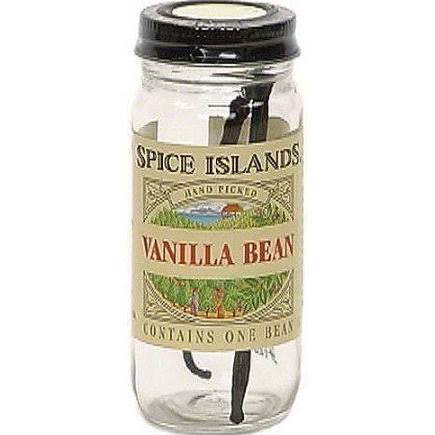 What You Need – The Good Stuff! 
2 1/3 cups whole milk
2 1/3 cups heavy cream
1 whole vanilla bean
3 large eggs
4 large egg yolks
1 1/8 cups sugar
2 teaspoons pure vanilla extract
optional for Christmas Ice Cream – red and green sugar sprinkles
What You Do:  Work That's Worth It! 
Combine the milk and cream in medium saucepan.  Use a sharp knife to split the vanilla bean in half lengthwise.  Use the blunt end to scrape out the "seeds" and stir the seeds and bean pod into the milk/cream mixture.
Bring the mixture to a slow boil over medium heat.  Reduce the heat to low and simmer for 30 minutes, stirring occasionally.
Combine eggs, egg yolks, and sugar in a medium bowl.  Use a hand mixer on medium speed to beat until the mixture is thick, smooth and pale yellow in color (similar to mayo), for about 2 minutes.
Remove the vanilla bean pod from the milk/cream mixture and discard.  Measure out 1 cup of the hot liquid.  With the mixer on low speed, add the cup of hot milk/cream to the egg mixture in a slow and steady stream.  When thoroughly combined, pour the egg mixture back into the saucepan with the rest of the milk/cream mixture and stir to combine.  Cook, stirring constantly, over medium-low heat until the mixture is thick enough to coat the back of the spoon.  Transfer to a bowl, stir in vanilla, cover with a sheet of plastic wrap placed directly on the custard and chill completely.
Pour the chilled custard  into the ice cream maker freezer bowl.  Turn the machine on and let mix, until thickened about 25 to 30 minutes.  The ice cream will have sort of a soft serve creamy consistency.  To make thicker, like typical ice cream, place in container with air tight lid and freeze for two hours.  This container was full to the top….I took the picture after our Thanksgiving dessert was consumed!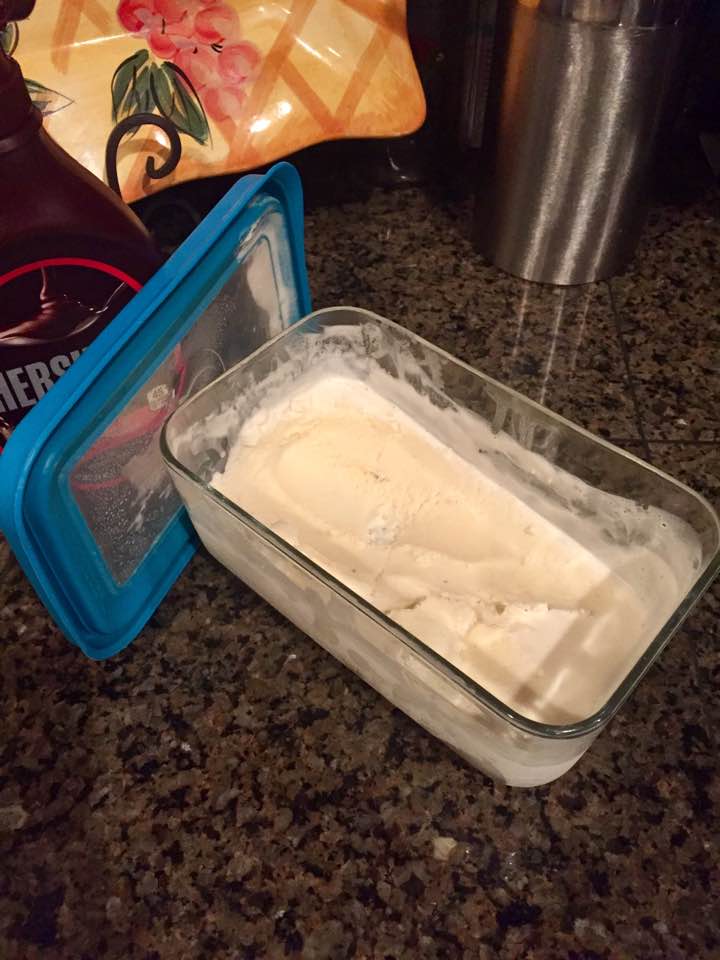 Top with the red and green sprinkles for a splash of holiday cheer.  This also gives it a sweet crunch, too.
Absolutely yummy and crowd pleasing!  Great to add to your holiday pies for a la mode, too!