Tis' the season for grad gift giving and gratitude gifts for the beloved and hardworking teachers.  I found some fun and unique presents as I did my own shopping that I shared in my KTVK Your Life Arizona morning show segment today.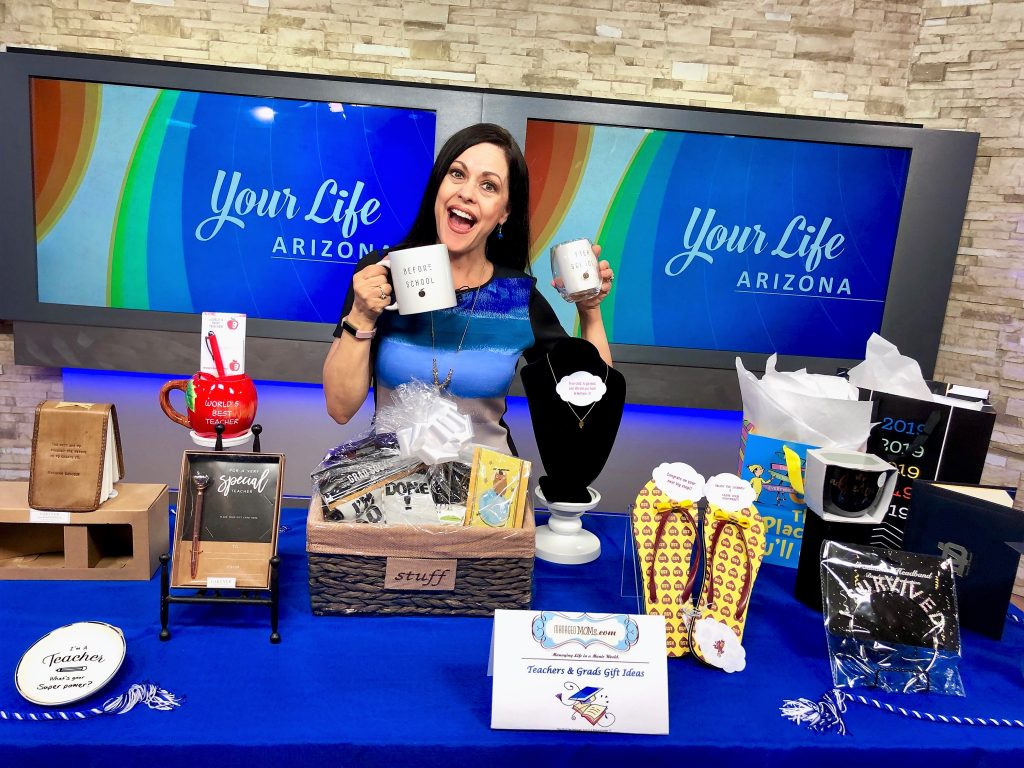 Take a look…
My Favorite New Gift Tip!
My new hobby is putting together cute custom gift baskets.  I was thrilled to find $1 shrink wrap, that also includes a bow at Dollar Tree stores!  The suggestions below are perfect to incorporate into a fun gift basket for your grad or teacher.  These gift ideas also work well alone.
Thank You Treasures for Teachers
Here are some ideas that include suggestions for the male teachers, too.
*Lakeshore Learning Gift Card – This is the perfect gift card for a teacher since this profession is sadly so underpaid and without a lot of resources for all the needed classroom supplies, too.
*School supplies, postcards, and other essentials for teachers —  Many teachers pay money out of their own pockets for school supplies for their classrooms and students. You could help lighten the load by buying these supplies for them. Get cute student postcards, classroom decorations, pencils, coloring materials, and notebooks for the hardworking teachers in your life.
*Gartner Studios Gift Card holder with gold & silver apple pen – A nice way to present a gift card, this cool gift box is sold at Walgreens for $4.99.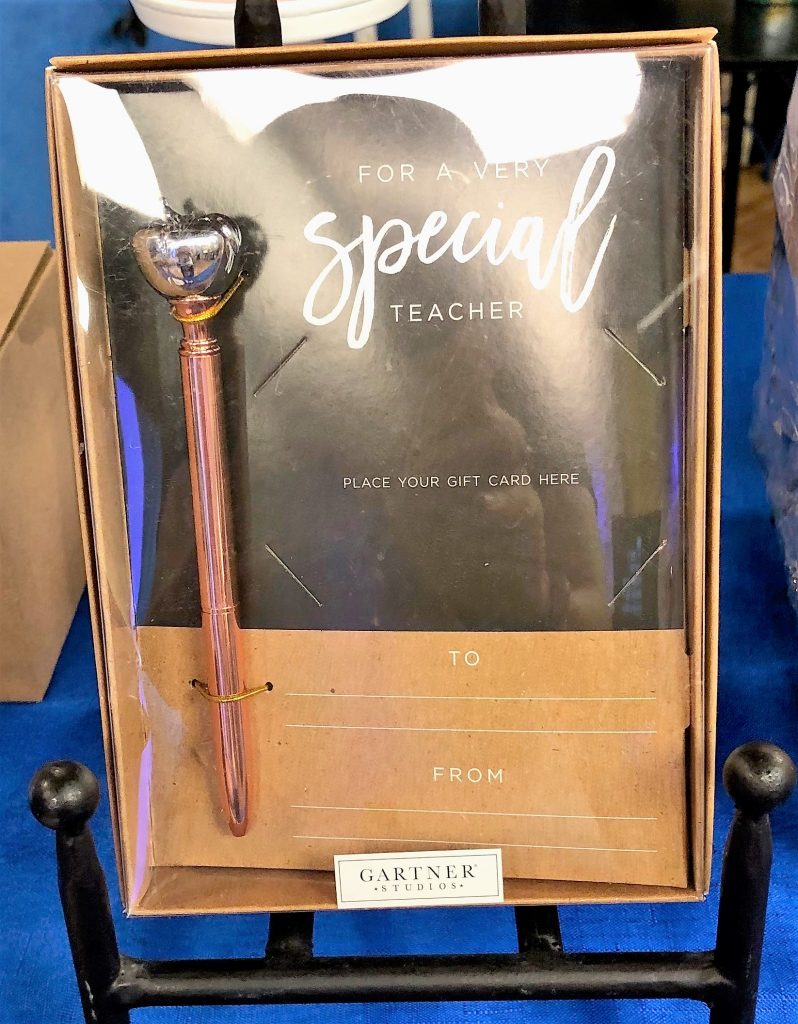 *Leather bound notebook with Abraham Lincoln quote – This is a nice gift for a male teacher.  It looks very nice and says, "The Best Way To Predict The Future Is To Create It" and since it comes with an elastic strap a gift card can be placed inside, too.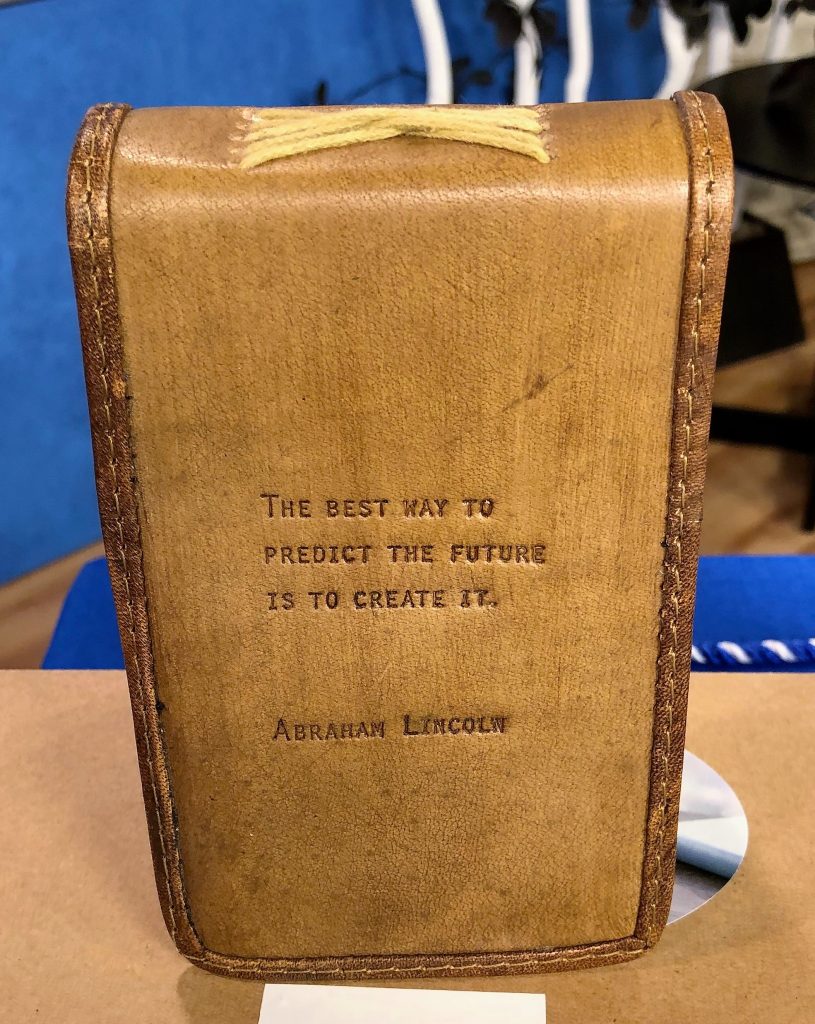 Sells for $24 at FOUND gift boutique located at Ray Rd. & the I10 in Chandler.
*Before School Coffee Mug & After School Stemless Wine glass set – Perfect!  Love this duo that says it perfectly.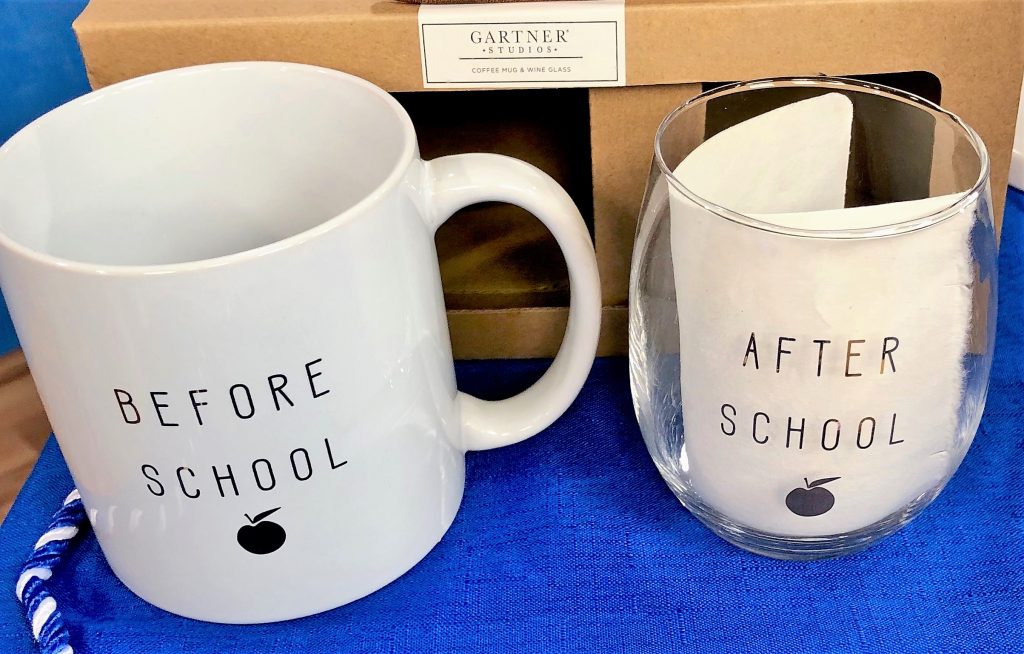 Sells for $12.99 at Walgreens.
*World's Best Teacher Coffee Mug Stationary Set – Being told that one is the world's best teacher must feel great, so say it with this cute set that is a mug decorated like an apple.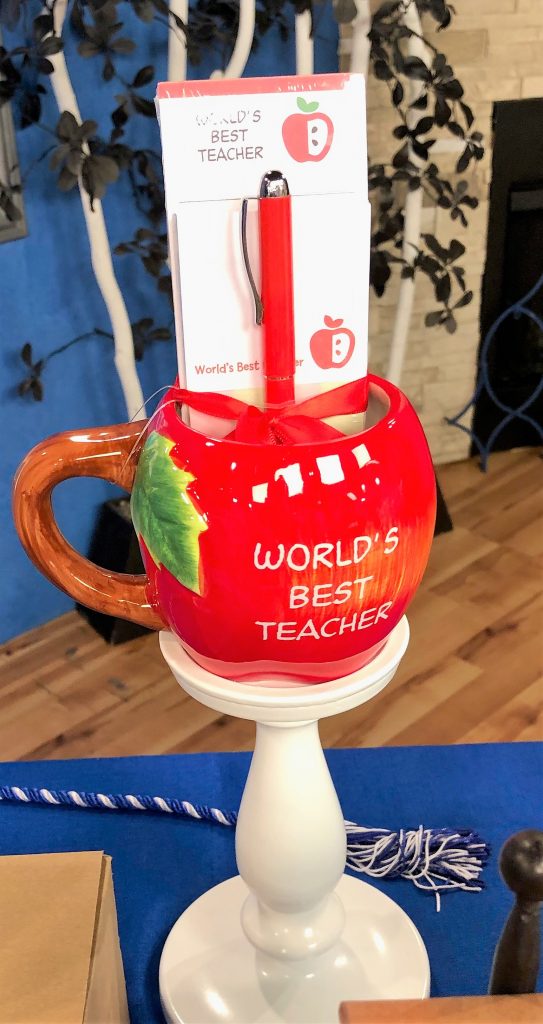 It also comes with a matching pen and two notepads.  Sells for $12.99 at Walgreens.
*Super Power Trinket Tray – I first saw this phrase a few years ago and I loved it right away.  It says, "I'm A Teacher…What's Your Super Power?" and this one is stated on a handy little glass tray.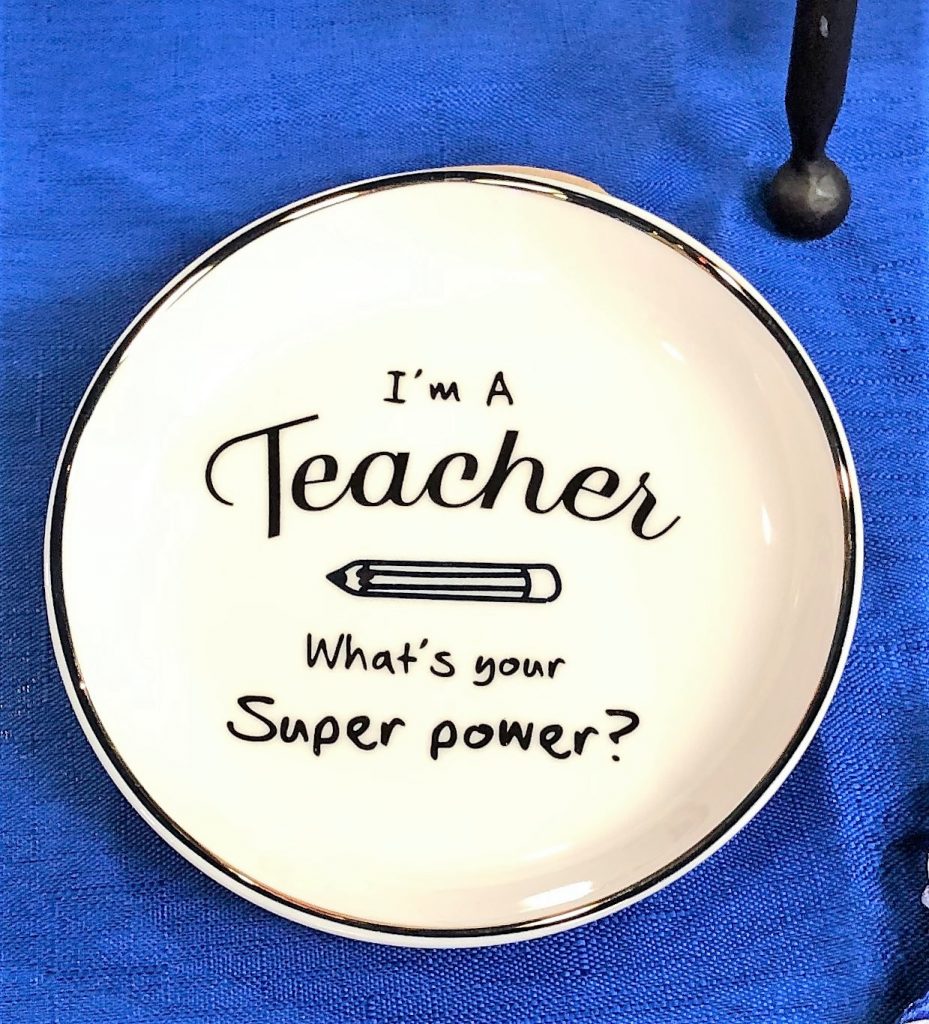 So, it works for both male and female teachers.  This can also be displayed in a gift basket as that would like nice and theme the basket, too.  Sells for $6.99 at Walgreens.
Great Grad Gifts
*Gold Cactus Necklace – Send her off with a little reminder of her desert home with a sweet petite cactus necklace that is a pretty gold hue.  FOUND gift boutique in Chandler sells this in both gold and in rose gold.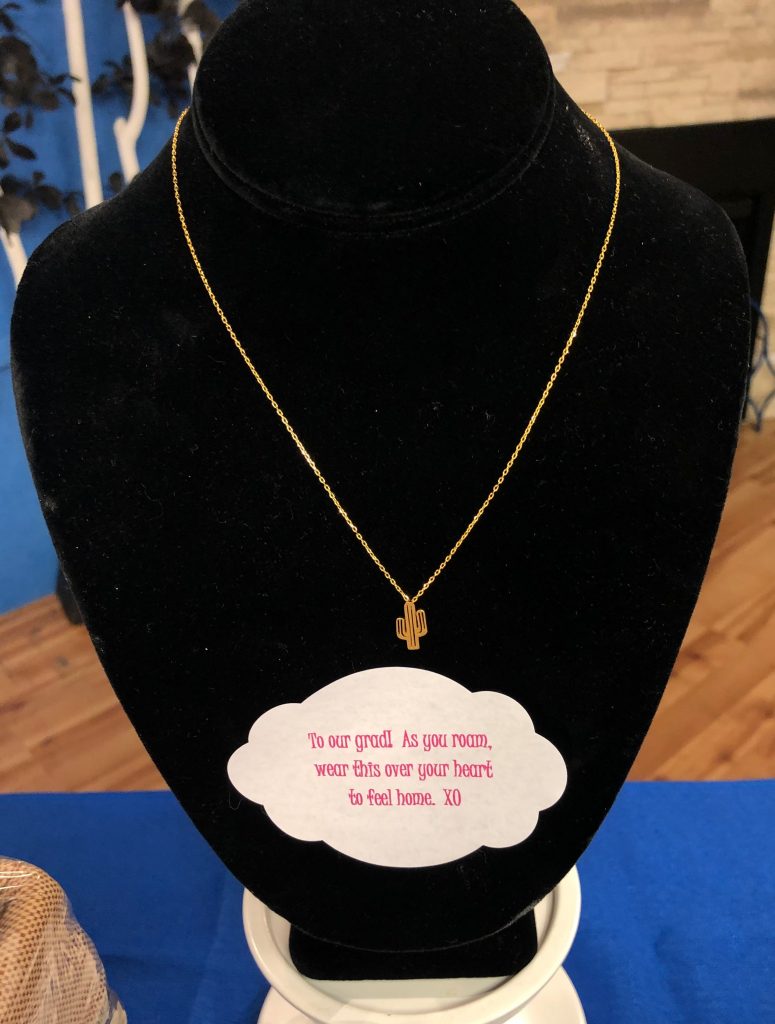 This pretty keepsake necklace sells for $18.
*and so, the Adventure Begins mug gift card holder – Give the grad a gift card inside this clever packaging that also includes the fun oversized mug that can be used for coffee, hot cocoa and soup in the dorm room. Sells at Walgreens for $7.99.
*Graduation Headband I Survived – This fun glittery tiara is fun on its own or add to a gift basket before the party so the graduate can wear her festive headband that will make her party guests laugh!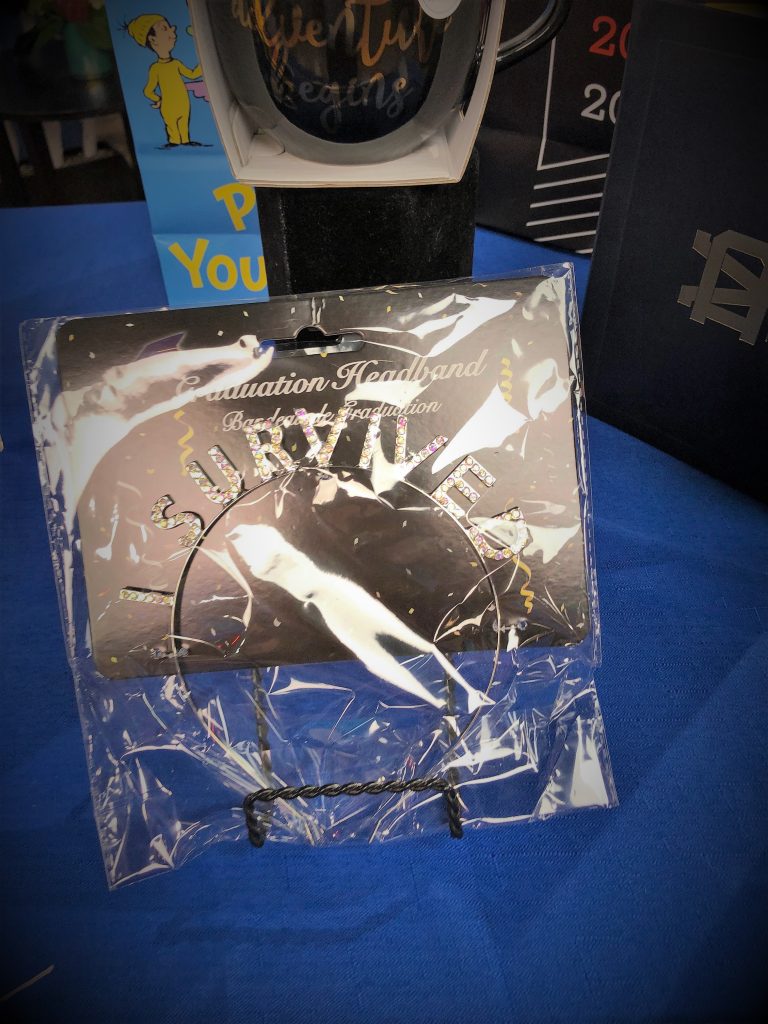 Sells for $4.99 at Party City.
*Graduation Advice Jar – Fun idea that can hold a bunch of hand-written notes from family and friends for the graduate.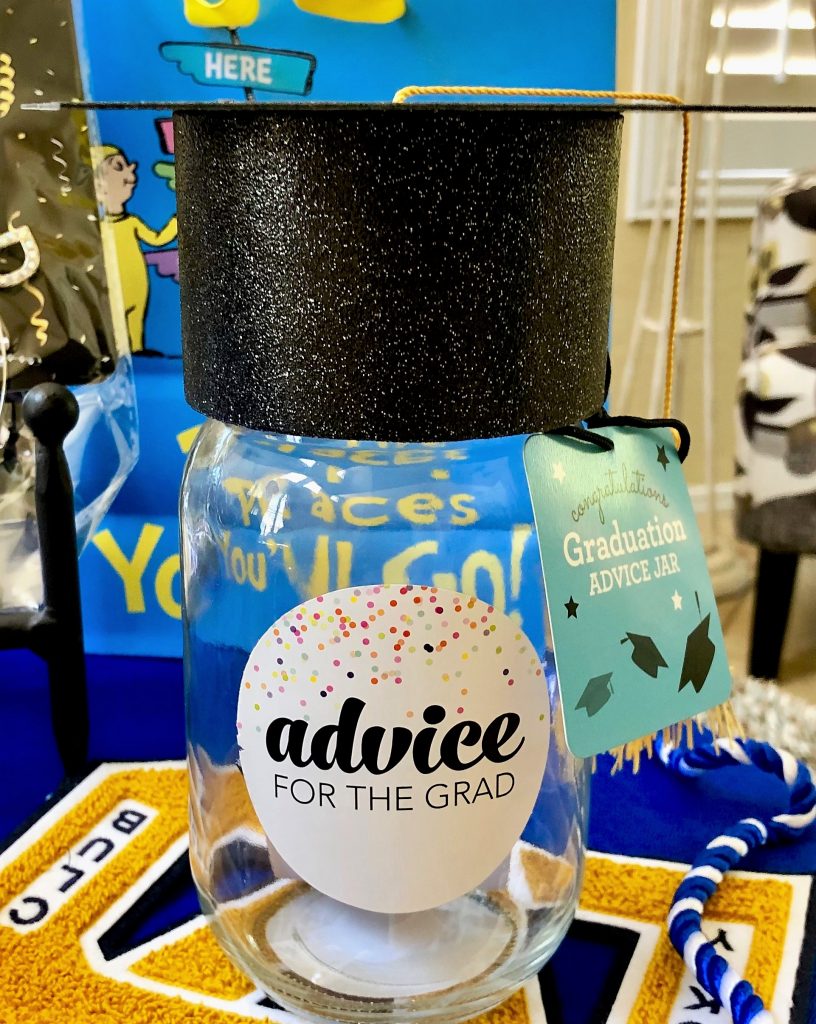 Top it with a check and advice that says spend wisely.  Sells for $7.99 at Walgreens.
*Knock Your Grad Socks Off – Cute socks that say "I'm So Done" on the soles.  These are fun to put in a gift basket.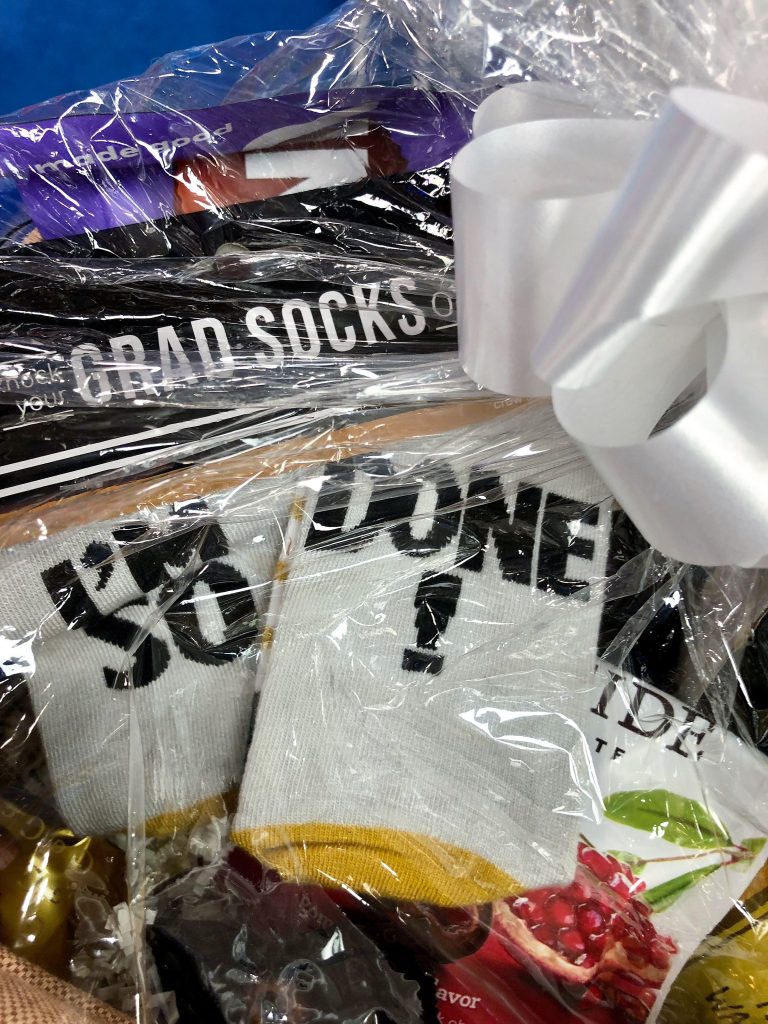 Sold at Party City for $3.99.
*Shop the college website – For the high school graduate going off to college, visit the website of the college that they will attend and purchase something with the school's logo on it.  It can be a shirt, cap, charm bracelet.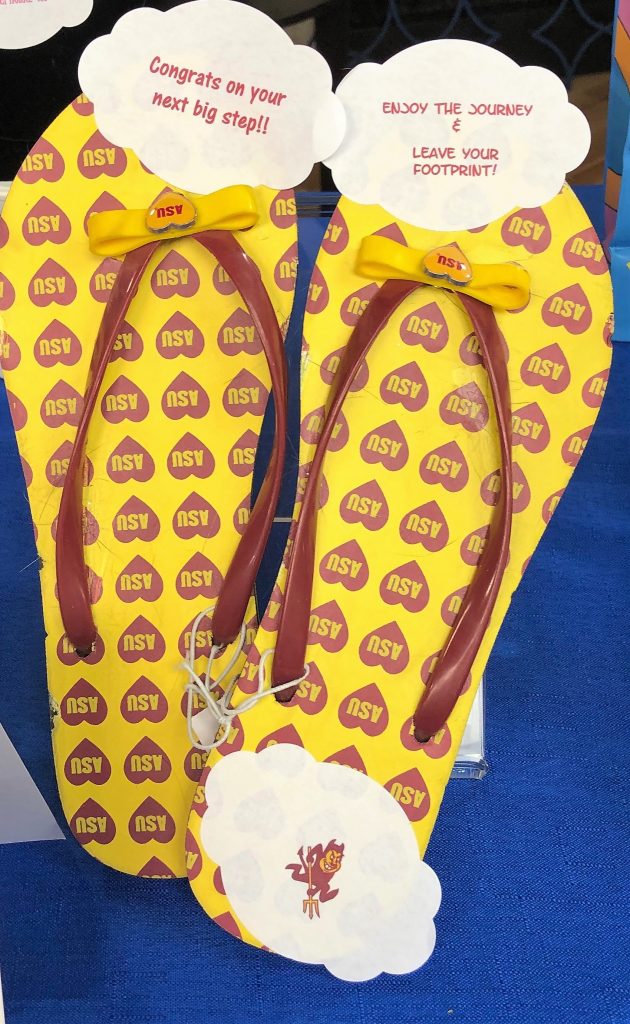 Anything and most grads love getting stuff with their new college logo on it.  Amazon sells a bunch of collegiate stuff as well.
Too Many Grads To Buy For?
I recently saw a friend ask on Facebook how to afford the many grad celebrations that have been invited to attend.  One response was very clever.  She said give gift checks to each one that is the amount of the grad year…so that would be $20.19. Love that!
Hope these ideas helped with your shopping.  Did you find the perfect gift this schoolyear end season? Share in the comments section and check my blog at managedmoms.com for more gift ideas, recipes, graduation party ideas and more.  Soon school will be out so I am wishing you all a safe and fun summer break!
Some links in this blog may be sponsored.  The opinions and recommendations stated in our articles are 100% our own.