How did November get here so fast?  Time to holiday shop so here are some unique gift ideas to get you started.  Let's help Santa get his list done early this year!
For The Holiday Season Lover
For the folks who stay in the holiday spirit year-round.  You know who they are…those pals of yours who post the countdown to Christmas starting in July!  Give them a gift basket with holiday themed stuff.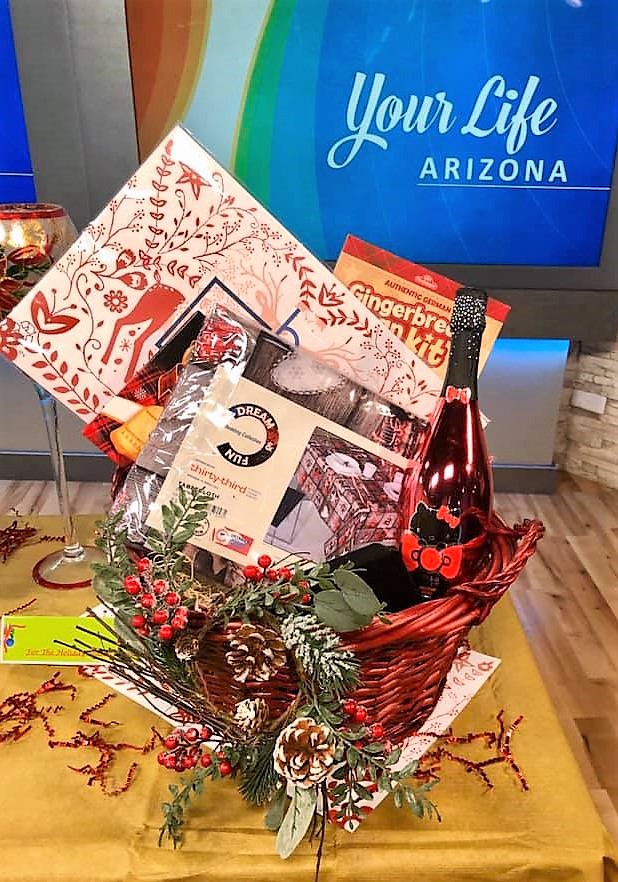 Present it to them now as an early gift to kick off the season or save for the big day.  Pack it with items they can use like a peppermint scented beauty product and add a few goodies that they can save for next year's celebrations.  Items like the Lucy Grymes line Reindeer Paper Placemats collection (a set of 24 placemats sell for $22 at lucygrymes.com).  These pretty placemats are festive and are recyclable.  Yay for earth-friendly holiday stuff! Top the gift basket off with a 100% cotton holiday-themed Christmas Motif tablecloth from Dream & Fun ($85 at dreamandfun.com).  This tablecloth is a onetime purchase that can be stored and used annually for creating the special memories that happen around the holiday meal each year.  I found the unique and tasty Hello Kitty Holiday Sparkling Rose Wine (not for kids!) at Cost Plus World Market. I also bought the gift basket there and it comes with shrink wrap material.  Presenting a shrink-wrapped gift basket is fun to give and to receive.
For The Person Who Has Everything
Give this person an experience.   Plus, one that benefits a charity makes this even better!  IfOnly sells every kind of unique experience one can dream of like a helicopter tour over the Grand Canyon that includes a champagne picnic.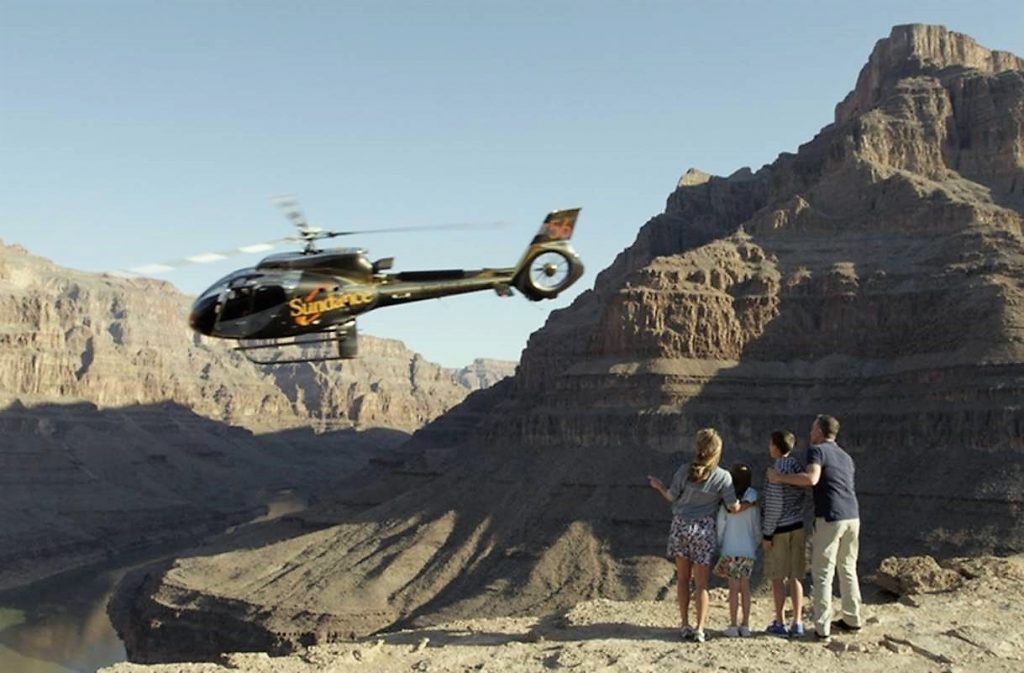 Or give a one-of-a-kind primate caregiver experience.  This takes your gift recipient to a conservation center in California where they shadow a caregiver and assist in the daily care of the apes (signed liability release and medical clearance required).  The experience supports habitat preservation and education.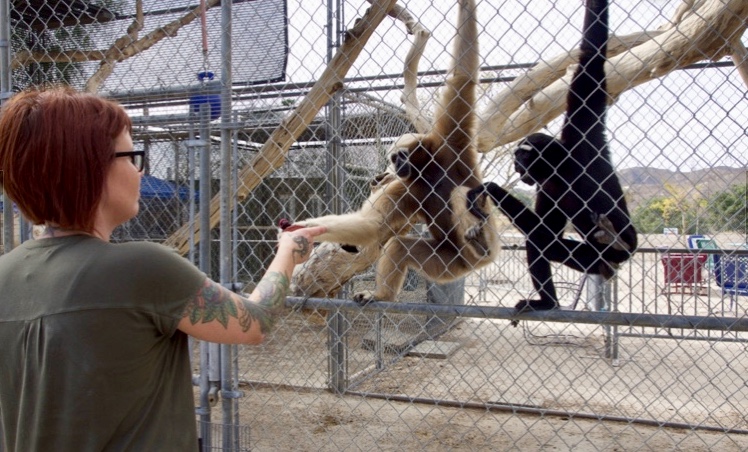 This experience costs $500 a person but there is a ton of other experiences that cost much less.  For example, for $65 a person the Three-Course Cooking Class Inspired by a Favorite Movie in LA can be enjoyed.  The cooking class is taught by LA Chef Josh Swick and includes cooking class instruction plus all get to eat and enjoy the three-course dinner they learn how to prepare.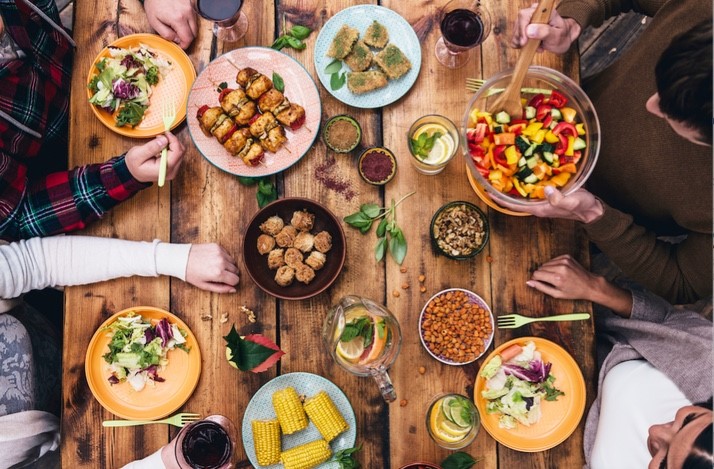 The movie is viewed and an after-dinner stroll to Josh's favorite local coffee shop is included.  The best part is that this experience benefits Meals on Wheels, a charity that is near and dear to my heart.  This meal delivery service allows my 94-year-grandmother to still live on her own in her beloved home.  The list of unique experiences all over the world and locally in different cities goes on and on.  Visit ifonly.com to check out the possibilities.
Cool For Kids –   Creative Cultural Cooking
Here's a unique idea.  Order eat2explore Holiday Treat Boxes that feature recipes and some of the ingredients needed to create festive foods from around the world.  The World Holiday Treat Box contains kits to create a gingerbread honey cookie recipe from Croatia, a recipe for Austrian Linzer cookies and Japanese Mochi.  These limited-edition items are tasty explorer kits with tools to learn about different country's cultures together as a family while baking the fun and festive foods.
The eat2explore holiday box sells for $24.95 at eat2explore.com.  Additionally, subscriptions, also sold at the same site, can be purchased so that a different country food kit is mailed to your gift recipient monthly.  Each explorer box includes three recipe cards, essential spice, sauce and grain mixes, a shopping list to supplement supplied ingredients, country explorer brochures, educational activity sheets, fun cooking tools and cultural collectibles like a passport, stickers and more.  So fun!
For The Sentimental Soul
Have you ever seen those cool quilts that are made of favorite activity t-shirts?  I have and I always wondered about having one made so I was thrilled to learn about a company who creates this perfect and thoughtful gift.  Project Repat takes your collected special clothing, like souvenir shirts, and creates an earth-friendly and thoughtful keepsake quilt.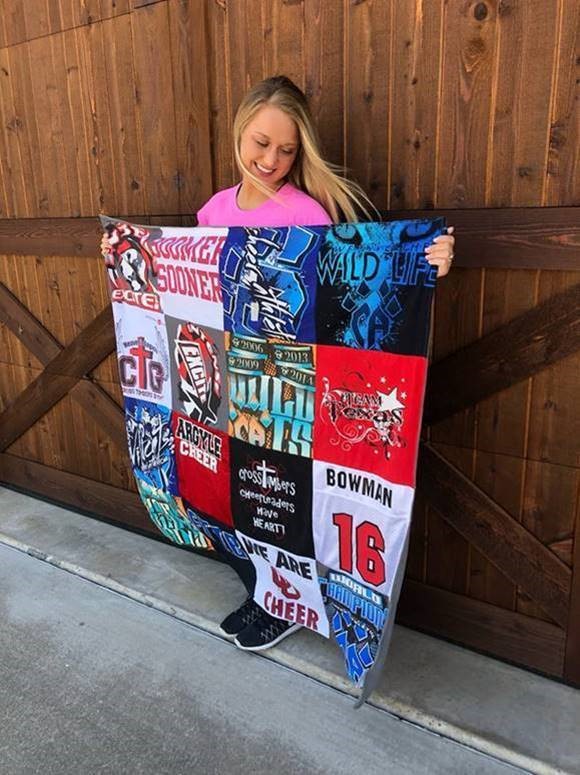 The price varies from $75 for a lap size quilt to a king-sized quilt that costs $239.99 with other available sizes in between that range.  Rush shipping can be selected at checkout at Projectrepat.com.  To receive the finished quilt before Christmas, get your shirts in ASAP as the company will return the finished quilt within two weeks of their receipt of your shirts.  Quilt sizes range from a lap size that uses 16 t-shirts all the way to a large one that can incorporate 64 shirts.  What a wonderful earth-friendly, personalized and cozy gift to give to that special someone.
For The Serene Soul
Pair a pretty aromatherapy bracelet from Honey & Sage Co with a corresponding body oil from the same company at honeyandsageco.com.  I chose to give my daughter the I Am Serene jade green lava rock bracelet ($24) with the Serenity essential oil ($20).  Honey & Sage products are organic, all-natural products that can be given as a monthly subscription or as a one-time wellness care package.  Such a nice relaxing gift to give.
For the always-on-the-road soul, pair two of my favorite traveling items together.  The clever Lasso jewelry storage system will keep your packed necklaces and other jewels together and tangle free.  I love this concept! Attach a gift necklace to the Lasso for an added bonus.  The Lasso sells for $18.99 each in several colors at shoplasso.com.  My other favorite travel item that I absolutely swear by is the Pack This travel list pad.  I order mine from Amazon for $7.99 a pad and I also saw them for sale at Cost Plus World Market.
Convenient Cooking Ideas for Different Chef Personalities
For the college student or person who cooks on the run and/or likes snacks, I found Fred Grub Mugs with recipes on the mug for microwave mug foods.  Some of the recipes include a berry muffin, chocolate chip cookie, pizza and more.  Unique and fun gift that sells at Kohl's for $20 for a set of two that include the recipes.  Again, with the Kohl's savings sign-up, the price was reduced to $14 so that is what I paid.  Be sure to sign up for the Kohl's free rewards program.
For the Crock Pot lover, busy parent or young adult starting out in a new job/home, give them the Crock Pot Recipe Card Collection.  The handy box comes with 76 recipe cards for all kinds of recipes that can prepped in the morning and enjoyed by the dinner hour.  I paid $11 at Kohl's with my savings sign-up as the regular price is $20.
The fun 3D Cookie Tree cutter set enables the festive baker to bake five star cookies to stack in an edible display that is pretty and tasty.  Sells at Kohl's for $20 but I only paid $11 with my coupons I received in my Kohl's email, so be sure to sign up for those savings emails.
For The Cozy Cute Mom & New Baby
So cute!  A matching Dearfoams cozy Mama Bear/Baby Bear cozy slipper set that says Mama Bear on the mommy's slippers and Baby Bear on the baby's little slippers.  Fun for baby's first Christmas gift idea, too.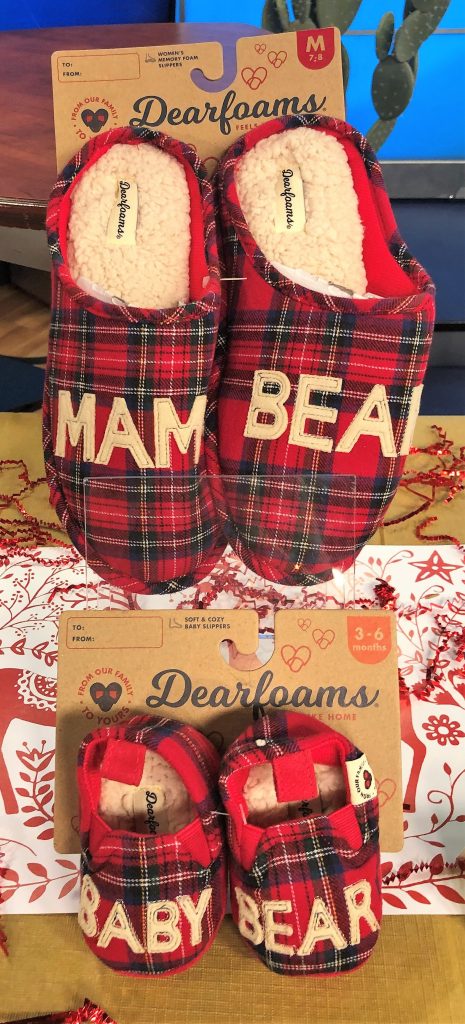 $34/$22 but with savings plan I only paid $17 and $11 at Kohl's.
I hope I found some unique ideas for you.  What are your favorite gift suggestions?  Share in the comments section.  Happy holiday season!  So hard to believe it is here yet again!