Having just recovered from the flu that struck with a bad sinus infection, wellness is top of mind for me.  So I decided to share my mama wellness kit picks in my Your Life Arizona morning show segment today.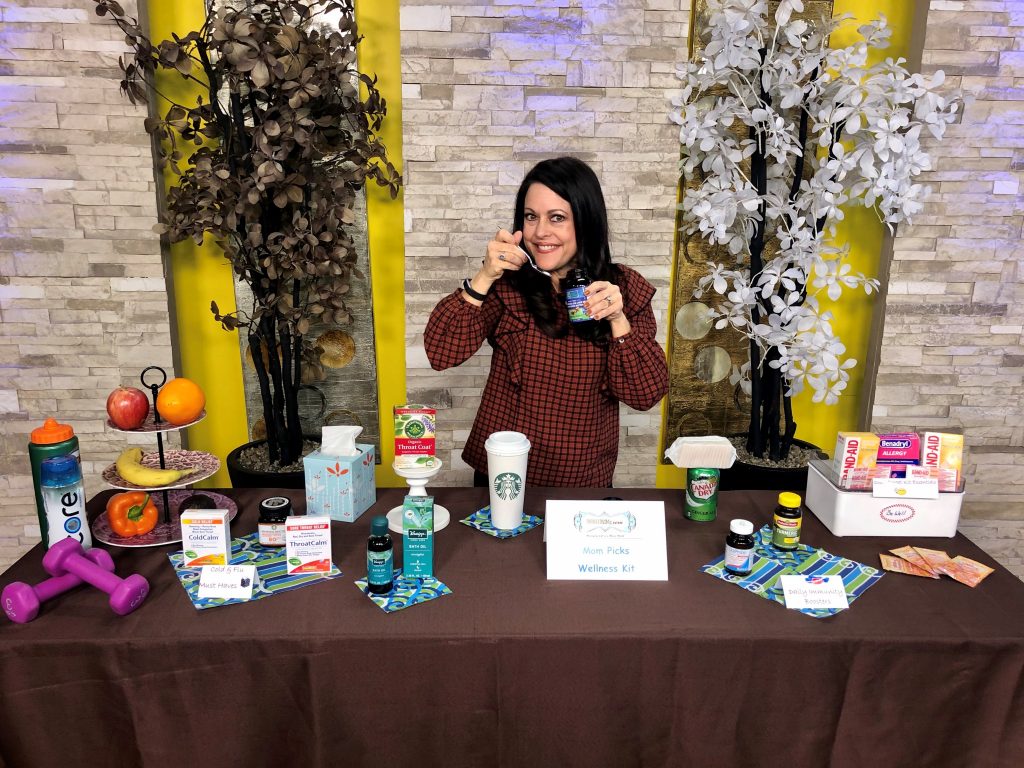 As the flu always does, it came on fast so I was very happy that I had my Mama wellness kit stocked and on hand.  It is no fun to have to make a drug store run when feeling ill.  Here is what I keep in my wellness kit that is sort of a first aid kit for illness when it strikes members of our family.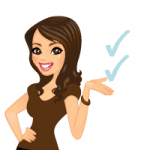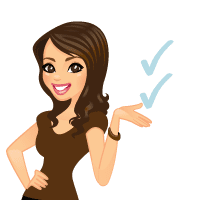 In this kit, I also include some home remedies that have worked well for us plus a few items that some of my blog readers swear by as well.  If someone in your home gets sick, you will be glad to have your wellness kit with these picks ready to go.  **Do note that I'm not a doctor, nurse or nutritionist so I always ask my own doctor about any supplements before taking them.  I advise my readers to do the same to be sure that supplements won't interact with meds being taken.  Also honey should never be given to a child who is age 1 or  younger.**  Here is what fills my Mama wellness kit…but first a few obvious, but very important reminders…
First & Foremost
*Diet, Exercise & Sleep – You know you know this…BUT…trust me when one lets these healthy habits slide due to stress the immune system weakens quite a bit.  I had not had the flu in over 10 years, but I stopped exercising the last few months and I let my usual daily 7 hours of sleep slip a bit due to lots of travel and recent stress. I think that is why the flu got me this year.  I'm back to the gym and to my healthy living!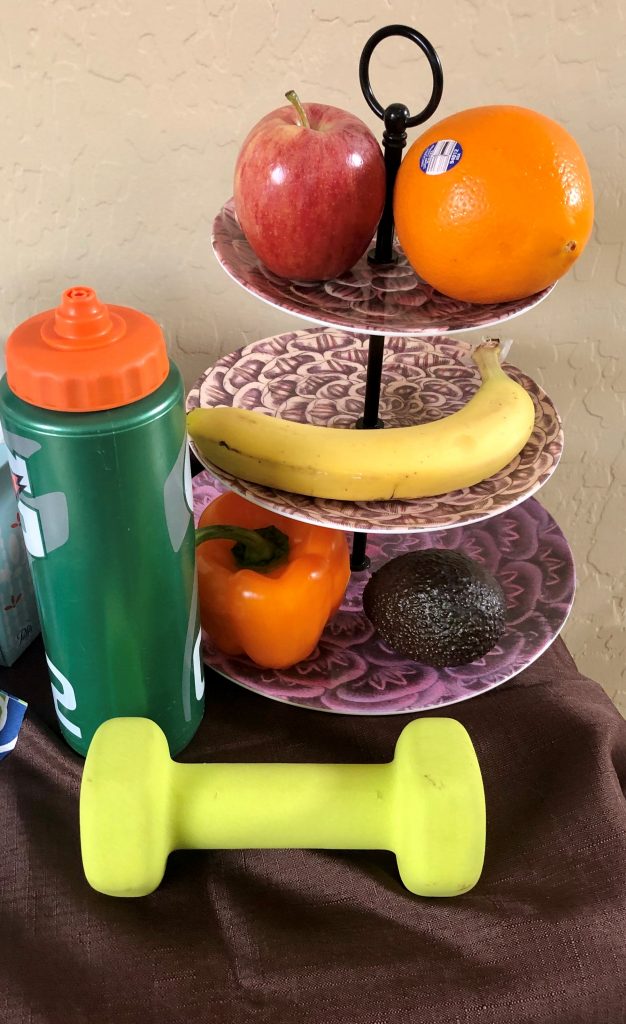 *Good Nutrition – Again you know this but in today's fast food society, it is too easy to consume empty foods that leave our immune system depleted.  Do what your mother said and eat your fruits and veggies.
Cold & Flu Remedies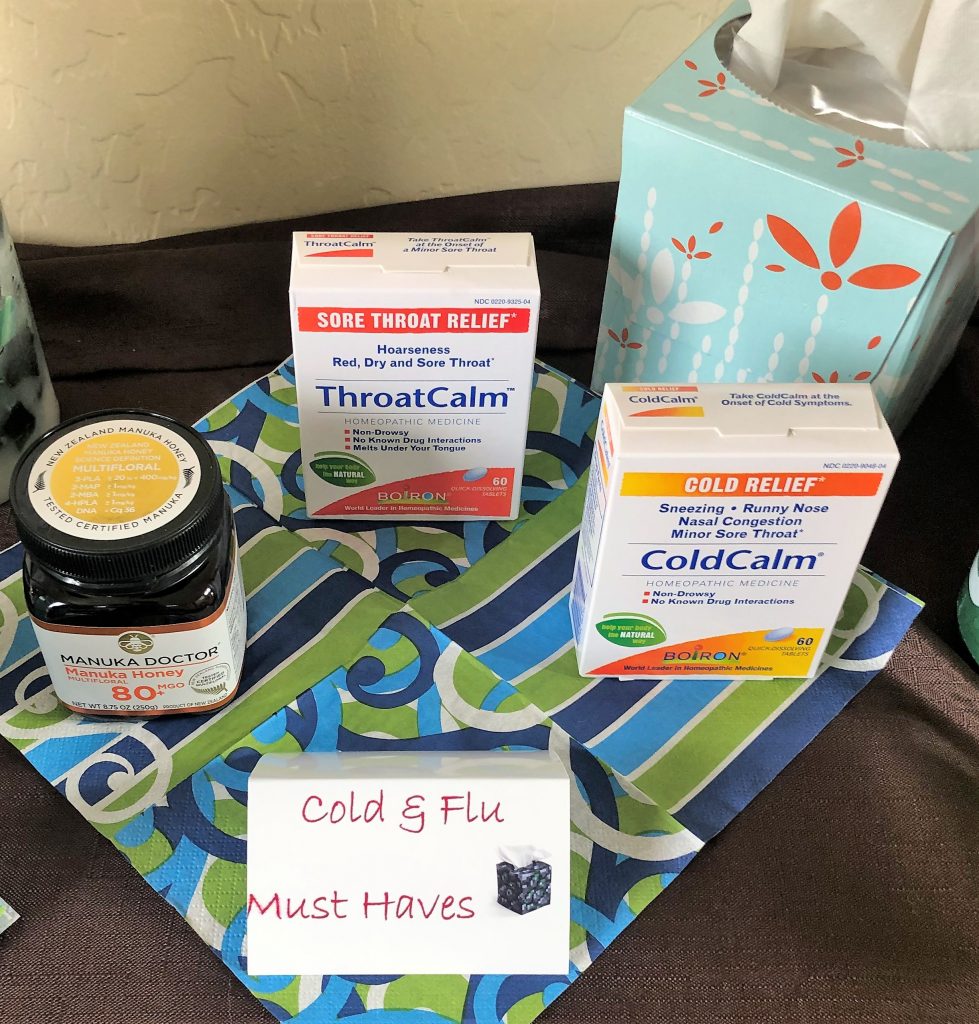 *Boiron ColdCalm Tablets – I take these at the first sign of a cold.  Unlike other medications, this homeopathic cold relief medicine doesn't mask symptoms.  Instead it works to target specific cold symptoms at the onset like sneezing, runny nose, nasal congestion and minor sore throat discomfort.  It is non-drowsy and does not interact with other meds or supplements. The tablets dissolve quickly under the tongue with no water needed.  I buy mine at Sprouts Farmers Market and this is also sold at Target, Whole Foods and many other retailers.  The box says that this is recommended for ages 3 and up although I have only used this myself since my kids grew up.
*ThroatCalm Tablets – This homeopathic medicine relieves minor sore throat pain that comes with a cold and hoarseness from overused vocal cords.  I like that the tablets dissolve quickly under the tongue with no water needed and this is especially helpful when I'm dealing with a sore throat.  ThroatCalm targets red, raw sore throats that can come with colds and with pain that spreads to the ears.  Like ColdCalm it doesn't mask symptoms of a more serious condition so I can get relief and still monitor if I should go and see my doctor to be tested for ailments like strep throat.  This stuff is also great for those of us that are prone to hoarseness due to jobs that demand a lot of the vocal cords like teachers, coaches, actors, singers, television hosts and more.  Sold at Sprouts Farmer's Market, Target, Whole Foods and other retailers. The box recommends this for ages 12 and up.
*Manuka Honey (any brand but I buy the Manuka Doctor brand) – This type of honey costs more (I paid $30 for my jar!) but it is especially beneficial due to the antibacterial and antioxidant properties that are found in this type of honey that comes from New Zealand.  At the first sign of illness, especially a sore throat, my family takes a teaspoon of this.  We also add it to our herbal tea.  I also spread it on Ezekiel toast with peanut butter for a healthy treat.  My daughter's pediatrician knew about the potential health benefits of manuka honey as well.  A variety of recent studies show that the antibacterial properties in this honey may slow and kill the growth of bacteria that can cause illness.
*Kneipp Eucalyptus Bath Oil – For the last several years now, I take a special bath at the first sign of sinus pressure and this remedy has worked wonders.  I put a capful of Kneipp Eucalyptus Bath Oil in a hot bath under the running water and soak for about 15 minutes.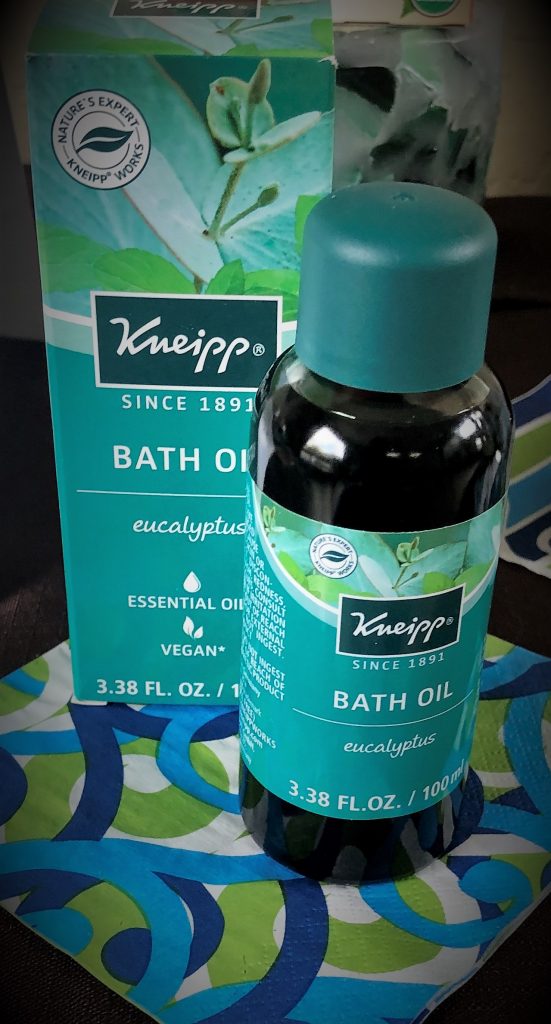 It works wonders and really helps to open and relieve my sinus congestion.  I buy mine on Amazon for around $20 a bottle and it is worth every cent.
*Starbucks Honey Citrus Mint Tea – This is the one thing you can't keep on hand but be sure to send someone to Starbucks to get you one if you get sick with the cold or flu.  This customer created concoction is amazing!  The surprise ingredient is steamed lemonade that is combined with Jade citrus mint green tea, peach herbal tea and honey.  This tea gave me such relief when I recently had the flu and it has worked wonders for my daughter when she was ill but had opening night in a lead part.  We swear by it!
*Throat Coat Herbal Tea – My teen daughter doesn't like the taste of this tea but she also swears by this as she is an actress who has performed in many local community plays.  This tea has saved her voice more than once.  At the first sign of illness or throat discomfort, she brews up a cup of this tea.  We buy the Traditional Medicinals brand at Whole Foods.
*Tissue with lotion – Most brands now sell tissues infused with lotion and some even with Vick's.  Be sure to have extra boxes on hand for illness and for the upcoming allergy season.  The infused lotion in the tissue makes a difference and helps to prevent the raw red skin around the nose that happens with excessive nose blowing.
My Recently Discovered Everyday Immunity Boosters
*Green Pasture Blue Ice Royal Cinnamon Tingle Fermented Cod Liver Oil Concentrated Butter Oil – I know that cod liver oil sounds disgusting, but my friend, Amy never gets sick.  Her son doesn't either.  She swears by this stuff.  I reluctantly ordered it and I was shocked to discover that it tastes like cinnamon!  I wish I had started taking a daily teaspoon of this a few months ago.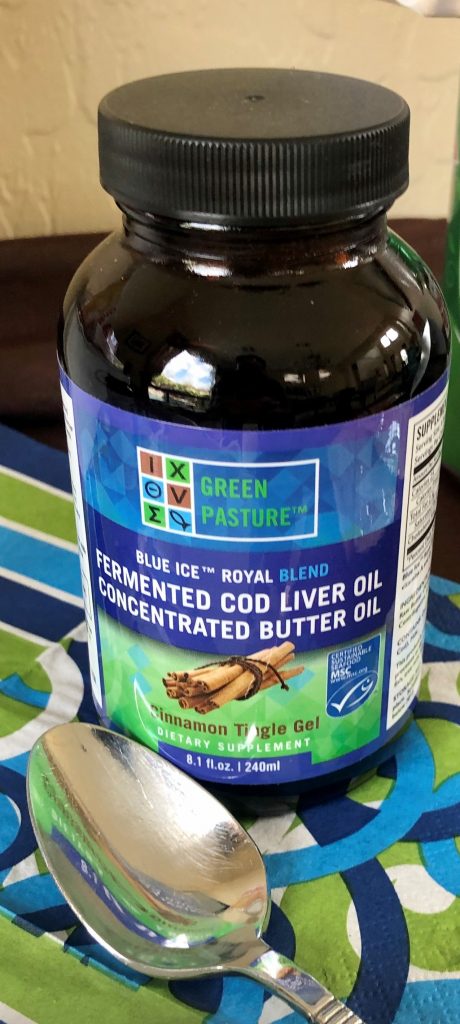 Who knows – maybe I would have avoided the flu!  I just added it to my wellness kit last month.  Taking this daily gives me a good dose of Vitamins A and D and omega fatty acids.  This raw whole food product comes from wild caught fish and the butter oil is from milk produced from cows that eat growing green grass. I bought mine on Amazon for $50.
*OralProbio Chewable Tablets – Since I started chewing one of these daily, I have noticed improved oral health.  I just had an A+ dental exam and the canker sores I used to get have disappeared.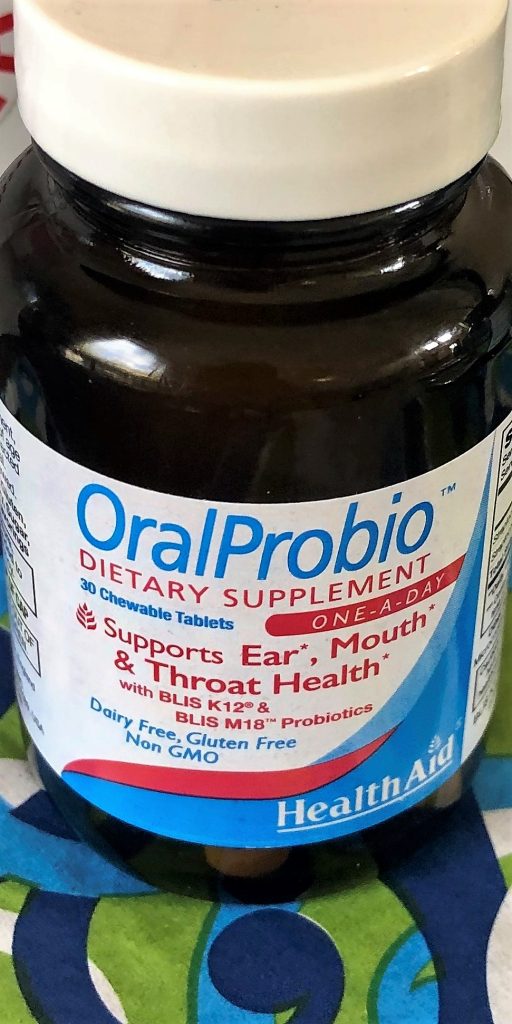 I can't prove that these tablets did all of that, but I see the correlation with the timing so I now keep this in my wellness kit. I buy my bottle of 30 chewables for $24.99 at Amazon.
Don't Forget Kit Essentials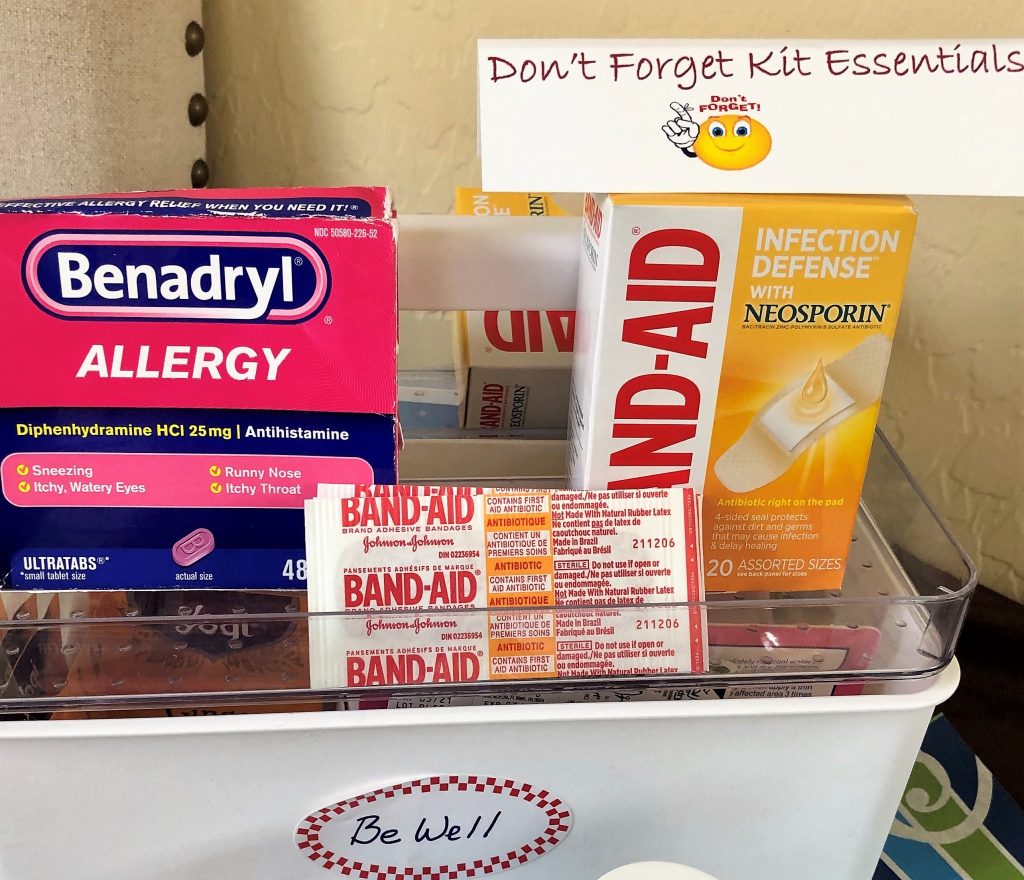 *Band-Aids with Neosporin – Everyone will need a band-aid at some point so I love these band-aids with the antibiotic ointment already on the adhesive strip.  One less product to have to remember and when you want to put a band-aid on a kid quickly, it helps a lot to have the important Neosporin already on the band-aid to help prevent infection.
Benadryl or Generic Allergy Meds – When my daughter showed an unknown allergy to cashew nuts years ago, I was awfully glad that I had Benadryl on hand.  Always keep boxes or bottles of this medicine on hand for kids and adults.  Allergic reactions can happen at any time and at any age.  Taking Benadryl is the first defense until you can get the patient to an urgent care or emergency room.  If an allergy is established an Epi Pen will be added to your arsenal for that person and usually Benadryl or a generic may still be needed with the Epi Pen.  So, play it safe and always keep this on hand.
What wellness kit picks do you recommend?  Leave your picks in the comments section.  Wishing you wellness and an easy time through allergy season.
Several sponsored links appear in this article.  Managedmoms.com is proud to partner with reputable companies and good products.