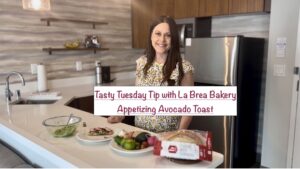 Avocado toast has become a popular favorite for many in the morning. Today's Tasty Tuesday Tip uses the delicious La Brea Bakery Country White Sourdough Loaf paired with a scrumptious avocado guacamole recipe and topped with crunchy radish slices. It's a great combo that is satisfying and filling and works for the busy back to school mornings, too. Take a look at how I put this together and see the complete recipe under the video…
Tasty Tuesday Appetizing Avocado Toast Recipe
What You Need:
1 slice of La Brea Bakery Country White Sourdough Loaf (or make several slices!)
1 ripe avocado
1 Roma Tomato or grape tomatoes…your tomato preference
1 Shallot
1 jalapeño
1 clove of garlic (or more depending on your preference)
1 lime, juiced (or juice half of a lime…your preference)
1 Radish
What You Do:
Chop and mix the avocado, tomato, garlic cloves, onion and jalapeno pepper. Squeeze the lime juice into the mixture. Add a dash of salt and pepper.
Toast the bread.
Spread yummy avocado guacamole mixture over the toasted bread.
Top with sliced radishes and sprinkle a bit of pepper on top, if desired. Sink your teeth in and enjoy!
For more yummy recipes, be sure to visit the La Brea Bakery site's recipe section for an extensive list of all kinds of scrumptious ideas! Get y0ur La Brea Bakery loaves, baguettes, rounds and more at local Fry's and Safeway stores. Check the La Brea Bakery store locater page for a market near you!
Stay tuned for another Tasty Tuesday Tip next week!