Manic:  Thinking to myself that I get one last chance to make a good warm soup since our weather turned chilly again, but I don't have a lot of time or a lot of ingredients on hand.
Managed:  Remembering that I have a really good easy corn chowder recipe that will warm my family right up! 
I love those tasty and fun Pampered Chef (www.pamperedchef.com) parties and I love some of the recipes that come with the cookware.  Here is one of my favorites.  The only change I make is to add a bread bowl.  Here is how to make this easy and yummy dish.
Stuff You Need:

2 medium unpeeled red potatoes
1 cup cubed cooked ham
1/2 cup diced red bell pepper
1/2 cup coarsely chopped celery
1 teaspoon butter or margarine
2 Tablespoons all purpose flour
1 can of 14 1/2 oz. chicken broth
1 can of 12 oz. fat-free evaporated milk
1 can of 15 oz. creamed corn
2 Tablespoons sliced chives
Salt and ground black pepper to taste
Cooked crumbled bacon (optional)
4 round French or Sourdough bread rounds (I get mine at Safeway) to make bowls for 4 soup servings
What You Do:
1.  Cut potatoes and ham into cubes and set aside.
2.  Dice bell pepper and coarsely chop celery.  Here is where I love to use my Pampered Chef food chopper that I've had for years!
3.  Heat butter in saucepan on medium heat and then add the bell pepper and celery.  Cook for 3 to 4 minutes or until veggies are crisp-tender.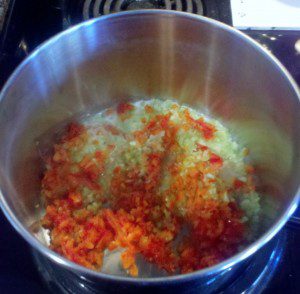 4.  Stir in flour and heat until bubbly. 
5.  Gradually add broth, evaporated milk and corn, whisking until blended.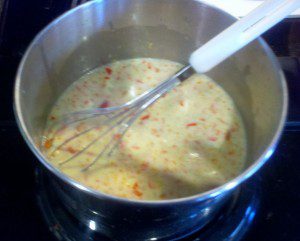 6.  Add potatoes, bring to a boil and then reduce heat and cook uncovered for 10 minutes or until tators are tender.
7.  Stir in ham and heat through.
8.  Remove from heat, stir chives into soup and then season with salt and pepper. 
9.  Serve in individual bread bowls like the ones shown in my picture.  Top with bacon, if desired.