Manic:  We have been eating out too much lately with all of the activities that fill our calendar at the end of the school-year, so I don't have much prep time at home these days to make a good meal.
Managed:  While I was at the grocery store, I eyed a unique new recipe product called McCormick Recipe Inspirations World Flavors.
So I bought one for $3.99 and I gave it a try and this managed mom gives this new product a thumbs up!
Several different meal options are offered, so I chose the one called Rosemary Roasted Chicken with Potatoes and my family loved it.  Check out this new idea from McCormick and the recipe below:
What You Need:

McCormick Recipe Inspirations Rosemary Roasted Chicken with Potatoes Packet
2 Tablespoons of olive oil
1 teaspoon salt
6 bone-in chicken thighs, skin removed (about 2 lbs.)
1 1/2 lbs. small red potatoes, cut into 1-inch cubes
What You Do:
1.  Follow directions on the back of the packet, which tells you to mix all of the spices and salt together.
2.  Add chicken and potatoes and toss to coat well.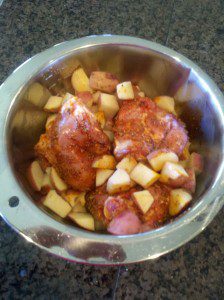 3.  Arrange chicken and potatoes in single layer on foil-lined 15x10x1-inch baking pan sprayed with non-stick cooking oil. 
4.  Roast, uncovered in 425 degree oven for 30 minutes or until chicken is cooked through and potatoes are tender, turning potatoes occasionally. 
Done and yum! I like that you get seasonings and a recipe for a main dish with the chicken and a side, with the tators, all in one recipe packet.
It was that easy and we loved it!  I can't wait to try some of the other varieties offered in this McCormick packet that made life easy for this manic managed mom!  Some other recipes include Caribbean Grilled Steak, Asian Sesame Salmon and more.
 Have a great weekend!