Manic:  Need a festive 4th of July treat, but I want something healthy that my kids will also enjoy.
Managed:  Asked the pros at Pomegranate Café for ideas and they gave me their Melon Berry Crush smoothie recipe.  Not only is it red, white and blue, but it is also very good for you!  Read on for the recipe and whip some up for your loved ones on Independence Day!
Pomegranate Cafe's Melon Berry Crush Smoothie….I call it A Spirit Smoothie
What You Need: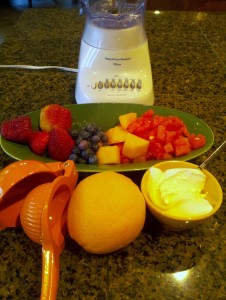 1 1/2 cups chopped watermelon
1/4 cantaloupe, peeled, seeded & chopped
1/2 cup fresh or frozen strawberries
1/2 cup fresh or frozen blueberries
fresh squeezed orange juice
organic whip cream
fresh blueberries & strawberries for garnish
What You Do:
1.  In a blender, combine all the fruits with the orange juice to cover.
2.  Blend until smooth.
3.  Top with whipped cream and fresh berries for garnish.  Serve immediately.
Not only does this smoothie look festive and fun, but it tastes great and is super healthy for you.  Pomegranate Cafe's Cassie Tolman tells me that the strawberries are calming, the berries are high in anti-oxidents and the watermelon is hydrating.  Good stuff!
About Pomegranate Cafe: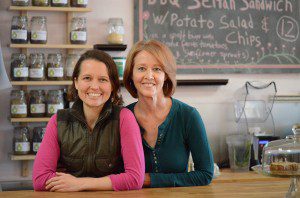 Marlene and Cassie – Owners of Pomegranate Café
Pomegranate Café
began as a shared dream between mother and daughter, Cassie and Marlene Tolman. Their vision was to create a space where delicious flavor and nutritious ingredients came together with extraordinary service in a unique, earth-conscious environment. With those elements in place a seed was planted, and in the fall of 2009 Pomegranate grew into a lovely little neighborhood café.
Read more about Marlene and Cassie's culinary talents on our
page.