Manic:  Trying to keep my family fed with healthy homemade dinners during the busy school year!
Managed:  My mom came to town, so I asked her to show me how she makes her incredibly tasting vegetarian spaghetti that tastes meaty and hearty….and that my very picky family loves!  Thanks Mom!  She shares her secrets here….
What You Need: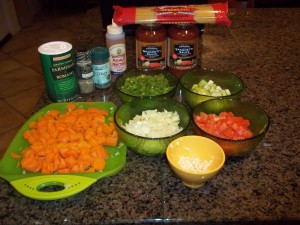 4 to 6 carrots, cooked
2 green or red bell peppers
1 large tomato
1 yellow onion
1 red onion
3 cloves fresh garlic
2 to 3 stalks of celery
2 jars Trader Giotto's (from Trader Joe's) Organic Spaghetti Sauce with Mushrooms
1 bay leaf
1 tablespoon oregano
1 tablespoon basil
1 tablespoon of olive oil
1 teaspoon of agave nectar (optional for sweeter sauce)
Parmesan cheese to taste
healthy whole grain spaghetti pasta
What You Do:
1.  First saute the peppers and celery in 1 tablespoon of olive oil for about 5 minutes or until they turn soft, being careful not to overcook.
2.  Then add all of other chopped up veggies (except the carrots) and saute until soft.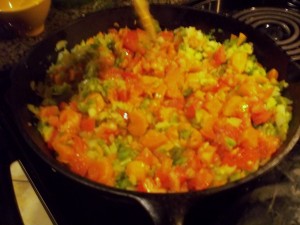 3.  Add chopped up tomatoes, bay leaf, cooked chopped carrots and the 2 jars of sauce and simmer for about 30 minutes.
4.  During the last ten minutes of simmering, add the basil and the oregano.  If you like a sweeter sauce, you can add the agave nectar.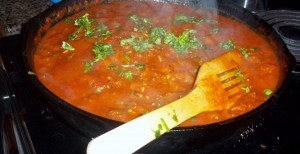 5.  Pour over the cooked spaghetti and add grated parmesan cheese.  Enjoy!  This is one spaghetti dish that is super tasty and super healthy to boot!  Just look at all of the veggies that your family gets in each serving!  Thanks Mom!